The video cannot be displayed.
On a horse farm north of Chicago, a European tradition combines artistry and athletic prowess.
The Lipizzan stallions, mares and foals in Old Mill Creek, Illinois, are a privately held herd that each summer performs in public.
The horses are trained in dressage, an equestrian event also featured at the Summer Olympics. We visited one of their shows and met some of the star athletes–and the ponies that will someday take their place.
TRANSCRIPT
Phil Ponce: Centuries-old traditions are on display at Tempel Farms in Old Mill Creek, Illinois, half-way between Chicago and Milwaukee.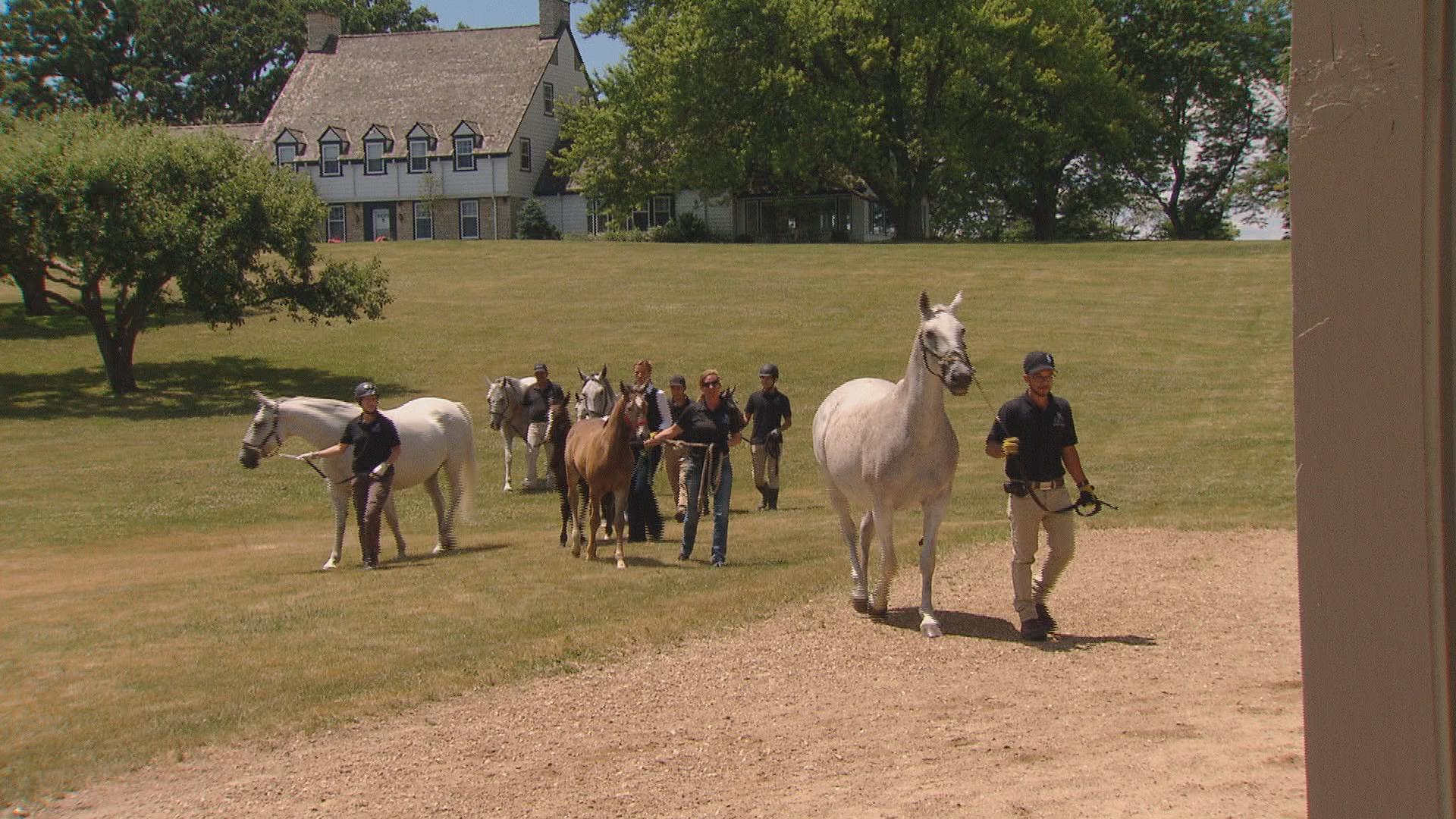 The Lipizzan breed originated in the 16th century when Austrian royalty imported stallions from Spain to improve their stock.
Esther Buonanno, program director at Tempel Farms: The Lipizzan horse was a breed that was established as a type of cavalry horse.
The horse was meant to be quite athletic, sort of smaller, very smart, and what happened was, when horses were no longer used as cavalry horses, this great reverence was shown in the imperial courts for the relationship between man and horse on the battlefield, and so then they turned what was formerly cavalry riding into what's called classical riding or dressage. So this art form developed out of this, which was set to music and horses doing choreographed pieces, almost like dance or ballet with horses.
Ponce: They are named Lipizzan after a stud farm near the border of Italy and Slovenia.
This herd of 70 stallions, mares and foals are called the Tempel Lipizzans because they descended from horses imported by a Chicago-area manufacturer in 1958.
Buonanno: My grandparents were Esther and Tempel Smith and after their first visit to Europe and visiting the Spanish riding school, they had the brilliant idea of not just bringing back a postcard but actually bringing a whole bunch of horses and this whole Austrian tradition of classical dressage and the Lipizzan horses here to the Midwest.
It's important to explain that dressage is actually a training method that takes a very long time to develop. Or, I should say to people who don't know it as well: To get to sort of the fancy stuff, it could take 8 to 10 years, so what you'll be seeing a young stallion doing at 4 and 5 years old looks a lot like lines, circles, in-walk trot and canter, but all of this builds the musculature and the mind to be able to do the higher level things like pirouettes and half-passes and things that allow them to move laterally across the arena.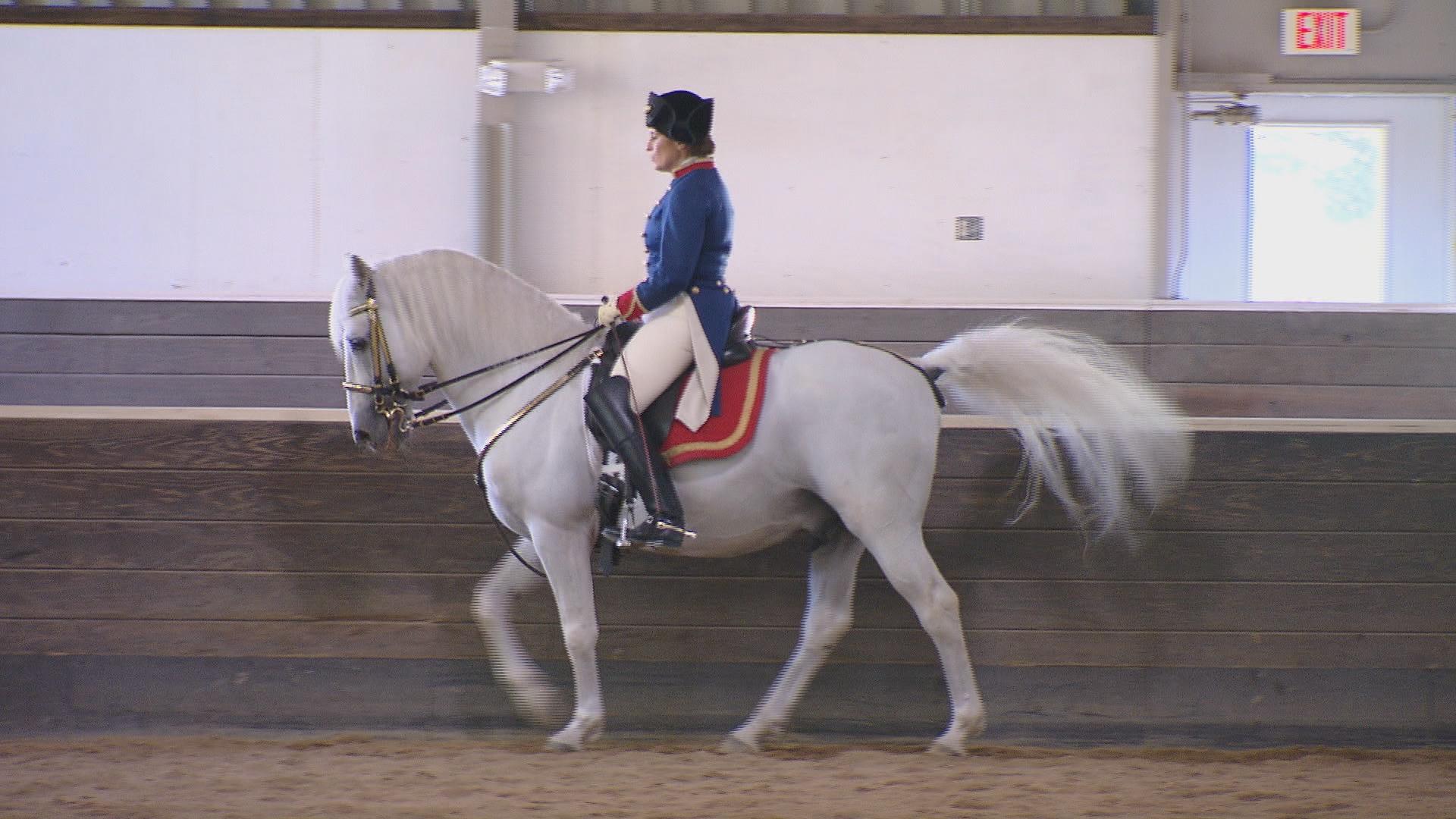 Ponce: The horses are trained and conditioned with time-tested methods such as …
Jessica Starck, trainer: Positive reinforcement. A pat, a "Good boy." Sugar – they love sugar, they love treats, or sometimes we simply just quit asking them things. That's some of their biggest reward: we just let them be.
Ponce: The Lipizzans are lovingly attended to, almost spoiled. And these pampered royal horses are fussy about their friends.
Starck: The Lipizzans are very, very noble. It takes a while to get on their good side, so to say, they're not so easy to give their affection away, but once you earn their trust and once you earn their friendship they will absolutely do anything for you.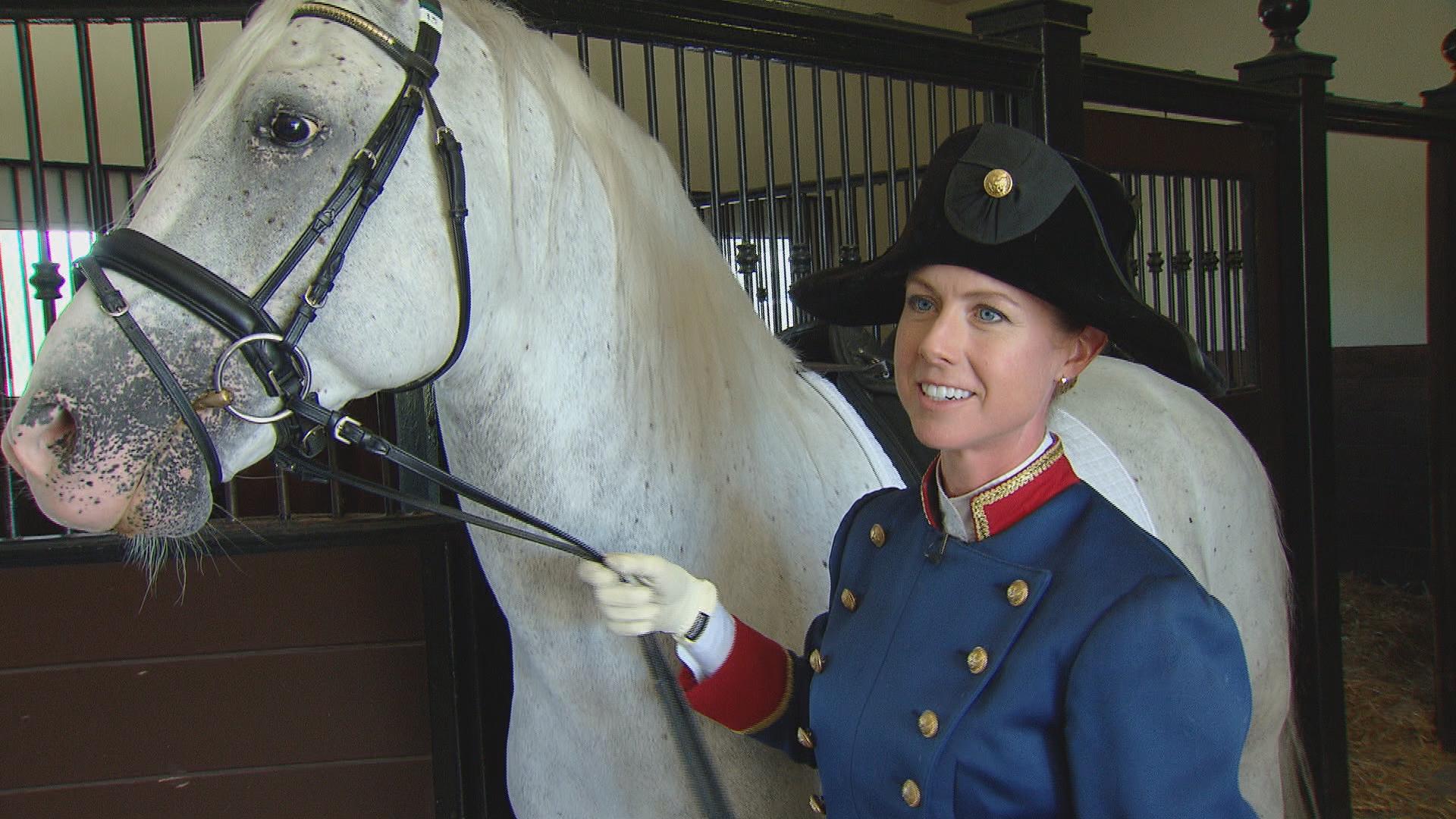 Jessica Starck
They try. They have an incredibly good work ethic, and they are so athletic. It's like the best athleticism of every horse all rolled into one breed. They can do all the movements of dressage and plus some, like the "airs above the ground" where you see them jump in the air and kick. They're a very emotionally intelligent breed. They can tell if you've had a bad day and they try to make it better. And just quick studies; very smart in their education.
Ponce: We met one of their emerging young stars.
Starck: This is Favory Six Ariela, II. We call him Ariela in the barn here. He's quite intelligent, and as you can see he's untying himself already. He's going to be in our young stallions segment in the show today.
The young stallion segment can be kind of interesting because they're youngsters, they're new to training so they're a little bit unpredictable at times, but he's been really good lately.
He lets me know what he's thinking. He's a little bit more aloof but still very social. He takes his time warming up to new things. He likes to be the boss, likes to tell the other boys what to do a little bit too, sometimes.
Ponce: The Lipizzans have a distinct light gray coat, almost white–but they are born dark brown and get lighter as they age.
Occasionally, there is a horse of a different color–this rare Lipizzan retained his rich brown coat into adulthood. He also possesses a fine example of the breed's Roman nose.
Young colts and fillies also play a part in the performance.
Starck: The babies are usually brought in from the fields at about 3-and-a-half years of age. As trainers we have about eight horses each, and we stick with the same group of horses. So young ones will come in and we just teach them the very basics, like this is a saddle, these are polos, this is a bridle. It's kind of like kindergarten or teaching a toddler to walk–we don't expect them to do too much right away, but they find their feet, soon they can walk, then they can run and then they can jump in the air.
At about eight years of training or so we have our finished airs horses or quadrille horses, which you'll see today, it's a very high level of training.
Ponce: Horses on Tempel Farm perform into their 20s and can live to be 30 years old.
The farm also offers opportunities to qualified young equestrians.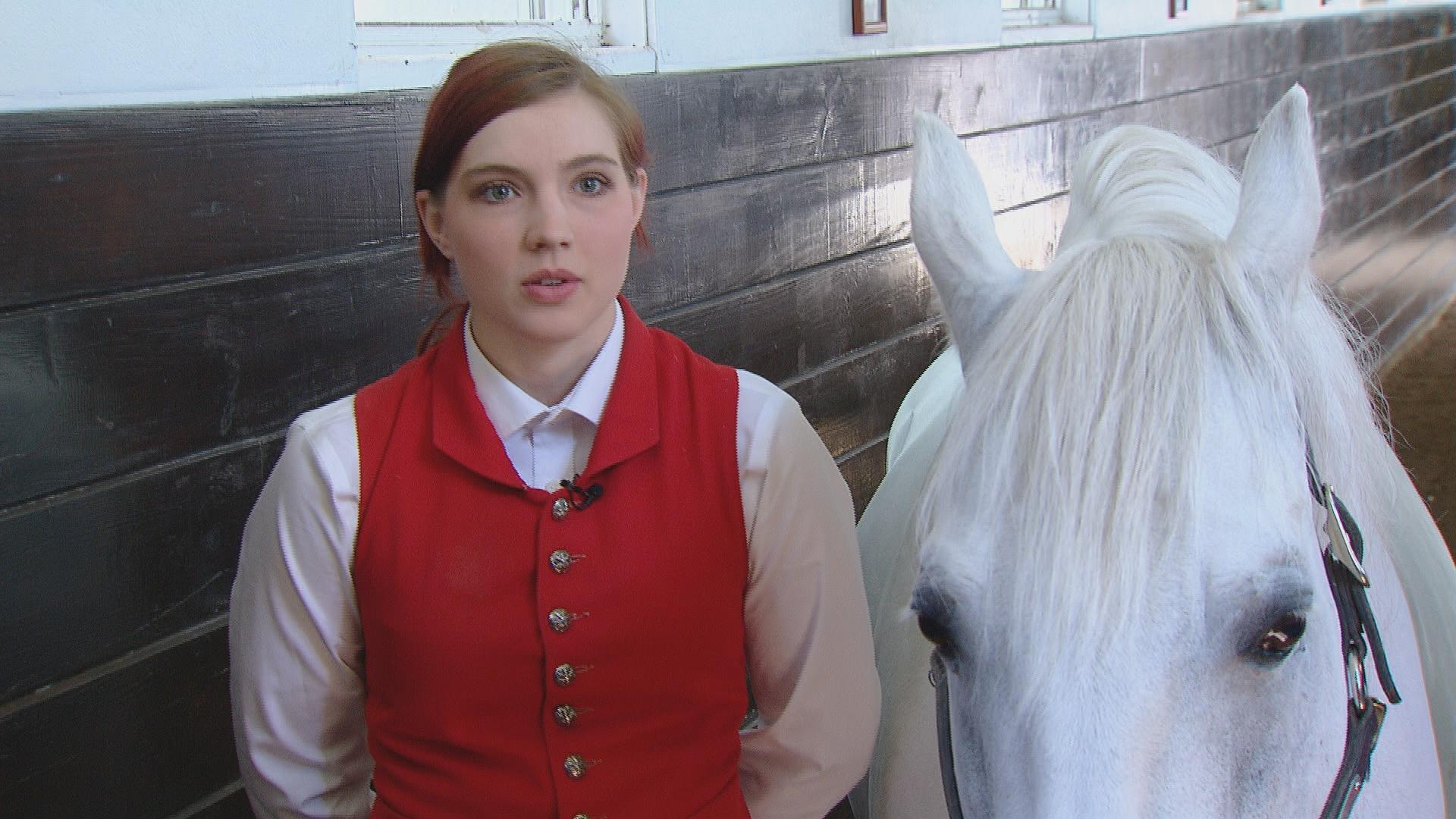 Chelyn Firenz
Chelyn Firenz, equestrian: We're working students, here at Tempel, we've been here for just over a year now.
We do the young stallions group so six horses, choreographed movements that just go around and show the basics: walk, trot and canter in circles, and things like that.
Nadalyn Firenz: He's great with the kids, really loves them. He's a little bit of a show-off–and a slight Napoleon attitude. Short horse, big personality.
Starck: We know them. They know us. They're very much like family. They're the real stars, but we are helping them in the performance.

More on the story
The Tempel Lipizzans train year-round but perform for the public on Wednesdays and Sundays through mid-September. Learn more about the performance times and prices by visiting the Tempel Farms website.
Video: Our sister station WFMT recently visited Tempel Farms and produced this video about the Lipizzan's training.
---
More on the 2016 Summer Olympics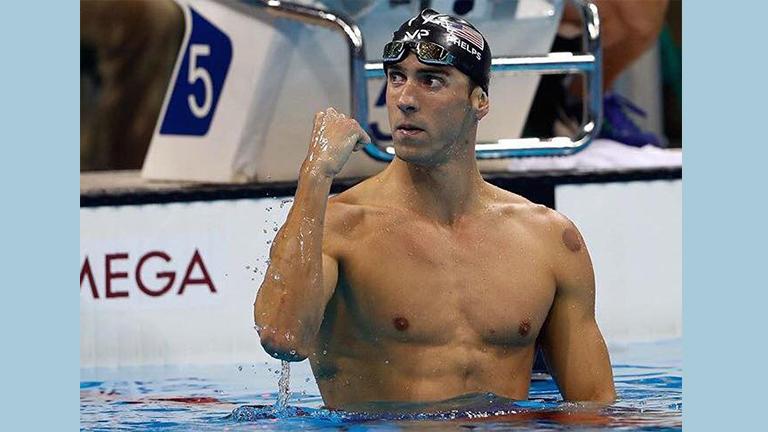 Michael Phelps' Physical Therapist Explains What Cupping Is
Aug. 11: Michael Phelps is making a splash at the 2016 Olympics for his performance–and his appearance. One of his physical therapists explains why he's covered with bruises.
---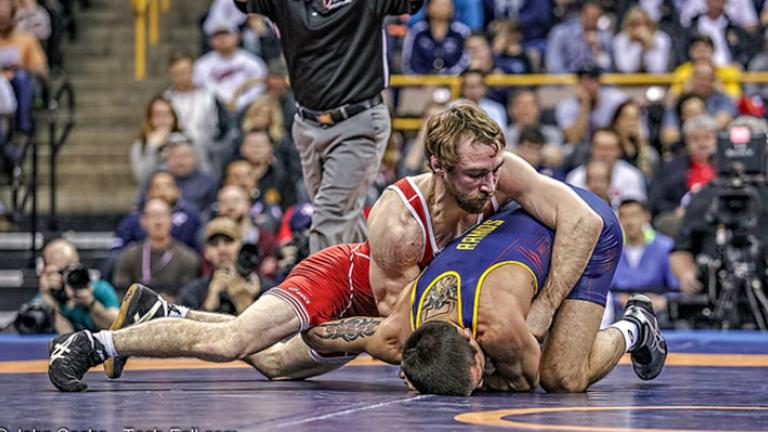 From Chicago to Rio: Local Athletes Gear Up For Summer Olympics
July 20: The torch will be lit in Rio de Janeiro, Brazil, for the 2016 Summer Olympics in a little over two weeks. Meet some of the Chicago-area athletes representing Team USA.
---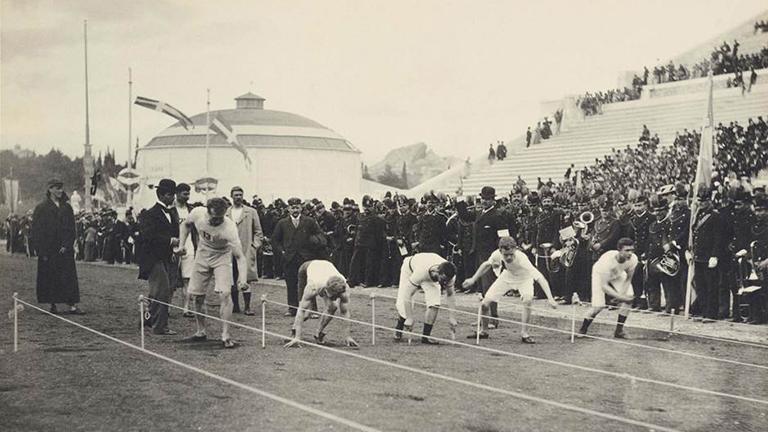 Unexpected Champions: New Photo Exhibit Explores 1896 Olympic Revival
May 9: A new photography exhibit traces the history of the games and explores its 1896 revival. 
---