The Chicago Teachers Union will not hold a May Day strike, but group leadership is planning a "proportional" response to whatever cuts are made to the end of this school year by Chicago Public Schools.
CTU's 800-member House of Delegates did not believe they would generate the results they wanted through a one-day strike, and is instead encouraging members to participate in other labor rallies and events on May 1.
But the delegates also plan to call an emergency meeting to talk over their options in the event CPS institutes additional furlough days.
"There will be action and it will be proportional to what cuts are made," one delegate said.
What could that action be? CTU President Karen Lewis said nothing is off the table, up to and including an open-ended teacher strike.
"Our members weren't for it," she said when asked about the one-day walkout. "We listen to our membership, we don't just sit up here and make decisions and then just tell them what to do, they didn't want to do it. Because most of our members said if we're going to go on strike, let's just go on a complete and total strike."
CPS has already furloughed staff on four days and the district faces the possibility of a school year shortened by nearly three weeks as it works through a $129 million budget shortfall and its ongoing lawsuit against Gov. Bruce Rauner and the state.
The union is telling its members they can take personal days to participate in other rallies and events on May 1 to celebrate International Workers' Day. Lewis said she also expects many schools will see fewer students in attendance that day as they join in events with their parents. 
Teachers and delegates alike told Chicago Tonight last week that there were a lot of "mixed emotions" within the union about going on strike and losing another day of pay this year.
Delegates have spent the past month talking over the strike idea with CTU's rank and file, holding informal votes inside schools before Wednesday's monthly meeting. But some union members have said general support for the one-day walkout just wasn't there this time around.
The governor vetoed $215 million in funds CPS had counted on in its fiscal year 2017 budget, saying those dollars were tied to statewide pension reforms that haven't been reached. The district and five Chicago parents later sued the governor, claiming the state's education funding system discriminates against CPS' largely minority student population.
CPS filed a motion in February saying that unless a Cook County judge intervenes and requires the state to help fund the district's remaining budget shortfall, it may be forced to end the school year on June 1 rather than the scheduled date of June 20.
CTU leaders see both the furloughs and a shortened school year as massive violations of their labor contract.
The one-day strike would have been CTU's second in as many years. The union held a "Day of Action" on April 1, 2016 to protest the state's education funding system and other issues. CTU also voted to go on strike last fall while working through labor negotiations with CPS. That walkout was avoided when the two sides hammered out a new deal in October.
Before the union even finished discussing the possibility of a walkout, CPS had already moved to have their strike deemed illegal, filing a charge with the Illinois Educational Labor Relations Board last month. CPS says that body today determined a May 1 strike would not be justified under state law.
The district also issued a statement in response to the delegates' action Wednesday night, calling on all Chicagoans to stand against the state's "racially discriminatory" funding system.
"This separate and unequal system is at the root of CPS' funding challenges," CPS spokeswoman Emily Bittner said, "and we are fighting in court to prevent students losing out on valuable instruction that is propelling their academic gains."
But Lewis said she sees some of that same racial discrimination in the way CPS and Mayor Rahm Emanuel do their budgeting in Chicago.
"It certainly feels that way, and I think there are members of the (Board of Education's) own Latino Advisory Council that felt that way and they got up and resigned and walked out of their meeting," she said. "So we're not the only ones saying that, people do pay attention and they do see that cuts in some areas are different than cuts in others."
Follow Matt Masterson on Twitter: @ByMattMasterson
---
Related stories: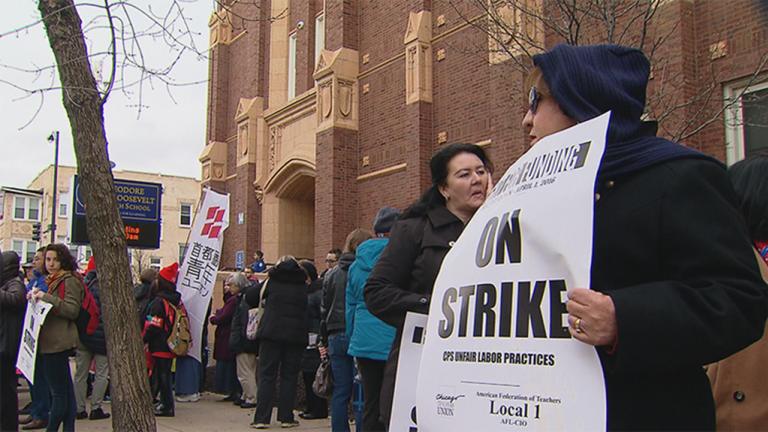 Chicago Teachers Weighing Options Before Vote on 1-Day Walkout
March 31: As the Chicago Teachers Union continues debate over a possible one-day strike in response to furloughs and cuts from Chicago Public Schools, some members have come out in favor of other options that wouldn't cost teachers another day of lost pay.
---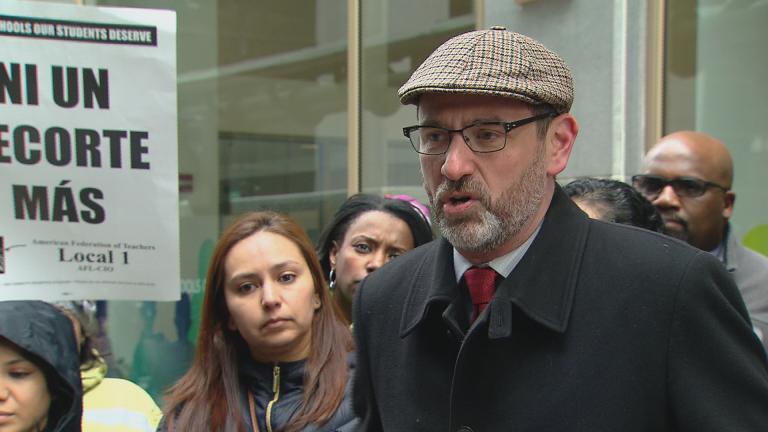 Chicago Teachers Having 'Hard Discussion' Before Upcoming Strike Vote
March 22: Chicago Teachers Union delegates are taking this month to discuss the possible May 1 strike with the union's rank-and-file members before a vote on the action, scheduled for April 5.
---
CPS Files Order to Halt Proposed 1-Day Teacher Strike
March 17: Chicago Public Schools is seeking to prevent a proposed teacher strike later this spring, claiming the move would be illegal under state law.
---