A rare bone disorder didn't stop Gaelynn Lea from pursuing her dreams of playing violin in elementary school.
After receiving a perfect score on a music aptitude test in fourth grade, Lea wanted to pick up the cello, but her small stature and bent limbs prevented her from playing the instrument.
Instead, a good-natured music teacher helped her learn how to play the violin by holding it vertically, like a cello.
Lea was born with osteogenesis imperfecta, or brittle bone disease, which means her bones break very easily. While in her mother's womb, Lea said she fractured more than 30 bones.
Despite this, she excelled at music and eventually became a violin teacher in her hometown of Duluth, Minnesota.
Lea began delving into songwriting in recent years and in 2011, started an alternative duo project called The Murder of Crows with Alan Sparhawk, the frontman of the Duluth-based indie rock band Low.
In early 2016, Lea's students convinced her to submit a video performance of her original song "Someday We'll Linger in the Sun"  to NPR's Tiny Desk Contest.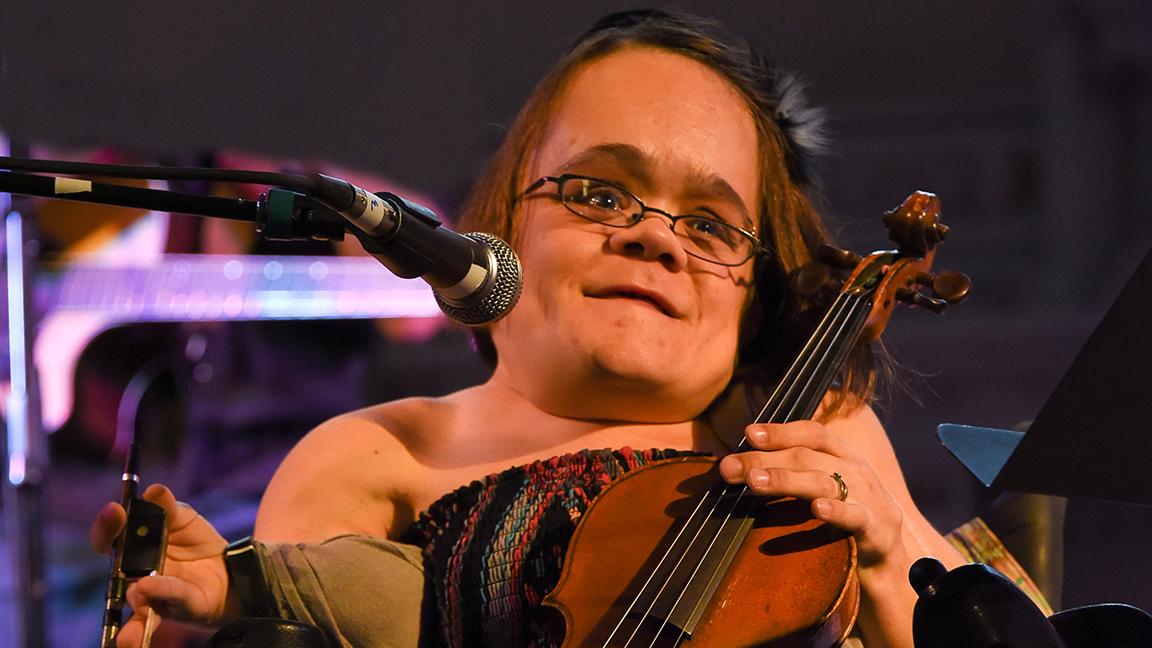 Lea wrote the song that won her the contest, "Someday We'll Linger in the Sun," for her then-fiancé, now-husband, Paul. (Courtesy of Gaelynn Lea)
And then, "everything changed," Lea says.
She beat more than 6,000 entrants to be the ultimate winner of the 2016 Tiny Desk Contest.
Soon after, she was booking concerts and a TED Talk at Yale University examining society's perception of disabled people and sexuality.
For the moment, Lea has resigned from teaching so she and her husband Paul can tour the country.
Along with her music, Lea shares her personal story as a public speaker and advocates for the normalization of the disabled community in mainstream culture.
Video: Gaelynn Lea performs "South Wind."
---
Below, a Q&A with Lea.
On winning the NPR Tiny Desk Contest:
Everything changed after that point. It was very fun. We went on a five-city tour with the NPR people and they were so nice. That was my first experience touring at all, so it was neat to try it with them first. After that, I started working with a booking agent in May and we started a big tour starting at the end of September.
My husband and I sold our house and got a newer van. And we kind of decided if we were going to do it, because I need help to travel – I can't travel independently, but if we were going to do it, we'd go all-in. So he took a leave of absence from his job and I'm not teaching right now – I was a fiddle teacher.
And then we just started touring. We've been on the road since the end of September – almost non-stop. We were home for a little bit at Christmas, but we really haven't been home too much. It was cool. We're going to see basically every part of the country – excluding Hawaii and Alaska, I guess.
By the end of April, we'll have seen everything, so that's kind of cool.
On her public speaking and advocacy for the disabled:
I talk about disability issues. Some of my speeches vary depending on what people need, or whatever.
Some of the tough topics are certain barriers that are still facing people with disability, like economic barriers and accessibility barriers and employment barriers and even, just language that we use around disability which is very negative. So, I talk a lot about that a lot.
I also bring up this topic about disability pride, which is about recognizing that disability is part of a spectrum of ability and that it's not inherently negative, which is how people see it a lot of the time. Not only is it not inherently negative, but there are some positive things that come out of disability, like a wider perspective of the human experience and, like, different realizations that I've had that I know are because of my disability. These are things that make disability a positive thing that can be celebrated – different ways to see the world and interact with the world. And a lot of great arts and literature come out of people with disability, so to stop labeling it as negative is a big deal for me.
And another thing that I talk about is enrichment, which is not judging your life on progress, but looking at other ways to focus your energy that are a little bit more accessible to people who might have disabilities and not work in a traditional sense that we think of.
A lot of our goals of success are kind of "ablest" if you realize it. Like, if you're not able to work, it doesn't mean that your life doesn't matter. So you just need to find different benchmarks and ways to judge what your life is and whether you're happy with your life.
It's kind of an esoteric topic, but it works because it applies to everybody. I think America is really obsessed with success, but you don't always have to make it about that. It can be about "how enriching is your life?" or "how much joy do you have?" That's actually a decent measure of your progress and your life.
On how disability has shaped her music:
You know, I don't know. Obviously, it's shaped the mechanical nature of my music because I have to play the violin up-and-down, like a cello. I wouldn't have been able to play an instrument if I hadn't adapted it that way.
Aside from that, I don't know if I think my disability directly impacts my music. The mechanics are different, but I've always played that way, so it's the same as learning any instrument from scratch. You just learn the way that you're taught.
So, when I play, other things influence it a lot more – like working with Alan Spurlock of the band Low, he's the one who gave me my first looping pedal, which was transformative. I'm so glad he introduced me to it.
That changed a lot of what I can do and I realized over the years that I could probably even play solo if I wanted to because there were so many options for layering sound. That looping pedal was probably the biggest influence on my music, if I had to pick one thing.
On teaching violin:
I taught fiddle music to my students, whose ages ranged from six to 65, so that was really fun for me. I do miss them. They're excited and happy that it's going well, but they're sad I'm not teaching [laughs].
Follow Evan Garcia on Twitter: @EvanRGarcia
---
Related stories: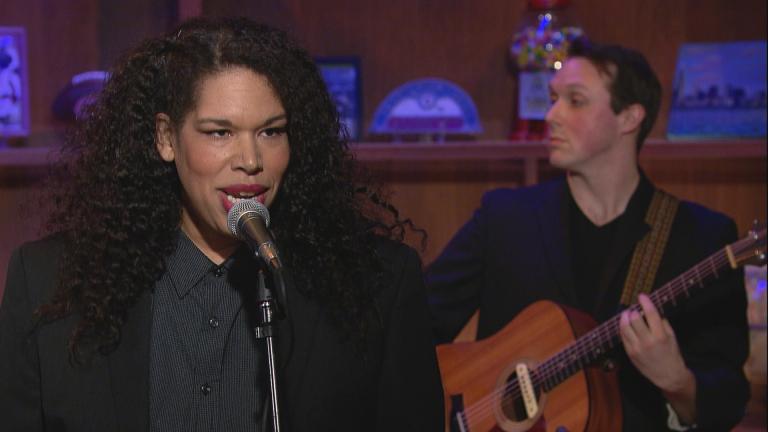 Chicago Singer Bethany Thomas Releases 'First' EP
March 22: Next week, the Jeff Award-winning actress and singer releases her first recording, called "First." She joins us in performance and discussion.
---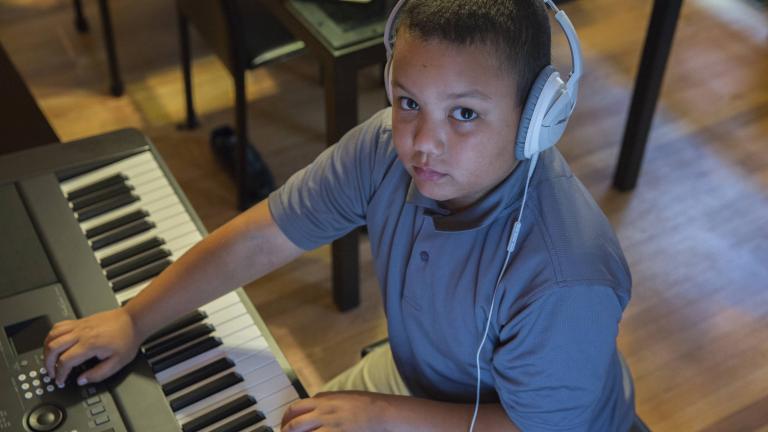 Local Piano Prodigy Takes His Artistry Around the World
Dec. 29, 2016: Young keyboard sensation Joshua Mhoon joins us in performance and conversation about his studies in Chicago and abroad.
---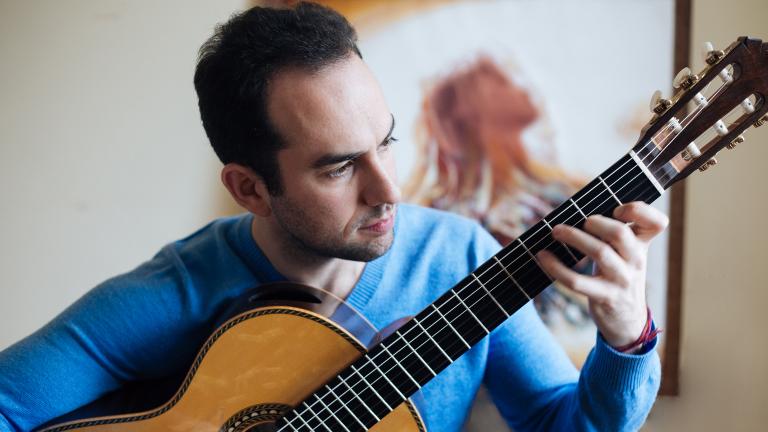 North Shore Native, Virtuoso Guitarist Turns His Talent Into a Crusade
Nov. 22, 2016: Adam Levin has become an international guitar virtuoso and an ambassador for the instrument. He joins us in conversation and performance.
---