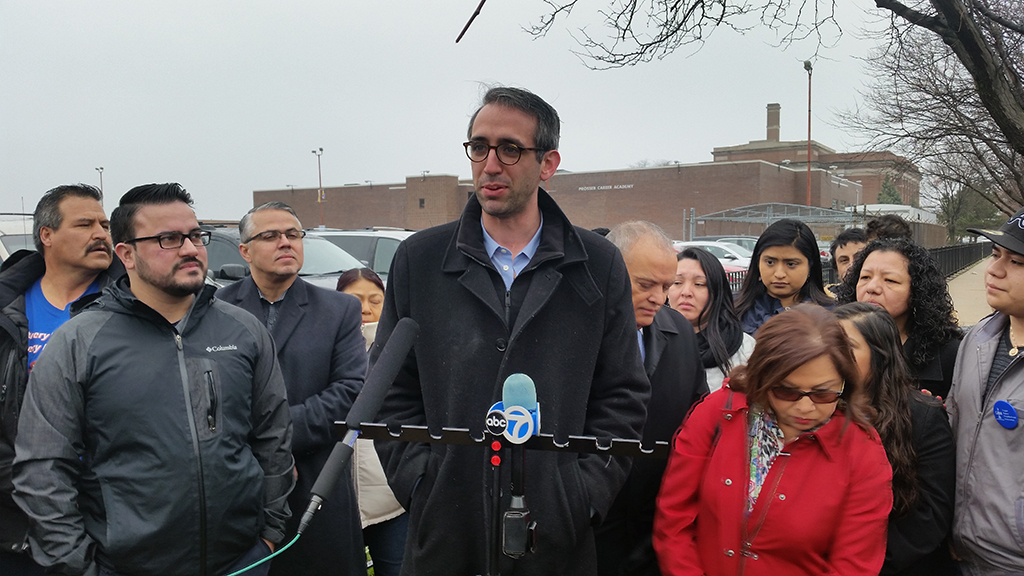 State Rep. Will Guzzardi (D-Chicago) introduced new legislation that would keep cash-strapped school districts across Illinois from opening new charters until they improve their finances. (Matt Masterson / Chicago Tonight)
A state legislator wants to stop Chicago Public Schools and other financially troubled school districts across Illinois from opening new charter schools until their budget issues are resolved.
State Rep. Will Guzzardi, D-Chicago, introduced an amendment onto new legislation late last week that would force districts with the worst financial health to maintain existing schools and balance their budgets before expanding any new charter options.
"It's a pretty simple idea," he told media Monday morning outside Prosser Career Academy. "If your district is broke, take care of the schools that you have before you open new schools. We think it's a pretty straightforward idea."
Each year, the Illinois State Board of Education reviews the financial profile of each district within the state and ranks them among four tiers: recognition, review, early warning and watch. Guzzardi's bill would keep the 90 or so districts within those bottom two tiers (early warning and watch) from opening any new charters until they have improved enough financially to move into the top two tiers.
The second-year state legislator chose to announce the bill outside Prosser, a Level 1-plus school in the Belmont Cragin neighborhood, because it sits just across the street from Speer Academy – a Noble Network charter high school opened in 2014.
"Prosser is a prime example of what happens when you open up a charter school in an area with a neighborhood school that needs resources," Guzzardi said. "The resources get drained away from our community schools and they're left in conditions that require further investment."
Though it's a statewide measure, the bill was pitched as a way to force CPS to prioritize its spending as the cash-strapped district struggles to balance its 2017 budget.
CPS remains in a lawsuit against Gov. Bruce Rauner and the state over $215 million in pension funding it had counted on from Springfield, and has threatened to end the school year nearly three weeks early unless it receives additional state money.
The bill would also prevent the Illinois Charter Commission from overturning individual school districts' decisions to shut down charters, as it did last year when it forced CPS to maintain three low-performing charter schools.
The proposal has quickly come under fire from charter advocates, who see it as a statewide moratorium on charter growth and believe it puts politics ahead of the state's children and families.
"Only one lens – quality – should drive critical decisions about what schools serve Illinois students," Illinois Network of Charter Schools President Andrew Broy said in an email. "High-quality schools, regardless of school type, should be celebrated and expanded, not vilified, by anyone serious about improving the life trajectories of children in our state. Illinois children and families deserve nothing less."
As for Speer, Noble Network spokesman Cody Rogers said the school had more than 2,000 applications for just 150 open-enrollment spots available next school year. He said an expansion of the school would allow the network to serve families currently sitting on a waitlist.
"Yet this bill actively tries to limit that choice for parents and families," he said in an email, "and unfairly singles out charter public schools at a time when all CPS students, including charter students, are making sacrifices to deal with budget cuts."
The network says an expansion of the Speer campus would be paid for through private dollars, not CPS capital funding, and that two high-performing public schools located close together should be celebrated rather than politicized.
CPS announced it had received 20 charter intent letters from more than a dozen vendors by its annual deadline last month.
But that doesn't necessarily mean any new charters are on the way.
The district received almost two dozen letters of intent last year, but only five vendors submitted actual applications and each of those withdrew before being considered by the Board of Education.
An INCS advocacy alert sent out last Friday called for action against the "harmful bill," saying it would put a "10-year or longer ban" on charter schools across the state.
Guzzardi denied that his bill is a general moratorium against charter schools – he said districts with good finances would still be allowed to open charters as they see fit – or that it would shut down existing charters. But it also wouldn't keep struggling districts from opening new neighborhood schools.
"I understand that it seems distant that Chicago might actually get its fiscal house in order," he said, "but it seems to be obvious that until that time – until we have our finances straight – there's no need for us to be opening new, privately operated charter schools. I just can't see the rationale for doing that."
Follow Matt Masterson on Twitter: @ByMattMasterson
---
Related stories: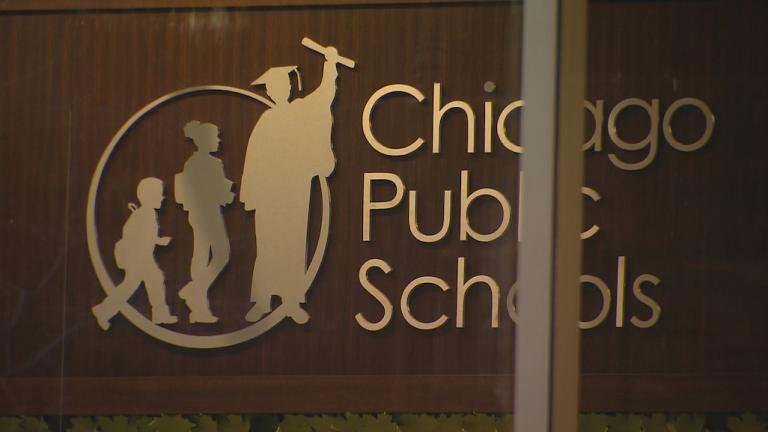 CPS Receives Proposals to Open up to 20 New Charters
Feb. 28: Days after Chicago Public Schools' deadline to submit charter school letters of intent, the district announced it had received word from more than a dozen operators looking to open up to 20 new schools across Chicago.
---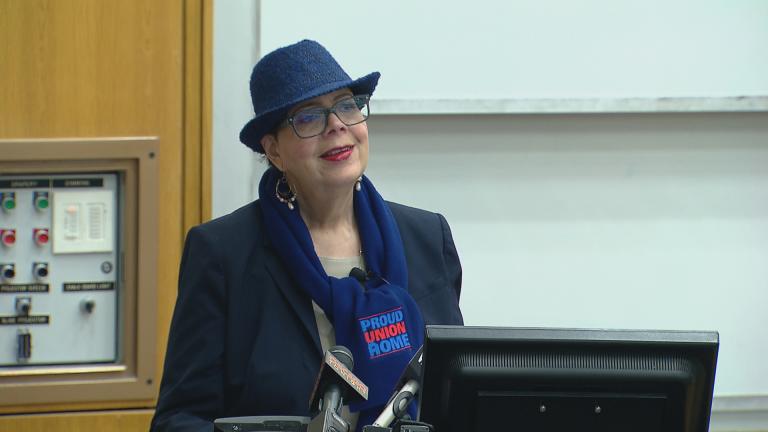 CTU President Karen Lewis Calls for Fewer Charters, More Revenue
Nov. 30: With labor negotiations finished and a new contract finalized, Chicago Teachers Union President Karen Lewis is now calling for an end to the "explosion" of charter school chain growth.
---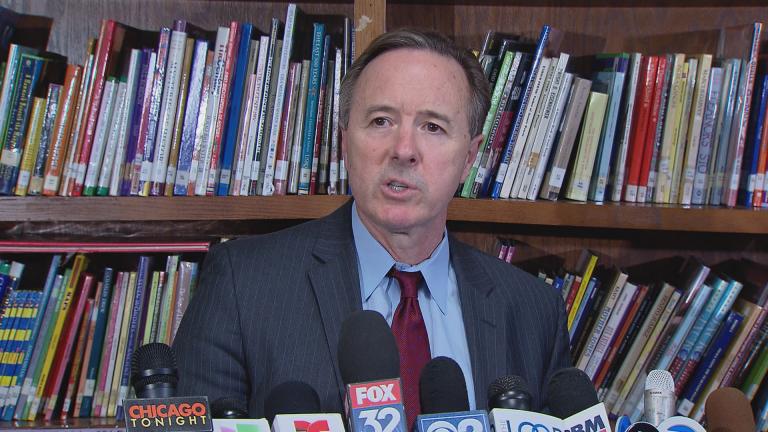 State Commission Overturns CPS Decision to Close 3 Low-Performing Charters
March 2, 2016: Three Chicago charter schools are celebrating a victory today: a state commission has ruled they will be able to remain open, despite Chicago Public Schools' plans to close them for poor performance.
---