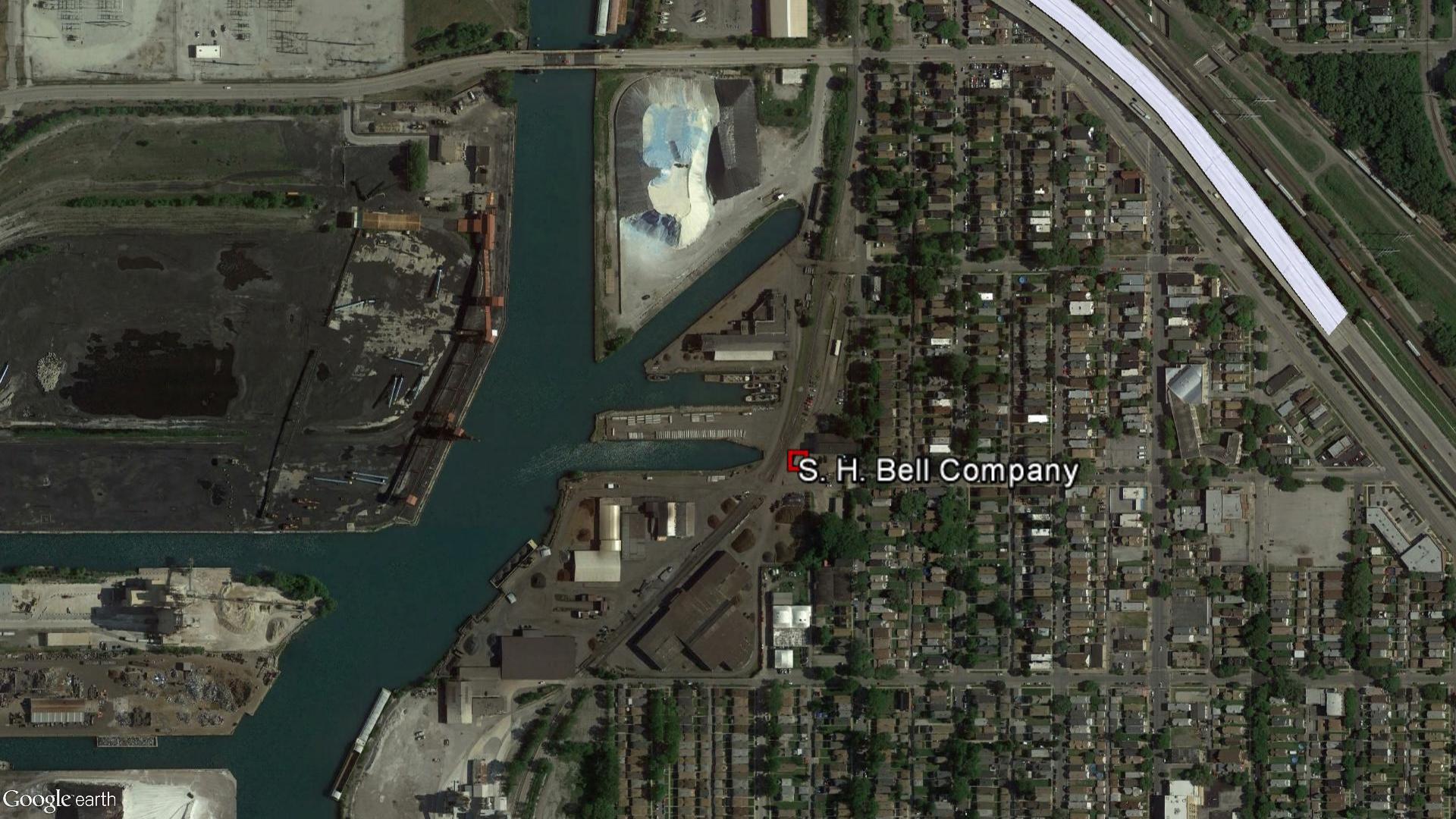 A group of Southeast Side residents and activists met Tuesday night to formulate a plan for confronting the latest threat of pollution in their community, one of Chicago's most industrialized areas.
About 15-20 people from the advocacy group Southeast Side Coalition to Ban Petcoke gathered in the banquet room of an East Side bar, about a mile from the spot where federal regulators last year detected potentially harmful concentrations of airborne manganese, a metal used in steelmaking that can affect brain function at high concentrations.
"This is not petcoke," said the group's leader, Olga Bautista, referring to the oil refining byproduct stored at sites along the Calumet River that used to blow through the area in black clouds. "This is a neurotoxin."
The group formed several years ago as residents in East Side and South Deering battled petcoke dust, which can cause lung damage and other respiratory issues. Through repeated complaints and appeals to politicians and regulatory agencies, the group succeeded in getting the city to establish new rules requiring bulk storage facilities to minimize dust emissions. As a result, residents today are mostly free of the black dust.
But now they have a new worry. Air monitors set up by the Environmental Protection Agency in 2014 to measure emissions of petcoke dust happened to also detect manganese. The concentrations exceeded federal minimal risk levels, according to a report published in August by the federal Agency for Toxic Substances and Disease Registry.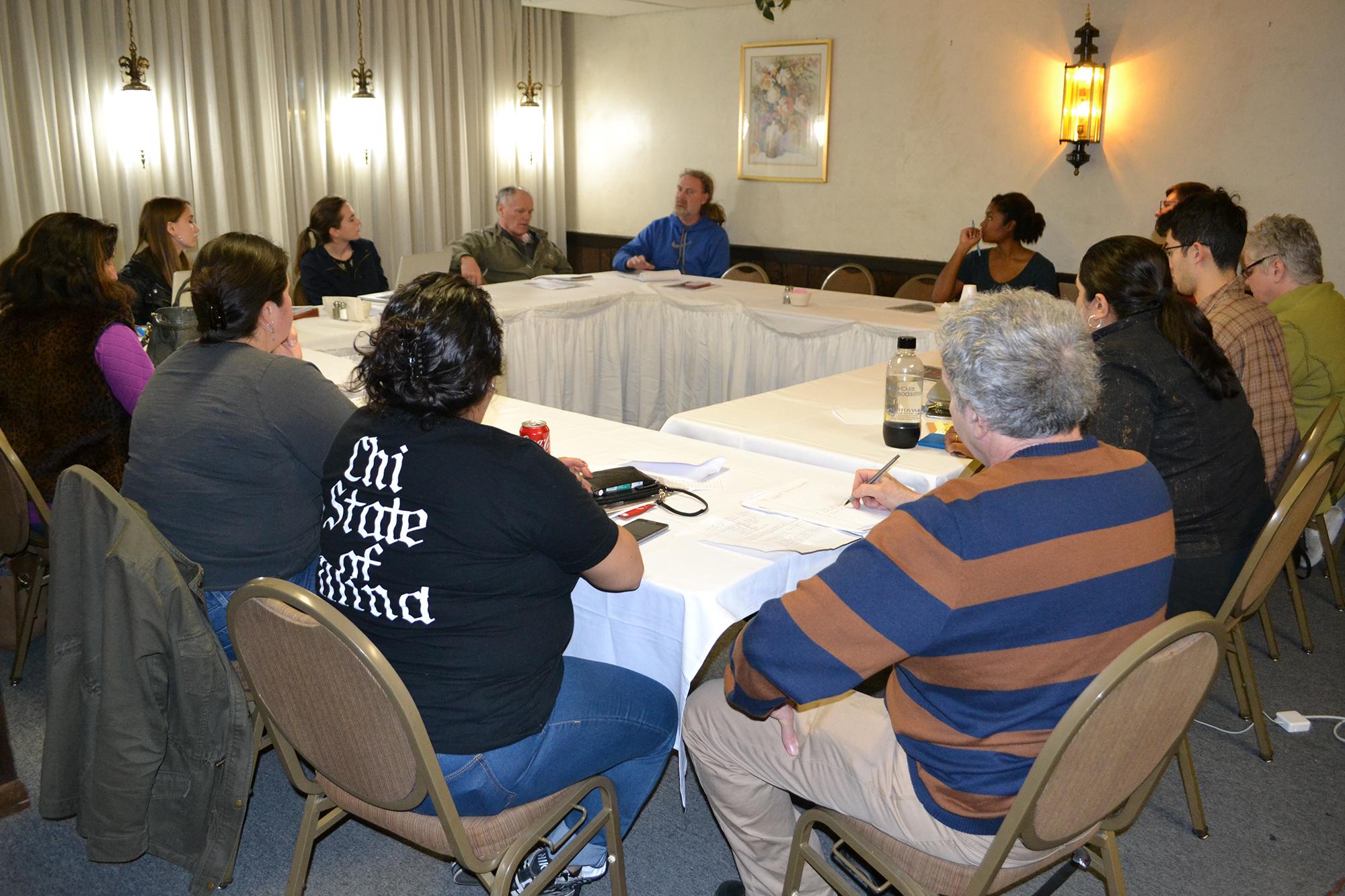 Members of the Southeast Side Coalition to Ban Petcoke met Tuesday to discuss potential health risks from newly discovered manganese dust. (Alex Ruppenthal / Chicago Tonight)
Although manganese is an essential nutrient found in soil, rocks and many foods, at high concentrations it can cause neurological deficits and affect motor functions, according to the EPA.
Long-term inhalation of manganese can harm a person's central nervous system, reduce visual reaction time and hand steadiness, and cause psychological disturbances, according to the agency.
It remains unclear how much manganese is in the air. One company in close proximity to the monitors that detected the manganese, S.H. Bell Co., has for nearly three years avoided installing air monitors that the EPA says it needs in order to collect more data about airborne manganese levels.
"I looked up what kinds of symptoms there are," said Dan Bader, a former employee of Chicago's Department of Public Health, during Tuesday's meeting. "I think there ought to be a demand that this be looked at in a serious way, with blood testing for those individuals who feel they might be affected. And I also feel the authority figures – like mayor [Rahm Emanuel] – ought to be publicly shaming corporations like [S.H.] Bell. Because they'll just play the legal game forever."
A spokesperson for S.H. Bell said the company is not the sole emitter of manganese dust in the area. The company also said manganese emissions from its Chicago facility are low enough that the site is considered a "minor" source of manganese emissions under U.S. EPA and Illinois EPA air permitting programs.
"Based on air monitor data to date, there is no public health risk attributable to manganese in Chicago," the company said.
But in January, the EPA's Region 5 office in Chicago told Chicago Tonight it does not have adequate data to determine the potential manganese exposures for residents living near S.H. Bell.

"The city is failing to alert the community. It's very difficult to just up and leave, but if you had all of this information, that might be something people would want to do."
–Olga Bautista, activist
---
"I just found out about this," said Annamarie Garza, an East Side resident and mother who has attended previous coalition meetings. "I thought that we were done. I was shocked that they found manganese in those petcoke samples."
Garza said residents are just starting to learn about manganese. Of about 10 East Side businesses surveyed Tuesday by Chicago Tonight, only one person had heard about the potential threat of manganese nearby.
"It's difficult because [parents] aren't able to meet in the evenings," Bautista told Chicago Tonight. "We still haven't figured out how to overcome some of that because we're all volunteers.
"I think there's a little bit of activist fatigue," she continued. "We're having a little bit of a difficult time getting people to meetings."
Nearly 20,000 people live within a 1-mile radius of S.H. Bell, according to the EPA. Nearly two-thirds of those people are living below the poverty level, and almost 90 percent are minorities.
Of those living within 1 mile of the facility, more than 6,000 are children. The agency says children face a greater risk from manganese exposure.
"We've been polluted down here for such a long time," said 10th Ward Ald. Susan Sadlowski Garza in a phone interview with Chicago Tonight. Sadlowski Garza, who is not related to Annamarie Garza, has a ward office less than a half-mile from S.H. Bell's South Avenue O Terminal. 
"We were fighting back and thought we were done being the dumping ground of the city," she said.
(10th Ward Alderwoman Susan Sadlowski Garza)
Sadlowski Garza's staff is working with the Southeast Environmental Task Force and Bautista's group on organizing a meeting with health officials to educate residents about the potential risks from increased manganese exposure.
Sadlowski Garza's office said the meeting would likely take place in March.
"The reason I kind of laid off on talking to the community about manganese is because I was afraid to stoke fear and not have anything to offer," Bautista said during Tuesday's meeting. "As an organizer, it's very demoralizing to me to just be the bearer of bad news and not offer any kind of solutions."
Annamarie Garza said many parents still do not know about the newly discovered pollutant. Even as the word spreads, she said many would likely hesitate to take action.
"Some of these people, they're undocumented," she said. "They don't know how to use city services. If their children are sick, they're not going to say anything about it because they don't want to get into trouble. Everybody is terrified that S.H. Bell is going to sue them or something."
---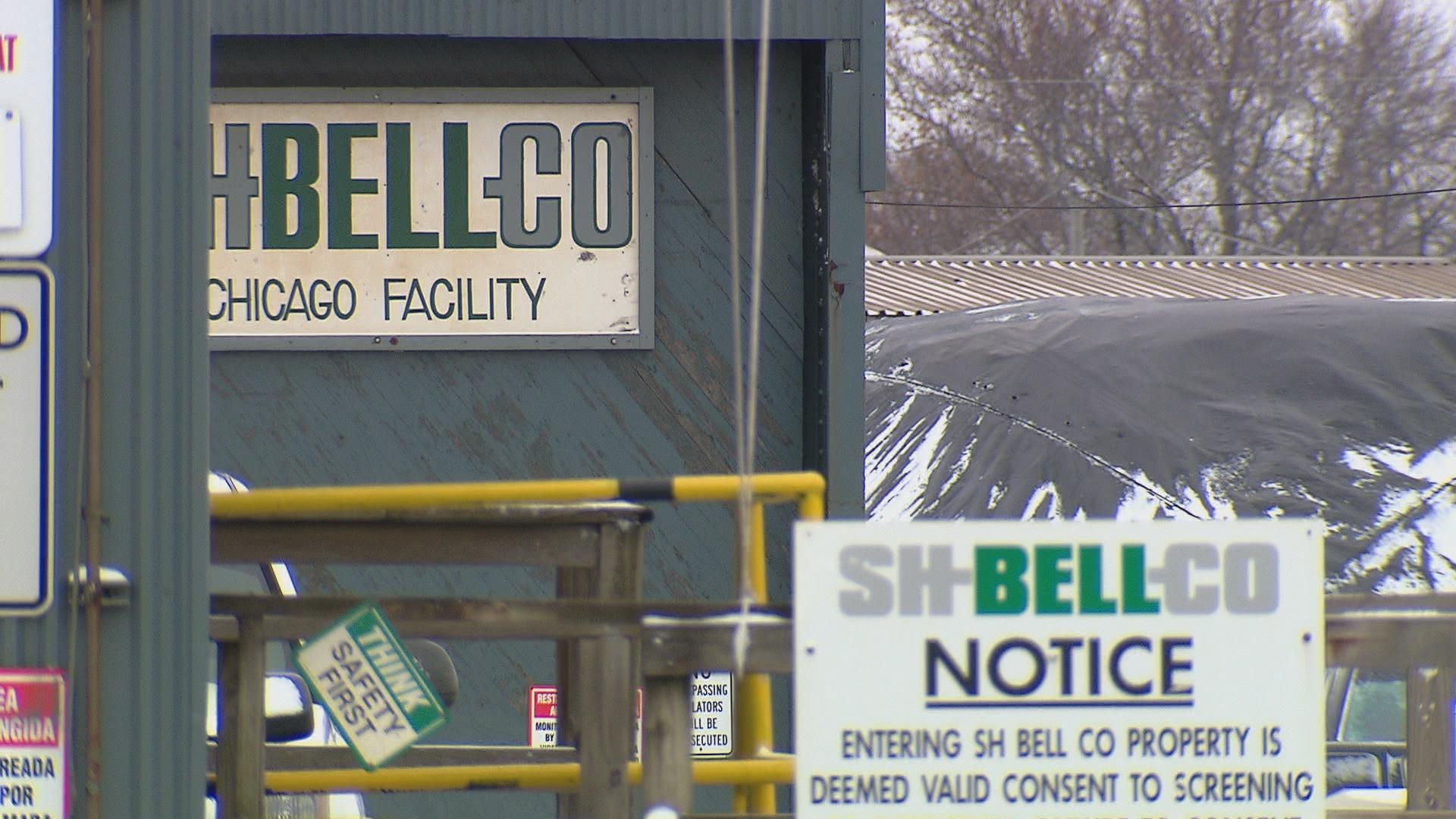 More: Read our full series on manganese on Chicago's Southeast Side
---
At the end of Tuesday's meeting, Bautista's group said it would call on the Chicago Department of Public Health to provide more information to residents about manganese-related health risks.      
"Putting something on their website is not going to work," Bautista said at the meeting. "The city is failing to alert the community. It's very difficult to just up and leave, but if you had all of this information, that might be something that people would want to do."
On Jan. 11, attorneys representing Bautista's organization and two other advocacy groups sent a letter to CDPH urging the city to establish an ordinance that would prevent companies from storing manganese in residential areas.
After touring S.H. Bell last month, Sadlowski Garza also sent a letter to CDPH urging Commissioner Julie Morita to require that the company install air monitors.
The monitors were required following air pollution violations at S.H. Bell cited in 2014 by the EPA that were not directly related to manganese. The EPA told Chicago Tonight that when installed, one of the monitors will be used to analyze concentrations of manganese.

"A lot of the things that happen down here, it would never happen in Lincoln Park, it would never happen in Sauganash. People wouldn't think about putting that stuff there."
–Ald. Susan Sadlowski Garza, 10th Ward
---
"It is important that the air monitors be installed immediately to ensure that the storage and transport of manganese does not adversely affect the health and wellbeing of the neighboring residents," Sadlowski Garza wrote in the letter, dated Jan. 31, two weeks before a Feb. 15 city deadline for the monitors. 
Sadlowski Garza's director of policy and legislative affairs, John Heroff, said that as of Tuesday, the company had not installed the monitors. 
"We expect that ultimately the city will charge them the maximum fine," Heroff said.
According to a letter from CDPH to S.H. Bell, the company would be subject to enforcement actions, including daily fines of $1,000 to $5,000 per violation.
But on Wednesday, CDPH said that because the EPA had to approve the locations of monitors at S.H. Bell, the city decided to push back its deadline until March 1, the same deadline set by the EPA. 
The company told Chicago Tonight it anticipates meeting the March 1 deadline. 
"A lot of the things that happen down here, it would never happen in Lincoln Park, it would never happen in Sauganash," Sadlowski Garza said. "People wouldn't think about putting that stuff there. The 10th Ward has always been industrial. That's not a bad thing. But there are environmental concerns."
In a settlement reached with S.H. Bell in December, the EPA required the company to take steps to reduce dust emissions at its Chicago facility, such as installing the air monitors. Bell also paid a $100,000 civil penalty as part of the settlement but did not admit to any wrongdoing.  
Pennsylvania residents consider lawsuit 
As Bautista and others in Chicago figure out how to respond, residents near another S.H. Bell facility on the Ohio-Pennsylvania border have become increasingly worried about their exposure to manganese dust.
Last May, the Pennsylvania Department of Environmental Protection announced results from an 8-month investigation in Glasgow, Pennsylvania, that found manganese concentrations exceeding federal health guidelines. Glasgow lies 300 yards directly to the east of S.H. Bell's facility in East Liverpool, Ohio.
Since 1999, the EPA has monitored air quality at three locations (see blue triangles) near two S.H. Bell facilities (outlined in red) in East Liverpool, Ohio. (EPA)
Since the announcement, Glasgow Mayor David Adkins said 20-25 of the town's 71 residents have sought out blood tests to check for manganese, the results of which Adkins is compiling in a database.
According to the EPA, average blood manganese levels in the general population range from 4 to 15 micrograms per liter.
Of the two dozen or so Glasgow residents tested thus far, Adkins estimates an average blood manganese level in the mid-20s. Adkins' wife, Karen, has tested as high as 38 and is experiencing health issues potentially linked to manganese, Adkins said.
"We want to move but we just can't afford it," Adkins said. "We need [S.H.] Bell to come and buy this town out. They're denying everything."
Adkins said lawyers are conducting a feasibility study on behalf of residents for a potential class-action lawsuit against the company.
A pilot study several years ago of residents across the river in East Liverpool, Ohio, found an average blood manganese level of 10.32 micrograms per liter.
But Adkins said because the wind typically blows from west to east, residents of Glasgow have tested higher for manganese.
The EPA said more testing is needed to determine the amount of manganese in the air on Chicago's Southeast Side. But speaking from experience, Adkins said Chicago residents are being exposed.
"As long as they've got it there, it's getting in the air," he said.
Follow Alex Ruppenthal on Twitter: @arupp
Video: Reporter Alex Ruppenthal talks about the manganese series with host Phil Ponce. Note: Some industrial images in the video show S.H. Bell operations; others show facilities near S.H. Bell. 
---
Related stories: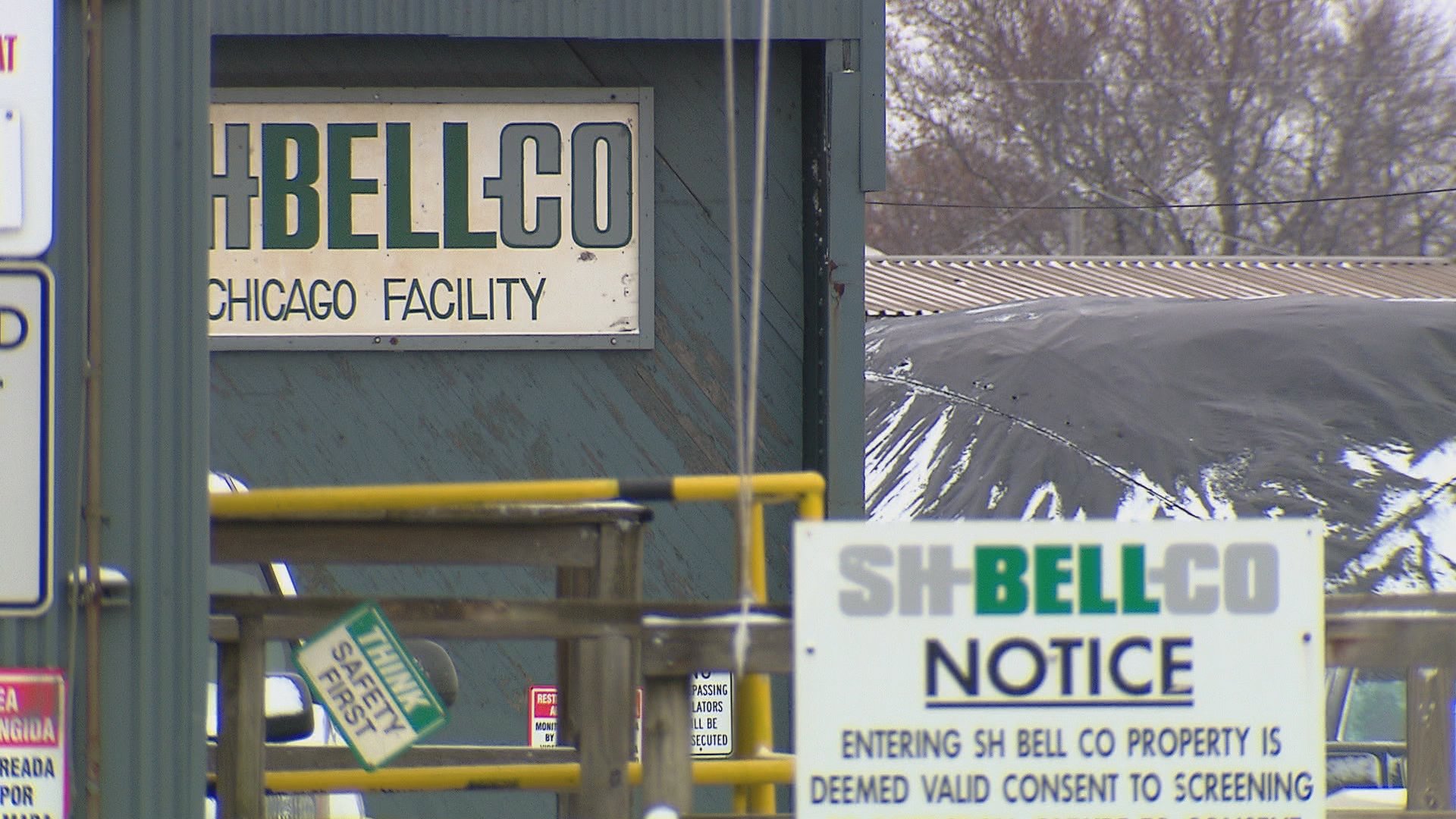 'Public Health Hazard' in Ohio Has Chicago Community Concerned
Feb. 16: The carefully documented history of manganese emissions in a small Ohio city serves as a warning for those concerned about newly discovered manganese concentrations on Chicago's Far Southeast Side.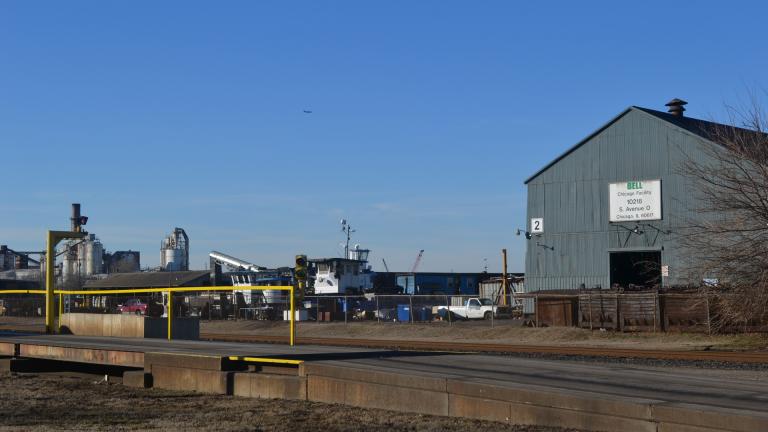 S.H. Bell: We're Not Sole Manganese Source on Chicago's Southeast Side
Feb. 9: S.H. Bell Co., a company linked to potential manganese pollution on Chicago's Far Southeast Side, said Thursday it is not the sole emitter of manganese dust in the area.
---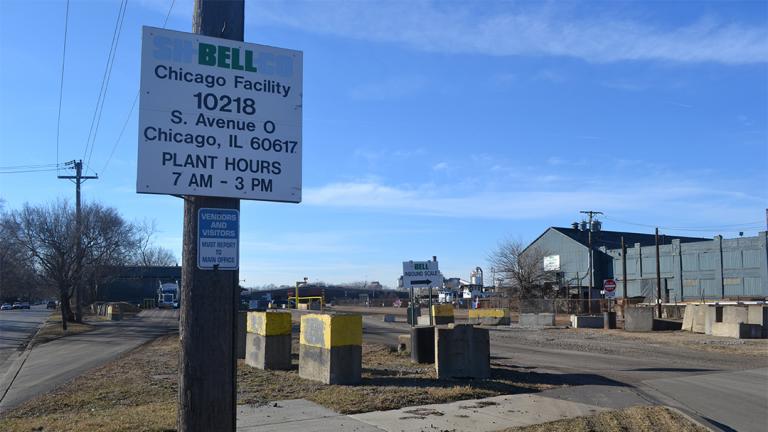 After Petcoke, Community Confronts More Dangerous Pollutant: Manganese
Feb. 8: For decades, residents on Chicago's Far Southeast Side lived with clouds of black dust from nearby industrial sites. Now, the community faces a more dangerous pollutant: manganese.
---