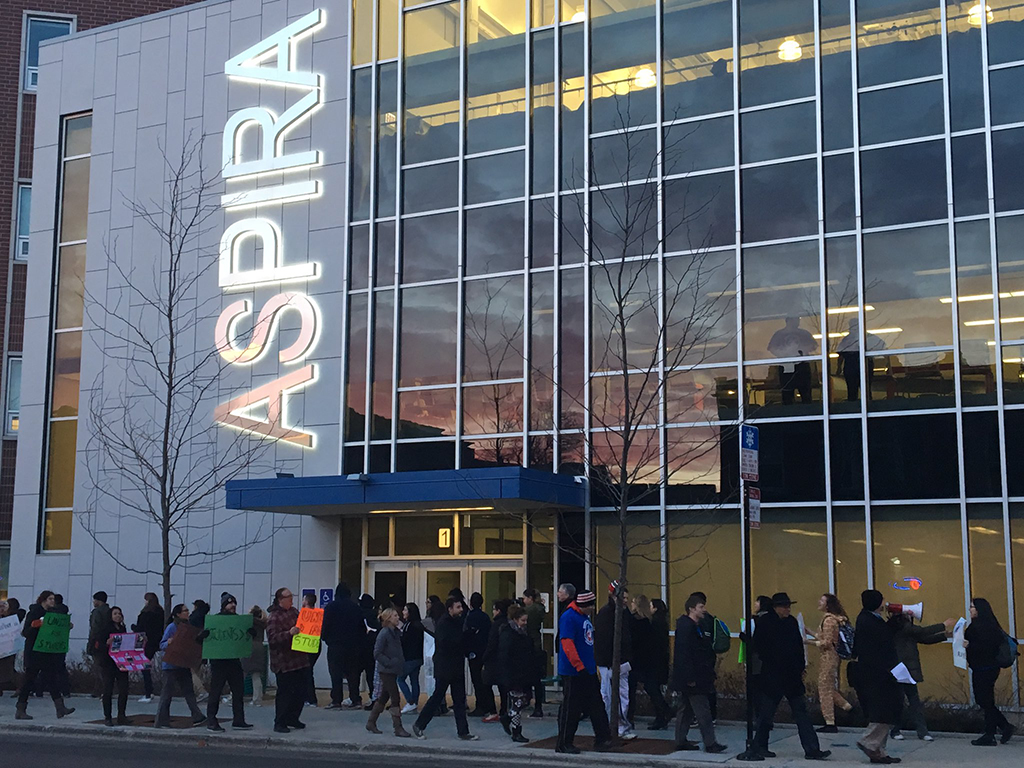 ASPIRA educators picketed outside their charter network offices last week. Those same teachers have scheduled a strike vote Wednesday evening. (A Council of Educators / Twitter)
After two teacher strikes were averted at the last minute last fall, a third group of Chicago educators are set to vote on a potential work stoppage later this week.
One hundred teachers in the ASPIRA charter network – made up of three high schools and one middle school serving a predominantly low-income Latino population of nearly 1,500 students – say they will vote on a strike Wednesday night after months of contract negotiations.
"Schools serve as a pathway to educational excellence and lifelong success," a union statement said Monday, "but that mission is foundering for ASPIRA's students and educators, forcing teachers to take a strike vote this Wednesday to push management to greater transparency and accountability."
The educators have scheduled a rally Wednesday afternoon at ASPIRA's Early College and Pantoja high schools where the results of the strike vote will be announced. If they follow through with their threats, it would be the first charter school strike in U.S. history.
The teachers' three-year contract expired last June, and the two sides have been in weekly negotiations since May. Marines Martinez, a social studies teacher at ASPIRA Pantoja High School and acting president of the teachers' union council, said the administration is asking educators not only to take a pay freeze, but to actually increase their share of pension and benefit payments.
---
No strike date has been set. Martinez said the idea for the vote was made to give their bargaining team more power in negotiations.
Teachers say they have been working toward a new deal for nearly 10 months, but negotiations have reportedly stalled over issues of financial transparency and accountability, as well as concerns over administration leadership.
According to the teachers – who are members of A Council of Educators (ACE), an educator council with Chicago ACTS Local 4343 – the charter network's CEO and Chief Academic Officer have each been removed within the past six weeks. Last Friday, Chief Operating Officer Carlos Claudio also stepped down from his position.
"We're not actually sure who we're negotiating with," Martinez said. "We've come to the conclusion that it's the ASPIRA board of directors, which is the only consistent group in ASPIRA beside the teachers."
ACE members claim ASPIRA spends about 60 percent less on instruction than the average Chicago public school, and say educators at their schools with a master's degree and five years of experience earn as much as new teachers with only a bachelor's degree in CPS schools.
"This year, ASPIRA will spend more than 40 percent of its budget on 'overhead,' including senior staff salary, compared to a Chicago charter school average of roughly 25 percent," the union statement said. "Yet school leadership has been marred by chronic instability and poor conditions at ASPIRA's four schools, while teachers and frontline staff shoulder responsibilities for student recruitment and fundraising for classroom needs."
In their statement, educators paint a dismal picture within the four charter schools. They cite a lack of toilet paper, hand soap and usable toilets in some buildings, and say their special education programs are not in compliance with state standards despite a rising number of diverse learners.
And they put the blame for these issues on Fernando Grillo, chairman of ASPIRA's board of directors.
Grillo did not return a phone message left at his office Tuesday.
This is the third contract the union has negotiated with ASPIRA. Martinez said teachers were asked to go without raises in their first contract due to the charter network's poor financial standing. That trend was reversed in the second deal, but Martinez claims ASPIRA is once again saying it is too poor to cover any teacher raises.
Though it would be a first-of-its-kind strike in the U.S., it's not the first time charter educators have threatened a work stoppage, even in the past few months.
The 500-plus member United Educators of UNO union issued a nearly unanimous strike vote in Chicago last October, avoiding a strike only after reaching a contract agreement with the UNO Charter School Network just before its Oct. 19 deadline.
That accord was reached only days after the Chicago Teachers Union prevented its second strike in four years by agreeing to a new labor deal with Chicago Public Schools.
CTU listed Wednesday's rally on the event page of its website. Messages seeking comment were not returned from the union or Chicago Public Schools, which included nearly $13 million in its FY17 budget for three of the four ASPIRA schools.
Follow Matt Masterson on Twitter: @ByMattMasterson
---
Related stories: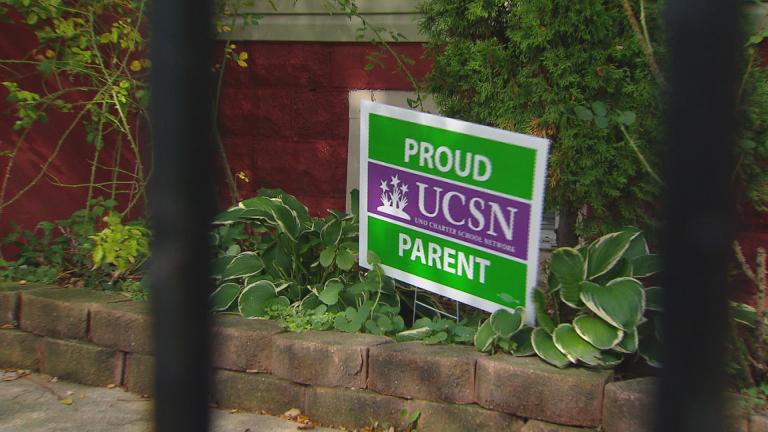 Strike Deadline Looms for UNO Charter School Network, Teachers Union
Oct. 17: The city narrowly missed a massive teachers' strike last week, but another is brewing for parents at a major charter school operator.
---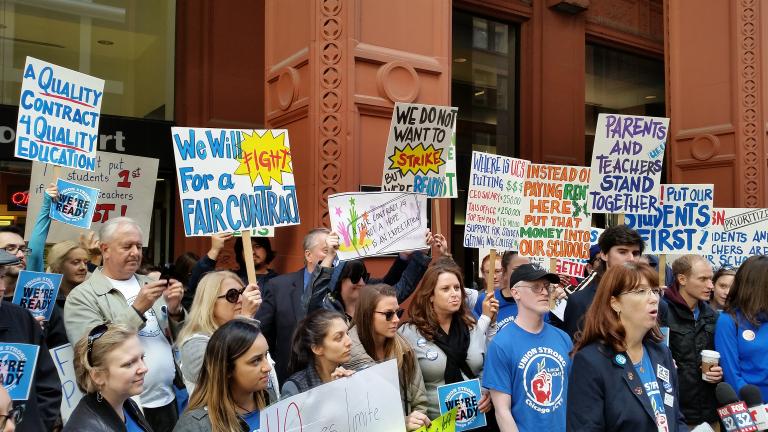 Labor Issues Could Force 1st-Ever Charter School Teachers Strike
Oct. 13: The United Educators of UNO plans to strike next week if it cannot come to terms on a new labor agreement with the UNO Charter School Network.
---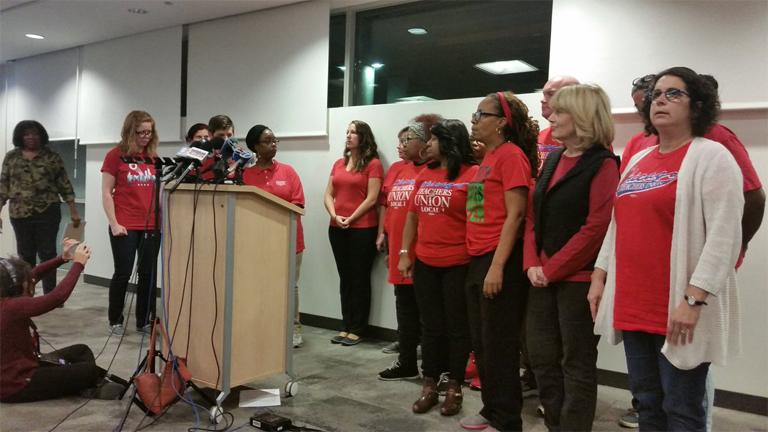 CPS, Teachers Union Reach Tentative Deal to Avert Strike
Oct. 11: A strike by Chicago Teachers Union members has been averted after the union reached a tentative agreement with Chicago Public Schools and the Board of Education.
---