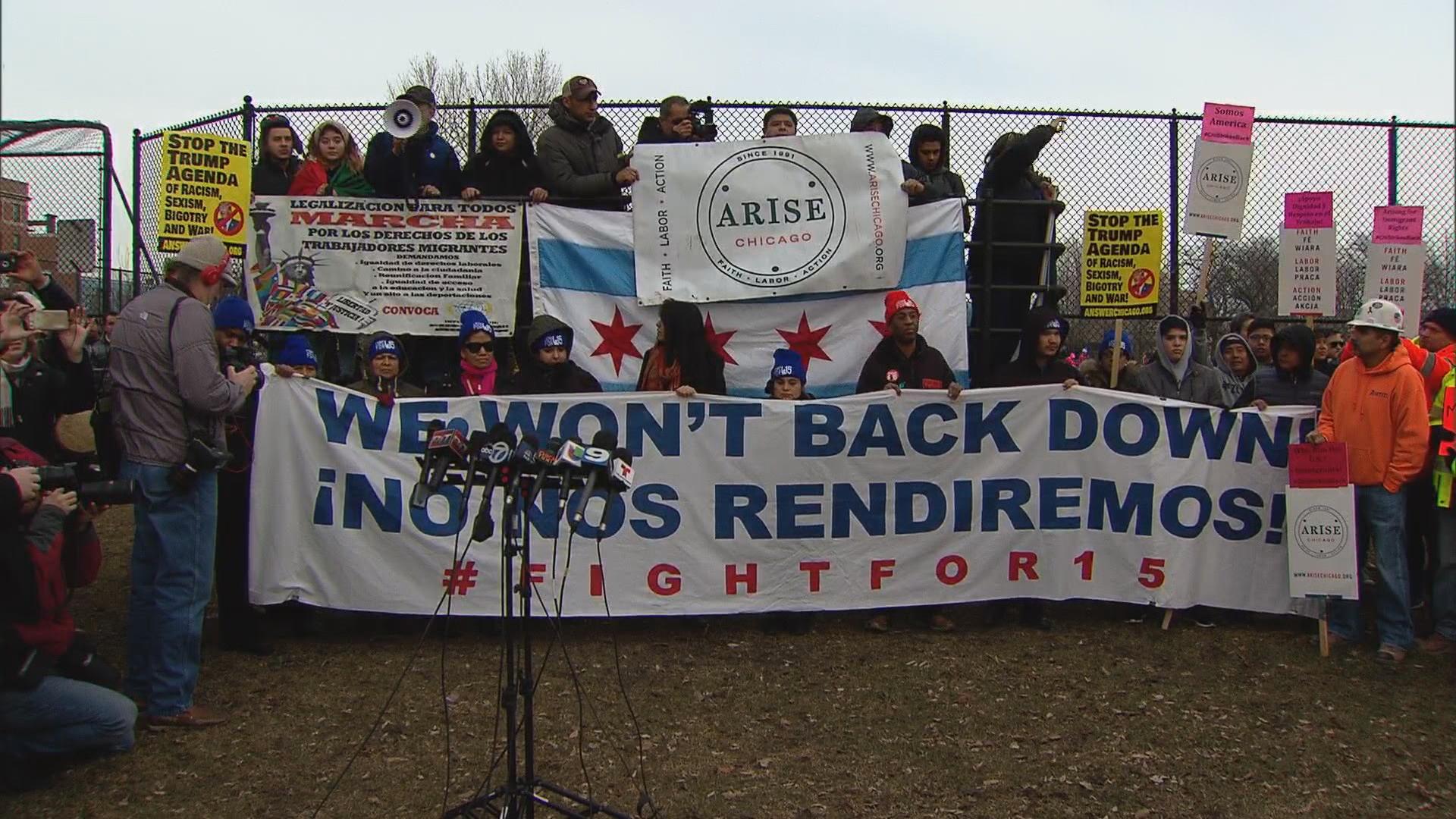 On top of some restaurants and businesses, there were also some schools without immigrants in Chicago on Thursday.
Classrooms across West Elsdon, Brighton Park, Little Village and other predominantly Hispanic neighborhoods were left half-empty as students took the day to join in citywide Day Without Immigrants protests.
Hundreds of immigrants and protesters filled Union Park Thursday morning and marched onto Federal Plaza in the Loop as part of a nationwide strike to bring awareness to immigrants' rights.
Thousands marching to downtown #Chicago for #ChiStrikesBack protest. #DayWithoutImmigrants pic.twitter.com/utfBdWzole

— Tyler LaRiviere (@TylerLaRiviere) February 16, 2017
"If you missed school to attend a Day without Immigrants Protest today, you did something meaningful," wrote Ray Salazar, an English teacher at Hancock High School in West Elsdon, on his personal blog, The White Rhino.
"If you missed school and stayed at home comfortably, if you spent the day on your phone or computer, if you partied in your basement or someone else's, you acted against today's protest and you proved skeptics' views that immigrants do not matter."
Salazar told Chicago Tonight just over 50 percent of his first-period students did not attend class Thursday morning. About a third of his students were absent from his second and third period classes.
Though he acknowledged the protests offered a "meaningful experience" to students, Salazar was skeptical that all those students had actually attended a protest, particularly ones who've had attendance and grade issues in the past.
"I wrote (the blog post) because I think too often young people take advantage of social movements to be inactive," he said. "They conflate that with involvement. I want to challenge young people's thinking to make them re-think and reconsider their intentions behind getting involved in social movements."
Salazar felt Thursday's protest was poorly communicated and organized, keeping it from getting the attention it deserved.
In the Belmont Cragin neighborhood, students organized their own walk-out protest during second-period classes in front of Prieto Academy.
"We wanted people to hear our voices," said Sonya Ruiz, an eighth-grade student who helped plan the walk-out. "We wanted people out there to understand where we were coming from and how we feel about this."
Students walkout in solidarity with #ADayWithoutImmigrants #studentpower #studentvoice pic.twitter.com/mdzb4PhIEB

— MsGRoxs (@MsGRoxs) February 16, 2017
About 150 seventh- and eighth-graders dressed in black and stood in front of the school in solidarity with the Day Without Immigrants strike, and did so knowing they would be facing detention for skipping class.
"By doing this protest we understand that there's a consequence because there are people protesting all over the world and some of them get arrested," said Stephany Ortiz, also an eighth-grade protest organizer. "So as young students, we know that there are consequences to what we did.
"Some people were kind of mad, some people understood it because by protesting for our rights we need to know why we're doing it."
Roxana Gonzalez, an eighth-grade social studies teacher at Prieto, has her students watch the news in class each day, so discussions surrounding immigrants and deportations naturally spring up. She said staff at the school have tried to be responsive to their students' concerns and have worked to inform them of their rights and how to deal with Immigration and Customs Enforcement agents.
While there were still increased absences at Prieto during the day, Ruiz said she and Ortiz convinced several classmates to come to school and help make their voices heard.
"I wasn't going to come," Ruiz said, "but when my friend gave me this idea about the walk-out, I figured ... that if me and Stephany organized this protest, it would be a better way for our words to get out there. Staying home isn't going to make our voices get out there."
Follow Matt Masterson on Twitter: @ByMattMasterson
---
Related stories: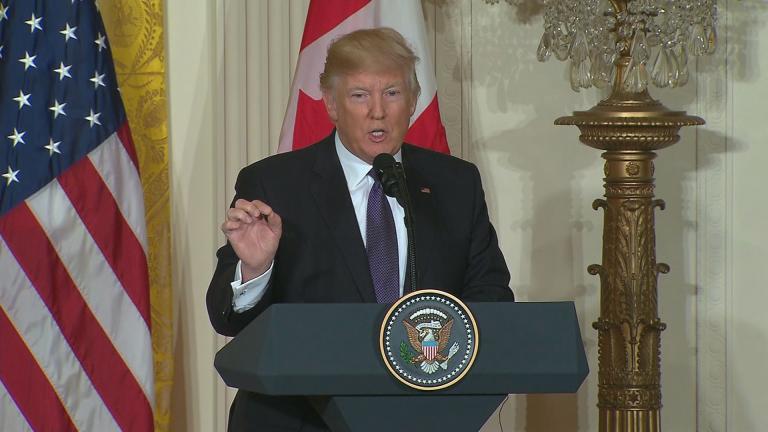 Immigration Under Trump: Raids and the Future of Executive Order
Feb. 13: What's been the impact of the immigration raids – and the travel ban – and what's next?
---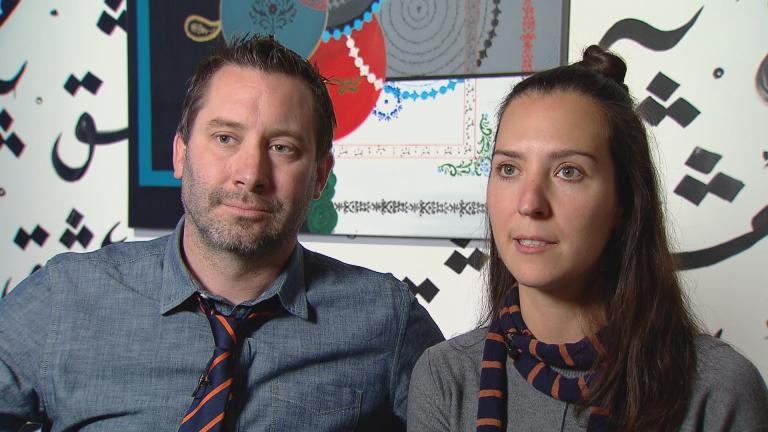 Iranian-Born Chicago Artist Reunites with Husband After Travel Ban
Feb. 9: After a week of fear and stress, an Iranian-born Chicago artist was finally able to return to the U.S. following a court ruling that put an injunction on the president's travel ban. 
---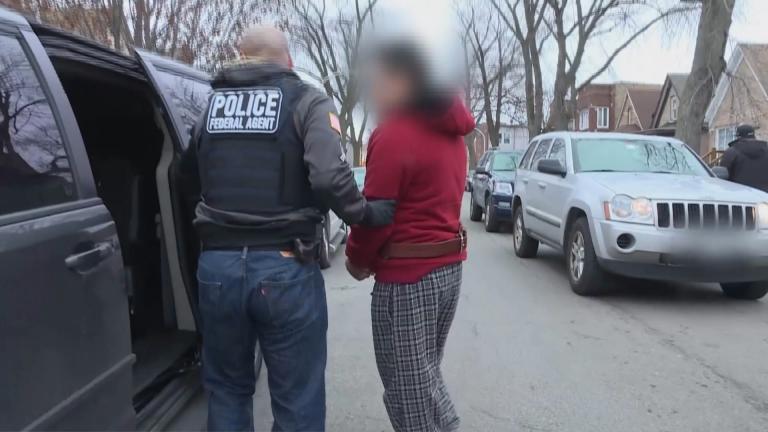 Immigration Raid Has Chicago Businesses, Residents on Edge
Feb. 13: The crackdown on undocumented immigrants has some Chicago residents on edge, while business leaders say it's impacting the local economy.
---