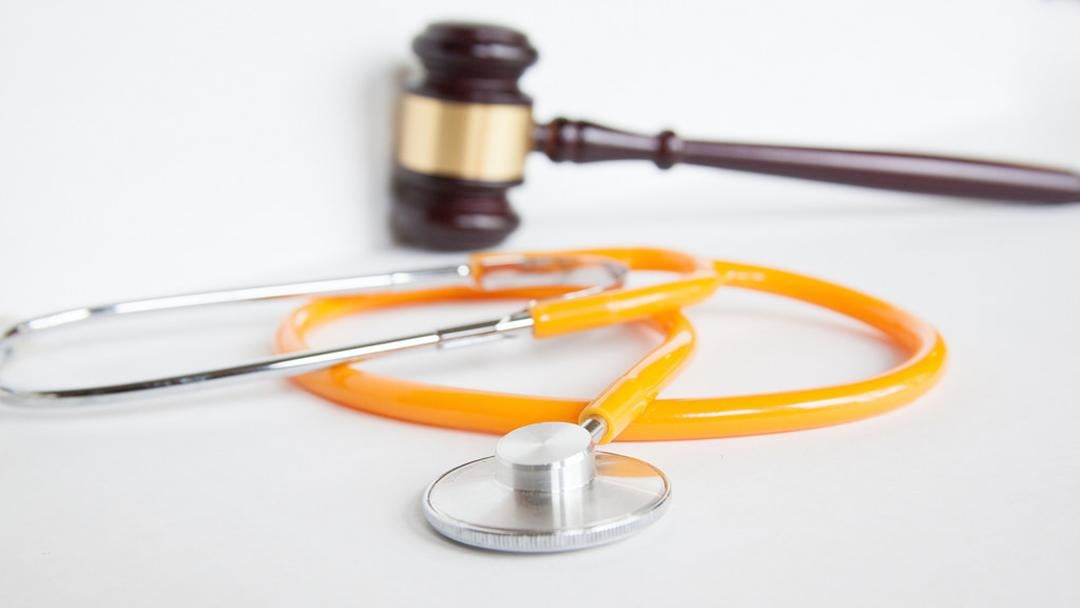 (wp paarz / Flickr)
As tens of thousands of individuals gear up for the Women's March on Chicago this Saturday, a report released Tuesday by NARAL Pro-Choice America offers insight into one of the event's focal points: where the country and state stand in terms of reproductive rights.  
Illinois received mixed reviews for its legislative actions on women's reproductive rights in 2016. According to the report, the state Legislature has taken steps to increase access to reproductive health care options in areas such as emergency contraception, while restricting access in others like requiring parental consent for minors. In other words, there have been victories and losses for those on both sides of the issue.
Though Saturday's march focuses on a wide array of topics, a representative from Planned Parenthood and organizations with similar goals are slated to speak at the rally prior to the march. Event organizer Liz Radford expects the speakers to delve into current policy and detail ways that the roughly 20,000 estimated marchers can help support the advocacy groups.
"Our list of speakers and the subjects are very broad," Radford said. "They touch upon a lot of different issues that affect Chicago women, from reproduction to health care to gun violence. While we're not exclusively focused on reproductive rights, it'll be raised."
It's an issue the state is no stranger to. Gov. Bruce Rauner made headlines last summer when he signed Democratic-sponsored measures that extend insurance coverage for contraception and require physicians who don't perform abortions to provide information to patients on where they can receive the procedure. The latter bill has been subject to debate and is yet to go into effect due to a preliminary injunction.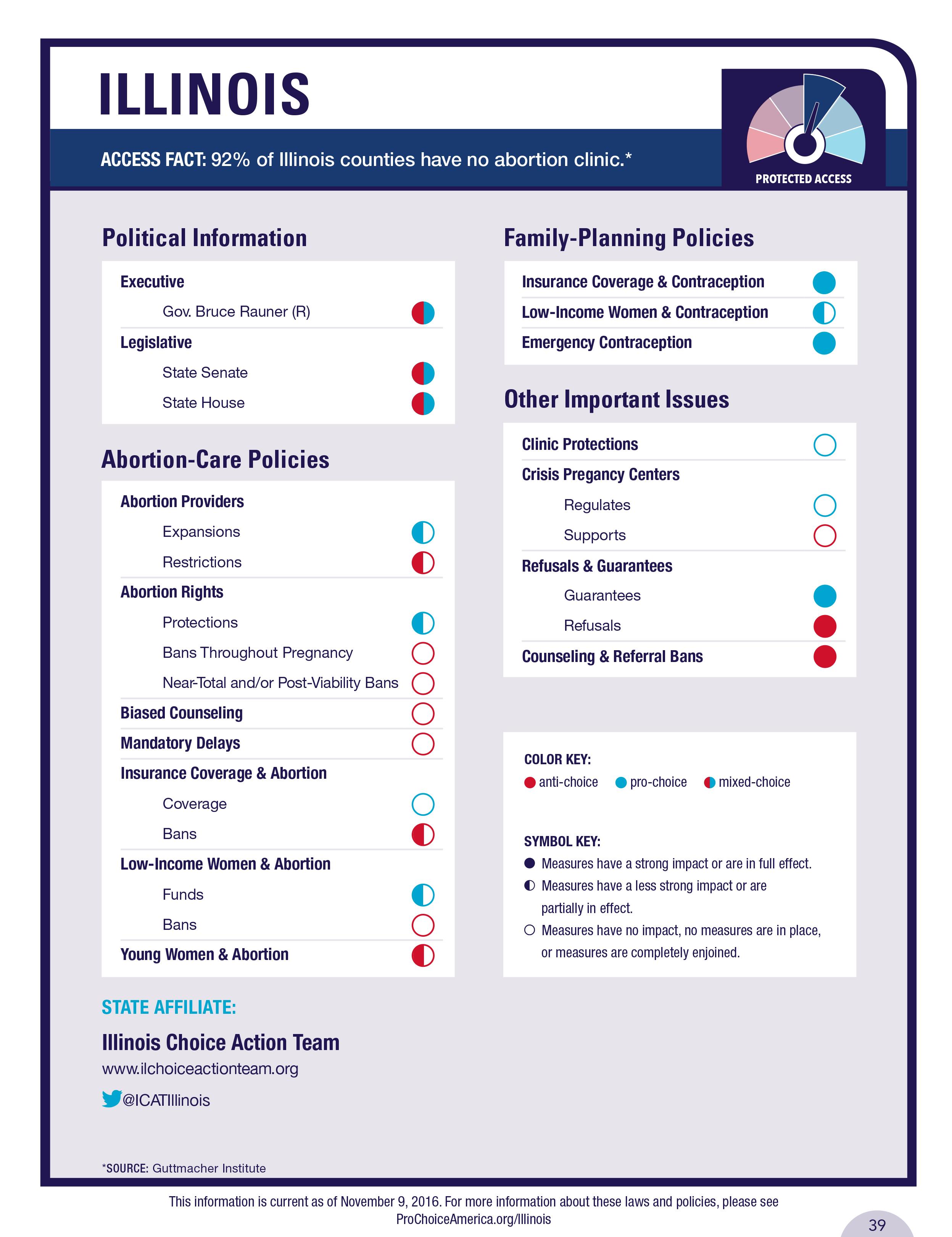 Click image to see larger version This contested bill reflects a larger trend the state has exhibited on reproductive rights.
"It's been kind of a mixed bag for Illinois," Dennis Murphy, co-chair of NARAL's Illinois Choice Action Team, said in regards to the organization's findings.
The report shows that 92 percent of counties in Illinois don't have an abortion clinic, yet the state fared better than the majority in the nation in terms of its overall rating. NARAL labeled the Prairie State as having "Protected Access" to reproductive rights, ahead of 26 states deemed as having "Severely Restricted Access" and nine states with "Restricted/Some Access." No state was judged worthy of earning NARAL's top mark of "Total Access."
Illinois was also among 21 states described as being a "mixed-choice government," with no clear consensus on the issue in the House and the Senate.
Impact on Women's March
The divisiveness of the issue has spilled over from the steps of the capitol into the city streets, and is already on display in the Women's March on Chicago. While the march has been touted as a movement for all, the topic of reproductive rights has caused a rift among its prospective participants.
Illinois Right to Life spokesperson Regina D'amico told Chicago Tonight on Tuesday afternoon that the organization's representatives were disappointed with the state of reproductive options detailed in NARAL's report, and had previously decided not to attend the march.
"We have reviewed the mission statement of the women's march and feel it is unclear and inconsistent," D'amico said. She cited the Washington D.C. march organizers' stance against anti-abortion group New Wave Feminists as one of the main reasons for their decision.  
However, event organizer Radford asserted that the event remained open for all women, no matter their personal beliefs on the subject.
"We really have an open forum," Radford said. "We're inviting all individuals to come and express themselves. No woman speaks for another, every woman speaks for themselves."
Follow Maya Miller on Twitter: @MayaTMiller
---
Related stories: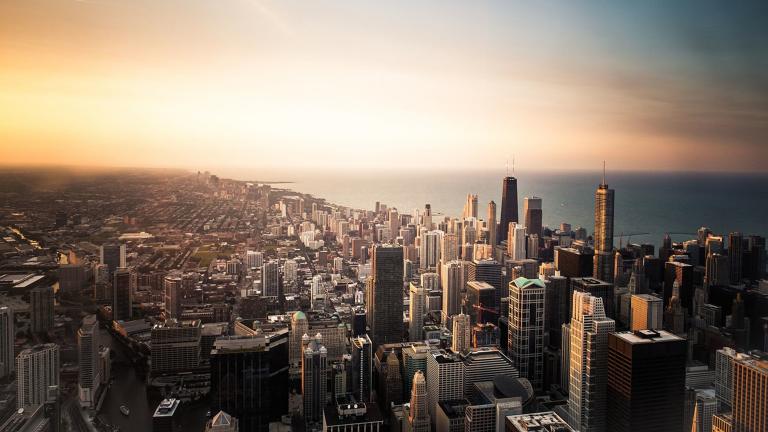 Details Released for Women's March on Chicago
Jan. 16: Organizers of the Women's March on Chicago announced Monday a new location for the rally and march scheduled to take place the day after Donald Trump's inauguration.
---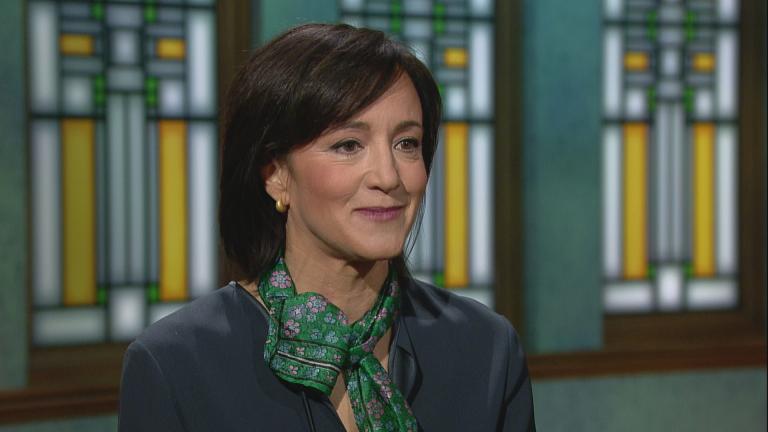 Chicago Filmmaker's 'State of Eugenics' a Look at Forced Sterilization
Jan. 10: A new documentary by Chicago filmmaker Dawn Sinclair Shapiro looks at the history of North Carolina's eugenics program and how modern-day lawmakers sought state compensation for survivors.
---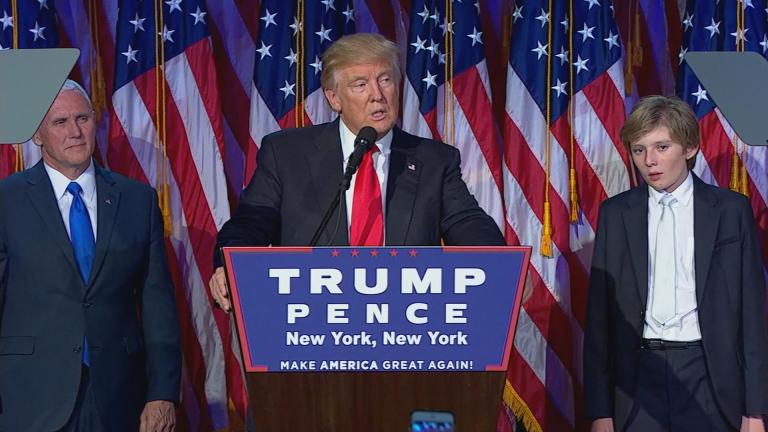 Women to March, Rally in Chicago Day After Trump is Inaugurated
Jan. 4: Thousands of women are expected to march through the city on Jan. 21 – regardless of the weather. "It could be 4 degrees out and we'll be marching," said organizer Liz Radford.
---