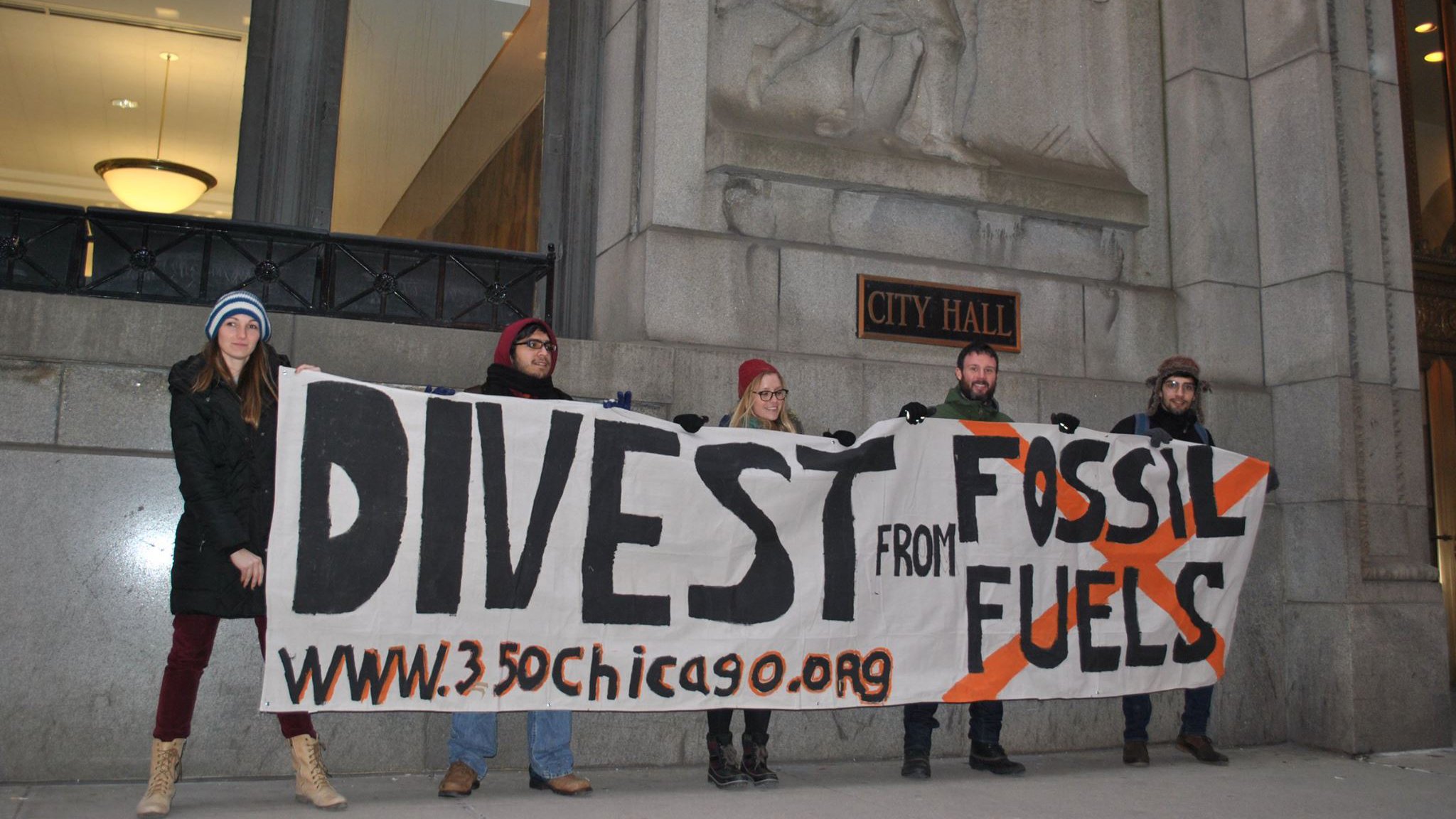 Activists from 350 Chicago protest at City Hall on Global Divestment Day, Feb. 14, 2015. (Courtesy of Melissa Brice)
Local lawmakers and activists are pushing for Chicago to join a rapidly growing list of cities worldwide that have committed to the fossil fuel divestment movement. 
Thirty-nine aldermen have signed a resolution calling for Chicago pension funds to cut off any new investment in fossil fuel companies. The plan, which was presented to the City Council Finance Committee last week, would order the city's pension boards to divest from any direct holdings in such companies over the next five years and invest in renewable energy sources that will "mitigate or limit effects of burning fossil fuel."
According to a recent report, 688 institutions and 58,399 individuals across 76 countries have committed to divest from fossil fuel companies, totaling over $5 trillion in assets. Pension funds account for 12 percent of all divestment worldwide. Also contributing to the removal of fossil fuel assets are faith-based organizations, healthcare providers, philanthropic foundations and local governments.
"This helps send a clear message that … we want to put our money into more sustainable energy solutions," said Ald. John Arena (45th Ward), who authored the resolution.
Divestment efforts in Chicago have been led by local volunteers from 350.org, a network of environmental activists with chapters in cities across the world. After spending the last two years conducting research and holding informational meetings, activists approached aldermen from the Progressive Caucus to discuss the plan earlier this year.  
The resolution cites the Chicago Climate Action Plan in describing the environmental consequences that could play out in the city due to climate change. According to the CCAP, under current emission trends, Chicago could experience more severe heat waves, worsening air quality and an increase in annual precipitation as a result of heavy rainstorms, which will lead to greater pollution into Lake Michigan.
"The business model some of these fossil fuel companies have is to profit over the burning of material that will wreak havoc on the planet and make it less habitable to all forms of life," said Larry Coble, a volunteer for 350 Chicago. "There's a moral argument that these companies are bad actors and not operating for humanity in general."
Activists insist that fossil fuel companies not only pose a risk to the planet, but for investors as well. Signatories to the Paris Agreement have committed to keep the global temperature rise this century to "well below 2 degrees Celsius above pre-industrial levels." Countries will therefore have to reduce greenhouse emissions by shifting away from oil, coal and gas and begin focusing on renewable energy sources. The term "carbon bubble" has since emerged to describe the overvaluation of fossil fuel corporations as nations become less dependent on their product. From a fiduciary standpoint, Coble says, investors will be left with stranded assets and incur major losses.
"These assets these companies have on their balance sheets – basically what gives them their value and stock price – is what they have in the ground and what they know they can burn," Coble said. "If those assets can't be burned, then what is the worth of their company? The last thing I want is for the city of Chicago and its pensioners to be losing money when the carbon bubble bursts."
Arena also says that stock in fossil fuel companies becomes more volatile when environmental-focused events such as the 2010 BP oil spill and the Dakota Access Pipeline continue to grab headlines.
"They're not stable companies," he said. "They're very old-thinking and we need to say 'Look, they are going to exist and we'll need fossil fuels in the short term,' but we have to be thinking as a city about what's sustainable in the long term. We have a moral responsibility to set an example with our taxpayer dollars."
Aldermen are planning to schedule a subject matter hearing with the Finance Committee early next year to discuss further details.
Follow Reuben Unrau on Twitter: @reubenunrau
---
Related stories: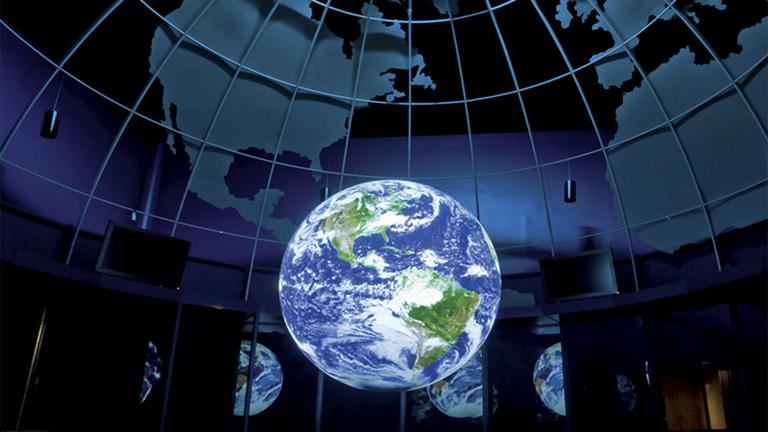 Chicago Teens Join Forefront of Climate Change Research
Nov. 1: To get children and teens interested in science, technology and engineering careers, Chicago's Museum of Science and Industry is planning a new program examining the world around us and the role of humans in it.
---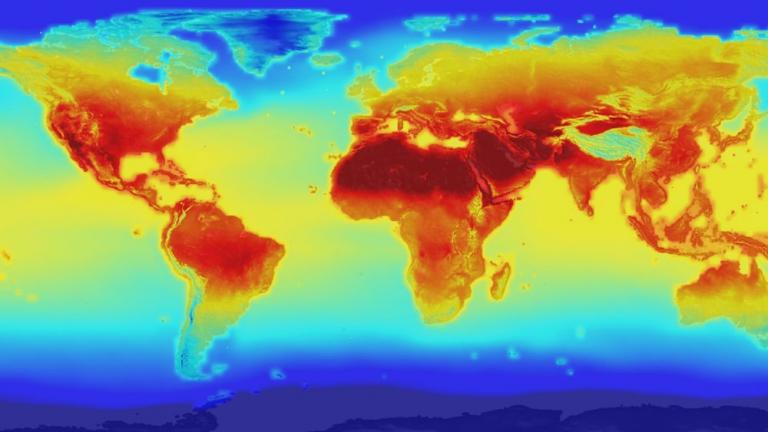 NASA: August Ties with July as Hottest Month on Record
Sept. 13: The average global temperature in August tied with July as the hottest month since record keeping began in 1880, according to NASA.
---
Over 150 Countries Sign Paris Climate Change Pact on Earth Day
April 22: The terms of the historic global pact were agreed upon by 195 countries on Dec. 12, 2015, at the United Nations Climate Change Conference in Paris, but Friday – Earth Day – marks the first day of the yearlong signing period.
---