In 1979, Elizabeth Purcell was a 28-year-old fledgling stockbroker. She lived in the western suburbs, but as new opportunities beckoned in Chicago, she wanted to be where the action was. She heard there was a place called the Eleanor Club where she could get room and board – on the Gold Coast, no less – for about $400 a month. She would have to submit an application and pass an interview, but once she was in, she'd have a safe place to stay, two meals per day, and she'd never have to clean a toilet.
Purcell was sold – as were the thousands of other women like her who lived at one of six Eleanor Clubs across Chicago from 1898 until 2002.
Chicago's rapid growth in the late 19th century meant opportunities for the throngs of young, unmarried women coming from all over the country to make their way in the big city. One of those women, a school principal named Ina Law Robertson, moved from Oregon to Chicago in 1895 to attend the University of Chicago Divinity School. Upon her arrival, she met many other women of modest means who had trouble finding safe places to live as they made the transition from rural to urban life. Robertson saw a need for pleasant, welcoming and – above all – affordable room and board for these women. In 1898, she opened a women's residence in Hyde Park and dubbed it Hotel Eleanor in honor of her friend Eleanor Law.
The 28 women who lived at the first Eleanor Club paid $2.50 a week for their room, cleaning service and two home-cooked meals per day. (In 2001, residents paid just $21 per day for the same services.) The bedrooms were small and sparsely furnished, but each club had elegant common areas for the residents to socialize and dine together. Later, the homes added TV rooms for residents to gather in.
Unlike other women's residences, the Eleanor Clubs did not have curfews, but they did prohibit men from visiting areas other than the lobby.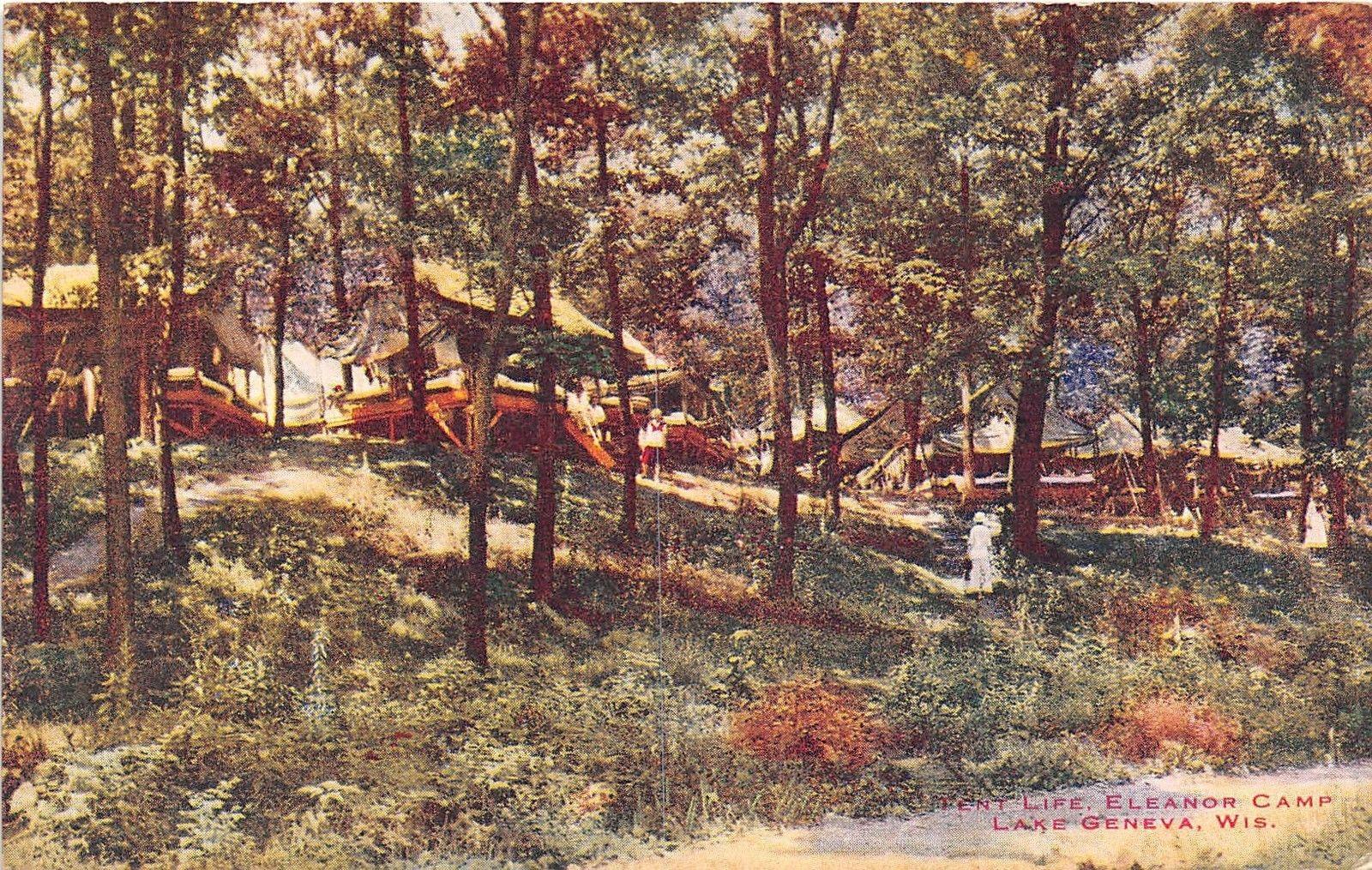 Over the years, the organization added more women's residences across the city. In 1909, the Eleanor Clubs also opened a rustic campsite at Lake Geneva for members to enjoy camping, fishing and boating unchaperoned – something that social mores of the time made impossible otherwise.
An offshoot organization called the Eleanor League, with a mission of educating young girls, was started in 1913. The club's offices, known as the Central Eleanor Club, were in the Stevens Building at 16 N. Wabash Ave. and were also used as a clubhouse and classroom for Eleanor Club members.
The last residence, the Eleanor Club Parkway, was built in 1956 at Dearborn Street and North Avenue. By then, the six Eleanor Clubs provided room and board for up to 600 women.
Eleanor Club Parkway
The Eleanor Clubs were run as a nonprofit enterprise, but unlike organizations with similar missions such as the YWCA and the Three Arts Club, did so without any charitable or religious elements in their operation. Each house had a resident director who would interview prospective residents. Once approved, women could become members of the Eleanor Club and stay for just a couple of nights at a time or as long as two years.
Purcell fondly remembers her time at the Eleanor Club Parkway, where she met women from all walks of life – artists, lawyers, divorcees, widows, trust-fund babies – from across the country and even the world. Though residents were allowed a maximum of two years in the Eleanor Club, Purcell was so happy living there that she obtained special permission to stay an additional two years.  
Having a place to live where household chores were taken care of freed Purcell to pursue her professional goals at full throttle. "My career path was very uncharted [for women]. If you were working at a brokerage firm and won an award and went on a trip, there'd be two women out of a thousand men," says Purcell. "But I was smitten by the stock market, and [living at the Eleanor Club] I could focus on that and [not] worry about the mundane things in life. It was practical."  
It was at the Eleanor Club Parkway where Purcell met her lifelong friend, Rhonda Rhoda Kane, a nutritionist who now lives on the East Coast. In Kane's case, a room at the Eleanor Club allowed her to accept a promising new position halfway across the country from her home in Maryland without worry. She recalls, "I didn't know a soul in Chicago. The day that I accepted the position, I said to my boss, 'Do you have any idea of where I should find an apartment?'" A colleague mentioned the Eleanor Club, and, Kane continues, "It was just ideal – I didn't have to rush into anything. I got to know the city before I ended up renting or buying."
The Gold Coast setting was a boon to their social lives, too. Says Purcell, "We could go down to Rush Street and party. We were right around the corner from all the action. I was just interested in shopping, buying clothes, going to the discos, having fun, and it was a great location."
While some might find the idea of a gender-segregated living situation a little Victorian, Kane appreciated the feeling of safety that it afforded. She says, "You didn't have to worry about men that were strangers and not living there wandering around the halls. If you had to use the bathroom at night, you'd just go down the hall in your pajamas and use the bathroom. There was no fear. It gave me a really positive attitude about living in the city. I ended up living in Chicago for eight and a half years and I loved everything about it except the cold."
Purcell notes that at the time, women had yet to develop robust professional networks even in places like the Eleanor Club. "Women were just getting themselves going at the time, so it wasn't about getting jobs. No one was looking for anything from anybody. But I liked the camaraderie and the companionship. You could always go down to the TV room and there would be someone in there you could watch TV with. It satisfied a need for community."
But as women gained power in society and in the workplace and it became easier for them to strike out on their own, the demand for gender-segregated housing declined. The Lake Geneva camp closed in 1953, and beginning in the 1970s, the Eleanor Club and other women's residences gradually closed their doors. The Eleanor Club Parkway was one of the last holdouts, finally ending its residential program in 2002. The property was purchased by the Latin School of Chicago and the building was demolished. Around that time, the Eleanor Club reorganized into the Eleanor Foundation and focused on a new mission of building a network of social services for working women. Ten years later, the organization became part of the Chicago Foundation for Women.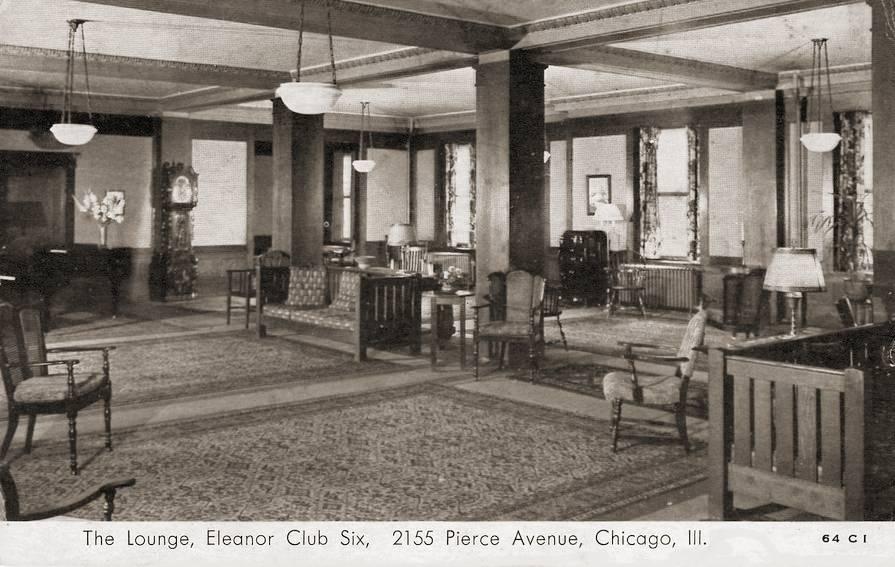 Like the Parkway house, most of the Eleanor Club houses are no longer extant, but a few of them survived and were repurposed. A former Eleanor Club at 1459 E. 59th St. was turned into a residence hall for University of Chicago students (and next year will be closed as a residence hall and re-used for a purpose yet to be determined). The Wicker Park Eleanor Club at 2155 N. Pierce Ave. is today a nursing home. The Eleanor Club at 616 W. Arlington Place is now a youth hostel. The Charles A. Stevens Building at 16 N. Wabash Ave., where the Central Eleanor Club once occupied an entire floor, still stands as a retail and office building.
For Purcell and Kane, the Eleanor Club's memory still lingers as a place that served not just a practical purpose, but a communal one.
Kane remarks, "It's a shame that there isn't something like the Eleanor Association in every big city, for both men and women. It set people up for success." Purcell adds, "If I won the lottery, I'd open a place like the Eleanor Club in a heartbeat. It was wonderful to have a cross-section of people in your life like that. I really had it all there."
---
Related stories: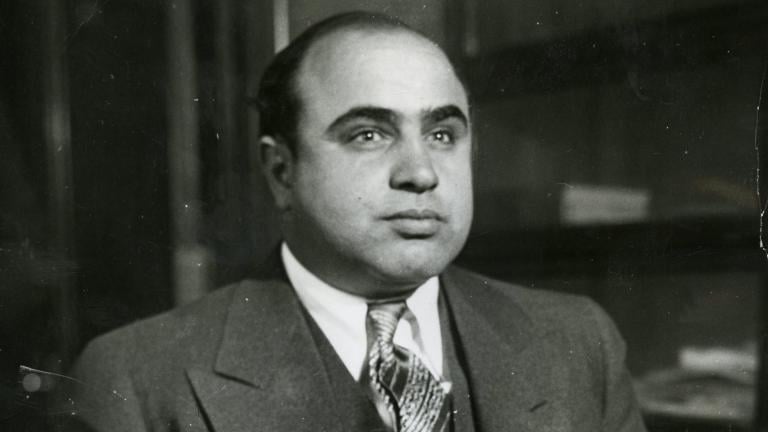 New Biography Sheds Light on Private Life of Al Capone
Nov. 16: The continuing fascination with gangster Al Capone. We speak to the author of a new book that looks at the private life of the notorious criminal.
---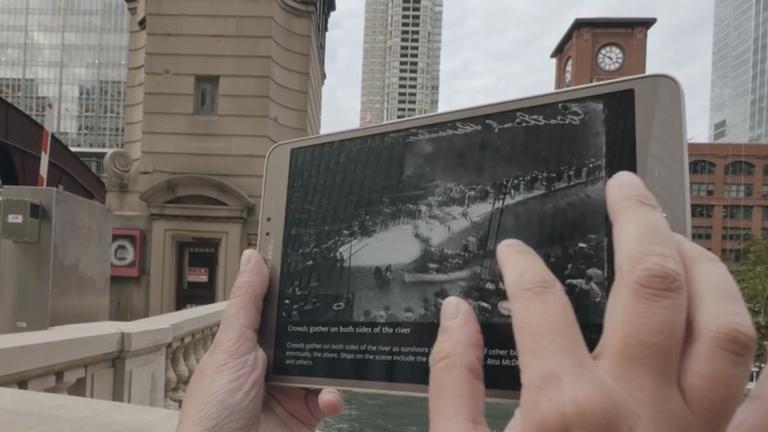 Augmented Reality App Offers New Look at Eastland Disaster
Oct. 19: A remarkable new app brings us face-to-face with the 1915 Chicago tragedy.
---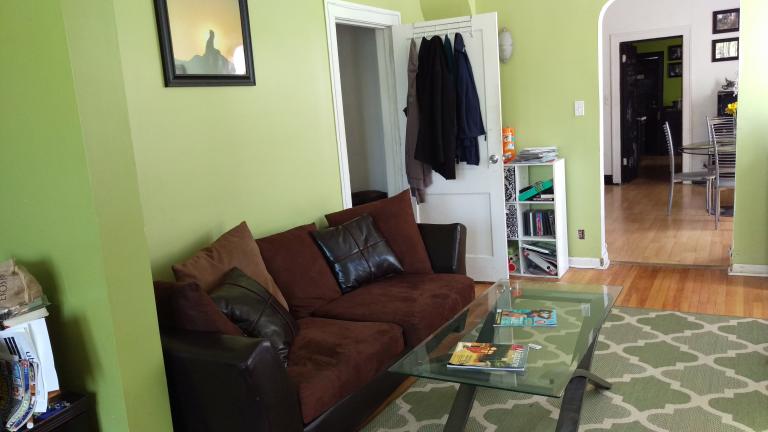 Business Good for Airbnb Host Despite Englewood's Bad Reputation
May 17: Meet the woman who makes her living hosting visitors from all over the world in every nook and cranny of her four-bedroom, two-bath home in the Englewood neighborhood on Chicago's South Side.
---