When it comes to recycling, the city of Chicago has had a long and problematic history. It took years to get blue recycling bins to every ward, something that wasn't finished until 2013. But getting Chicagoans to take part in the program–and do so correctly–has become an ongoing challenge.
Participation rates have dropped over the last two years and now city officials are trying to figure out how to get more Chicagoans to go green.
TRANSCRIPT
Eddie Arruza: On an average day, this recycling processing site on Chicago's Southwest Side handles around 35 tons of material from city households. It's one of three in the city where humans and machines sort through cardboard, plastic items, cans, glass, paper and other recyclables that can all be sent off to be reused or repurposed.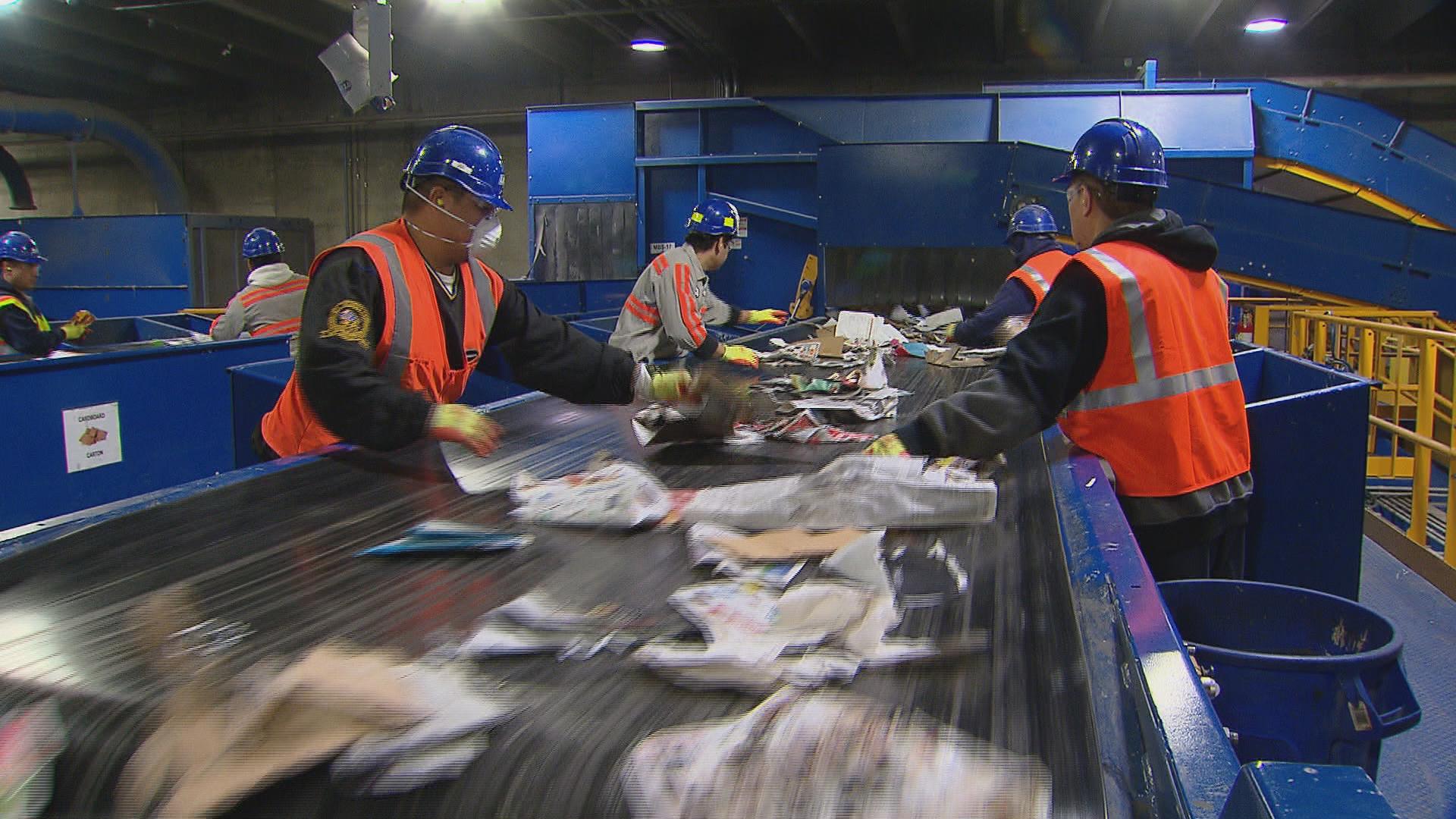 (Chicago Tonight)
But while it appears to be a lot of discarded waste that's not going to landfills, Chicagoans are recycling less this year than last year and a lot less than two years ago. Less than 10 percent of the city's garbage is being recycled, a number that recycling advocates say is unacceptably low.
Mike Nowack, Illinois Recycling Association: It shows a lack of commitment to that on the part of the city of Chicago. There should have been more education a long time ago.
Arruza: Over the last 25 years, the city of Chicago's recycling efforts have come in fits and starts. There was the long running blue bag program that failed to live up to expectations. And then it wasn't until 2013 that all 50 wards finally got blue recycling carts. But if that was supposed to make it easier and more convenient for residents, it's not yet taking off.
Two years ago, the citywide recycling rate was a little over 11 percent with North Side communities leading the way. This year the rate has dropped a full 2 percentage points. Chicago Streets and Sanitation Commissioner Charles Williams has one explanation for the plunging rates.
Charles L. Williams: We implemented a plan of no plastic bags at the beginning of this year. As we did that, if you have plastic bags in your recycling bin we're not taking those. That's caused a drop-off.
Arruza: But the city admits there are other problems as well, ranging from contaminated recyclables to a lack of understanding of the items the city is currently collecting.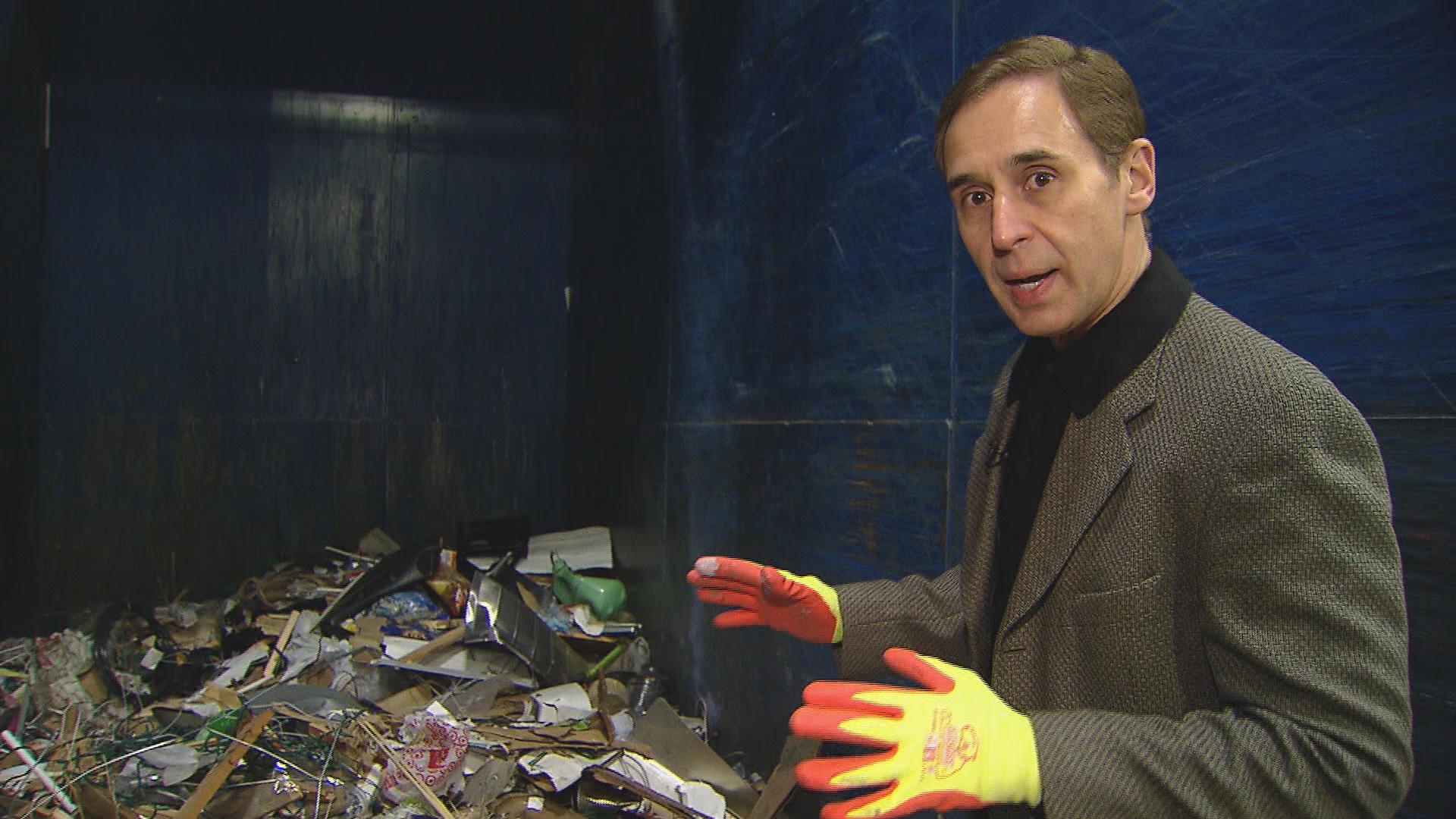 This is just a small sampling of some of the items that end up at this facility that should not be put into your recycling cart and that slows down the process of sorting.
One of the biggest problems is wire hangers; those should not be put into your recycling cart. Here's part of an old keyboard, a gas nozzle, a tennis racket. None of this should be put into your recycling cart.
But a big, big problem remains plastic bags. Don't put these into your recycling cart, either.
The city recently launched a more user-friendly and interactive website to show what can and cannot be recycled in Chicago right now.
But earlier this year, the city asked the nonprofit Chicago Sustainability Leaders Network to hold community focus groups about recycling. Caitlin Sarro is an organizer with the Sustainability Network who did some of the outreach.
Caitlin Sarro: One thing we found from all of the meetings across the board is that people want to recycle. The high levels of contamination are from people thinking that something is recyclable because they can see it and they go, "Oh. There's plastic in here, there's metal, it must be recyclable." But you have to be able to separate those for it actually to be recyclable. This effort of people trying to recycle and not doing it correctly, we saw that mainly as an issue of education.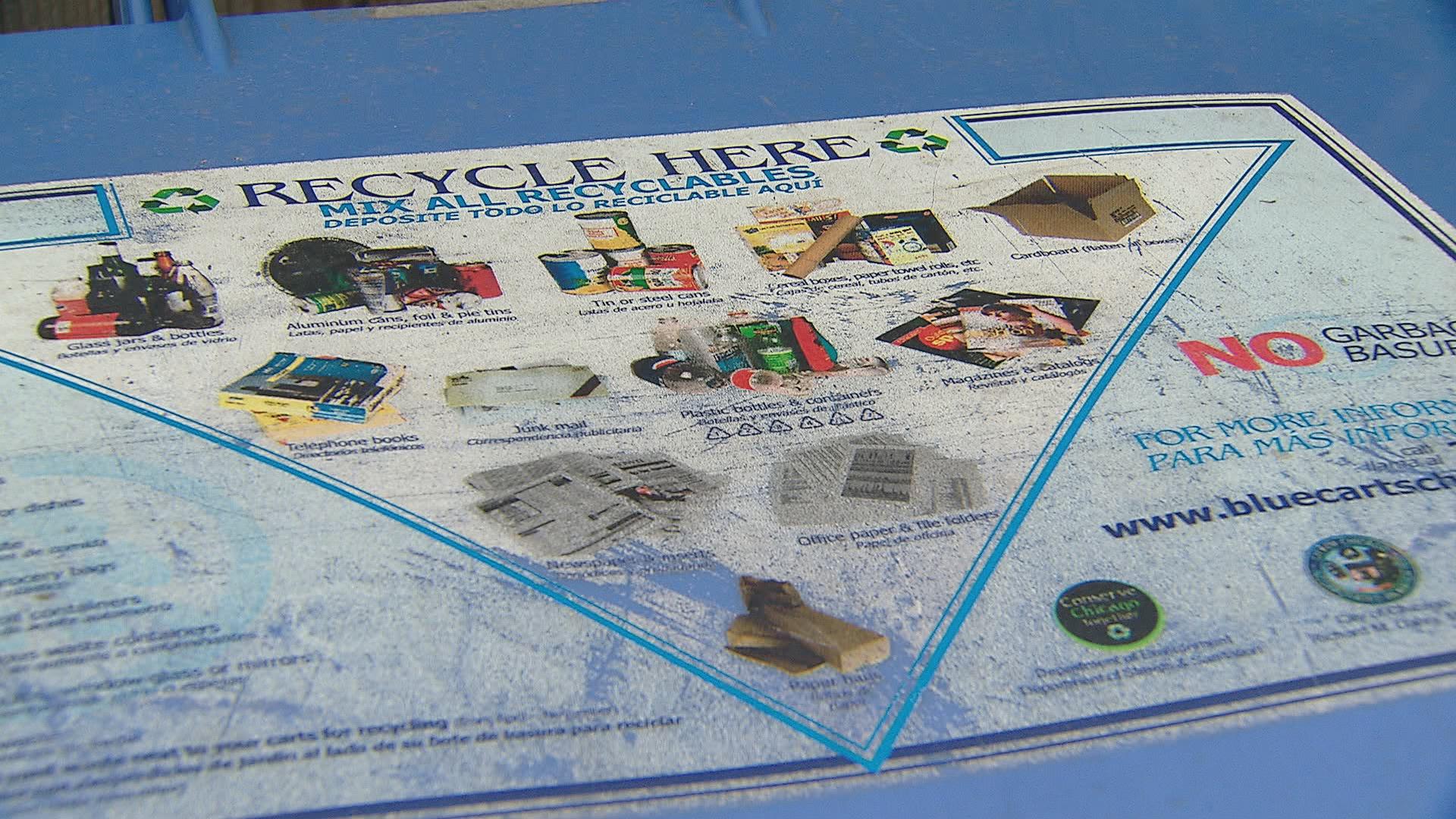 Arruza: The blue carts have a guide stamped on them showing what is and isn't recyclable. But on some bins we found, the graphic is fading and hard to read. And whether residents take the time to pay attention to it is unclear.
The city says it's now undertaking a big outreach effort to educate and boost participation. It includes a new initiative in the Dunning, Belmont Cragin and Austin neighborhoods which will soon be receiving these bags.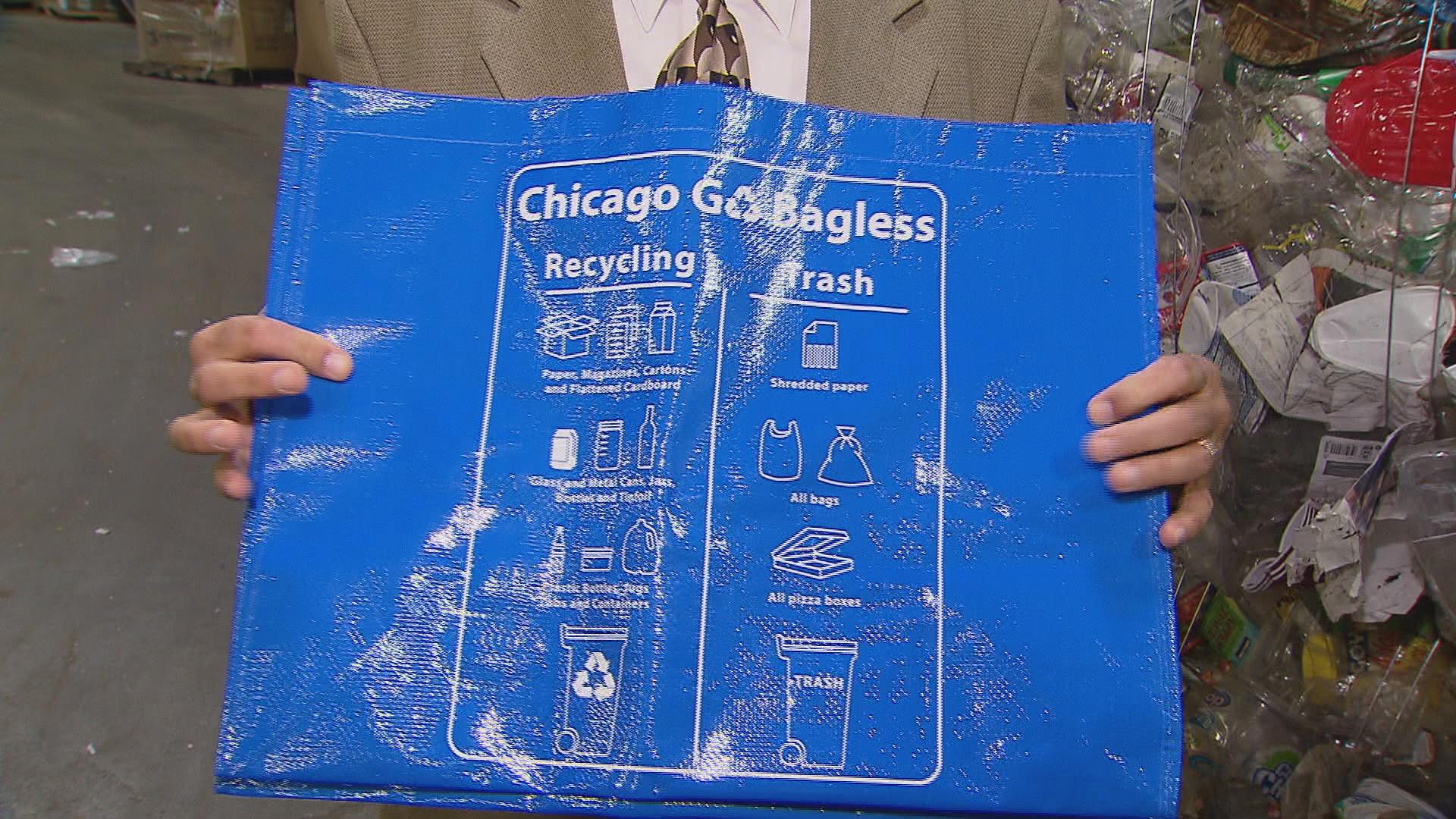 Williams: These items go in, these items do not. They can then take this bag out to their blue cart recycling bin and just dump those items into the recycling bin.
Arruza: Recycling advocates, however, say the city of Chicago needs a clearer recycling strategy. They point to San Francisco, which claims to have a recycling rate of 80 percent and is aiming to be a so-called zero waste city by 2020.
But others say a more comparable model for Chicago is our Canadian sister city Toronto, which diverts 50 percent of its garbage.
Nowack: I think Chicago has to look at its own backyard and figure out what works best for Chicago given the rates we have here, and the cynicism that was engendered over 20 years of improper recycling.
Arruza: Chicago did take one cue from Toronto earlier this year, in implementing a garbage collection fee. Our Canadian neighbor, however, has a sliding scale depending on the size of garbage bin a household gets. Chicago recycling advocates say the city needs to offer incentives, perhaps even a garbage fee rebate, to spark recycling interest in more households.
Something the commissioner says he's open to.
Williams: I agree that I'd like to see an incentive some type of incentive that we can use to help pick up recycling. Contests, coupons, we're looking at all of that.
Arruza: In the meantime, take a listen to the recycling song written by Chicago musician Eric Heidbreder, and act accordingly.

Recycling guidelines
Browse Chicago's recycling guide that lists all materials that can and cannot be recycled. You can also check out the Recycle by City guide to Chicago's blue cart recycling program.
---
Related stories:
One Man's Mission to Expand Composting in Chicago
Aug. 18: Meet an entrepreneur who is helping Chicagoans compost while growing his business–all by the seat of his bicycle.
---
New Website Explains What Can and Can't be Recycled
Jan. 6: Starting Jan. 1, items placed in the city's blue recycling carts must be loose. That means no plastic bags. Learn more about Chicago's rules for recycling.
---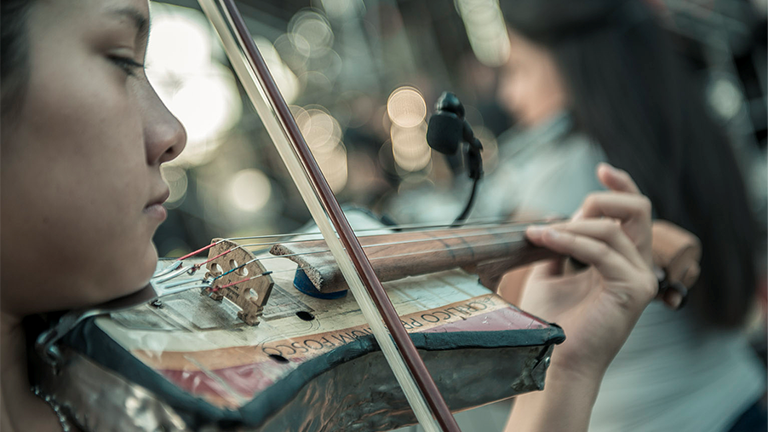 Orchestra of Recycled Instruments Brings Miraculous Music to Chicago
Nov. 19, 2015: Triumphing over trash, the Orquesta de Instrumentos Reciclados de Cateura emerged from a landfill slum in Paraguay to perform in concert halls around the world.
---