It is a story of the magic of music. The Orquesta de Instrumentos Reciclados de Cateura is a youth orchestra like no other in the world. They literally live on a landfill in Paraguay, and with the musical instruments they've fashioned from garbage, they perform at concert halls around the world. 
This weekend, the orchestra brings its triumphant music to Chicago for the first time, closing out the 10th annual Latino Music Festival on Sunday, Nov. 22 at the Merle Reskin Theatre.
"Chicago Tonight" visited the orchestra during rehearsals for the show. Join us to see–and hear–what we discovered about this amazing group.

"With this project the people are not only building instruments, they build hope."
–Pepe Vargas
---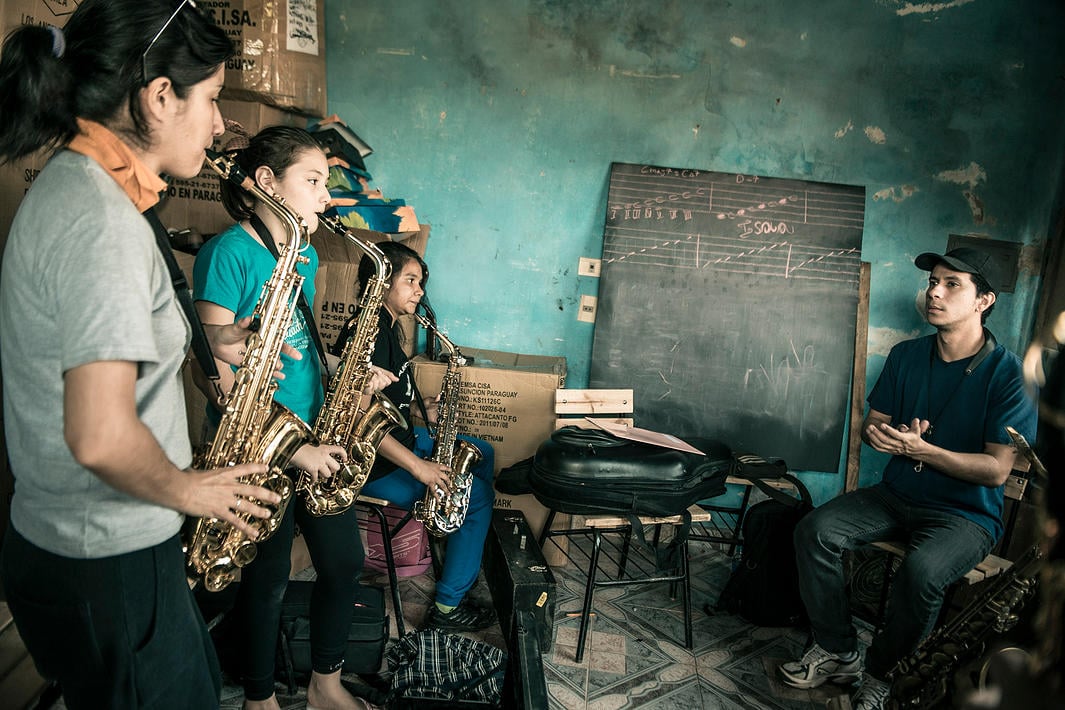 (Courtesy La Orquesta de Reciclados de Cateura)
TRANSCRIPT
Phil Ponce: At the Field Museum this morning the Orquesta de Instrumentos Reciclados de Cateura – the Orchestra of Recycled Instruments – performed their first-ever rehearsal in Chicago. This is a group that inspires.
Pepe Vargas, Latino Music Festival executive director: They are teaching people about opportunities in life and that's what they embrace. So listening to them is not only a revelation but it's something that really touches you and moves you and inspires you to believe in the potential of life other than being born and then dying within the garbage.
PP: They come from Cateura, a slum built on a garbage dump outside Ascension, the capital of the South American country of Paraguay. There, recycling is the livelihood of the local people.
Band leader and mentor Favio Chavez speaks of giving them values beyond music.
Favio Chavez: Beyond music we are teaching the kids a big value like commitment, respect, compromise and discipline. Without these values it'd be hard for the children in the future to be a better musician and a better person.
PP: The orchestra was assembled in 2006, but first they had to assemble the ingenious instruments. Chavez worked with a trash worker and carpenter using raw materials such as discarded barrels, tins, drainpipes and bottle caps – even X-rays.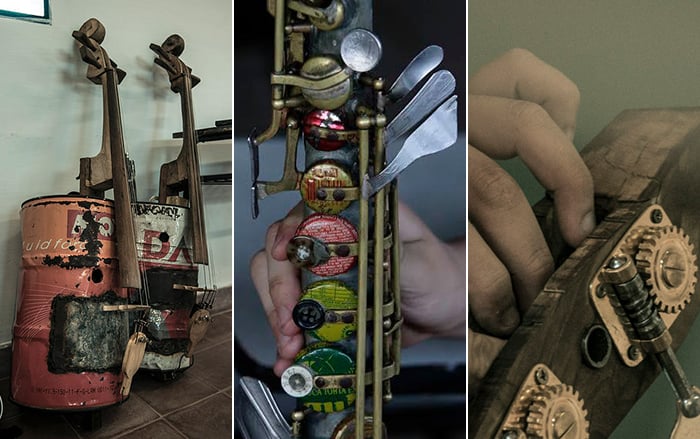 (Courtesy La Orquesta de Reciclados de Cateura)
PV: This project is giving people the opportunity to see that it's life beyond the garbage. They live in a village where they are deprived of everything, especially deprived of hope, of dreams, so with this project the people are not only building instruments, they build hope.
PP: They've been featured on "60 Minutes" and "The Today Show," and they inspired the documentary "Landfill Harmonic," currently playing the film festival circuit.
PV: We are excited at the International Latino Cultural Center, it's part of our mission, sharing our culture and lighting people and touching and moving them with what is coming from the heart of these people.
PP: From their home base in Paraguay, the orchestra began playing everything from Tchaikovsky to Metallica.
Now they export their music to the world, turning that which was deemed worthless into something priceless.
FC: We believe that the music is not just for the musicians. The music has a big power that can do a lot of things for society.
PV: We have to believe in miracles ... being reborn again to a life of opportunities.
---
'Landfill Harmonic'
Read a synopsis of the documentary film about the orchestra as described on its website and watch the trailer.
"Landfill Harmonic follows the Recycled Orchestra of Cateura, a Paraguayan musical youth group of kids that live next to one of South America's largest landfills. This unlikely orchestra plays music from instruments made entirely out of garbage. When their story goes viral, the orchestra is catapulted into the global spotlight. With the guidance of their music director, they must navigate this new world of arenas and sold out concerts. However, when a natural disaster devastates their community, the orchestra provides a source of hope for the town. The film is a testament to the transformative power of music and the resilience of the human spirit."
---
Story of transformation
"We come from the biggest landfill of Paraguay, where everybody from the city throws away their trash," orchestra director Favio Chavez said at a TED conference in Amsterdam. "In this place, we transform garbage into music. The people from this place have learned to fulfill their first needs with the use of garbage.
"In Cateura, one violin can cost more than a house. So, how do you teach music in a place like this? We use the knowledge that people have gained by using garbage for their first needs, and we use it to build musical instruments."
Watch Chavez's 15-minute TED talk below.
---