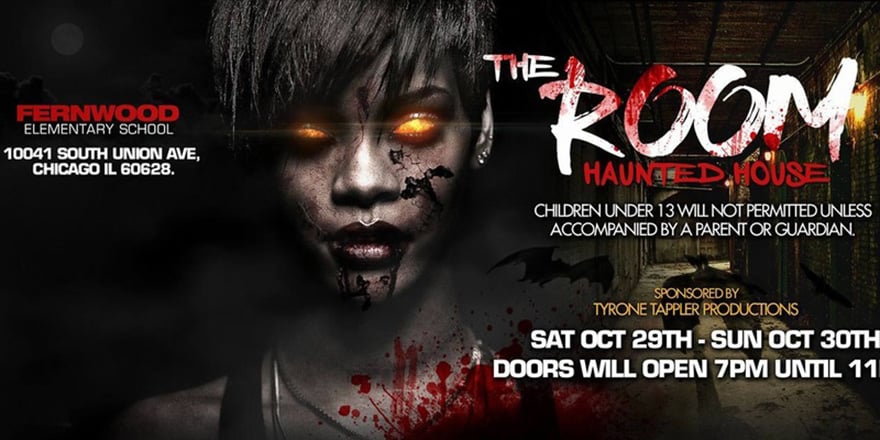 An Eventbrite ad for the canceled "The Room" haunted house event.
A planned haunted house inside a South Side elementary school was canceled late last week after it was discovered the event was set to depict such scenes as a church shooting, a "crazy abortionist" and the Pulse nightclub massacre.
Fernwood Elementary, located in the Roseland neighborhood, was scheduled to co-host "The Room, 'A Journey to Hell'" this past weekend, but a Chicago Public Schools spokesman said the event would not be held on district property.
"The event organizers mischaracterized the true content of the event," CPS spokesman Michael Passman said in an email, "and we did not approve any association with the activities the organizers have now advertised."
Fernwood is a neighborhood K-8 school serving about 300 students.
On Friday, the Windy City Times reported a flyer for the event, which promised "in your face scenes of dark reality," had included the Pulse nightclub by name. In June, the Orlando-area gay club was the scene of a mass shooting that left 49 dead and more than 50 injured.
It was the deadliest mass shooting by a single gunman in U.S. history and the deadliest terror attack of any kind on American soil since Sept. 11, 2001.
Kim Fountain, chief operating officer for Center on Halsted – a Chicago-based LGBTQ community organization – was heartened to hear the event had been canceled, but she believes the situation highlights difficulties the LGBTQ community continues to face. 
"I think it speaks to something very deep that still runs throughout American culture and that's that there is still an incredible bias out there," Fountain said, "and they use their version of religion to spread ideas of hatred about the LGBTQ community that keep our communities very vulnerable."
An Eventbrite listing for the event said the haunted house would include 10 rooms and would require participants to "make choices" between "life or death; sin or salvation; heaven or hell." 
"The Room is not your typical haunted house," the listing states. "Once you enter there is no looking back – it's time to face the consequences of your actions ..."
Fountain said that idea – that members of the LGBTQ community should face "consequences" for how they identify – was likely the premise for the entire event. Religious-themed "Hell Houses" have operated across the country for decades, often utilizing real-life scenarios to depict what actions can land someone in hell. 
"They don't care they're traumatizing the entire community," Fountain said. "They just want to make their point that LGBTQ folks are sinful or should be looked down upon."
The man behind the production, Tyrone Tappler, is a licensed minister who has worked in Chicago as an actor, director and motivational speaker, according to his personal webpage.
He did not return a message seeking comment Monday. But over the weekend, he confirmed on Twitter "The Room" had been canceled. 
GM THE ROOM IS OFFICIALLY BANNED! As of Friday, 7:17pm. There will be no show TODAY OR Tomorrow! . Sorry for the inconvenience.

— Playwright Tyrone (@TyroneTappler) October 29, 2016
---
Though nearly all references Tappler made to the event on Facebook are either unavailable or deleted, he previously tweeted out casting calls seeking people to take part in a "church and club" scene – specifically referencing the Pulse nightclub – and a Caucasian male to play a "crazy abortionist."
---
Along with the church scene, Tappler had sought extras to be involved in part of the production called "'9 Lives' a church massacre" – presumably a reference to the nine victims killed during a prayer service inside a Charleston, South Carolina, church last year.
CASTING! For THE ROOM Live Haunted REALITY House!
The Room is casting for The Scene, "9 LIVES" a church massacre.... https://t.co/glvya5tL5J

— Playwright Tyrone (@TyroneTappler) August 9, 2016
---
Fountain encouraged anyone who was triggered by the event to contact the center's anti-violence program at 773-871-2273
"I still think about how much work we still have to do," she said. "That was the refrain in the community after marriage equality was passed … it's really evident when we see these groups that will come out and put out those very traumatizing images (to the LGBTQ community)."
Follow Matt Masterson on Twitter: @ByMattMasterson
---
Related stories: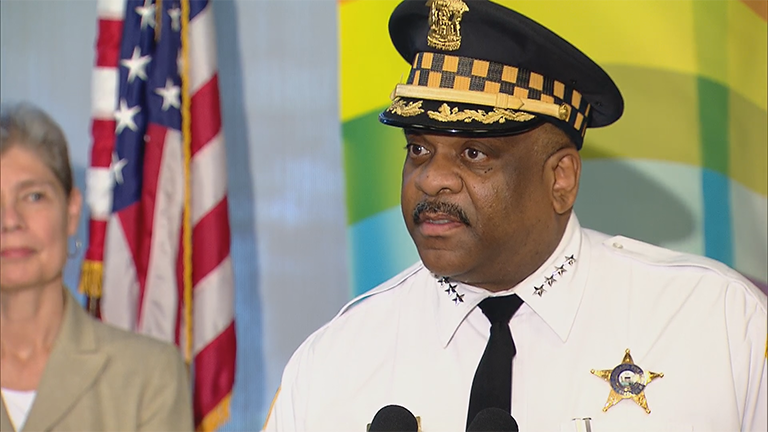 Chicago Police Department Announces Increased Security for Pride Parade
June 16: City officials and law enforcement outlined plans for increased security measures at next weekend's 47th annual Chicago Pride Parade in the wake of the mass shooting in Orlando.
---
Chicago Pride Celebrations This Year to Include Memorials, Extra Security
June 15: As Chicago remembers victims of the Orlando nightclub shooting, it's also preparing to celebrate Gay Pride Month over the next two weekends. Hear details from the parade coordinator.
---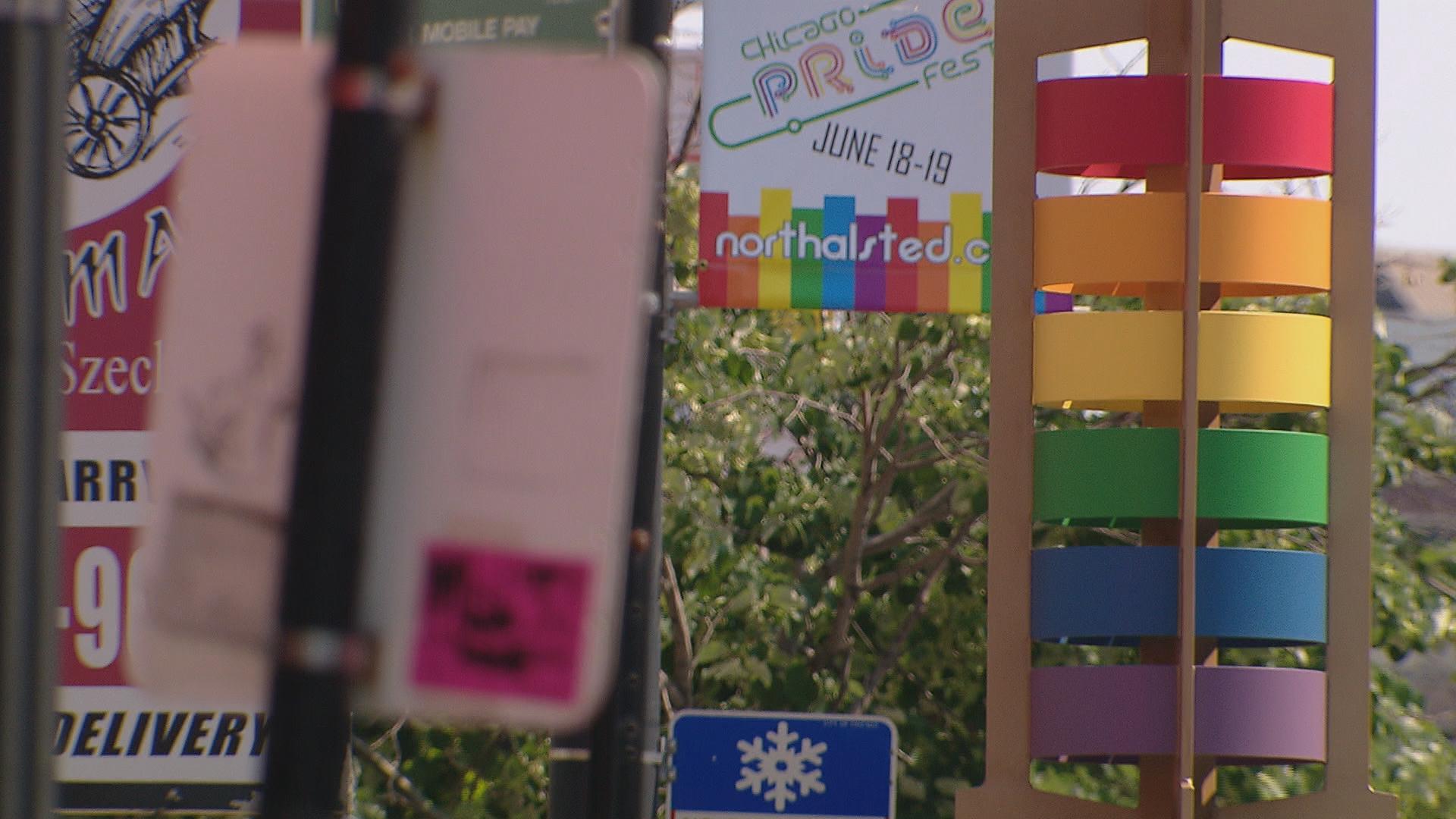 Global Show of Support for LGBTQ Community After Orlando Club Attack
June 14: Members of Chicago's Muslim and LGBTQ communities are grappling with the fallout from Sunday's attack at Pulse, a popular gay nightclub in Orlando that left a reported 49 dead and 53 injured. We speak with a local Muslim interfaith youth leader and a former employee of Pulse.
---