Chicago Tonight was in Jackson Park this week for the unveiling of what is being called "a landmark for peace."
The artist and peace activist Yoko Ono was on hand for the dedication of the new work – her first public art installation in the Americas.
TRANSCRIPT
Jay Shefsky: On 15-acre Wooded Island in the lagoons of Jackson Park, a sculpture has arrived.
Called "Sky Landing," its giant petals form a lotus flower emerging from the ground to meet the sky.
The dozen 12-foot-tall lotus petals are made of stainless steel. They sprung from the fertile mind of Yoko Ono, who spoke briefly at the event.
Yoko Ono: I think that beauty is something that's very, very important for us. You get an incredible high from it. That's what we're doing, we're always having a "high."
Shefsky: "Sky Landing" and the adjoining Garden of the Phoenix are on the site of the Phoenix Pavilion, a gift from Japan to Chicago for the 1893 World's Columbian Exposition.
This effort is a partnership between the Chicago Park District and Project 120, a local nonprofit that seeks to revitalize the south parks.
It began with the symbolic planting of cherry trees on Wooded Island.
Robert Karr, Project 120: Yoko came here in 2013 at that celebration with the cherry trees, connected with the past – being from Japan and also having one foot in the U.S. her whole life. It really resonated with her, and she started to envision this project.
This is her first public, permanent project in the Americas – her first project being the Imagine Peace Tower that honors her late husband John Lennon in Reykjavik, Iceland.
Imagine Peace Tower (McKay Savage / Flickr)
Shefsky: The dedication was complemented by Thodos Dance Chicago – and music of Yoko Ono newly recorded by Chicago's Miyumi Project, with guest vocalist Dee Alexander.
Tatsu Aoki, The Miyumi Project: I was in sixth grade when I bought the Plastic Ono Band album, right? And it's an incredible experience for me to actually be with her and play this music.
Shefsky: Another component is a newly launched website where visitors are invited to make wishes for peace.
Karr: Yoko and her art operate in so many different areas and she really wanted to communicate peace in so many different ways, so she worked with her music, with the digital space, she really went all out. And as this thing started to develop – interactions with the community – it just seemed to elevate into something much bigger than just a sculpture.
Shefsky: And as a work of public sculpture in Chicago, it joins an illustrious collection.
Mayor Rahm Emanuel: We're a city known for our public art, and this is going to enhance our efforts of bringing people to the South Side to enjoy the cultural expression of the city. It's not just for our downtown but throughout our neighborhoods and communities. To have a piece – the largest installation by Yoko Ono in the world – as well as her first installation in the Americas I think will be a statement about why Chicago is the global city it is.
Shefsky: Ultimately, the new public sculpture is about giving peace a chance.
Karr: It really is a testament to her mission for peace, and a landmark for peace.
Shefsky: At the unveiling, Yoko Ono shared what she called "my affirmation."
Ono: In the name of truth, peace and love our planet is healthy and whole. We the people of Earth see clearly, hear clearly, think clearly, make the right judgment, right decision, and the right move for the benefit of us, our planet and the universe.

More on this story
"Sky Landing" is now open to visitors in Jackson Park, directly south of the Museum of Science and Industry.
---
Related stories: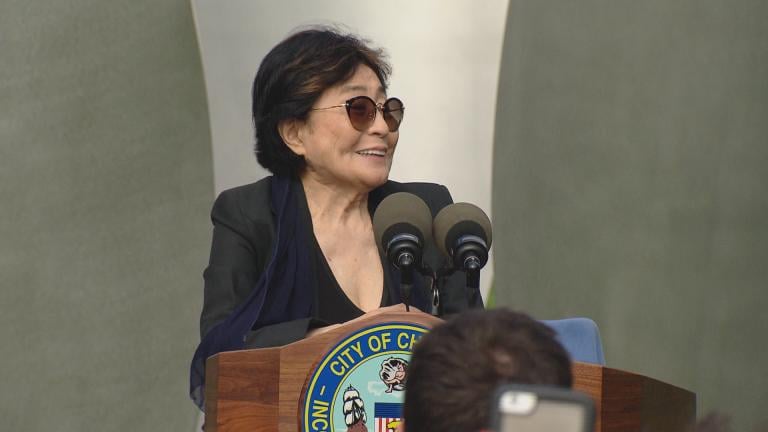 Yoko Ono Unveils 'Sky Landing' in Jackson Park
Oct. 17: Yoko Ono on Monday morning debuted her first public art installation in the Americas on Jackson Park's Wooded Island.
---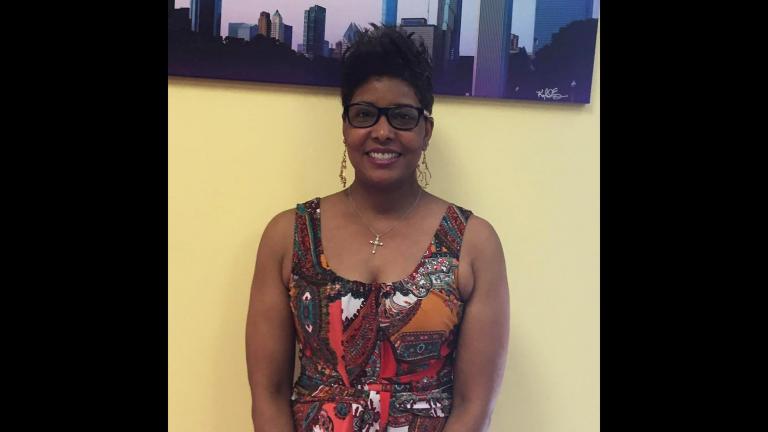 West Side Woman Planning Soldier Field Prayer Vigil
Oct. 5: Shelisa Jones is on a mission from God. Her plan? Rent out Soldier Field next Monday for a citywide interfaith prayer vigil for peace during one of Chicago's most violent years in decades.
---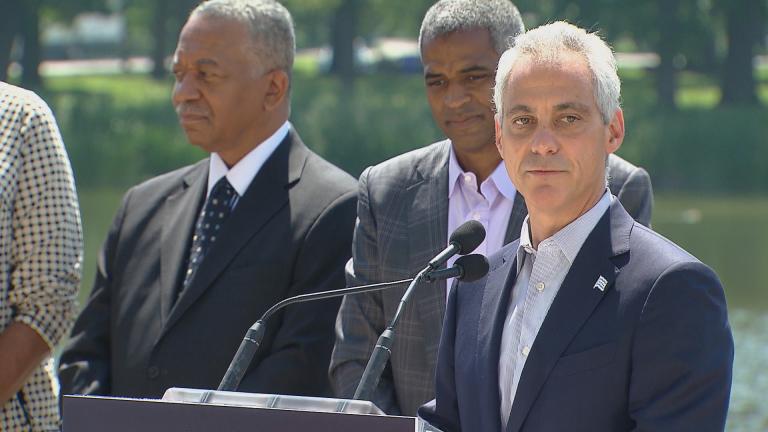 Obama Foundation Makes It Official: Jackson Park for Obama Library
Aug. 3: The secret got out last week, but the Obama Foundation made it official at a news conference on Wednesday: Jackson Park will be the main home of the 44th U.S. president's library.
---