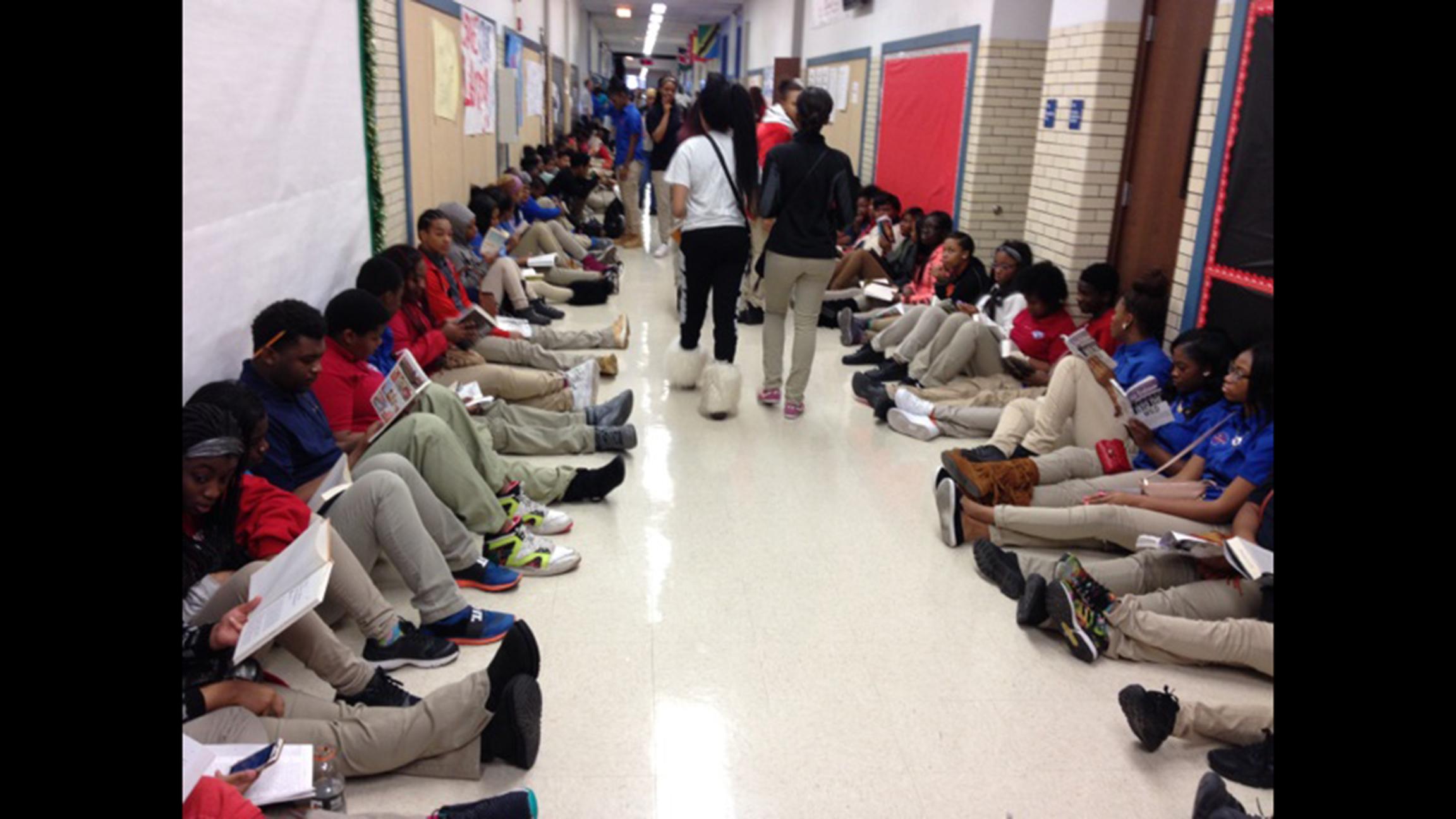 Students throughout the DuSable campus sat outside their classrooms reading last December to protest the firing of librarian Sara Sayigh. She was re-hired by the district, but had her position cut to half-time during the latest round of CPS staff cuts. (Courtesy of Alvita Payne)
After a student protest that earned national attention helped save her job last year, a Bronzeville librarian learned Monday her position had once again been cut in the most recent round of layoffs at Chicago Public Schools.
Sara Sayigh, a 60-year-old librarian on the historic DuSable High School campus, was one of nearly 250 educators and support staff CPS laid off this week because of shrinking budgets and declining enrollment.
"I consider this our community library and I think everyone feels comfortable coming here so it's just going to be a big loss," she said Tuesday during a phone interview with Chicago Tonight. "It's sad."
---
Sayigh is the only librarian on staff at Bronzeville Scholastic Institute and Daniel Hale Williams Prep School of Medicine – two CPS schools located within the DuSable building on Chicago's South Side. While her position was cut, an alumni donation will allow her to continue working at the school half-time.
Collectively the two schools came in nearly 100 students below projections for the 2016-17 school year, according to 10th-day enrollment figures from the district, which led to budget cuts of $390,000 at Bronzeville and $161,000 at Williams.
More than 95 percent of the student population at Bronzeville and Williams – both predominantly African-American schools – come from low-income families.
"These poor kids here already do not have a music teacher in their school," Sayigh said. "They do not have enough counselors, they have a social worker who's shared among several schools, they have a nurse who's shared among several schools. Their class sizes are too large … they need more help than the middle class kids up on the North Side, and yet they're given less."
---
Despite those barriers, students at DuSable made headlines around the country last December, leaving class and checking out library books to read in the school's hallways for hours to protest Sayigh's firing.
"I was so impressed with my students. I still am. I still feel like they really get the short end of the stick in CPS," she said. "Our students have the right to have all the services that any child should have, and CPS is constantly cutting, cutting … and I think that was really, for them, the last straw."
The protest worked, and soon enough Sayigh was back in the library working full time. Though reports at the time credited an anonymous donor with funding her positions, Sayigh said CPS initially paid out her salary until February, when the position was defunded and paid for through an alumni donation.
That same alumnus has continued donating to the school, and the school plans to use those funds to keep employing Sayigh on a part-time basis.
Opened in 1935, DuSable has had a rich history, seeing the likes of Nat King Cole, John H. Johnson, Redd Foxx and Harold Washington – Chicago's first African-American mayor – grace its halls.
"From that period to the present, that school has educated – and the library was a very, very important part of that – thousands of successful young men and women," historian and political activist Timuel Black, a 1937 DuSable grad, told Chicago Tonight. "And for it not to be continued as a history site of black Chicago is, to an extent, ignoring the talent in music and in the arts and in academics that the school produced."
Black, 97, was active in getting the building designated as a city landmark in 2013 and said the library has always allowed students to learn about the school's history and carry that forward as an inspiration.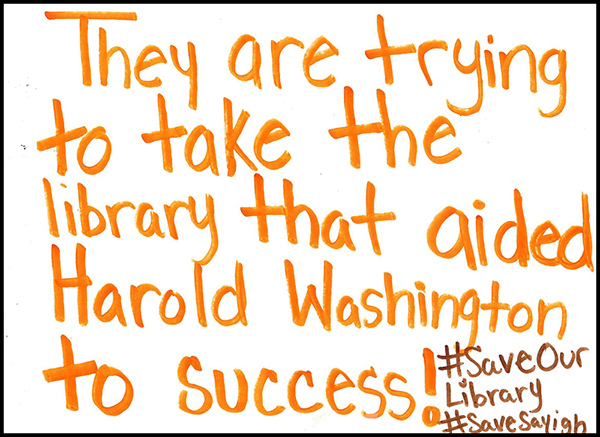 A poster held by one of the DuSable student protesters last winter. (Sara Sayigh)
CPS reported a 3.5-percent decline in enrollment districtwide last week totaling more than 13,800 students. At that time it estimated there could be as many as 300 layoffs.
District spokeswoman Emily Bittner said Monday CPS plans to work with principals to make sure they have the resources needed "to offer the education Chicago students deserve."
School-by-school layoff totals have not yet been released by the district, but the Chicago Teachers Union has long decried school-based cuts affecting librarians, counselors, social workers and teachers' aides.
In 2013, CPS employed more than 450 librarians across its 660 schools. Sayigh says that number now sits at 157. While she doesn't yet know how the school plans to staff the library around her schedule, she says it will no doubt affect students and staff throughout the building.
"The library, for a lot of (students), I think it's a place that makes them feel respected," Sayigh said. "They come in this nice room, there are books ... it's a way to treat them like human beings. It's a place they can congregate and it's not structured like a class. They can just come in and interact – I don't think they have many spaces like that in their lives."
Follow Matt Masterson on Twitter: @ByMattMasterson
---
Related stories: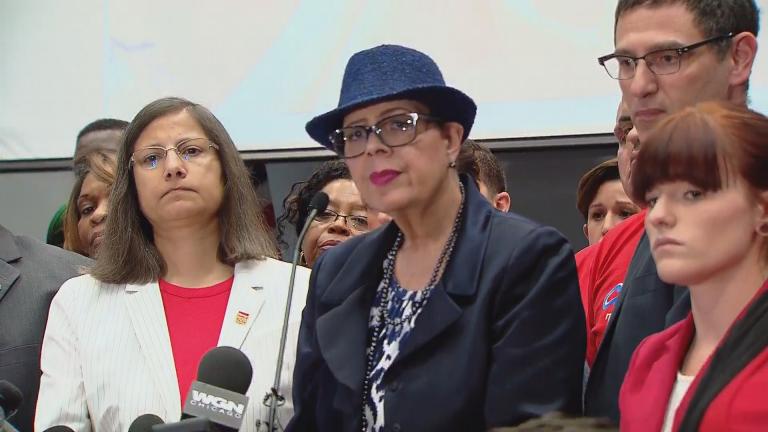 CPS Sends Layoff Notices to Almost 250 Teachers, Staff
Oct. 3: Some Chicago Public Schools students may be missing their teachers as more than 250 layoff notices go out Monday.
---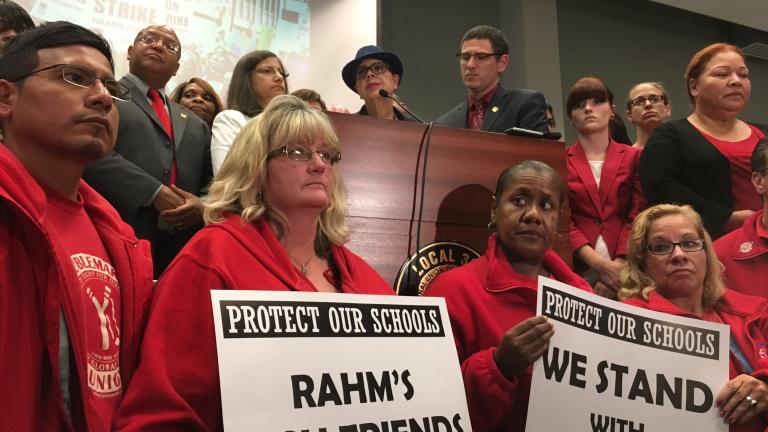 CTU Sets October Strike Date if No Contract Agreement Reached
Sept. 28: The CTU plans to serve CPS its 10-day strike notice Thursday for a possible Oct. 11 walkout. We hear more about the plan from CTU Vice President Jesse Sharkey.
---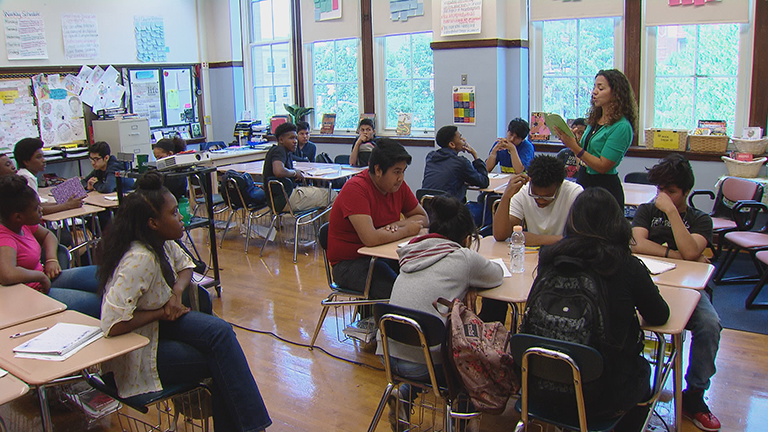 CPS to Cut More Than 1,000 Teaching, Support Staff Positions
Aug. 5: Declining enrollment and vacancies at other schools cited as Chicago Public Schools announces layoffs for hundreds of educators
---