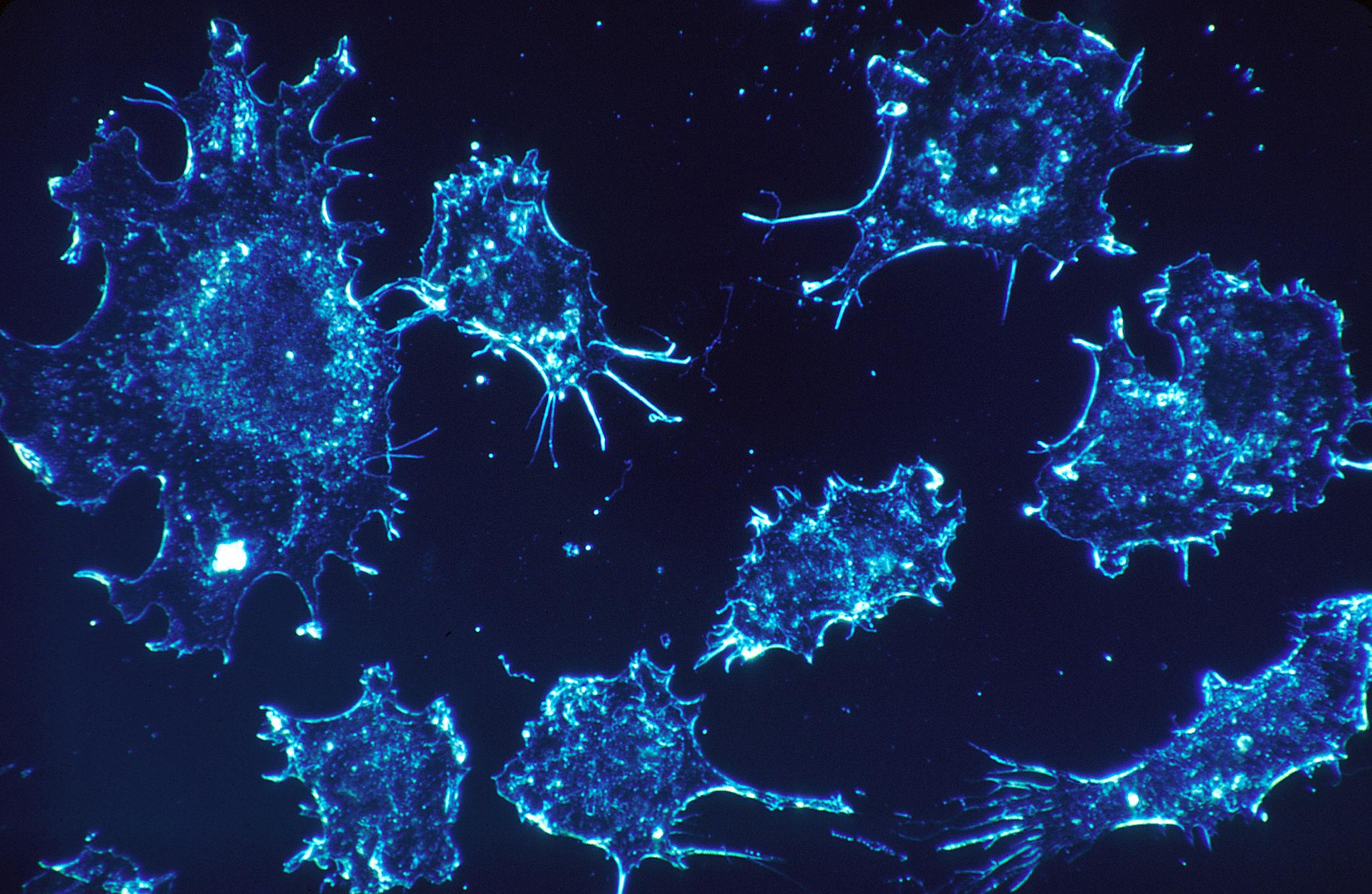 University of Chicago scientists developed nanoparticles for targeted delivery of chemotherapy. When combined with other cancer treatments, it eradicated tumors in rodents in a recent study. (Dr. Cecil Fox via Wikimedia Commons)
A new form of cancer treatment developed by University of Chicago scientists was so effective in studies that one researcher said it would be an "incredible breakthrough" if replicated in humans. 
For several years, scientists at the U of C have been working on developing "highly tunable" nanoparticles to perform various tasks, including the targeted delivery of chemotherapy, said Wenbin Lin, James Franck professor in chemistry at the University of Chicago.
A recent study utilized this new invention to enhance the effects of a type of cancer treatment called checkpoint blockade immunotherapy. While successful at treating some cancers, like metastatic melanoma, checkpoint blockade therapy has almost no effect on the most lethal cancers. 
When combined together, the treatments eradicated tumors in rodents that had a lethal form of colorectal cancer. Lin, who helped develop the therapy, referred to the development as a possible breakthrough "because it will help clinicians treating patients who don't respond to checkpoint blockade therapy."
Helping the body fight back
Immunotherapy is a type of cancer treatment that activates the body's own immune system to fight the disease. Initially, "our bodies are able to recognize (the cancer) as a foreign substance" and deploy T cells, a specific type of white blood cell, to "attack the cancer cells," Lin said.
As the disease progresses, cancer cells "release their own biochemical signals that can suppress the immune system," Lin said. Essentially the body no longer sees the cancer cells as invaders, which allows the cancer to metastasize into a tumor. "If there are T cells in the tumor, they're being suppressed," he added.
Checkpoint blockade therapy uses antibodies to reverse this: It stymies the cancer cells' signals, causing the body to recognize the malignant cells as invaders and deploy T cells to eliminate them.
However, Lin said, cancer cells can wipe out all of the T cells within a tumor over time. "So what we're trying to do is come up with ways to recruit T cells to the tumor."

"The hope is that this might be a much better way to attack so-called metastatic colon cancers."
–Wenbin Lin
---
To do this, Lin and his colleagues built nanoparticles that combined chemotherapy and photodynamic therapy, which is a light-activated treatment.
The nanoparticles contained the chemotherapeutic drug oxaliplatin which the study says is FDA-approved for treatment of colorectal cancer and causes cancers cells to self-destruct. Nanoparticles were also equipped with photosensitizers, which when exposed to light "triggers action in the tumor," and enhances the activation and recruitment of T cells to the tumor, Lin said.
Researchers tested the effectiveness of this combination therapy on a mouse that had two tumors growing in different parts of its body. A checkpoint blockade drug was injected into the mouse's abdomen, and the nanoparticles were injected through its tail vein.
Then researchers shined a light on only one of the tumors to activate its photosensitizer, Lin said. Researchers expected that tumor to disappear or shrink. The treatment "should not have any effect on the distant tumor … yet we also saw that tumor disappear," he added.
Researchers believe the distant, untreated tumor was eradicated because the therapy activated T cells throughout the body, Lin said. This allowed the T cells to "hover around and see other tumors and kill them."
Creating a mechanism that activates T cells throughout the body could revolutionize cancer treatment. Most people who are diagnosed with colorectal cancer already have advanced stages of the disease, meaning it's likely the disease has already spread, Lin said.
"Because immunotherapy uses your own body's immune cells, they can travel anywhere and seek out tumor cells," he added. "The hope is that this might be a much better way to attack so-called metastatic colon cancers."
Nanoparticles can be used to treat other forms of cancer, and Lin, along with his colleagues, recently launched a company to continue to work on this therapy. The hope, Lin says, is to begin clinical trials in humans within the next 10-12 months. 
Follow Kristen Thometz on Twitter: @kristenthometz
---
Related stories: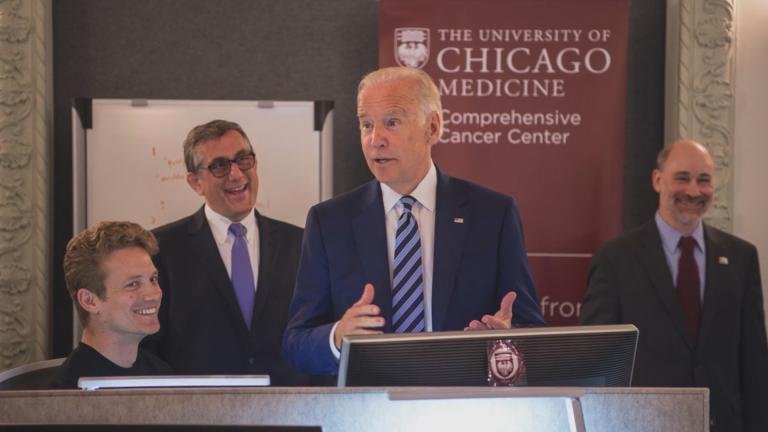 Harnessing the Power of Big Data in Fight Against Cancer
Sept. 8: The Cancer Moonshot initiative being led by Vice President Joe Biden aims to accelerate the pace of cancer research and the development of new treatments. 
---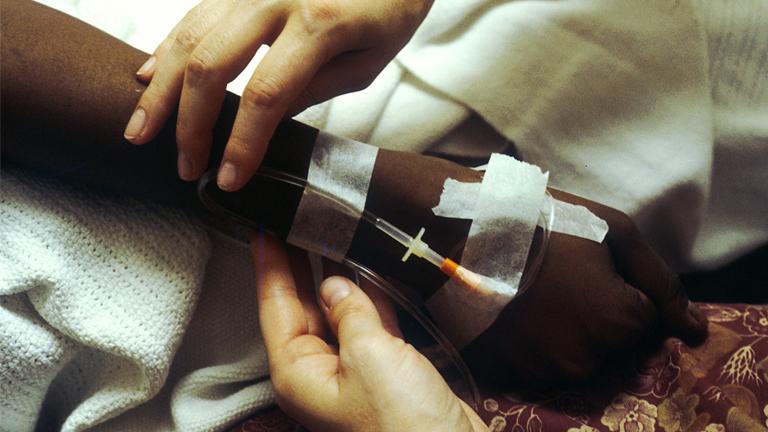 Chemotherapy Has Long-Lasting Effects on Cognition, Study Finds
Sept. 7: Breast cancer patients and survivors often report forgetfulness and difficulty focusing after chemotherapy. 
---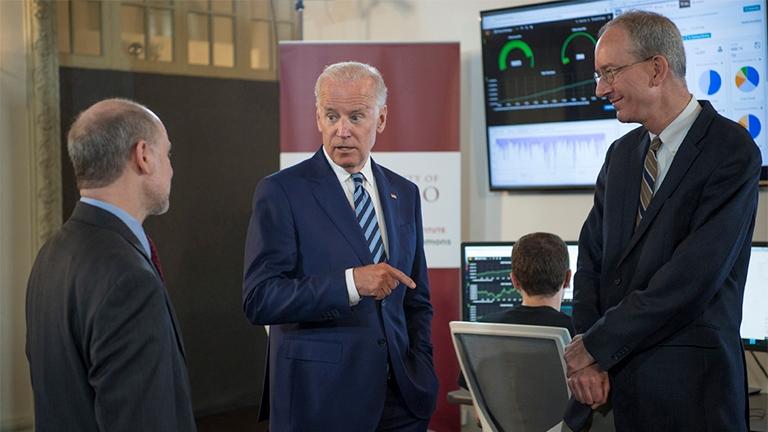 Cancer Research Sharing Platform Launches at University of Chicago
June 7: Cancer researchers will have an easier time accessing, sharing and analyzing information with the launch Monday of a new platform funded by the National Cancer Institute.
---