Mayor of London Talks Tech in Chicago, Signs Alliance with Emanuel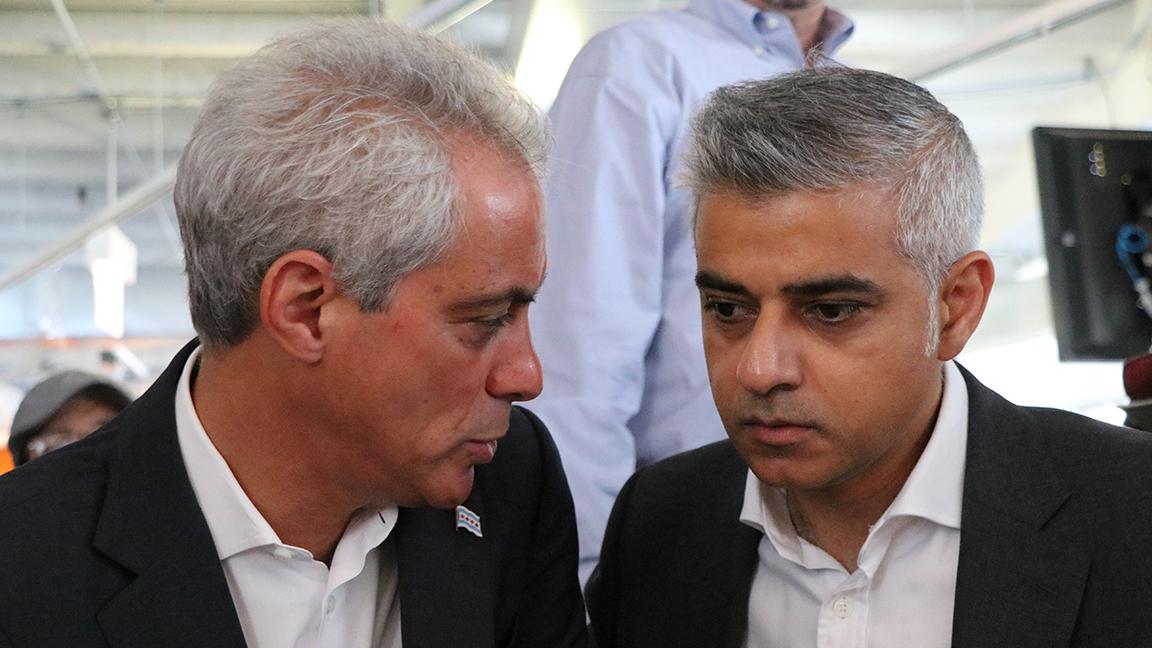 Chicago Mayor Rahm Emanuel speaks with Sadiq Khan, Mayor of London, after a panel discussion at tech hub 1871. (Evan Garcia / Chicago Tonight)
Sadiq Khan, Mayor of London, joined Chicago Mayor Rahm Emanuel on Friday to discuss entrepreneurship in the digital age and sign an alliance building on data-driven technology in both cities.
The two mayors participated in a panel discussion moderated by "Chicago Tonight" host Phil Ponce at 1871, a shared space for tech startups at the Merchandise Mart.
Khan is on an overseas trade mission to bolster business relations between London and Chicago.
"London promises this: you work hard, you get a helping hand, you can achieve anything," Khan said. "My message to entrepreneurs and investors in Chicago, to those thinking about forming partnerships, is: London is open."
Chicago-based companies invest and expand into London more than any other global city, according to London & Partners, Khan's nonprofit business development company. In the audience at 1871 were several businesspeople from London looking to network in Chicago.
"Our greatest asset is our tongue," Khan said. "We have entrepreneurs and tech startup funders who want to scale up and they're doing what British people have been doing for generations: making friends, building networks, pinching ideas and forming partnerships."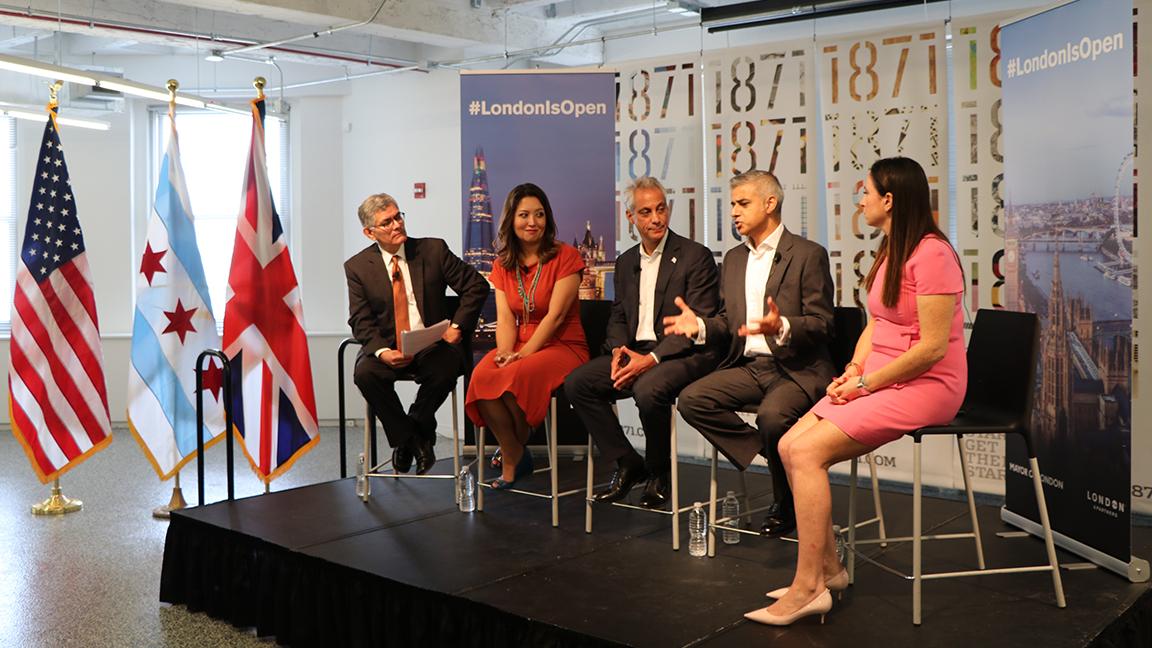 "Chicago Tonight" host Phil Ponce moderates a panel discussion at 1871 with Mayor of London Sadiq Khan, Chicago Mayor Rahm Emanuel, and Rumi Morales, left, executive director of invest company CME Ventures, and U.K. entrepreneur Emma Sinclair, right. (Evan Garcia / Chicago Tonight)
When he was elected mayor in May, Khan became not only London's first Muslim mayor but the first such mayor of any major Western capital.
Emanuel touched on this and his own Jewish faith when describing inclusiveness and investment in all neighborhoods of their respective cities.
"Whether you're Muslim or Jewish, we as fathers share a vision and desire for our children that's no different because of our faith," Emanuel said.
"Don't think it's not being noticed around the world now that you have a Jewish mayor and a Muslim mayor from two different global cities that embrace diversity and people coming together."
Following the panel discussion, the mayors signed a document establishing the "Chicago-London City Data Alliance," a collaboration to continue measuring and distributing city data to improve both cities. The agreement is not legally binding.
After signing the document, Khan joined Ponce for an exclusive one-on-one interview covering the mayor's past, his thoughts on the U.S. presidential election, his vision for London and other topics. That interview will air Monday on "Chicago Tonight."
More photos from Friday's event: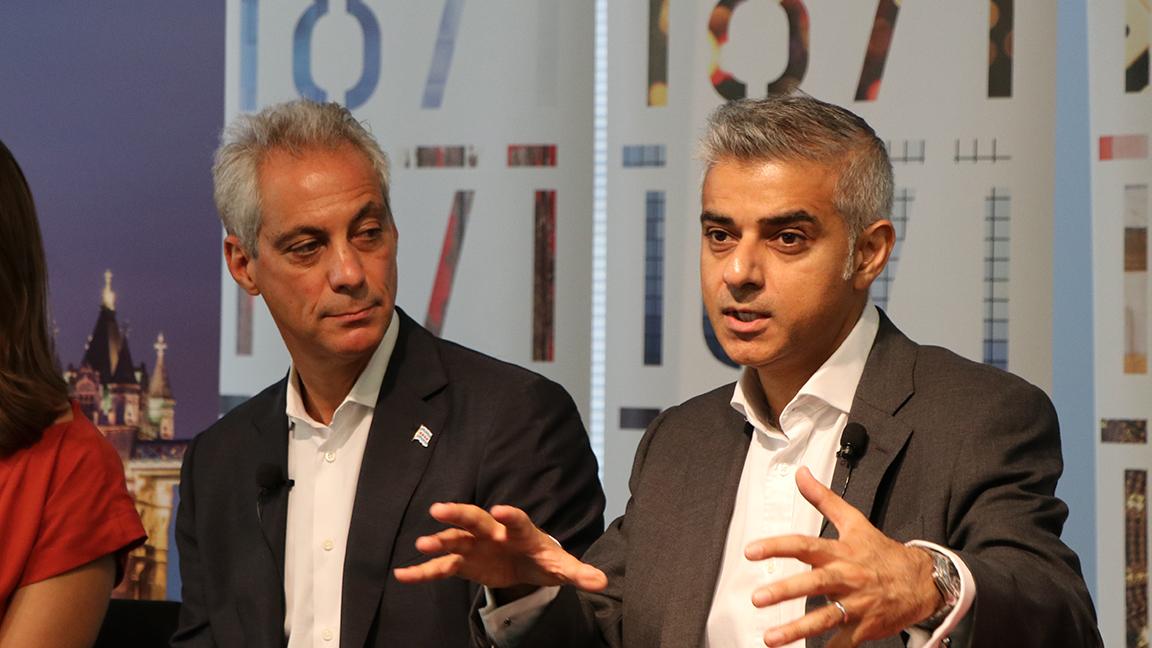 Khan discusses his concerns with Brexit, the United Kingom's decision to withdrawal from the European Union, at the panel discussion. (Evan Garcia / Chicago Tonight)
---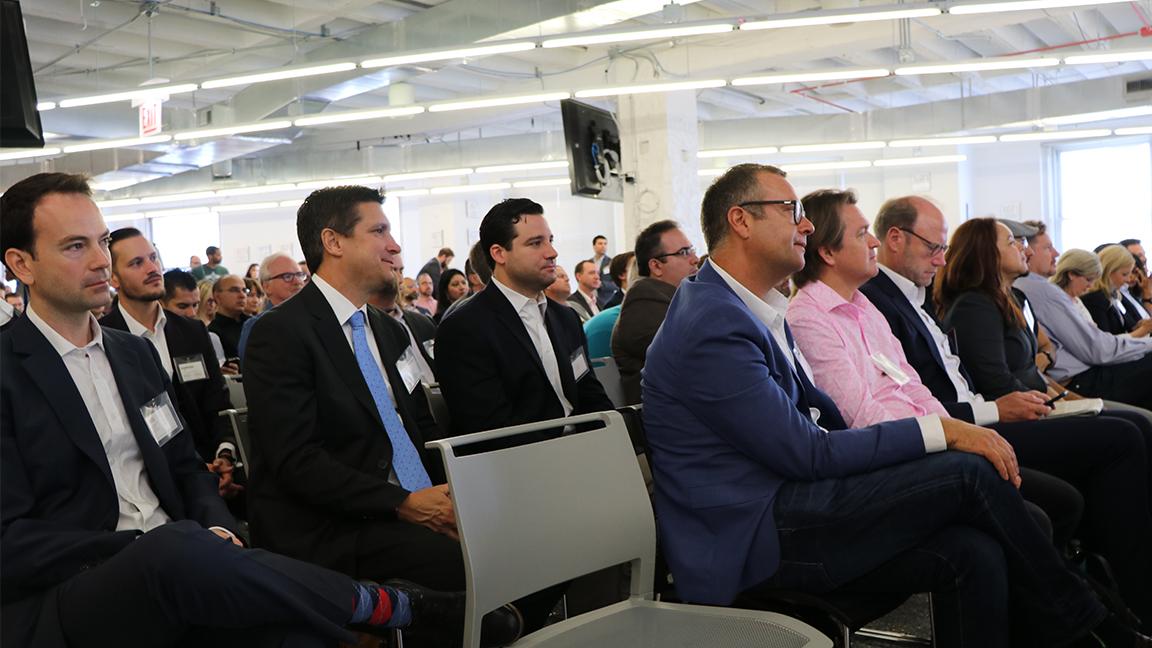 Audience members watch the panel discussion at tech hub 1871. Several attendees were London-based. (Evan Garcia / Chicago Tonight)
---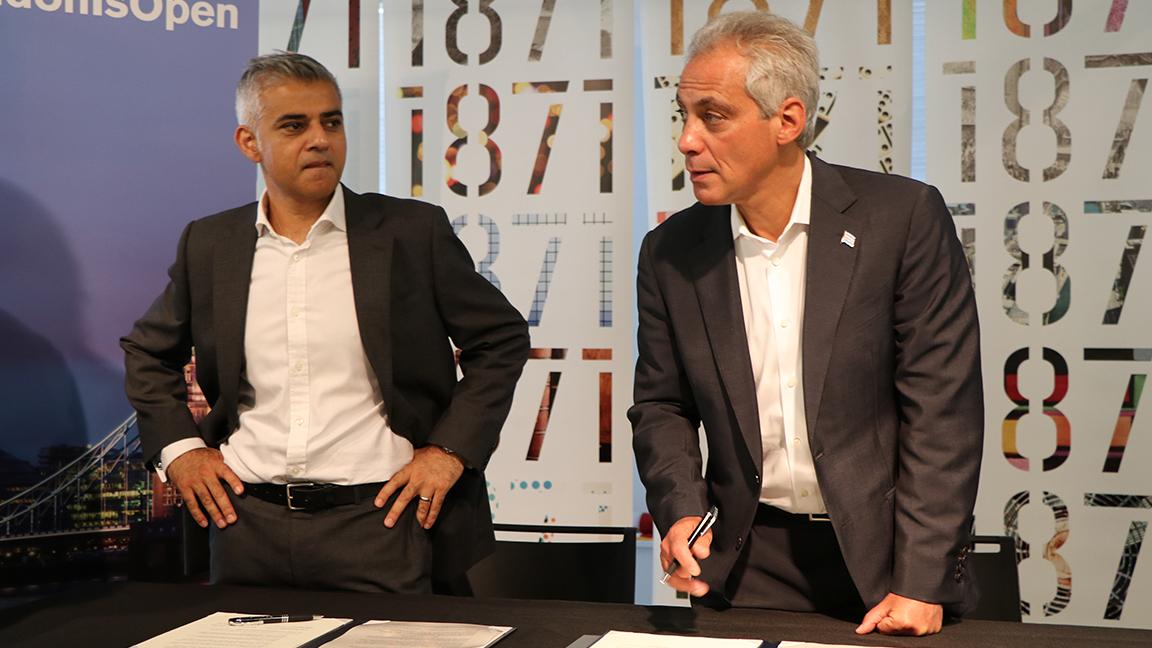 Emanuel prepares to sign the Chicago-London City Data Alliance at the end of the panel discussion. (Evan Garcia / Chicago Tonight)
---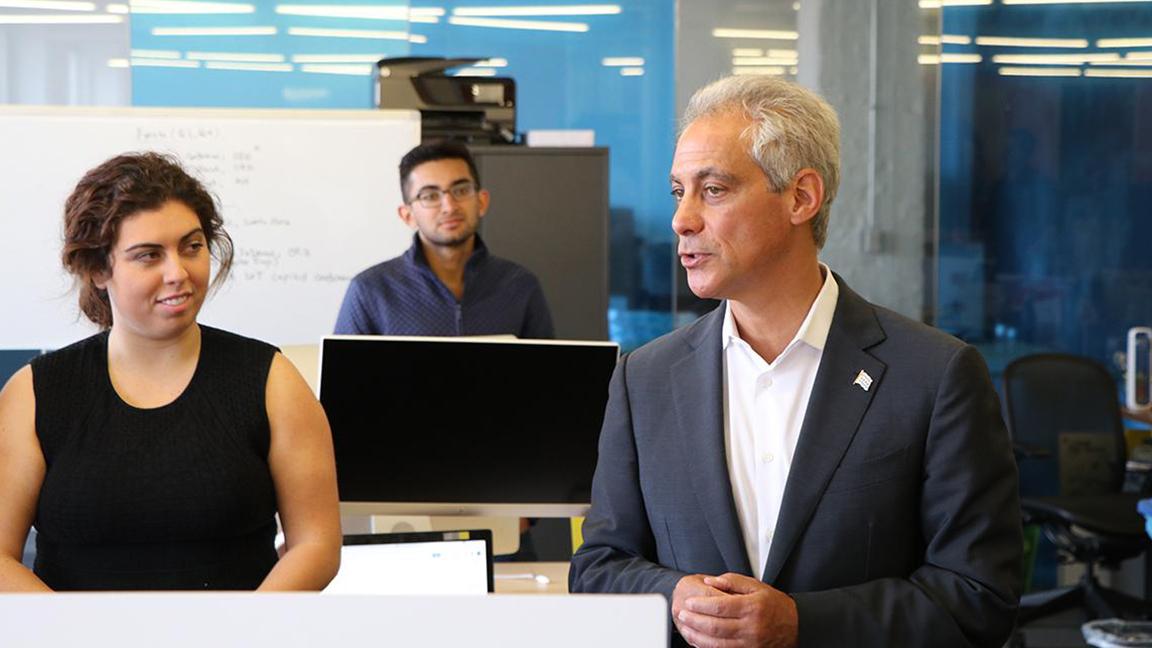 Emanuel chats with staff at the tech startup workspace 1871, which opened in 2012. (Evan Garcia / Chicago Tonight)
---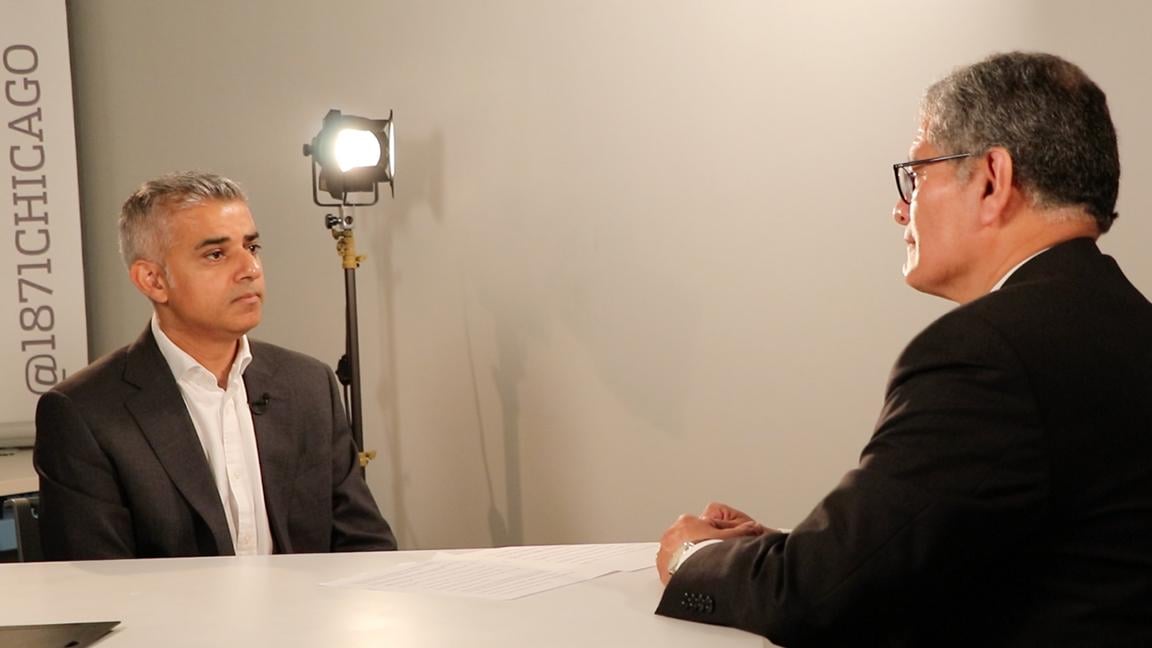 "I think it's possible to be a Muslim and a proud Brit," Sadiq Khan told Phil Ponce during an interview. "There are some people who want to give the impression that it's not possible – and they're wrong."
---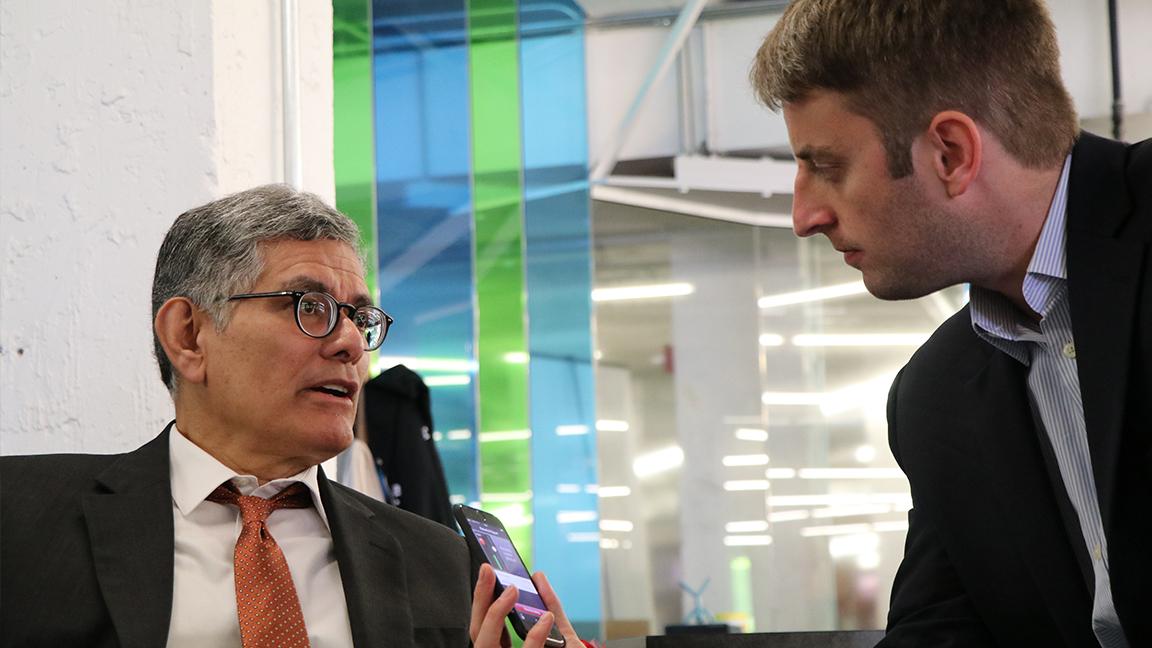 "Chicago Tonight" host Phil Ponce is interviewed by British journalist Theo Usherwood following his conversation with Sadiq Khan. (Evan Garcia / Chicago Tonight)
Follow Evan Garcia on Twitter: @EvanRGarcia
---
Related stories: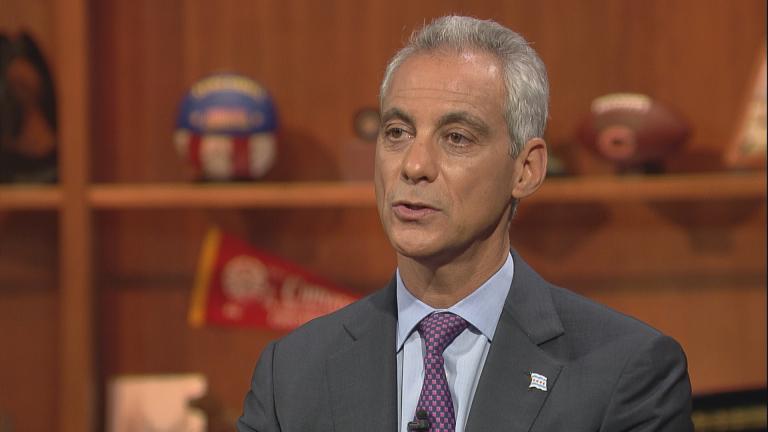 Emanuel Says He Plans 'Major Address' on Gun Violence
Aug. 30: Acknowledging the historically high murder rate in Chicago this month, Chicago Mayor Rahm Emanuel on Tuesday told "Chicago Tonight" that he is planning a major address in mid-September to deal with violence.
---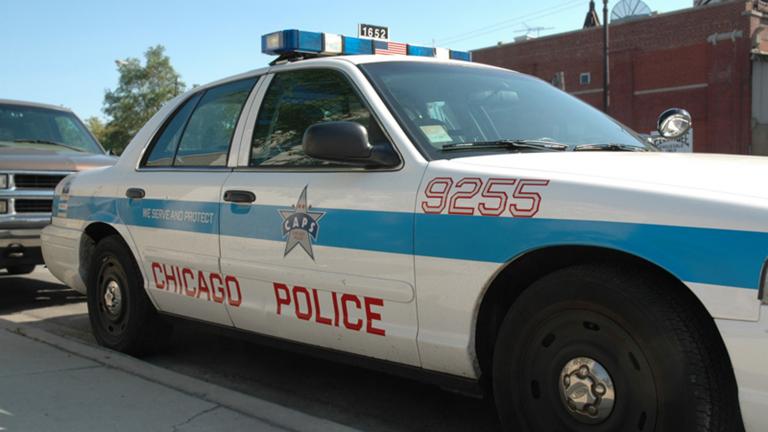 IPRA to be Replaced With New Agency COPA
Aug. 29: Just who will police the police? New details emerge on a proposal to replace the embattled Independent Police Review Authority with a new agency.
---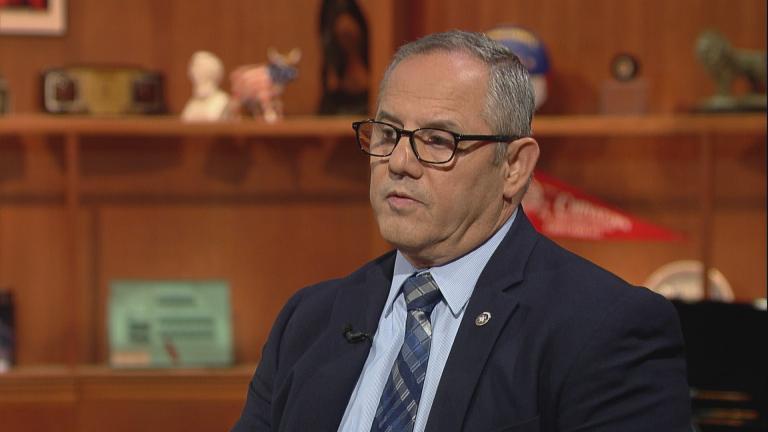 Police Union President on O'Neal Shooting, Persistent Violence
Aug. 15: The death toll after another weekend includes the son of a Chicago police officer. Dean Angelo joins us to discuss combating violence and ongoing efforts at police reform.
---