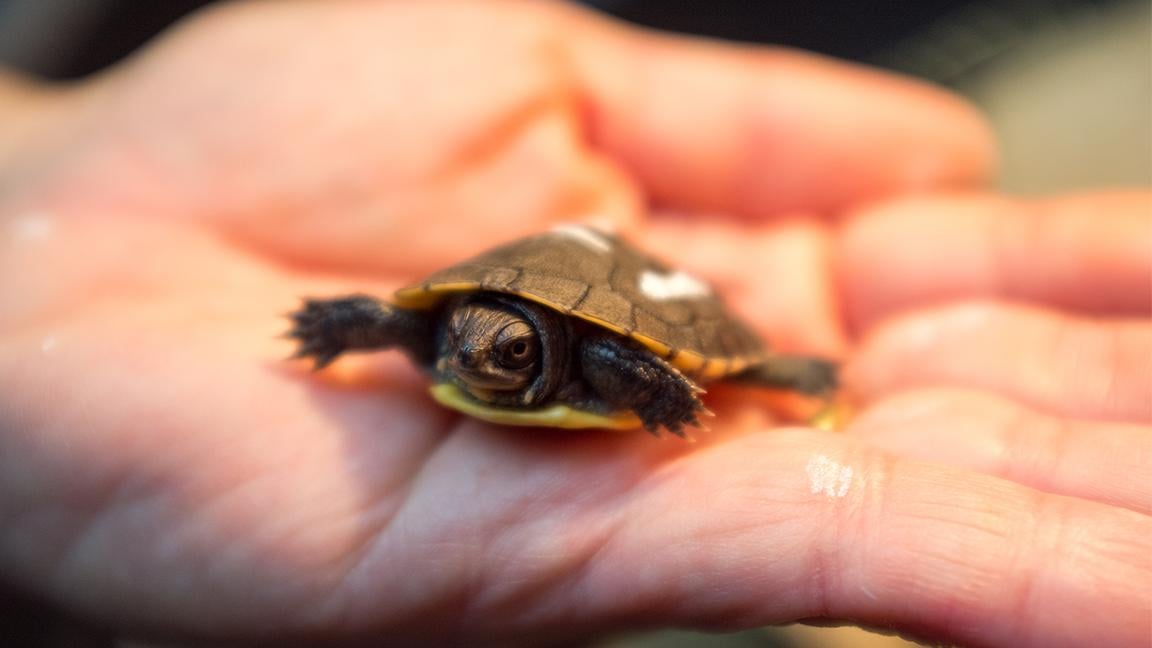 The Blanding's turtles are about one inch in length when the museum receives them. After and two years, they typically grow to five inches. (Peggy Notebaert Nature Museum)
Blanding's turtles, an endangered species in Illinois and a half-dozen other states, are getting a head start on survival at the Peggy Notebaert Nature Museum.
Every spring, pregnant Blanding's turtles are temporarily removed from a forest preserve in DuPage County and taken about 25 miles west of Chicago to Willowbrook Wildlife Center, where the adult females lay eggs inside protected enclosures before being returned to the exact spots where they were found.
At the wildlife center, the turtle eggs are typically incubated for two to three months before they hatch. Then, when they're about seven to 10 days old and only an inch long, the majority are transported to the Notebaert Nature Museum, their new home for one to two years.
In the last few weeks, the Notebaert museum has taken in 131 baby Blanding's turtles through the program. Each is numbered with non-toxic marker so employees can make sure they are receiving their proper initial diet of crickets, shrimp and bloodworms.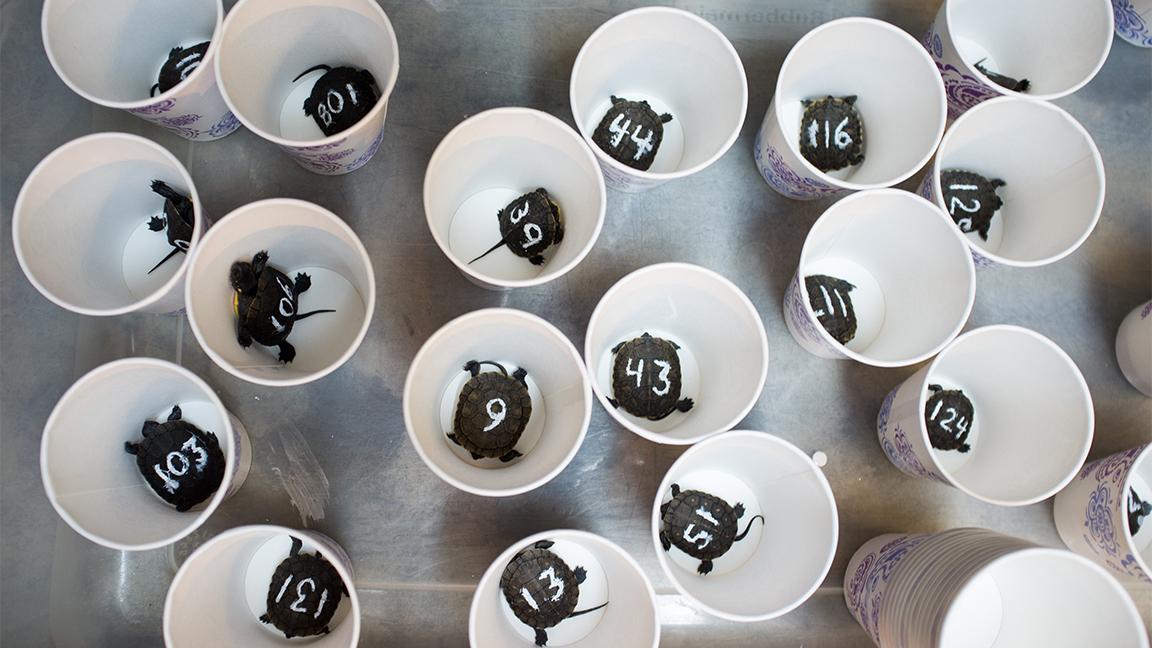 The baby Blanding's turtles are numbered in the order in which they hatched. (Peggy Notebaert Nature Museum)
Because the turtles receive a steady diet and don't need to spend energy escaping predators, they grow faster than their wild counterparts. But the turtles are mostly carnivorous, which means hunting is an important survival skill. So as the turtles get bigger, they're placed in groups of seven to 10 and given living food to compete for, such as crawfish and caterpillars.
It's part of an effort to mimic the natural steps towards self-sufficiency in the wild.
To further bolster their chances, there's limited human interaction while they're in captivity, according to Celeste Troon, curator and director of the museum's living collections.
"We try to be as hands-off with them as humanly possible," Troon said. "If we're not, they start to associate people with food. So when they're out in the wild, they'll be quite likely to swim up to people."
Troon said that's usually not a problem, but because the Blanding's turtle is a relatively rare animal, a small illegal market has developed. It's better if the turtles are wary of humans.
The Notebaert Nature Museum has been involved in the conservation program since 2008, but it started 12 years earlier, in 1996, after the DuPage County Forest Preserve found only adults during a survey of its land.
For an animal that can live more than 70 years, Troon said that wasn't good news.
"They found no sub-adults, no juveniles and no hatchlings," Troon said. "That's a huge red flag because you're not getting the generations coming up behind the adults, so that's what sparked the whole project."
The wild population of Blanding's turtles has plummeted due to loss and fragmentation of their native habitat. In addition to Illinois, they are listed as an endangered species in Indiana, Missouri, Maine, New Hampshire, Massachusetts and South Dakota.
Garage also attracts turtle predators, according to Troon.
"Populations of raccoons, possums, coyotes and skunks – all of which eat turtles, baby turtles and turtle eggs – have exploded," Troon said. "The predator-prey balance is way out of whack."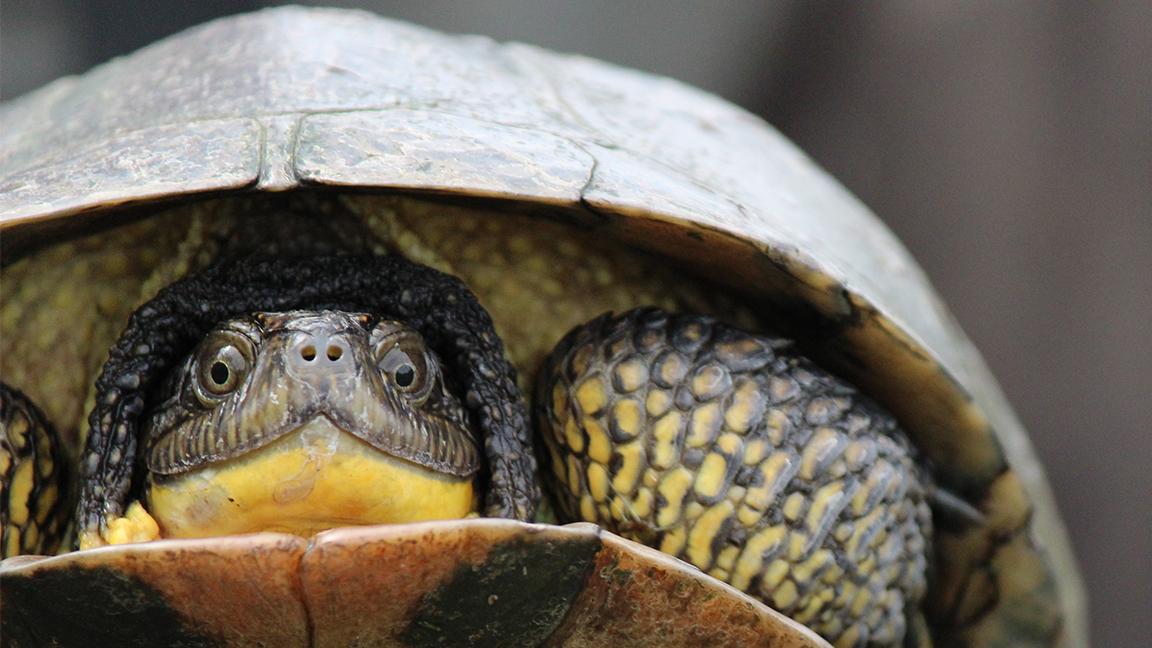 Baby Blanding's turtles have a "leather soft" shell when they arrive at the museum, according to Celeste Troon, which makes them easy prey. The hinged shell of the turtle allows it to close up its shell and hide from predators. (Tracy Parker / Flickr)
But things seem to be looking up.
In the past few years, the project has reached two milestones: In 2014, scientists found what Troon said was their first "grand-turtle," the offspring of a turtle that had been hatched through the conservation program.
The following year, they found their first wild hatching in the forest preserve since 1998.
Blanding's turtles are distinguished by their bright yellow chin and throat. The turtles tend to be shy and rarely bite. Troon said their faces give them a friendly appearance.
"Lots of turtles have what we'd describe as a raptorial mouth structure, almost like a hooked beak, so it looks kind of fierce," Troon said. "The Blanding's turtle mouth structure is such so that it looks like it's permanently smiling, so it makes them great poster children for conservation because you get a picture of one of them and they're smiling at the camera. That's probably they're most endearing feature."
Visitors can see the newly hatched baby turtles and the year-old turtles at the Peggy Notebaert Nature Museum.  
Follow Evan Garcia on Twitter: @EvanRGarcia
---
Related stories: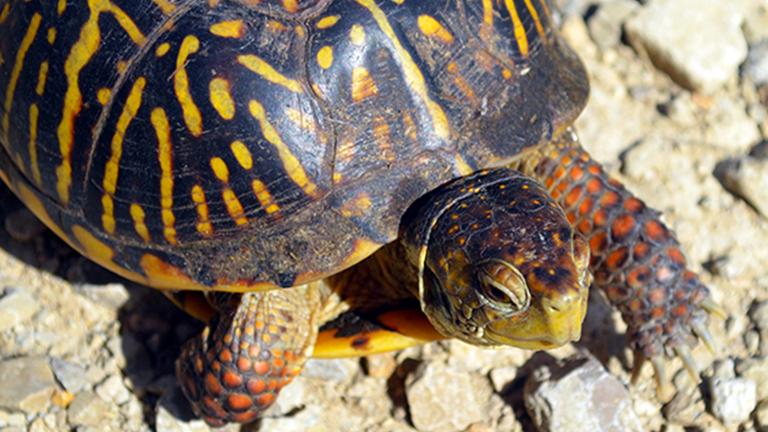 Endangered Turtles Reintroduced into Wild with Help from Illinois Zoos
July 11: Thanks to an experimental program started by the U.S. Fish and Wildlife Service in 2009, a wild population of threatened turtles has been established in northwestern Illinois. Find out how local institutions helped the agency reach its goal.
---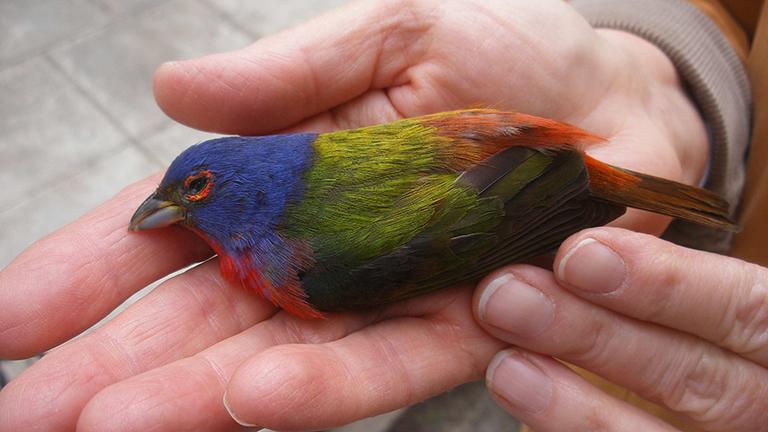 Volunteers Collect Dead, Injured Birds in the Loop
May 24: Since 2003, a group called the Chicago Bird Collision Monitors has made it their mission to collect birds that have been killed or injured after striking buildings and other structures.
---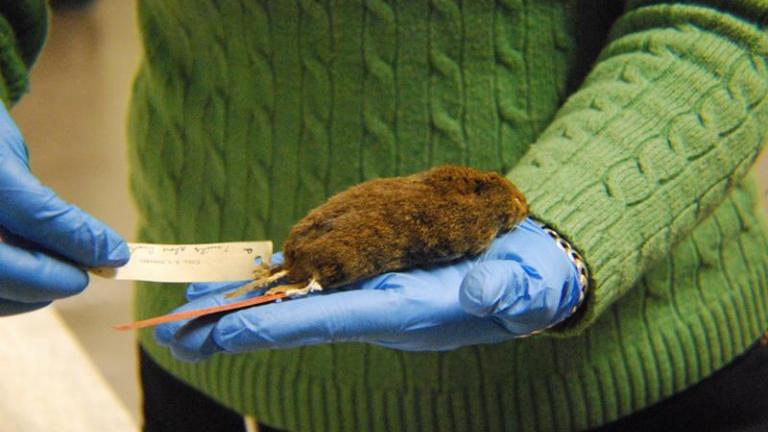 Nature Museum Turning 160, Celebrates with Rock Voles and Chickens
Jan. 13: This week the Peggy Notebaert Nature Museum brings out some rare specimens from its vault and opens a new pop-up exhibit.
---