Largely absent from proceedings at the Democratic National Convention so far, Mayor Rahm Emanuel on Thursday appeared before the Illinois delegation at a breakfast event on the convention's final day.
He spoke about the presidential race before a crowd of delegates and supporters that was smaller than in days past, as late nights and all-day events have taken their toll.
"The choice could not be more stark," Emanuel told the assembled crowd. "We need to carry the torch forward all the way until November."
After the speech, Emanuel responded to the flak he's received from his appearance in Wednesday night's video that introduced President Barack Obama's speech at the DNC. In it, a narrator recounts the passage of the Affordable Care Act, and how Emanuel, then Obama's chief of staff, advised against it.
"You're going to have to pull the bill because, if you push this legislation, you will lose in 2020," Emanuel is quoted as saying in the video.
Critics immediately took to Twitter, including MSNBC personality Chris Hayes:
Rahm portrayed as the cowardly calculating hack in this video.

— Christopher Hayes (@chrislhayes) July 28, 2016
---
To his credit, Emanuel has mentioned the story of his opposition to working on the Affordable Care Act several times in speeches and to the media, joking that he's glad the president chose not to take his advice.
"It's been in books," Emanuel said, shrugging off questions that he was thrown under the bus during the video Thursday night. "I've spoken about it, I said, 'Thank God he didn't take my advice. I said, 'Go for financial reform first.' He asked for my advice. When he made his decision, I executed the votes to get health care done. That's the job of chief of staff."
Emanuel was also asked about his diminished role on the national political stage, in the wake of sagging approval ratings back home. Four years ago, he gave a speech at the DNC. Not so this year.
"A lot of people don't have speaking roles, don't worry about it," Emanuel said, noting that he spent Wednesday night at the convention with former President Bill Clinton, will meet with him again Thursday and will sit for Thursday night's address on the floor with the Illinois delegation.
Emanuel refused to answer questions about the Obama's decision to locate the presidential library and museum in Jackson Park over Washington Park, a decision that was not supposed to be made official until next week.
"There will soon be a formal decision," Emanuel said. "I don't go before the president of the United States. Either way, Chicago beat out New York."
Thursday morning's appearance comes after Emanuel hosted a late-night bash in West Philadelphia called "Chicago Rockin' Blues," attended by a mix of politicos. It was notable for the attendance of some who have been vocal critics of the mayor, including Ald. Carlos Ramirez-Rosa (35th Ward), and Troy LaRaviere, the head of the Chicago Principals Association. LaRaviere has been fiery in his opposition to the mayor and claimed that CPS' move to fire him from his previous job as principal of Blaine Elementary was politically motivated.
Emanuel is scheduled to appear for a one-on-one conversation on "Chicago Tonight" on Thursday evening from Philadelphia after Clinton's acceptance speech.
Join "Chicago Tonight" for continued coverage of the Democratic National Convention all week.
Follow Paris Schutz on Twitter: @paschutz
---
Sign up for our morning newsletter to get all of our stories delivered to your mailbox each weekday.
---
Related stories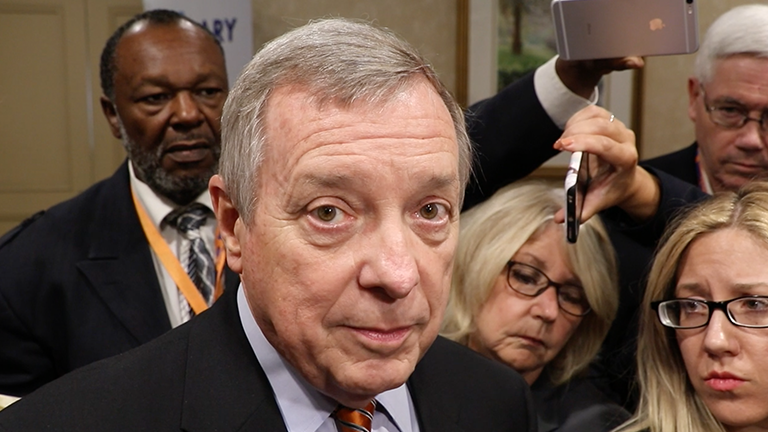 Dick Durbin to Decide on Gubernatorial Bid in November
July 28: Once again, U.S. Sen. Dick Durbin gave an impassioned speech Thursday morning before the Illinois delegation at the Democratic National Convention, sounding more like a candidate for governor than ever.
---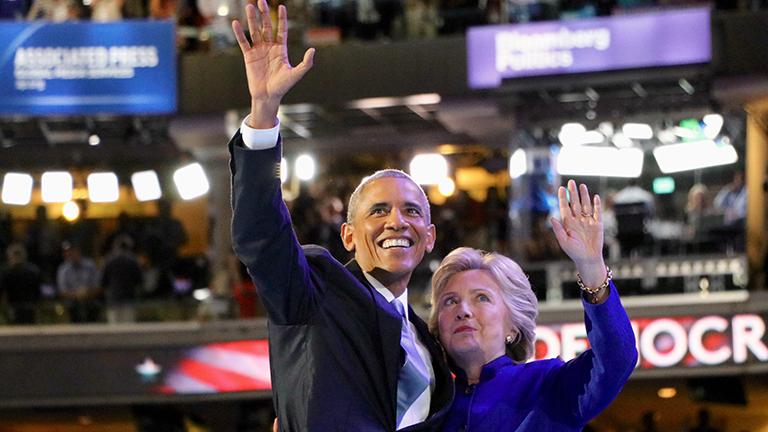 Photos: Democratic National Convention 2016, Day 3
July 27: President Barack Obama electrified a packed Wells Fargo Arena with his speech, but things got even more exciting the moment he finished and Hillary Clinton walked on stage to embrace him.
---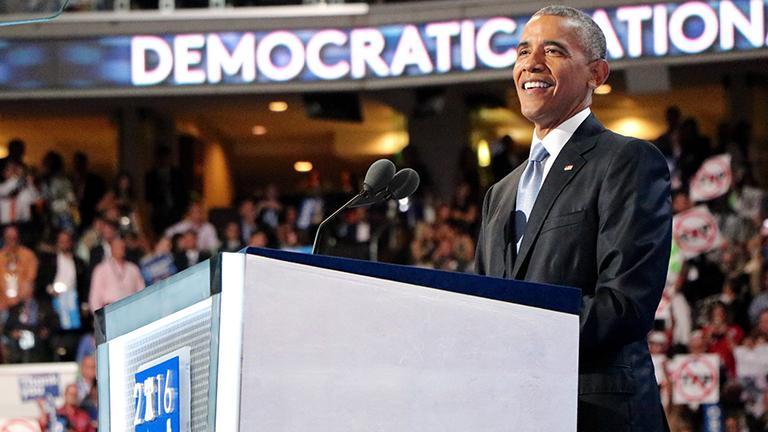 Obama: Hillary Clinton Most Qualified Presidential Candidate Ever
July 27: President Barack Obama said "there has never been a man or a woman—not me, not Bill, not anybody—more qualified than Hillary Clinton to serve as president of the United States of America."
---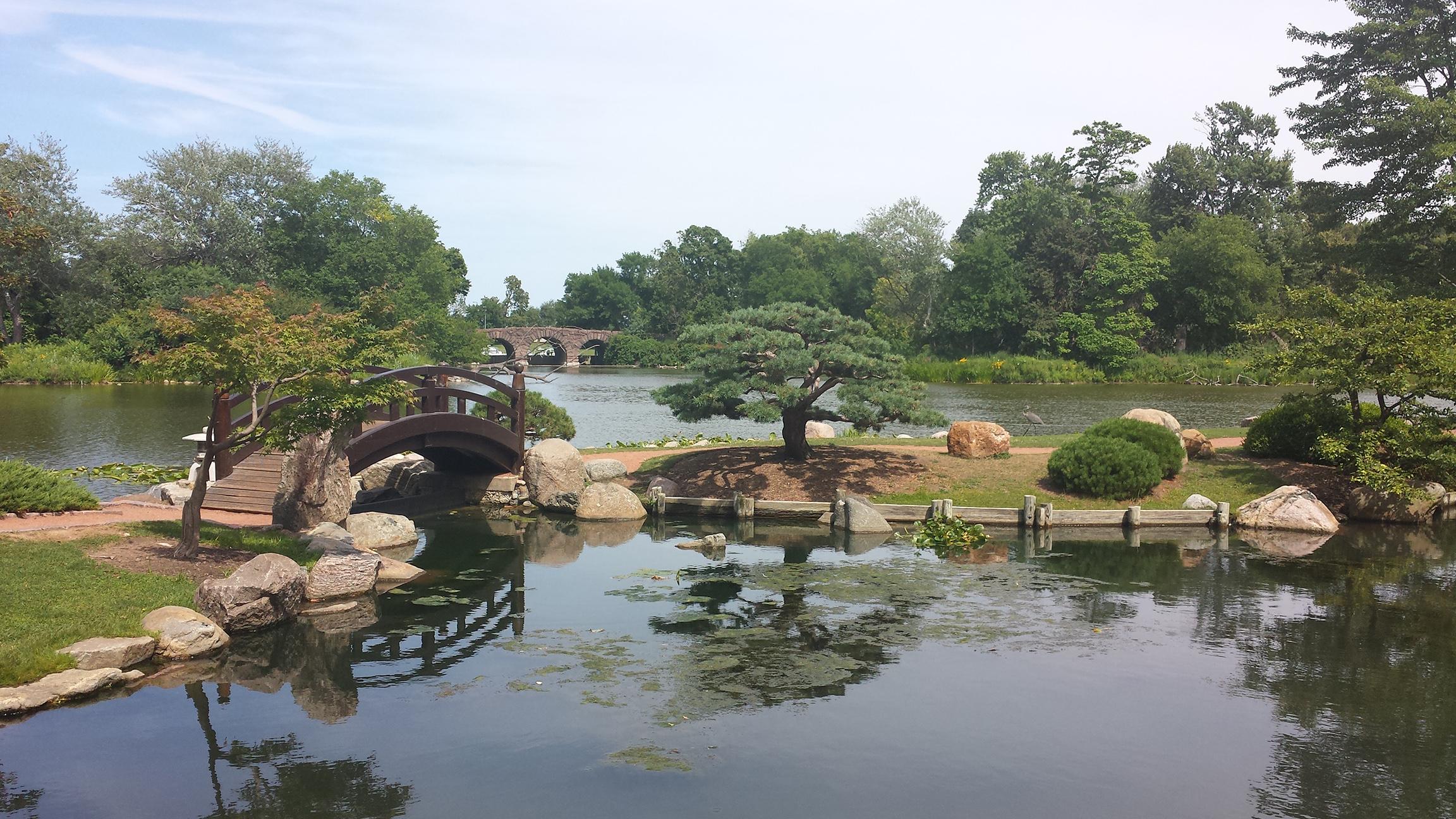 Obama Library to be Built in Jackson Park
July 27: Jackson Park beat out Washington Park as the site for the future Obama Presidential Center. Reaction from Illinois delegates at the Democratic National Convention.
---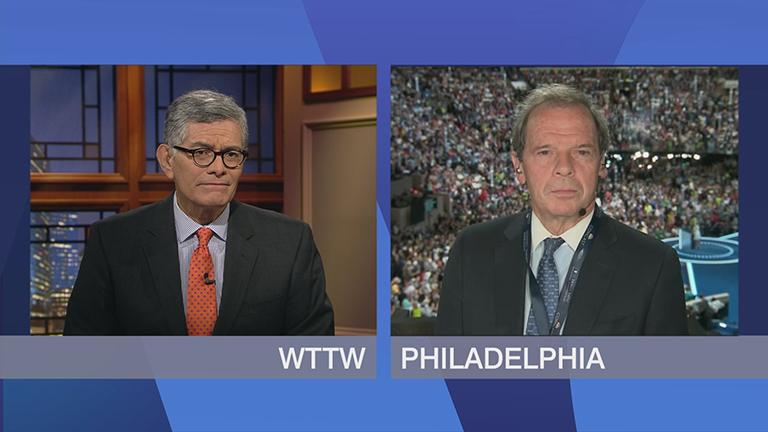 Cullerton Focused on November Election, Growing Supermajority
July 27: While many in his party are already looking ahead to 2018, Illinois Senate President John Cullerton says he's focusing on the upcoming November election and growing Democratic majorities in Illinois.
---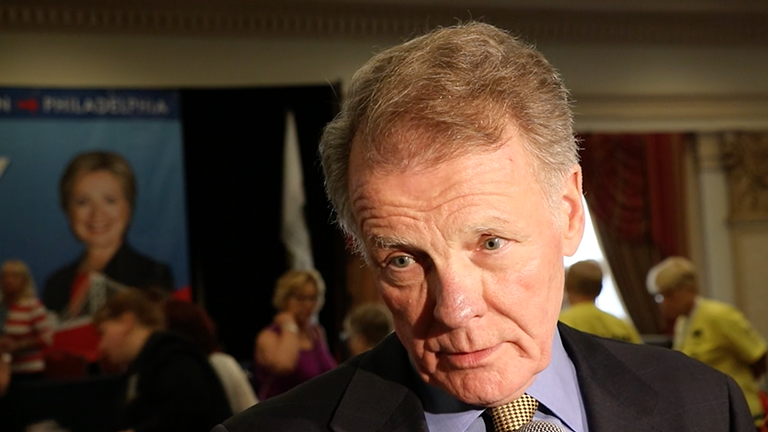 Labor Unions Flex Muscle with Illinois Democrats at DNC
July 27: Illinois Democrats may be a disjointed bunch, but they do have one thing in common: support for labor unions.
---