Illinois Democrats may be a disjointed bunch, but they do have one thing in common: support for labor unions.
The year-and-a-half fight that Democrats have waged against Gov. Bruce Rauner's "turnaround" agenda has coalesced nearly all of Illinois' labor movement behind the Democratic Party, and nowhere is that more evident than at the Democratic National Convention in Philadelphia this week.
Each morning, House Speaker Michael Madigan, the leader of the Illinois Democratic Party, hosts a morning event for all delegates, public officials and party power brokers. And each morning, the events have been paid for almost exclusively by Illinois labor organizations like the Illinois Education Association, Service Employees International Union, the Chicago Federation of Labor, the International Brotherhood of Electrical Workers and the umbrella organization, the AFL-CIO.
"We are all joining together and we are going to open a can of whoop ass on Donald Trump, and every other Republican," shouted David Cox, the national president of the American Federation of Government Employees. Cox also had harsh words for Rauner at a rousing speech in front of the delegation Wednesday morning: "We are going to get out the vote and win, and we are going to kick ass. Are you with me?"
Every morning has featured speakers like Cox, representing organized labor, rallying Illinois Democrats to continue to block Rauner's wishes to enact prevailing wage and collective bargaining reform.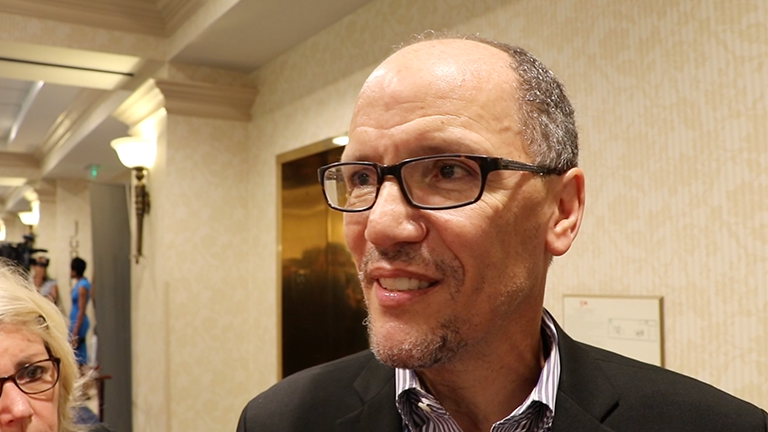 Tom Perez (Evan Garcia / Chicago Tonight)
"The union movement has been an indispensable part of the success of middle class America," said U.S. Labor Secretary Tom Perez, who was thought to be on Hillary Clinton's short list for vice president. "These efforts to do away with prevailing wage and collective bargaining and the 'right to work for less' movement is a frontal assault on the middle class, and that's why I applaud the efforts in Illinois of those who understand that when unions succeed, Illinois succeeds."
The relationship between unions and Democrats raises questions of a quid pro quo: Do unions get something from the party as a result of all of the financial and political support?
"I would say there's a natural alliance between the Democratic Party and working people, working people are represented by unions," Madigan said. "It's a natural alliance, given the nature of the modern Democratic Party. The fact that they buy food for us (at the delegation breakfasts)–I don't see that as a major problem."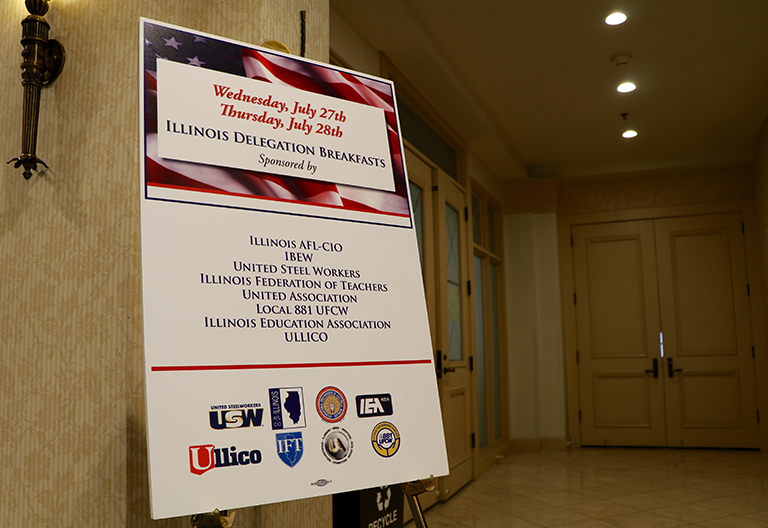 "Polling in Illinois and across the national consistently shows majority support for working people, and for the ability of working people to join unions," Madigan said, repeating his now-mantra that Rauner's positions on prevailing wage and collective bargaining reform are "extreme."
Madigan has long held the support of trade unions, but public employee unions like the American Federation of State, County and Municipal Employees, that represent the largest share of state government workers, were previously skeptical because of Madigan's support for public employee pension reform that would have cut retiree benefits. But they have come on board in recent years because of a toxic relationship with Rauner, who has yet to successfully negotiate a contract with them.
Madigan also hinted Wednesday that the budget wars that have plagued the state since the beginning of Rauner's term will continue after the temporary budget expires in January, and that no permanent thaw in the standoff will happen unless Rauner drops his "turnaround" agenda.
In contrast, the Illinois Republican delegation events last week were sponsored by companies like ComEd, State Farm, Baxter, AT&T, and trade groups like the Illinois Coal Association.
Join "Chicago Tonight" for continued coverage of the Democratic National Convention all week.
Follow Paris Schutz on Twitter: @paschutz
---
Sign up for our morning newsletter to get all of our stories delivered to your mailbox each weekday.
---
Related stories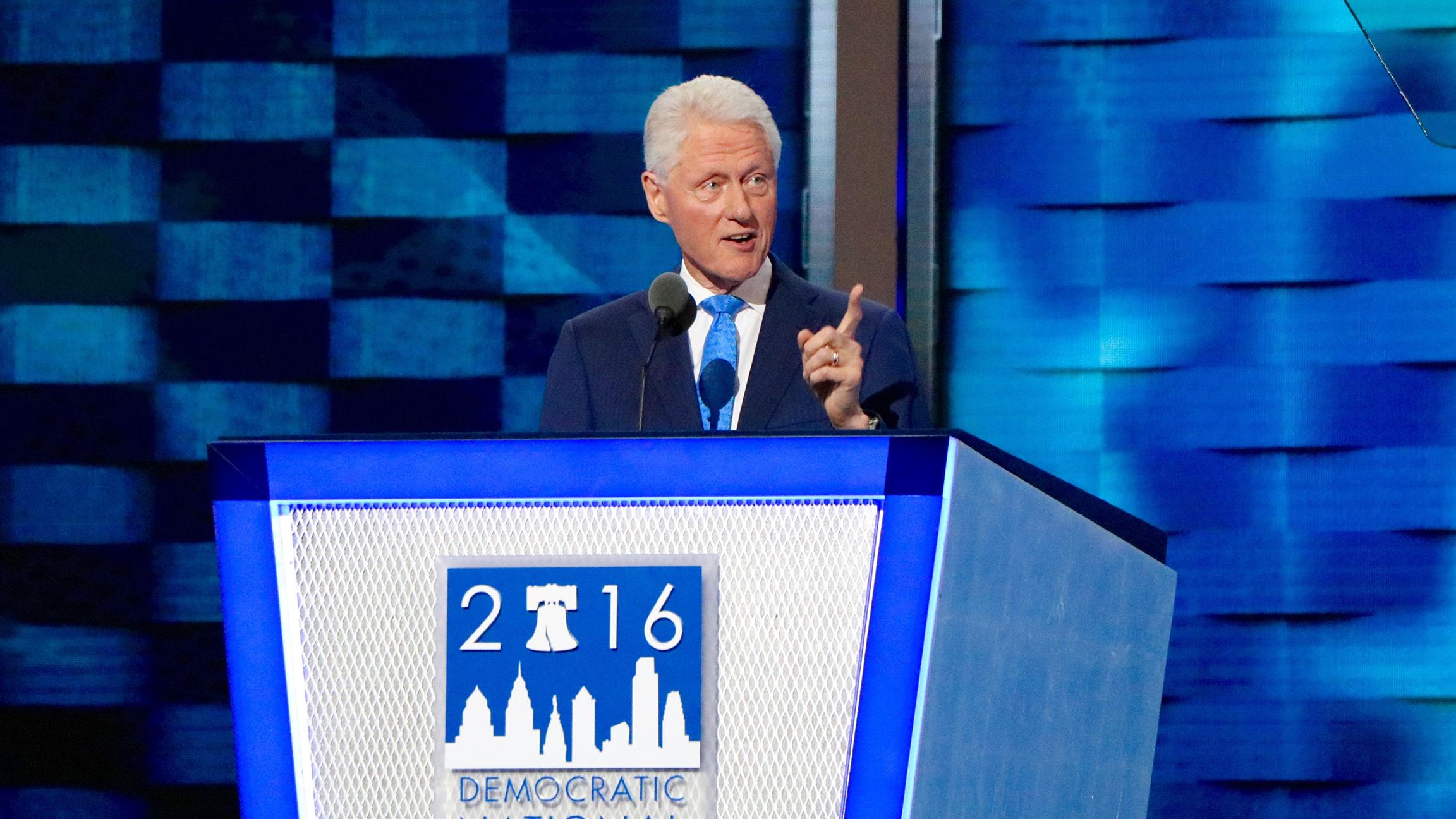 Photos: Democratic National Convention 2016, Day 2
July 26: On the second night of the Democratic National Convention, Hillary Clinton makes history while former President Bill Clinton recounts the history of his relationship with his wife. Elsewhere in the city, protests raged on.
---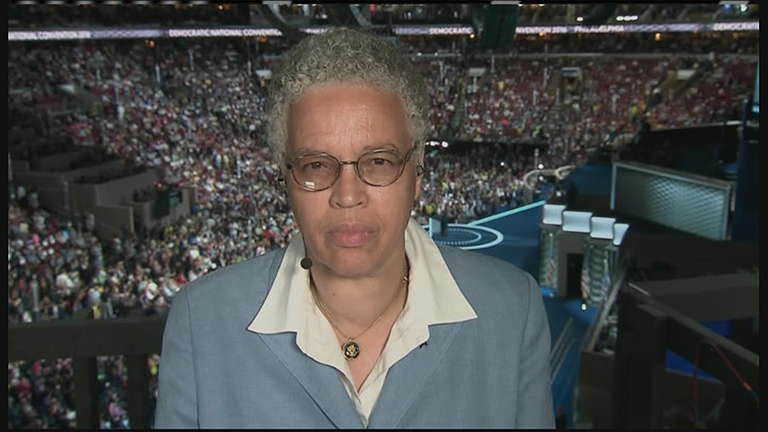 Toni Preckwinkle: Sanders Supporters 'Will Fall in Line Behind' Clinton
July 26: Cook County Board President Toni Preckwinkle, a Hillary Clinton delegate, says supporters of Vermont Sen. Bernie Sanders "will fall in line behind" Clinton.
---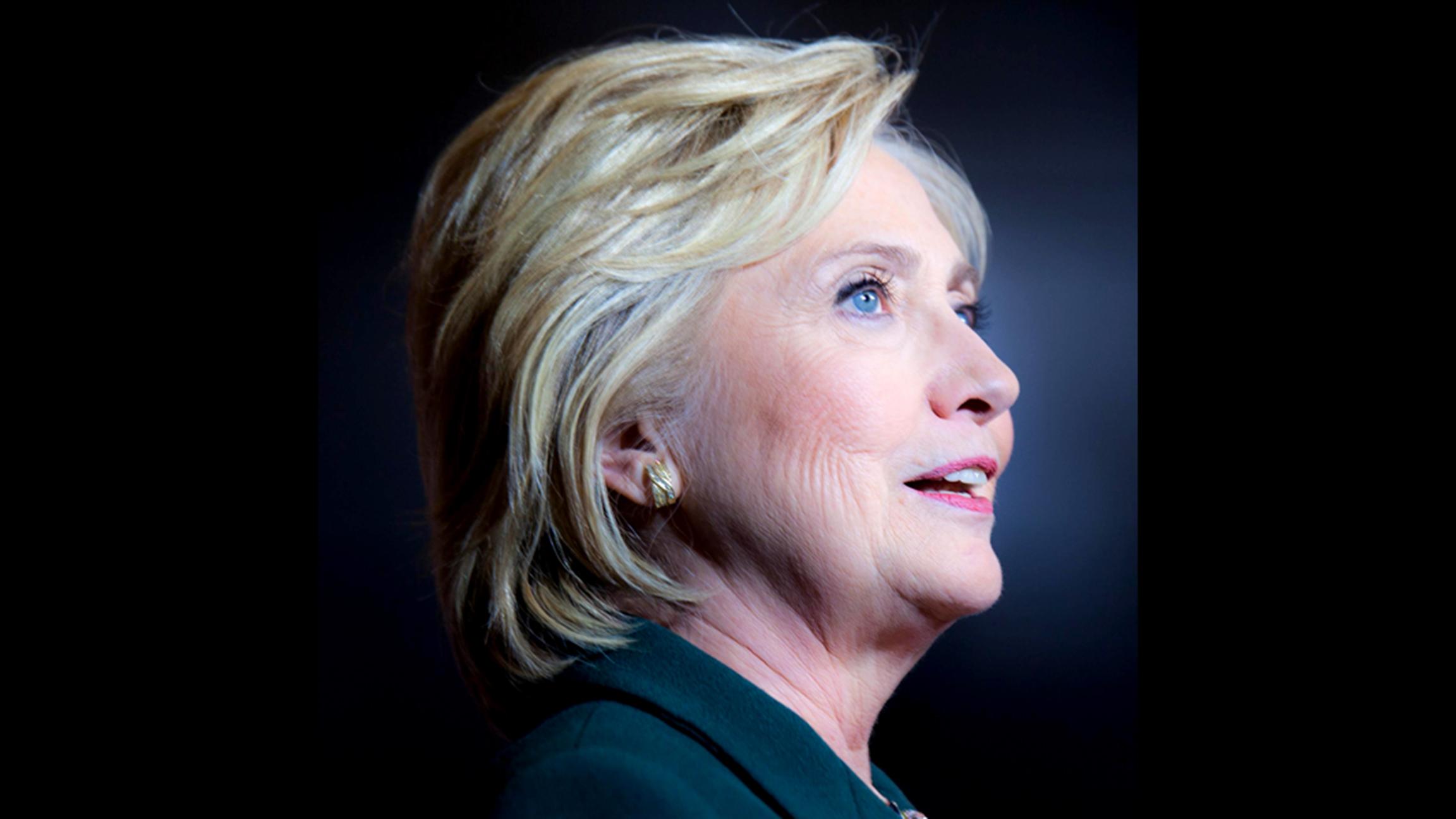 Hillary Clinton Secures Historic Democratic Nomination for President
July 26: Former Secretary of State Hillary Clinton on Tuesday became the first woman in the history of the U.S. to earn a major party's nomination for president.
---
Talk of Chris Kennedy for Illinois Governor Heats Up on Day 2 of DNC
July 26: Once again, the buzz among the Illinois Democratic delegation at breakfast Tuesday was the 2018 race for governor–and finding a challenger to take on Gov. Bruce Rauner.
---