The America's Cup hits freshwater for the first time as it comes to Chicago this weekend. Elizabeth Brackett takes us to Navy Pier where teams are preparing for the races.
TRANSCRIPT
Elizabeth Brackett: It will be the first America's Cup race ever sailed in freshwater – a new experience for the crews that handle the sleek 45-foot catamarans, and a new experience for Chicagoans.
Tod Reynolds, America's Cup Chicago event director: This is so different than anything that Chicago has ever hosted before, and I can't think of a better way to utilize our stadium – that is, our city front – than the America's Cup.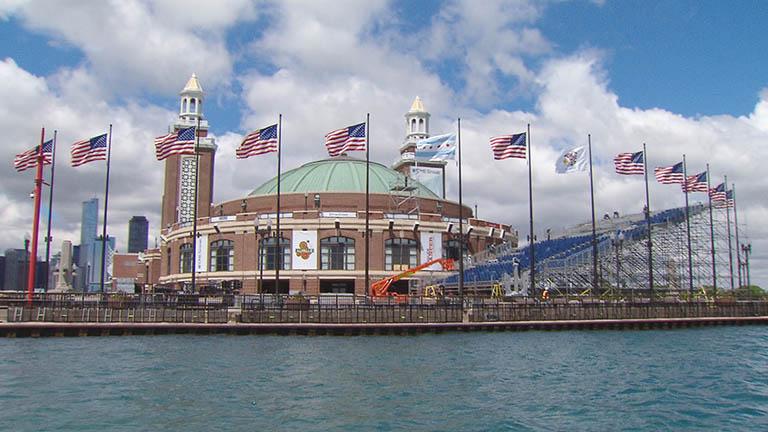 Brackett: The boats are also different. With the right wind conditions, both hulls lift off the water on a hydrofoil while reaching speeds of up to 40 miles an hour. 
Reynolds: This is Nascar on the water, Formula One on the water.
Brackett: Five countries have been competing in a series of races around the world to become the challenger of America's winning boat, Oracle, holder of the America's Cup. The final match will take place between oracle and its challenger in Bermuda in 2017. Oracle sailor Matt Cassidy grew up sailing on Lake Michigan. He's been a professional sailor for the last 22 years and can't wait to race with Oracle in Chicago.
Matt Cassidy: To have family and friends – we've got the home crowd behind us. To have a backdrop like this, it doesn't get any better. So we're really going to be feeling the energy from everyone this weekend.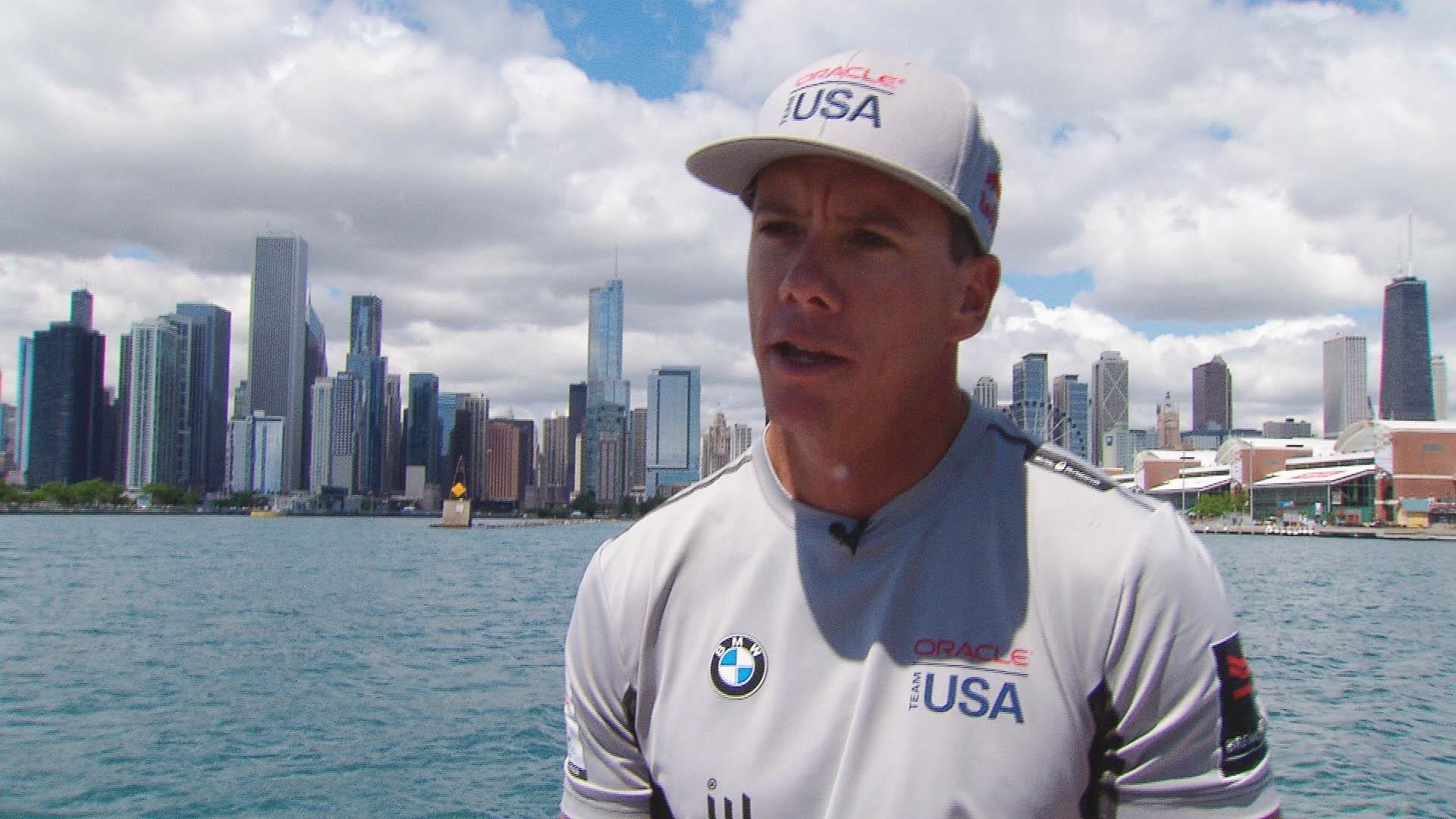 Matt Cassidy
Brackett: The America's Cup boats began arriving in Chicago last week, each boat taken apart after the last race in New York and shipped in these huge containers. The most challenging part to ship – the most unique part of today's America's Cup boats.
Dean Barker, Softbank Team Japan: For most yachties it's not your typical sail. We call it a wing sail. It's a combination of a mast and a sail all in one piece, really. 
Dean Barker
Brackett: The new designs have sparked controversy with traditional sailors, asking if the America's Cup boats are really sailboats.
Reynolds: It is sailing, just taken to another extreme. Just like driving a Nascar racecar – that's not really driving. It's the same thing. America's Cup is the pinnacle of the sport.
Brackett: The competition over the weekend will be fierce.
Cassidy: We've been on the podium on every single event we've done, but we haven't won an event. So the goal here in Chicago is to win.
Brackett: The race course will be directly off of Navy Pier. Cassidy lays it out.
Cassidy: The starting line will be somewhere over in this area right off the breakwater. We'd reach towards Navy Pier, we'd round the reach mark, then go down-wind and head south towards Museum Campus. The lengths of the course will vary based on the wind speed. We'd round a mark, then come back up-wind, back up to Navy Pier near the reach mark where we originally rounded, and we do two or three laps depending on the wind strength and how fast the boats are going. And then the finish line will be right off Navy Pier. So within a hundred feet or so, you'll have the boats finishing, it should be pretty exciting for the fans to be right there as the boats are crossing the line.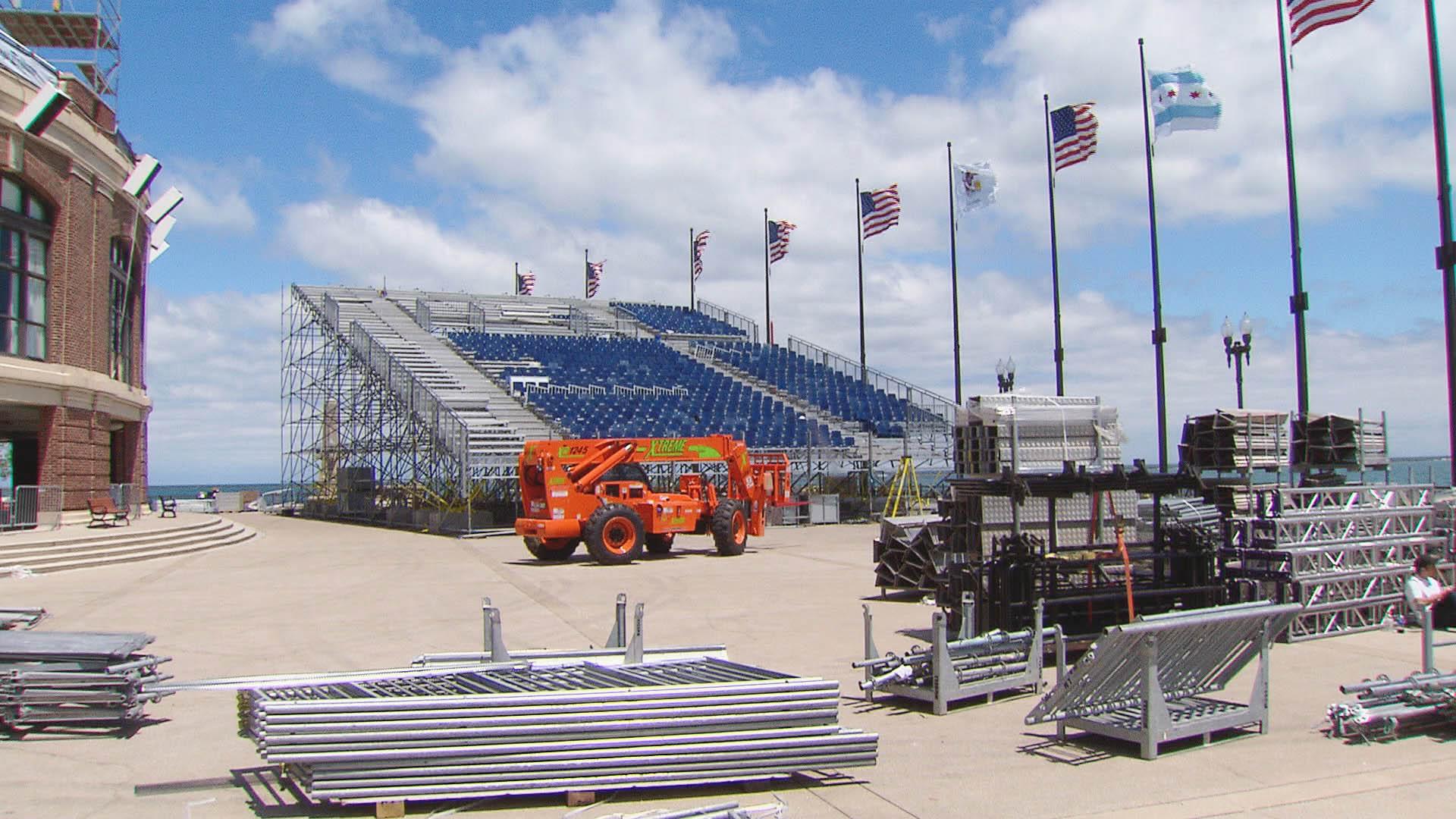 Crews set up the grandstand at Navy Pier.
Brackett: The races will be short, only 20 to 25 minutes per race. The short distances and high speeds make for heart-pounding action.
Cassidy: You don't stop moving. You're going from one side of the net to the other, and it's super physical. We're running 80-95 percent max heart rate, and most other boats you sail you don't get that. So, you have to be a professional athlete to sail these boats.
Brackett: The best place to watch will be Navy Pier. Grandstand tickets are already sold out, but the southeast end of the Pier will also be reserved for ticket holders. The races should also be visible on the shoreline from Navy Pier to the Museum Campus.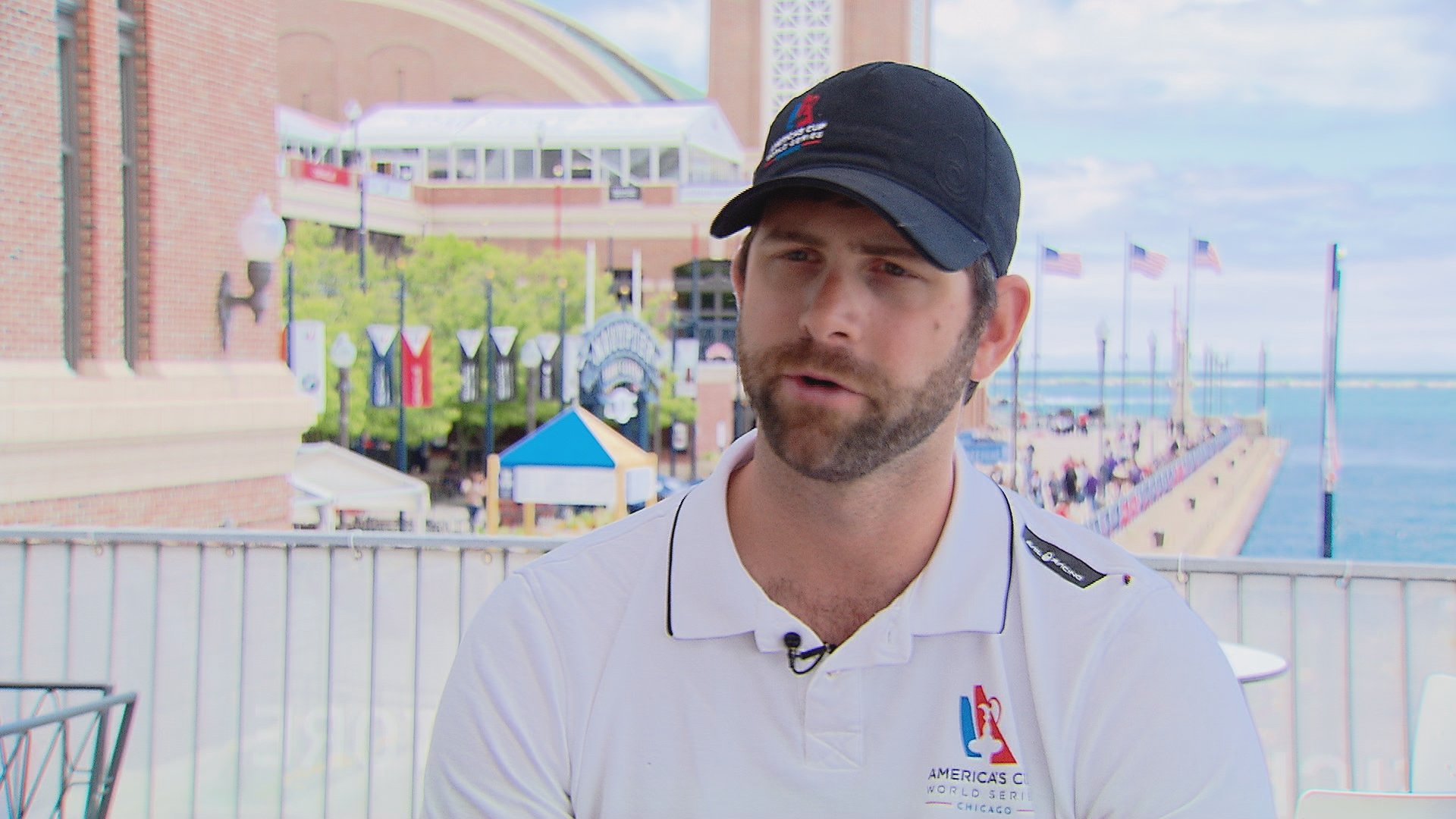 Tod Reynolds
Reynolds: General admission passes are still available, still going strong. A lot of people are going to be able to be down in the race village, on the finish line, watching the dock-out shows, getting the autographs, having a Dark and Stormy – that's the place to be.
Brackett: "Chicago Tonight"  will have an exclusive view of the action from the stern of Japan's America's Cup boat, Softbank.
Barker: The guest racer gets their own special spot, so you're basically down the back here, sitting just behind the beam. There's some more trampoline behind there. You've got a handle, which you hang on to for your life, and hopefully you don't fall off, because if you do we're not coming back for you.
Brackett: So, this is where I'm going to sit when I race on Saturday. I don't see a lot of room there, but we'll see. I can't wait. Races begin at 1:30 p.m. Saturday.

Event Information for Louis Vuitton America's Cup Chicago
America's cup organizers expect 12,000 spectators on Navy Pier to watch race weekend unfold. Giant screen race coverage, a beer garden plus entertainment will be available in the race village at the east end of the pier.
Friday, June 10: Preview Day and Opening Ceremony, Noon – 11 p.m.
Saturday, June 11: Race Day 1: 11 a.m. – 11 p.m. Races begin at 1:30 p.m.
Sunday, June 12: Race Day 2: 11 a.m. – 8  p.m. Races begin at 1:30 p.m.
For a full list of events, visit the event guide.
For tickets, visit the website.
---
Sign up for our morning newsletter to get all of our stories delivered to your mailbox each weekday.
---
Related Stories from "Chicago Tonight"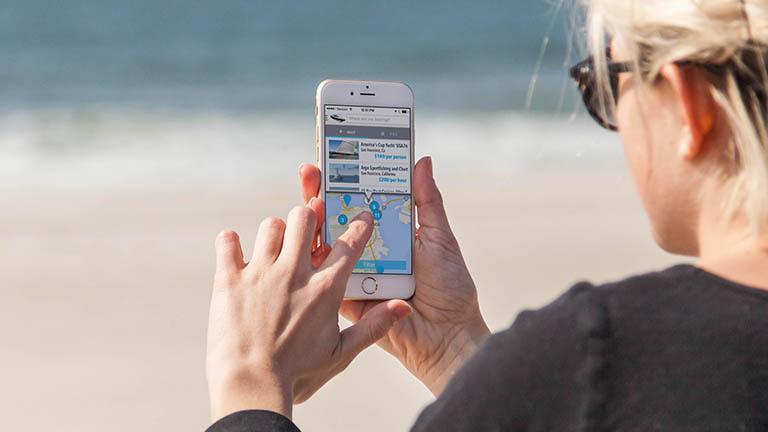 Sharing Economy Plunges into Chicago Waterways
June 9: The sharing economy is surfacing on Chicago's lakes and rivers as boat rental app GetMyBoat joins the likes of Uber, Lyft and Airbnb.
---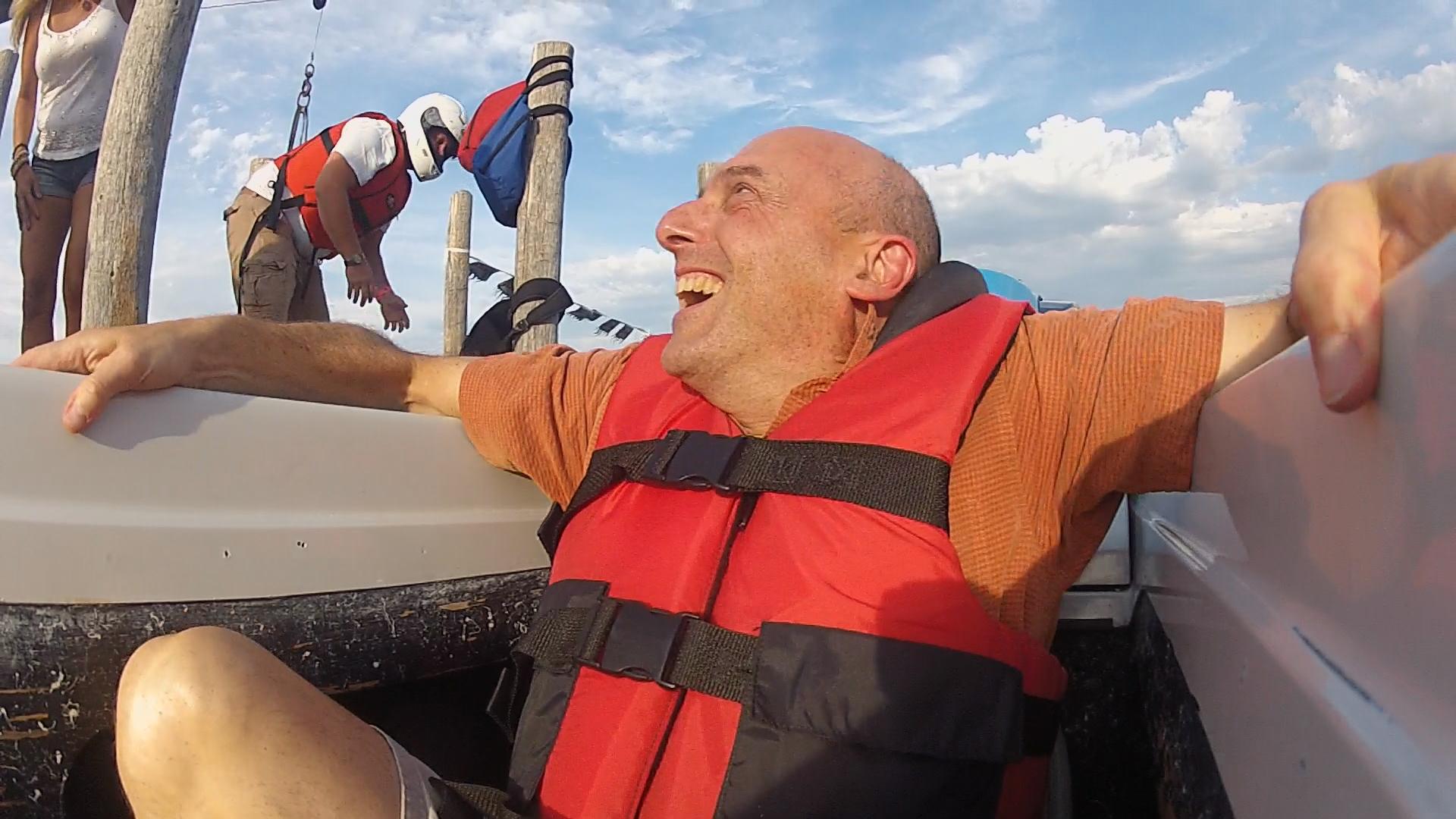 A Rowdy Good Time: Drag Boat Racing at Blarney Island
Aug. 26, 2015: Boats fly by at speeds up to 150 miles per hour on an 800-foot course. There is drag boat racing every Thursday night all summer long at Blarney Island on Grass Lake. Chicago Tonight's Jay Shefsky goes to the races and takes a 94 mph ride on a race boat.
---