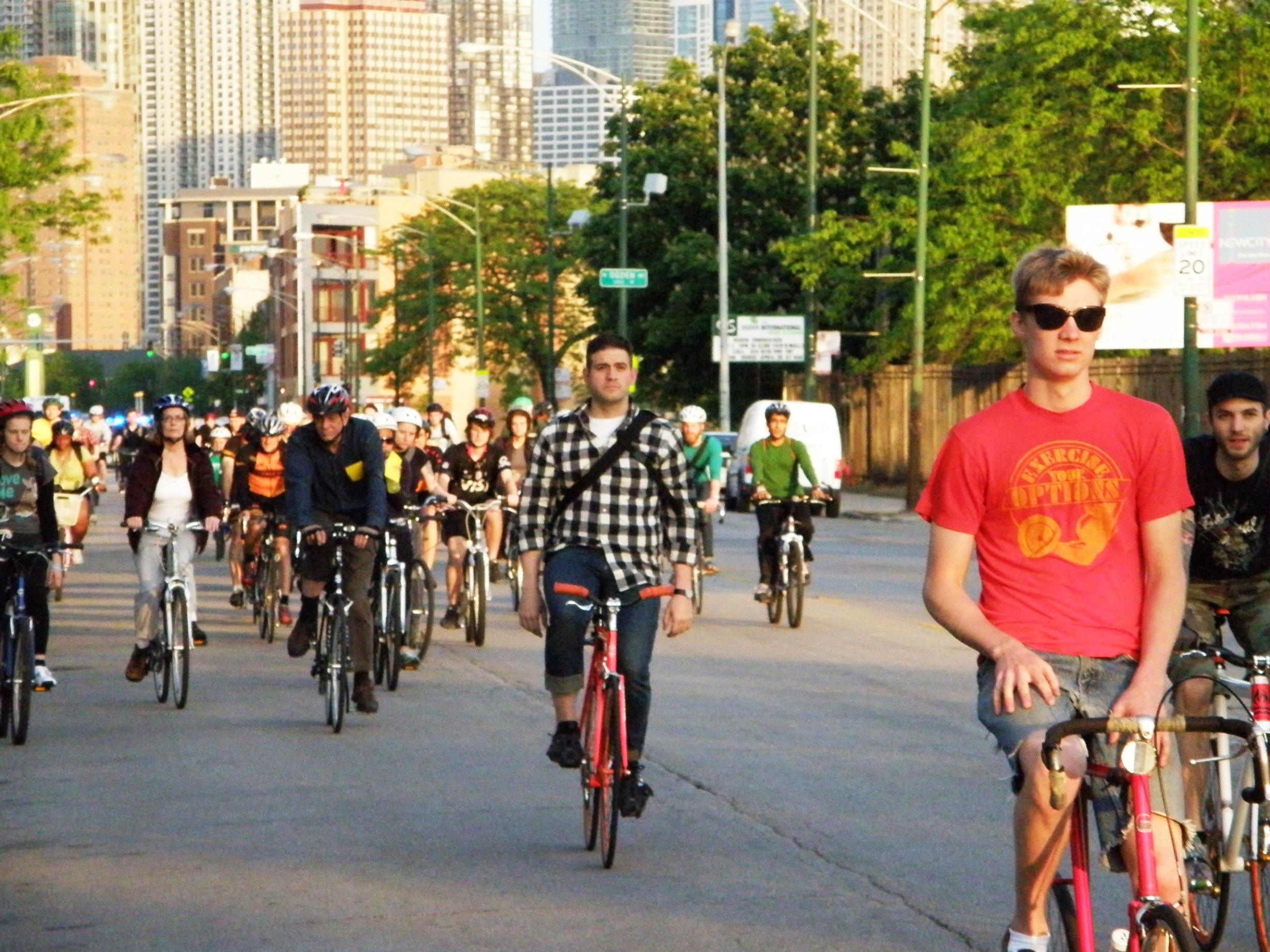 Cyclists participating in Chicago's Ride of Silence in 2010. (saumacus / Flickr)
On Wednesday night, cyclists will ride slowly and silently through downtown Chicago – and in hundreds of other cities around the world – to pay tribute to fallen riders.
It's called the Ride of Silence, and it started as a tribute to a single cyclist. 
Chris Phelan organized the first event in Dallas on May 21, 2003, days after his friend Larry Schwartz, a prominent marathon cyclist, was struck by a passing school bus while riding home. Schwartz, who was wearing a helmet, was hit from behind and died three days later.
"He had never had an accident or crash on his bike before then," Phelan said. "And this is someone who rode over 20,000 miles a year."
Phelan emailed a few friends about gathering and riding around Dallas' White Rock Lake in tribute to Schwartz. He was surprised to find more than 1,000 cyclists show up. Even more astonishing, the Ride of Silence which Phelan initially planned as a one-time occurrence began to spread across the globe.
"It touched a nerve," Phelan said. "Everyone now knows somebody who knows somebody that's been hit or killed on their bike. These people realize that bicyclists have a legal right to the road – they belong there – and motorists have a legal obligation to share the road, but they don't."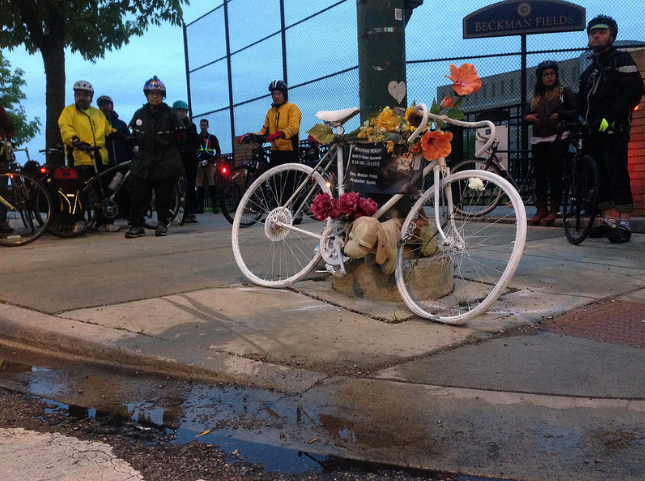 A ghost bike located along the Ride of Silence route in Chicago 2015. (Elizabeth Adamczyk)
Last year, Rides of Silence were organized in 357 locations worldwide, including 49 U.S. states and the District of Columbia, 20 countries and all seven continents (yes, that includes Antarctica). Phelan said Rwanda and Ethiopia are new inclusions in 2016. In the U.S., Michigan has the most individual events with 30 separate Rides of Silence, according to Phelan.
Elizabeth Adamczyk helped organize Chicago's first Ride of Silence in 2005. The event drew about 25 cyclists, but now averages between 150 and 200 participants each year.
The 10-mile ride will pass eight memorials, known as ghost bikes, along its route. (See below.)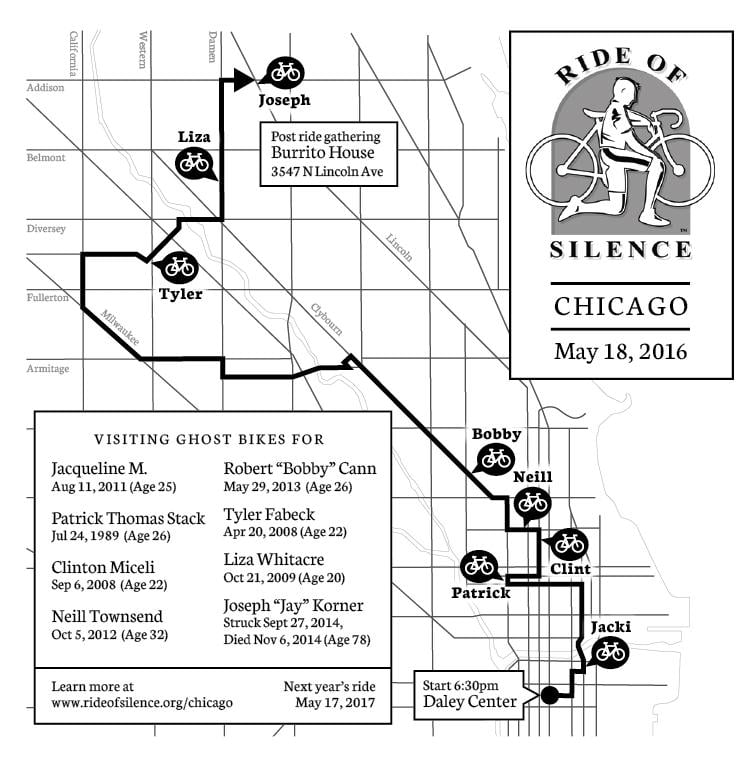 The route for this year's Chicago Ride of Silence. (Elizabeth Adamczyk)
In many ways, the Ride of Silence works alongside the ghost bike movement in raising bike safety awareness and paying tribute to departed and severly injured cyclists.
"The ghost bikes and this ride grew together and joined hands to make this a tribute ride to those locals who've lost their lives," Adamczyk said. "But we're also honoring those who are survivors. This is really meant to be a celebration of life and continuing the legacy that these cyclists left behind – that they didn't die in vain and that our streets will become safer places for all road users."
While Chicago is continually striving to extend and improve its bike lane network, there are still several cyclist fatalities each year. Seven cyclists died in bike-vehicle crashes in 2014, according to RedEye, and seven more were killed last year, according to the Streetsblog Chicago Fatality Tracker. The blog reports two of those fatalities last year were hit-and-run crashes.
Phelan, who's received supportive letters from Presidents George W. Bush and Barack Obama, stresses the Ride of Silence is not only a memorial event, but a reminder to motorists that cyclists are numerous and here to stay.
"We're not going to suddenly hang up our bikes and stop biking," he said. "We're not going away. That's not going to happen. Motorists need to figure that out and work with us."
Local participants in this year's ride will meet at 6 p.m. Wednesday in front of Daley Plaza's Eternal Flame monument and depart after signing in at about 6:30 p.m. Riders are encouraged, but not required, to wear helmets. The event is free; donations are accepted to offset the cost of organizing. 
In addition to Chicago's event, several other Rides of Silence take place Wednesday in the suburbs and around the state. The rides vary in distance and start times; click here to learn more.
Follow Evan Garcia on Twitter: @EvanRGarcia
---
Sign up for our morning newsletter to get all of our stories delivered to your mailbox each weekday.
---
Related 'Chicago Tonight' Stories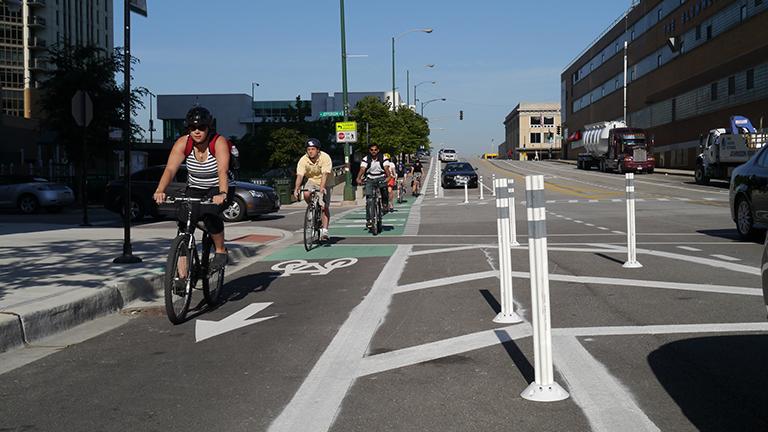 Chicago to Build 50 Miles of 'Better Bike Lanes'
April 11: Mayor Rahm Emanuel on Monday unveiled a new plan to build 50 miles of "better bike lanes" in the city over the next three years. 
---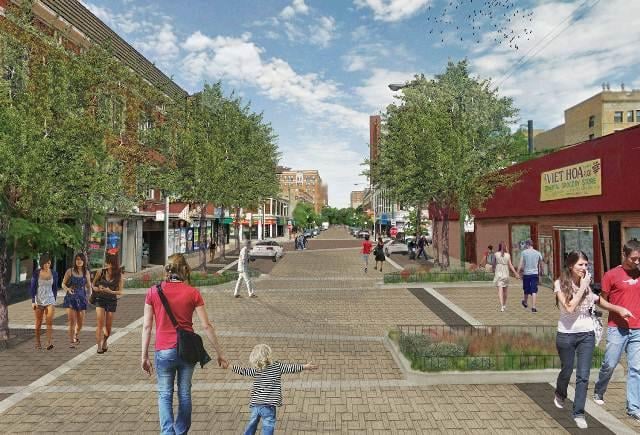 Chicago's Shared Streets, Efforts to Boost Biking
July 8, 2015: Construction gets underway this week on the Argyle Streetscape project in Uptown, which will create a first-of-its-kind Chicago street that's shared among bikes, cars, and pedestrians. The city has also announced a discounted Divvy bike share membership rate for lower-income Chicagoans, and it's currently adding protected lanes to encourage more bicycling.
---
January 28, 2015: Chicago had its first cyclist fatality of 2015 just a few hours into the new year when 30-year-old Aimer Robledo was the victim of a hit-and-run on West Division Street.
---