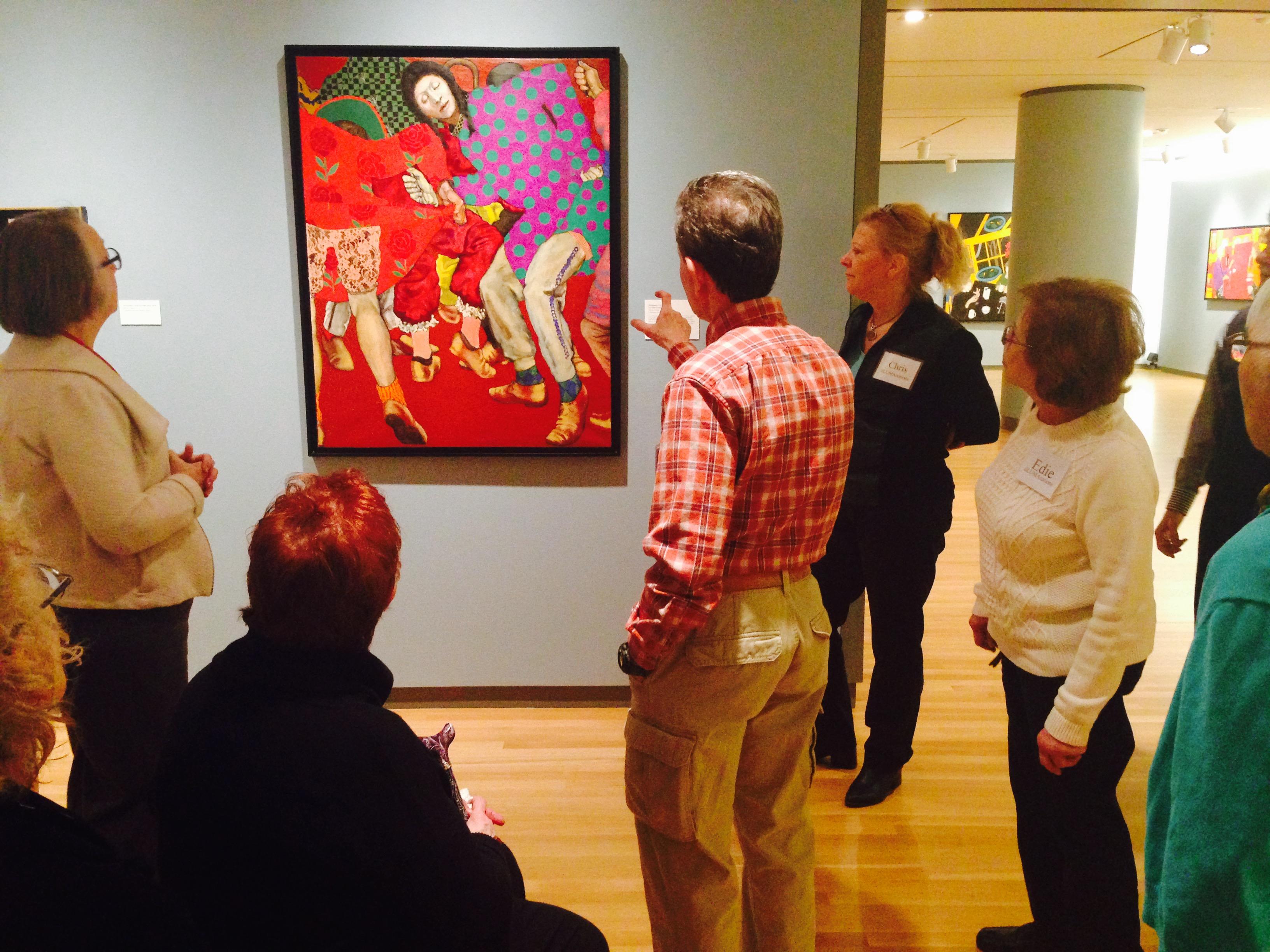 A group of Alzheimer's patients and their caregivers tour the Loyola University Museum of Art exhibit.
On a recent Monday afternoon, a dozen Alzheimer's patients and their caregivers were given a private tour of a local art gallery.
"Looking at the artwork, everyone is engaged, and the docents are really good about pulling out what [patients] think and how the artwork makes them feel," said Deerfield resident Elaine Jacoby, who visited the Loyola University Museum of Art (LUMA) with her mother, Rosalyn Grossman, who was diagnosed with Alzheimer's disease in February 2011.
The exclusive access to the museum was made possible through the ilLUMAnations program, a partnership between LUMA and Northwestern's Cognitive Neurology and Alzheimer's Disease Center that uses the art, dance and music to engage Alzheimer's patients and their caregivers.
The program is modeled after New York City's Meet Me at MoMA program. Darby Morhardt, research associate professor at Northwestern's CNADC, said she had wanted to replicate New York's program but was unsure of which institution to partner with.
"One of our patients was a docent at LUMA and an expert in their D'Arcy gallery," Morhardt said. "It was really this patient who had brought me and the [LUMA] education curator, Ann Meehan, together. We started to meet and decided to replicate the Meet Me at MoMA program in our own way because the effects of the MoMA program were so positive, in terms of engaging people with the disease and their families in a normal activity, in a way – and in an environment – that's conducive to discussion and allows them to take their time with the art."
ilLUMAnations was launched in 2013 with five sessions per year. The week before each session, LUMA docents meet to select which paintings they will explore with the patients and their caregivers in smaller groups.
"The main point is not so much to give them information as you would normally do on a tour, but to get them involved in what they see and express what they see," said Barbara Weeks, who's been involved with the ilLUMAnations program since its inception and whose mother had dementia. "We ask them, 'What do you see? How does that make you feel?' If they give us an answer, we may ask why and open it up to the group. It's about getting everyone interacting."
The docents are very successful at engaging their visitors.
"I think the patients participate as much as the loved ones, and my mom participates in this more than any of the other types of programming events we go to for Alzheimer's patients," Jacoby said. "The docents do such a good job of making sure that everyone enjoys it. They don't make the patients feel like they're inferior." 
Alzheimer's Disease Through an Artist's Eyes
This past year the ilLUMAnations program was expanded to nine sessions, which included a tour of the exhibit "William Utermohlen: A Persistence of Memory."
Utermohlen, an American-born artist, lived and painted in London most of his life. Pamela Ambrose, director of cultural affairs at Loyola University Chicago, led the charge to bring Utermohlen's work to LUMA.
"It shows him as this classically trained artist and then this sudden departure into a very different type of work and content in the work," Ambrose said, adding the exhibit walks viewers through 10 to 12 years of the artist's life. "In 1995, he was diagnosed with Alzheimer's disease. It had been slowly coming on which was evident in his paintings."
The diagnosis didn't stop him from painting.
"As an artist he very bravely [began] using all of the resources he had and he continued to make art," Ambrose said. "That's the fascinating and informative focus of this exhibit."
While the exhibit provided a unique experience for Alzheimer's patients and their caregivers to see firsthand how the disease impacted the artist, Ambrose admitted she was "worried" that the exhibit could be "depressing." Morhardt wasn't as worried about the group seeing the Utermohlen exhibit.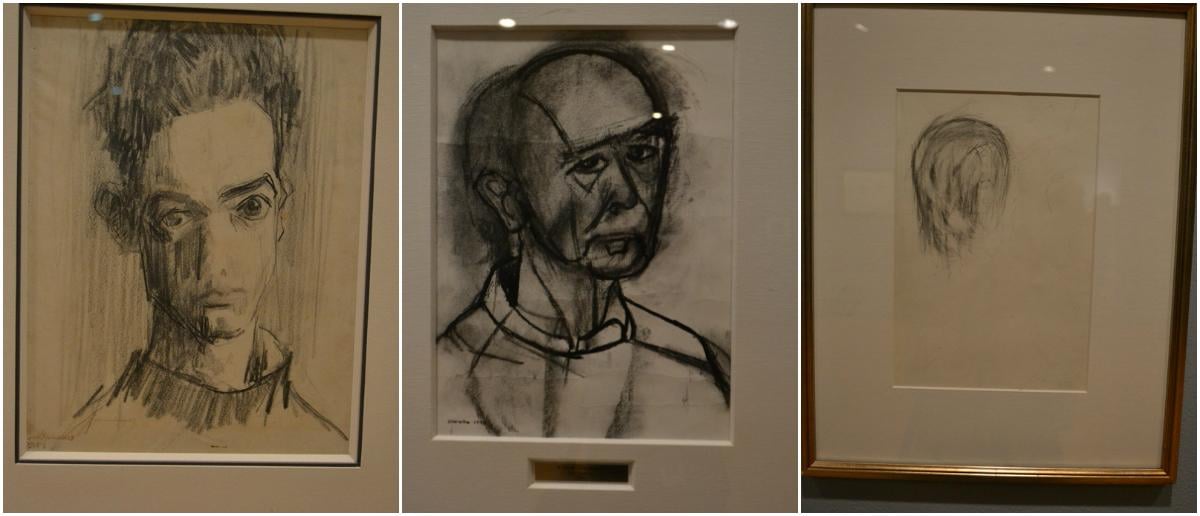 From left: William Utermohlen's self-portraits in 1955 and 1995, and an erased head in 2000. (Courtesy Estate of William Utermohlen and private lenders)
"There was a lot of heightened anxiety around patients seeing this exhibit and kind of the devastation of his abilities over the course of the illness. And I guess because I know the patients so well, I was less anxious," Morhardt said. "I've worked with them so for long and they tend to face this illness pretty head-on and those who don't have that insight, it's not going to sink in what's happening."
The ilLUMAnations tour of the exhibit was anything but depressing, said Weeks who was with the group when they saw it.
"The William Utermohlen exhibit was a marvelous experience because Utermohlen was going through exactly what these people are going through and he confronted it head-on like these people are doing in ilLUMAnations," said Weeks. "Actually, there was a lot of laughter because the paintings we looked at were done before Utermohlen was diagnosed with Alzheimer's."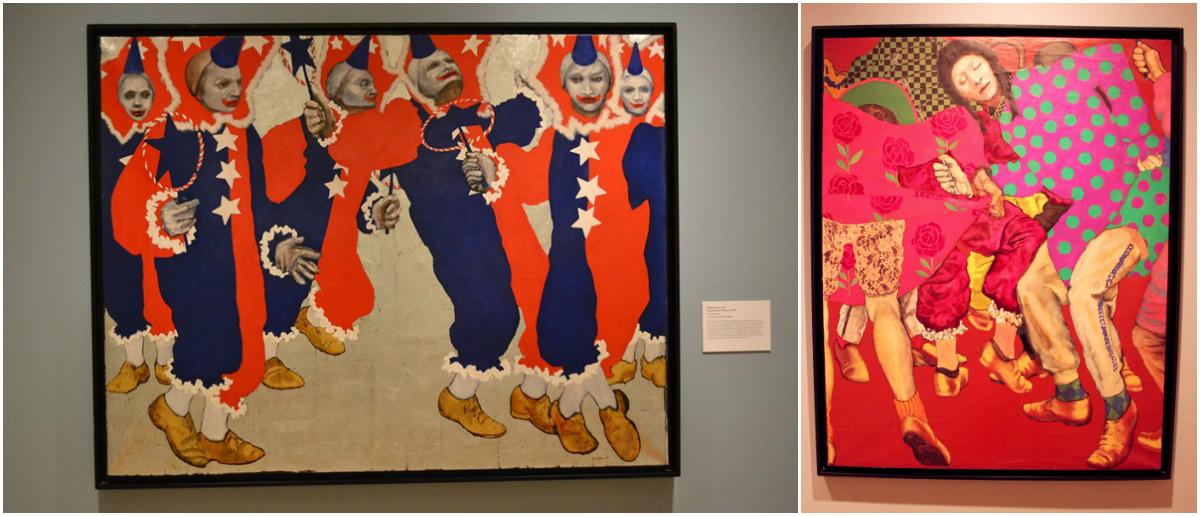 Left: Mummers Cycle Uncle Sam's Clowns, 1969. Right: Mummers Cycle De Niro Comic Club, 1970. (Courtesy Estate of William Utermohlen and private lenders)
Many of Utermohlen's pieces focused on the Mummers Parade in Philadelphia, his hometown. The annual New Year's Day parade has a long history in the City of Brotherly Love, spanning back to the late 17th century as a collection of neighborhood celebrations that featured elaborate costumes, masquerades and parades. In 1901, the city sponsored and organized the first official Mummers Parade on Jan. 1. Today the annual event features more than 10,000 marchers dressed in ornate costumes, floats and musical and dance performances.
At LUMA, Utermohlen's colorful and joyous paintings of the parade inspired dancing.
"At one point Leonard said the Mummers Parade in Philadelphia did a dance, so he started to do a dance," Weeks said. "So I joined him and people were clapping."
From dancing to conversations about artistic influences on Utermohlen, Weeks said the docents get as much out of leading tours like that one as the patients and caregivers.
"All of the docents feel as I do as far as being privileged to work with this group," she said. "I think they feel relaxed and secure and safe, and therefore feel free to say what they want and we don't rush them. We all benefit from it."
The extra time docents spend socializing with patients and their caregivers after the tours is appreciated by Jacoby.
"It's not like they get up and leave because they're done with their tour. It's more like they are our friends, which is really nice because a lot of my mother's friends, and this is common for people with Alzheimer's, kind of abandoned her because people don't know how to act around people with Alzheimer's," she said. "So she has this whole new group of friends, not just people in the program but docents as well."
Eden Jacoby (left to right), Rosalyn Grossman and Elaine Grossman Jacoby on Mother's Day. (Courtesy of Elaine Jacoby)
The exhibit, "William Utermohlen: A Persistence of Memory," runs through July 23 at the Loyola University Museum of Art. The museum is open 11 a.m.-8 p.m. on Tuesdays (free admission for Illinois residents); and 11 a.m.-6 p.m. Wednesday through Saturday. LUMA is closed on Sundays and Mondays. Admission prices and more information can be found on the museum's website.
Follow Kristen Thometz on Twitter: @kristenthometz
---
Sign up for our morning newsletter to get all of our stories delivered to your mailbox each weekday.
---
Related 'Chicago Tonight' stories
New White Sox Announcer Calling Games for His Childhood Team 
May 10: It's a dream job, no doubt about it. But Homewood native Jason Benetti works hard to keep his cool while calling games for the team he grew up rooting for.
---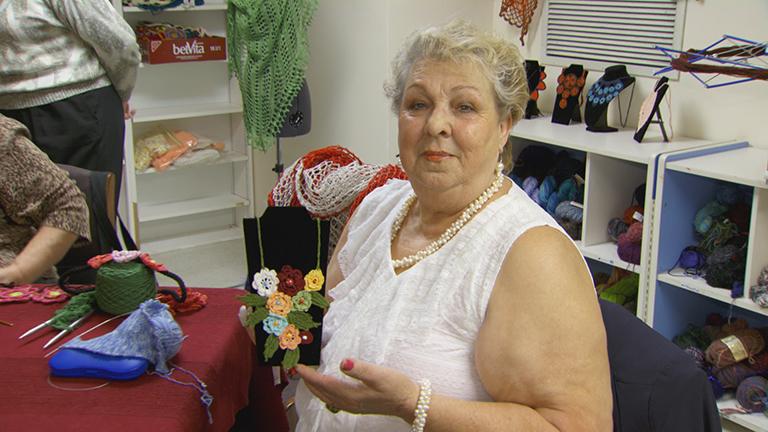 Local Crafting Group Knits Refugees, Immigrants Together
May 5: Immigrant and refugee women find joy, companionship and healing in knitting. Jay Shefsky takes us to their workshop.  
---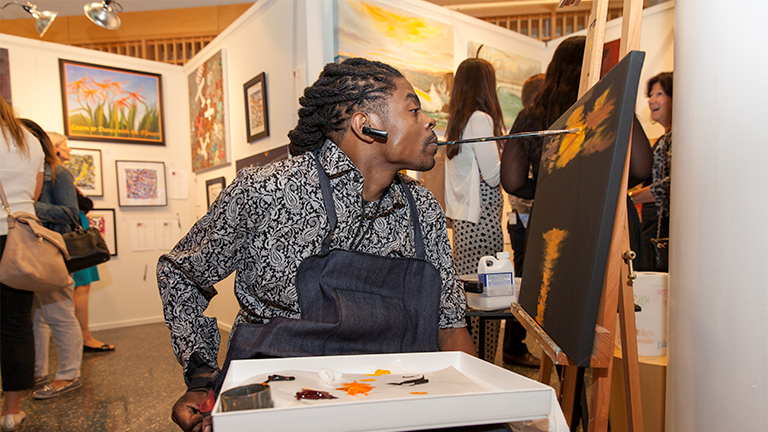 Art in Motion Showcases Talents, Progress of RIC Patients
May 2: The 14th annual Rehabilitation Institute of Chicago fundraiser features artwork by 23 of their patients, including art by two mouth painters who will show off their skills during Thursday's opening reception. 
---