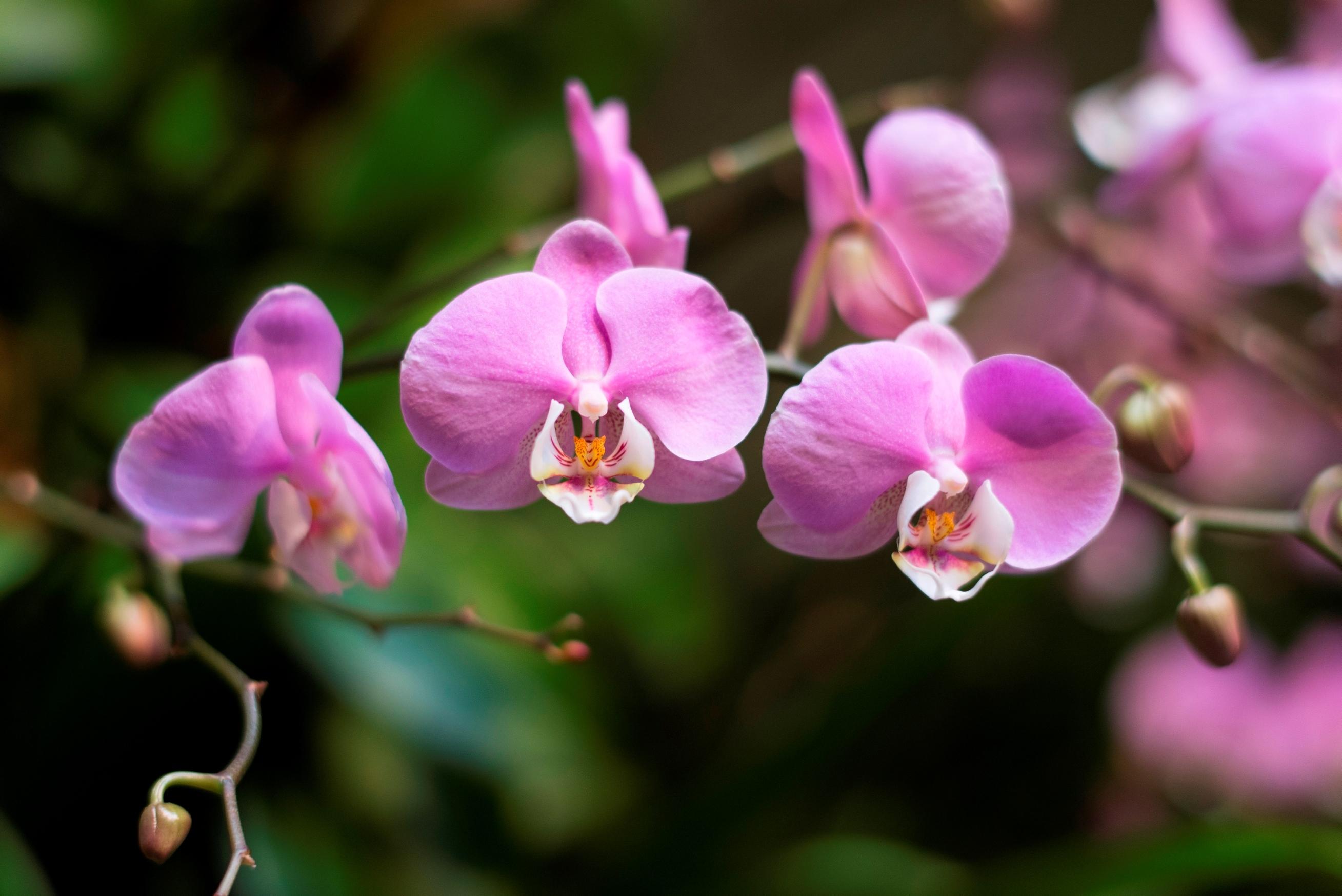 The final day to check out the Chicago Botanic Garden's Orchid Show is Sunday, March 13. (Robin Carlson / Chicago Botanic Garden)
It's official: The first day of spring, March 20, is less than two weeks away. Chicago is gearing up for warmer weather and blossoming flowers with gardening and horticulture events in the area.
Catch the orchids while you can
This is the final week of the Chicago Botanic Garden's Orchid Show, "A Study of Contrasts." Feast your eyes (and nose) on 10,000 different species of orchids, varying in color, size and shape. The breadth of diversity in the orchid plant family is vast, owing partly to some species' tendency to alter their appearance over time.
One orchid type resembles a swarm of bees in order to attract that specific pollinator.
"If you're a bee looking for a mate, then a swarm of bees will be very attractive to you," said Illinois Orchid Society President Anne Zonca. "Any bug can land on that particular flower, but only a bee will be able to pollinate it because that's how it evolved over time."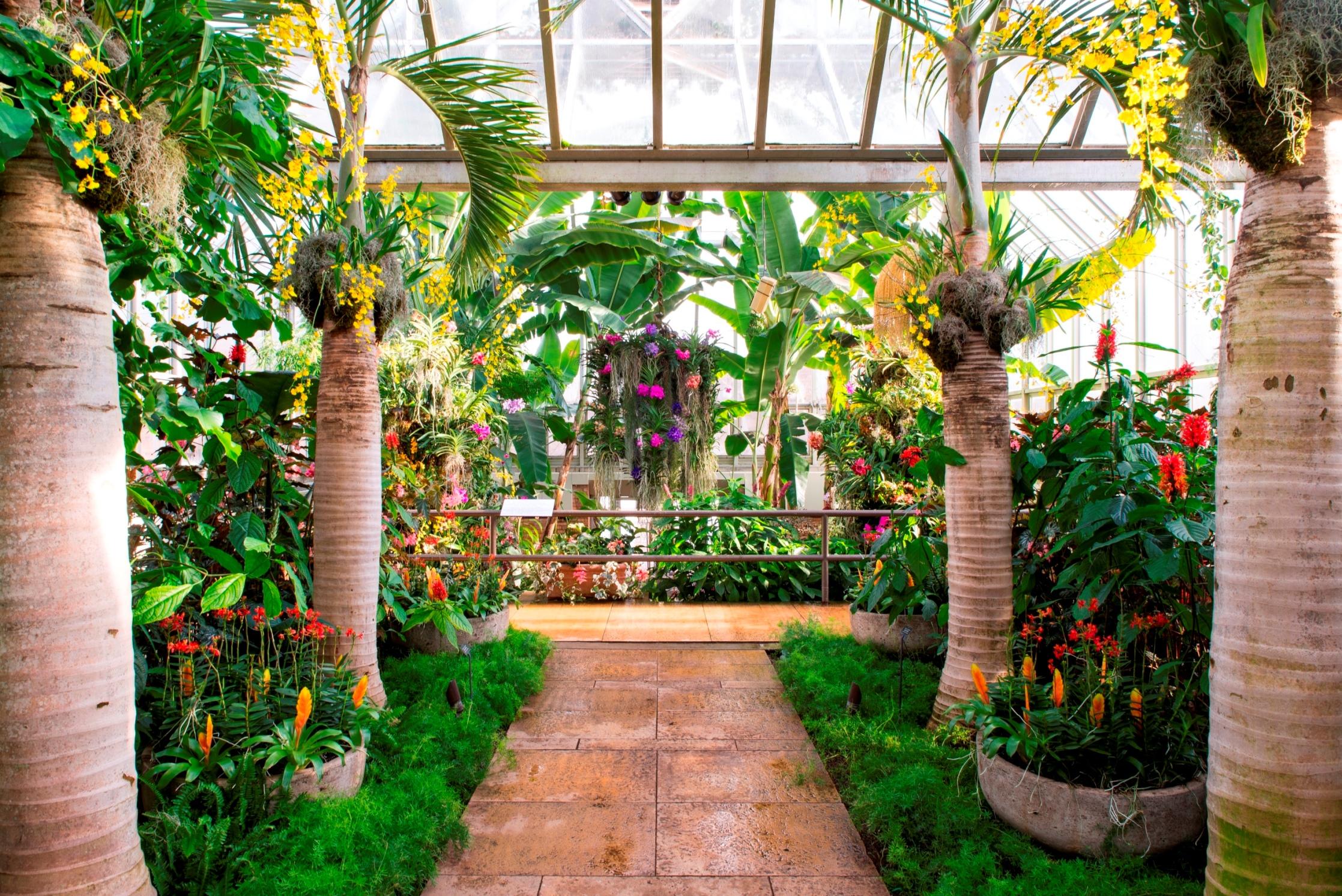 This is the third year the Chicago Botanic Garden has put on its Orchid Show. (Robin Carlson / Chicago Botanic Garden)
Stephanie Lindemann, who manages the CBG's horticultural events, said improving weather conditions have awoken locals from their winter slumber.
"It's proven to be a 'staycation' destination in Chicago for people who want to get away but don't want to drive very far," Lindemann said. "The gorgeous weather we've been having has gotten people out and about and they get to enjoy the garden and come inside to see some amazing colors and smell some beautiful fragrances."
Some of those smells are sweet – some others, not so much: The CBG garnered lots of attention last year when one of its corpse flowers, named Alice, bloomed, marking the first time for such an event in the area. Notably, it came on the heels of a highly anticipated watch over another corpse plant at the garden, this one named Spike, who was pegged to be the first of its type to bloom in Chicago until, well, it didn't.
The plant's bloom is very rare, taking 10-12 years to occur; but the flower is also known for its notoriously foul odor that's designed to attract pollinators that are into that sort of thing.
"Flies are attracted to rotting meat," said Lindemann. "The flower wants that kind of pollinator, so it has more of a foul smell to attract them."
Alice will be on display at the orchid show. Lindemann says she's still bearing fruit, but not no longer emits a stench since blooming.
The CBG is encouraging amateur flower photographers to share their photos on Twitter with the hashtag #theorchidshow. Here are some of our favorites:
---
In addition to the orchid show, the nonprofit Illinois Orchid Society will put on "An Amazing Orchid Odyssey" at the CBG. Experts will judge orchid displays from local growers, awarding green ribbons for first, second and third places. Specialists will also be on hand to answer visitors' orchid questions and repot plants for $5. Zonca says this event will feature more exotic and rare orchids than the garden's own orchid show, which opened to the public on Feb. 13.
Want to take any of these blooming beauties home? There will be a post-orchid plant sale on Thursday, March 17. Members of the CBG get first dibs, but the public can browse the marketplace from 2-4 p.m. that day.
Tickets for the Chicago Botanic Garden's Orchid Show can be purchased online. The show runs daily from 10 a.m. to 4 p.m. through Sunday, March 13. The Illinois Orchid Society's event will run concurrently on Saturday, March 12, and Sunday, March 13, from 10 a.m. until 4 p.m. "An Amazing Orchid Odyssey" is free to the public, unlike the orchid show, although the Botanic Garden's parking fees still apply.
A flower show for the family
Picking up where the CBG left off, the Chicago Flower & Garden Show will run from Saturday, March 12, through Sunday, March 20, at Navy Pier's Festival Hall.
This year's theme is "Chicago Is." Twenty full-scale gardens will celebrate what sets the city apart from others with floral arrangements, topiary designs, art sculptures, aquatic garden "vignettes" and more. The Brookfield Zoo's garden exhibit features meticulously trimmed hedges and flowers designed to look like the all-important pollinators of plant life. The landscape features a colorful 33-foot snake and butterfly with a 14-foot wingspan trimmed from hedges and decorated with colorful plants and flowers.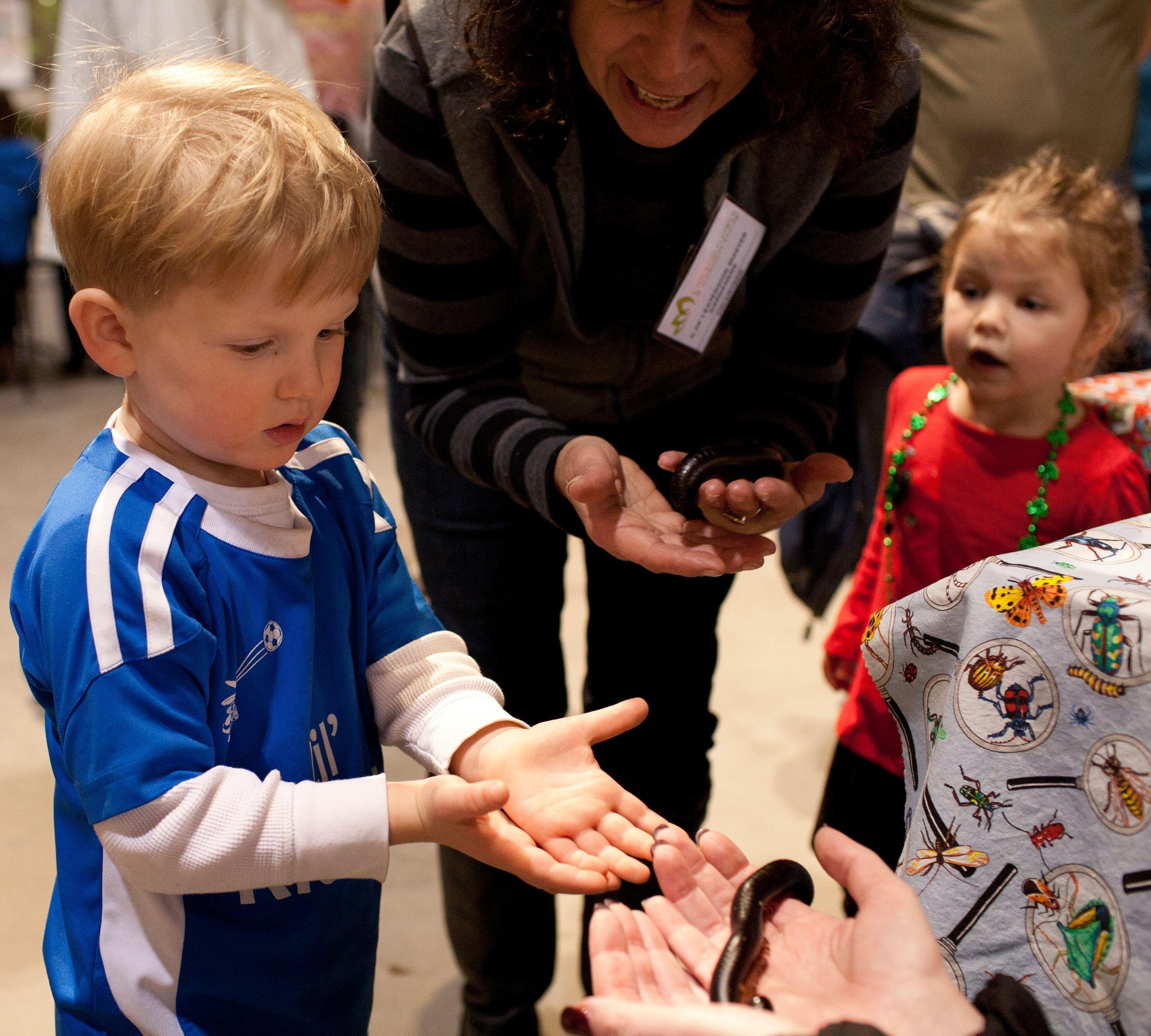 The Chicago Flower & Garden Show will have lots of activities for kids, including a "creepy, crawly insect" presentation. (Chicago Flower & Garden Show)
Other attractions include how-to seminars for amateur gardeners, live gardening and culinary demos and a marketplace. Children can bring home vegetables they plant at the garden, learn how to arrange a flower bouquet and explore the event's expansive playset, among other activities.
This flower show is a Chicago staple – its origins date back to the mid-1800s. Tony Abruscato, the show's director, said they expect more than 40,000 visitors this year.
"We're not your grandmother's garden show," Abruscato said. "People are surprised by how family friendly the event is."
Abruscato calls it a "world-class showcase" that boosts the local economy by attracting tourists from all over.
The Chicago Flower and Garden Show will run from Saturday, March 12, through Sunday, March 20, at Navy Pier. Ticket prices, show times and more information can be found here.
Welcoming spring on State Street – for free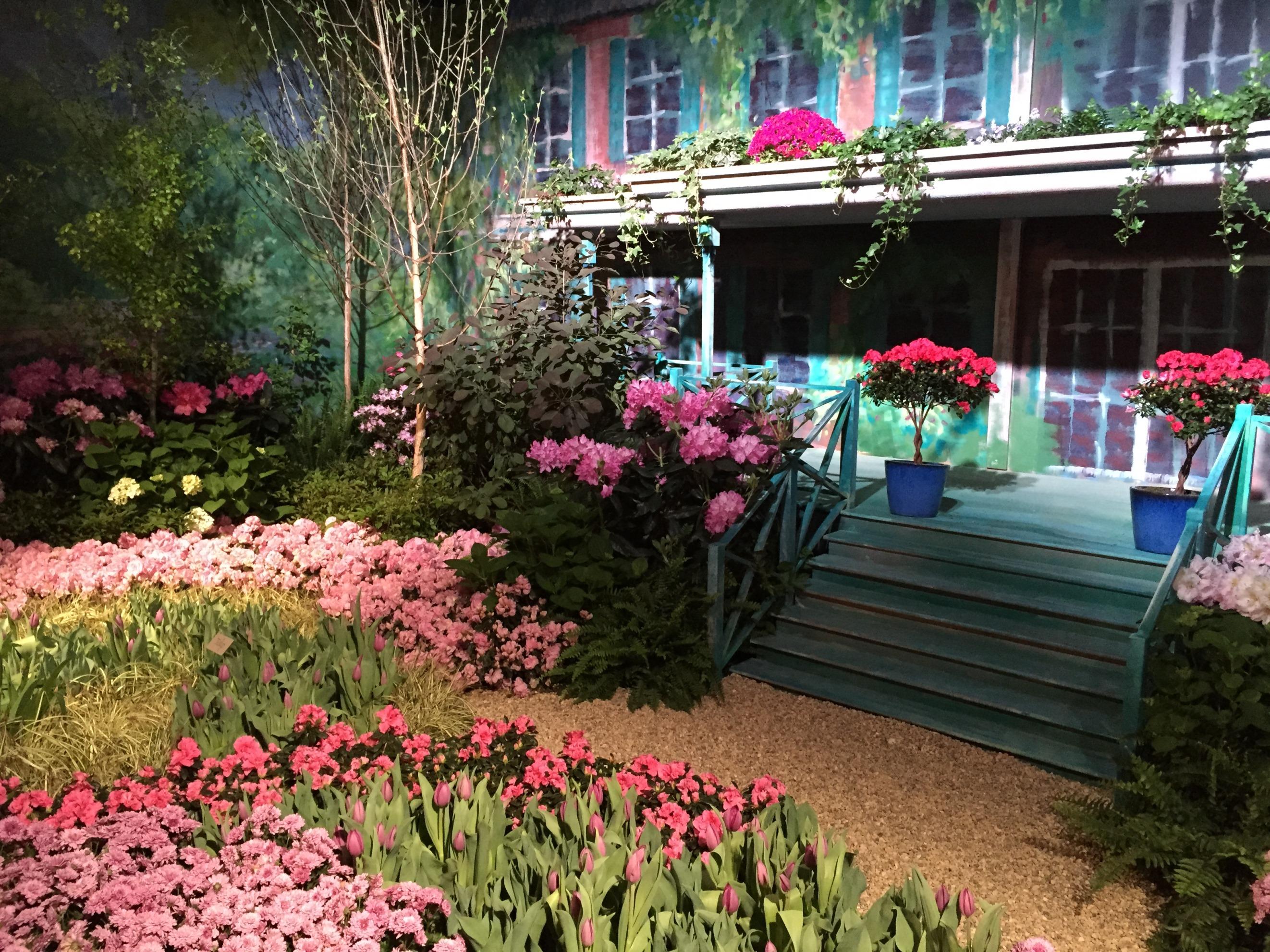 The theme for last year's Macy's Flower Show was "Art in Bloom." (The West End / Flickr)
If your winter blues haven't melted away by the Spring Equinox on March 20, you can get your flowery fill at Macy's Flower Show, running from March 20 through April 3. Pop into the downtown Macy's on State Street and take in the Midwest-inspired exhibition that's part of this year's "America the Beautiful" theme. The event will also be running in New York City, Minneapolis, Philadelphia and San Francisco.
This year, visitors can learn more about plant life by taking an audio tour that will stream from www.macys.com/flowershowaudio onto their mobile devices. This event is free of charge.
Follow Evan Garcia on Twitter: @EvanRGarcia
---