Former U.S. Secretary of Education Arne Duncan spent a record seven years as head of the U.S. Department of Education, from January 2009 to January 2016. There he earned a mixed report card. His tenure saw graduation rates at an all-time high, but it also saw the expansion of charter schools and standardized testing, both of which were extremely controversial.
Before that, Duncan was the Chicago Public Schools superintendent from 2001 to 2009 under Mayor Richard M. Daley.
Duncan has moved back to Chicago, where schools are a hot political potato.
"The crux of the issue is that Illinois' funding of public education is broken," Duncan said. "Relative to other states, Illinois has some of the largest disparities between wealthier school districts and poorer school districts. You have as little as $7,000 being spent in some communities in Illinois, in other communities $22,000.
"It is morally bankrupt, it is educational malpractice. That's where every adult needs to put aside egos and politics, and let's fix this, and let's invest in every child – yes in Chicago, but across the state."
Carol Marin asked, "How do you do it in the Illinois legislature which is, at the very best, a house divided, and against a governor where they don't see eye to eye?"
"Clearly the adult relationships are pretty dysfunctional," Duncan said. "When adults fight, kids lose. I don't have an easy answer. What I will say is every single year, children of immense talent and potential are getting less than the world class education that they deserve. That is absolutely morally and educationally wrong.
"This is about radical change, this is not about incremental change," he added.
Below, some additional highlights from our conversation.
On Gov. Rauner's proposed takeover of Chicago Public Schools
"Frankly, I think taking over CPS misses the point," Duncan said. "The challenge here is that you have a structure … and not just for Chicago, but for the state of Illinois that fundamentally underinvests in poor children – and let me be very clear, it's often about race, poor black and brown children very often – and invests disproportionately in wealthy white children, we have to do better than that."
On contract negotiations between CPS and the Chicago Teachers Union
"The enemy here is not the teachers or the teachers' union or the Board of Education, the enemy here is Springfield," Duncan said. "I just wish, again, adults in Chicago would unite to fight the real battle, the real war with an unequal funding system coming out of Springfield."
On what it says about the confidence in our public schools when Mayor Rahm Emanuel, CPS CEO Forrest Claypool and Duncan send their children to private schools
"My daughter's in eighth grade and she's been to public schools for nine years already," Duncan said. "So I think we have had tremendous confidence in public schools, both in Chicago and when we lived in Virginia. That's a personal choice for everybody. I think it's great for people to have some choice there."
"But at the same time, it's a kind of flag, isn't it?" Marin asked. "If the Chicago Public Schools right now were really good enough, we'd see those leaders' kids in them, correct?"
"I actually disagree," said Duncan. "I think there are amazing, amazing public schools. There have been, there continue to be. The best Chicago Public Schools are the best schools in the state. The goal again is to make sure that every child has access to the kind of school they need and deserve. This is not a Chicago issue, this is a state issue. And the state has to get its house in order."
More about Duncan's career below in our timeline.
---
Related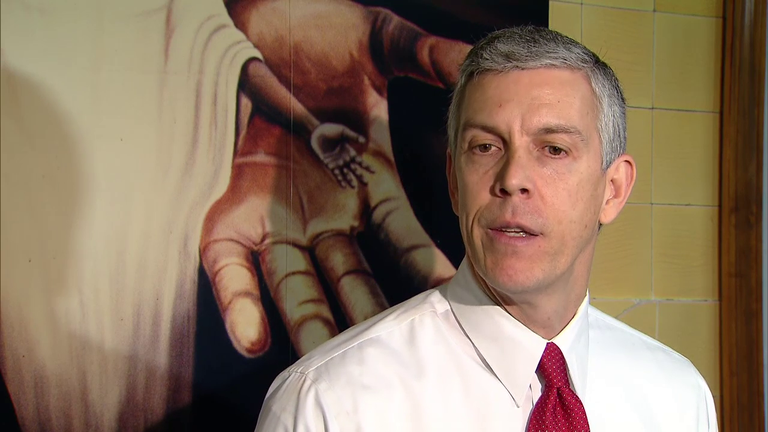 Arne Duncan Addresses Gun Violence in Final Speech as Education Secretary
Dec. 30, 2015: The former head of the Chicago Public Schools gives an emotional final speech in Chicago as U.S. Secretary of Education. The subject of his talk and where he gave it may hint at his future.
---