The video cannot be displayed.
While Mayor Rahm Emanuel tackled problems with the police department, the former head of the Chicago Public Schools gave a speech today focusing on violence.
Arne Duncan ended his tenure as U.S. Secretary of Education with a speech on the city's South Side. And while he said he has no plans for his future just yet, both the topic and venue he chose for his speech might give some indication of what's next.
Eddie Arruza reports.
Arne Duncan has the distinction of being the longest-serving cabinet member of the Obama administration and said he could have chosen a big name hotel or some other lofty venue for his valedictory speech. Instead he went with the humble basement of a politically charged church: St. Sabina in the Auburn Gresham neighborhood.
That is of course the parish of the well-known activist pastor Fr. Michael Pfleger, whom he calls a dear friend.
The location was important for the subject that Duncan chose to talk about. While he did tout what he considers to be his main accomplishments during his controversial tenure as education secretary, his main focus was on the violence affecting not just Chicago but many cities in America.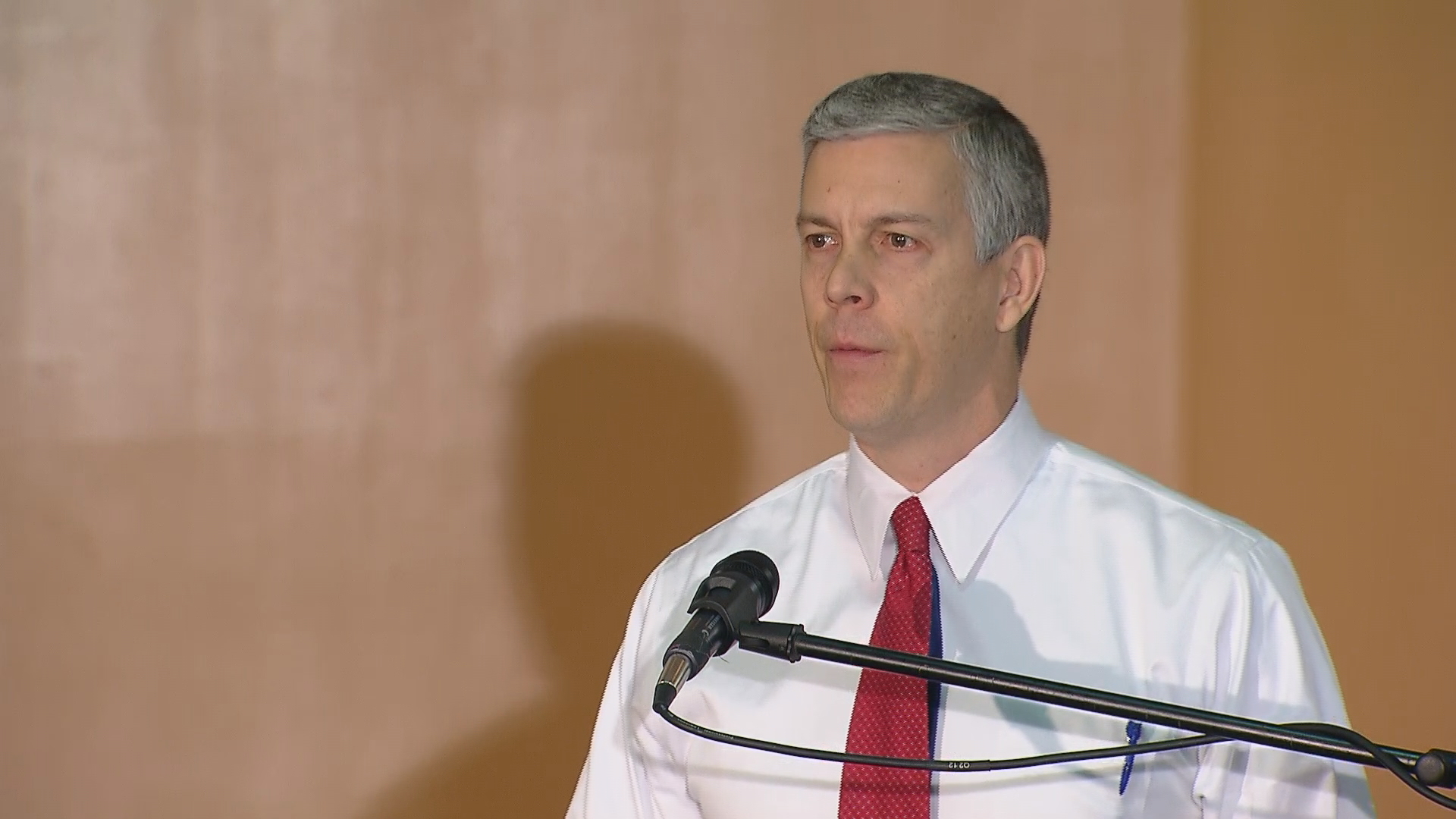 "I am thrilled that we were able to put more than a billion dollars behind early childhood education. I'll come back and talk about that more; it's an unprecedented investment," he said. "Thrilled that we have high school graduation rates at all-time highs, at 82 percent. Thrilled that we've had significant reductions in drop-out rates–African-American drop-out rates cut by 45 percent; Latino drop-out rates cut in half, from 28 to 14 percent. We used to have 2,000 high schools that were "drop-out factories." Today that's down to 1,000.
"If I can leave you one number: 16,000. In my first six years as Secretary of Education, that's the number of young people who were killed across our country. It's an average of seven a day. It's a devastating rate of loss."
Duncan says that there has been "collective failure as adults" to address the violence that impacts education in mostly the inner city and that has been his biggest frustration as education secretary. And as he laid out what social reforms need to take place it very much sounded like he just might be positioning himself for a new career, perhaps in politics.
"Like the president, I feel there has been no greater frustration, no greater disappointment, than of Congress' unwillingness to move the most simple, the most basic laws to better protect our children. And today I don't want to just talk about the physical and psychological safety related to guns–it's just a reality we have to talk about–we have to address the issue of police training and conduct as well. Whether it's right here in Chicago, whether it's Ferguson, whether it's Baltimore, Cleveland, or countless other communities, these issues are real, and to turn a blind eye, to not address them I think would be much less than honest.
"Today we have good cops who feel that they don't have a chance. When cops unnecessarily use deadly force and aren't held accountable, and when other cops witness that behavior, and lie about it, and they aren't held accountable, then the system loses its most precious resource: the public's trust.
"If we were to fix every police department today, in need of help, in need of change; if we were able to do that, that'd be great. But if we don't fix the communities where so many of our children our dying, if we don't address the underlying causes, why so many children are dying, so many are dropping out, then we cannot begin to declare victory."
Career in education
Duncan's main initiatives as education secretary included the Race to the Top initiative which offered states grants if they implemented reforms which included the controversial Common Core standards. He was also an advocate of charter schools.
Duncan had his share of detractors and supporters. Here's what some of them had to say in his final weeks.
Fredrick M. Hess in the National Review:
"Duncan simultaneously exploited and fractured the bipartisan goodwill that had greeted him in 2009, as he launched a war on for-profit colleges, manufactured hysteria over a supposed wave of campus rape, and pushed for a massive expansion of the federal role in everything from pre-K to school discipline."
One of the most scathing reviews comes from Diane Ravitch, former assistant secretary of education under former President George H. W. Bush.
"It will take years to recover from the damage that Arne Duncan's policies have inflicted on public education. He exceeded the authority of his office to promote a failed agenda, one that had no evidence behind it."
Among those who praise him is the Broad Foundation:
"Secretary Duncan has done a remarkable job. [He] was relentless in focusing on reducing the number of chronically low-achieving schools."
And this from the organization Students Matter:
"Secretary Duncan refused to turn a blind eye to broken systems that chronically fail the students in our country already struggling through poverty and violence outside of school. [He] spurred states to take action to elevate the quality and equity of America's public schools."
Looking ahead
Today Duncan laid out what he calls a new deal for children which includes more funding and expansion for early childhood education, greater mentoring for youth at risk, criminal justice reform and job creation. He was asked if those were things he could have done more about as secretary.
"Clearly this is unfinished business, and we have a long way to go," he said. "We've made real progress, but let's be clear: My point today was, this is not a mission accomplished moment. This is a moment to double down, to triple down, and be clear, to do it at scale, in the communities that are being most impacted by violence."
More than once Duncan joked that he will be unemployed after tomorrow. As he'll have some time on his hands and has moved with his family back to Chicago, I asked him if he'll visit us on the show for a lengthier interview. He gave a tentative yes, so let's see if we can have him on in the coming weeks.
---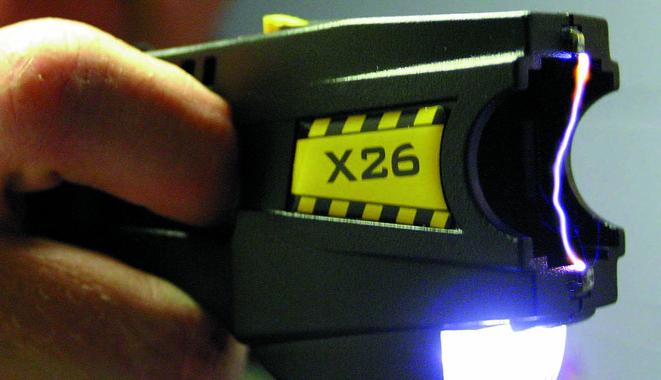 Chicago Police Department to Expand Taser Use
Chicago Mayor Rahm Emanuel announced Wednesday an expansion of the use of Tasers within the Chicago Police Department. The plan calls for all officers who respond to calls of service to be equipped with a Taser by July 1, 2016.