Gov. Bruce Rauner and legislative leaders are still tussling over a long-awaited fix to Illinois' broken pension system.
It's been more than eight months since the Illinois Supreme Court struck down a landmark reform plan designed to save state pensions, and the financial hole deepens with each passing day. Could some form of federal bailout or bankruptcy restructuring be the answer for Illinois?
Joining "Chicago Tonight" to discuss these ideas are Bob Reed, director of programming for the Better Government Association, which just released a new report on this subject; Ted Dabrowski from the Illinois Policy Institute; and Ralph Martire from the Center for Tax and Budget Accountability.
Below, some highlights from our conversation.
On the nature of the BGA's question that prompted this new report: What is it and why did you ask it?
"It's a provocative question," said Bob Reed. "The Illinois public pension crisis is so bad, is it a candidate for a federal rescue or a bailout? It's a question that has bubbled up over the past couple of years when people have become so frustrated with the process of trying to solve this problem, but secondly: the sheer numbers that you're bumping up against.
"It's an issue of whether Illinois, through its own devices, can solve this problem. For the major pensions alone it's $111 billion and counting in underfunded liabilities. Is this problem getting so out of hand that at some point they have to call the cavalry?"
Why not talk about a federal bailout for states like Illinois that are in so much trouble?
"It's a huge moral hazard," said Ted Dabrowski. "What it does is it rewards bad behavior. If you're a state like Florida, or Georgia or Tennessee, that has a well-funded pension plan, you've made sacrifices at the local level and at the state level to make sure that your economy is running well and has a triple-A rating. Why should you then be punished and have to bail out Illinois and the bad players?"
"The good news is that Illinois can actually resolve its problems in a very rational way, by simply reamortizing the debt it owes to its own pension systems," said Ralph Martire. "Illinois, with a level-dollar payment instead of this back loaded ramp we could have, set around $7 to $7.5 billion, can get to 75-80 percent funded–you're considered healthy at 80 percent–in 30 years, and still pay all of its current obligations over that period of time, to fund benefits to current and future retirees. It's a workable fix and that's a number that the state could actually afford."
Below, read a condensed version of the BGA's just-released article.
Illinois Pension Crisis: Ripe For Fed Rescue?
A U.S. bailout or low-interest loan program are unpopular ideas but as options and funding run dry even Governor Rauner is open to hearing suggestions, a BGA Rescuing Illinois report finds.
By Judith Crown/BGA
Should the state of Illinois, with its dubious distinction of running the nation's most poorly funded public pension system, encourage the federal government to provide financial assistance or even a massive bailout?
That is a basic, yet controversial question that few power brokers want to confront. Yet it is not going away, especially as the state pension crisis deepens, a BGA Rescuing Illinois report has found.
Those who oppose federal intervention--and there are many--argue that Illinois alone must fix the pension disaster by using all the tools at its disposal, including raising revenue to fund pensions and reorganizing or cutting retiree benefits.
Other observers, however, contend that the funding shortfall for the state's major pensions is so daunting, $111 billion and counting, that it surpasses Illinois' ability to solve its own problems. As a result, some legal and financial experts suggest federal assistance may become a last-resort option just as it proved to be in 2008 for failing banks and domestic automaker giants.
Even the politically conservative Rauner administration isn't slamming the door on the concept although it prefers a state-backed resolution.
"Pension reform is critical to the financial future of Illinois, and the administration is open to any constructive ideas to address the state's pension crisis, including those that originate at the federal level," a spokeswoman for Rauner said when asked by the BGA for its view of whether the federal government should play a role in addressing the Illinois pension crisis.  "We continue to look for common-sense pension reforms at the state level that will be a lasting solution for future generations."
The state's five pension systems that cover teachers, government workers, and elected officials average a combined funded ratio of 40 percent, about half the 80 percent funding level that is considered safe and a widely held standard based on corporate plans.
State law requires each pension system to be 90 percent funded by 2045.
This requires about a fifth of the state budget be earmarked for pension funding. Indeed, the Civic Federation, a Chicago-based research organization that focuses on improving the quality and cost-effectiveness of state and local government services, estimates the state's contributions to its five pension funds will rise by $288.8 million to $7.8 billion in the 2017 fiscal year. This amount far exceeds the accepted range for pension contributions of 4.5 to 7.5 percent.
Illinois is not the only sovereign state stuck in the mire. In the U.S., total unfunded government pension liabilities run close to $1 trillion; 27 states have unfunded pension liabilities of $10 billion or more, and 26 states have funding ratios that put them "at risk" under federal regulatory standards, according to a recent Pew Charitable Trust survey.
"Public pension plans are at risk of insolvency within a decade," wrote Terrance O'Reilly of the Willamette University College of Law in a 2014 paper published in the Michigan Journal of Law Reform. "These risks are significant, and the solutions currently contemplated are likely to fall short of what is necessary to contain the problem."
For more on this story go to www.bettergov.org.
---
Related
IL Supreme Court Unanimously Rules Pension Reform Law Unconstitutional
May 2015: The Illinois Supreme Court has struck down the state's landmark 2013 pension reform law, upholding a lower court ruling that it violated the state constitution. In the ruling, the court rejected the state's defense that its contractual obligations were not absolute, because it reserved "emergency powers" in a time of crisis.
---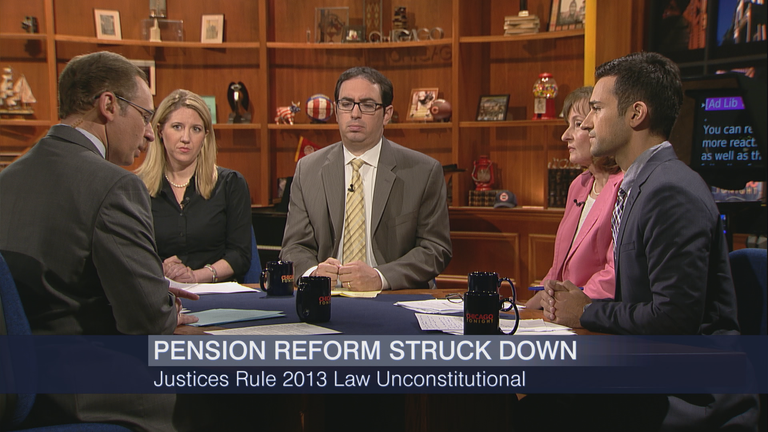 Analyzing the Pension Reform Ruling
May 2015: The Illinois Supreme Court overturned the state's landmark pension reform law, which was passed in 2013 by then-Gov. Pat Quinn. The law attempted to solve the state's $100 billion unfunded liability over the next 30 years, primarily by reducing retiree annual cost-of-living raises.
---