Gov. Bruce Rauner delivered his second State of the State address Wednesday as Illinois continues to see an unprecedented budget impasse that has resulted in social service providers shuttering programs, disruptions in state college grants that are forcing some students to drop out, and a growing backlog of unpaid bills that jeopardizes the state's credit rating, which is already the lowest of any other state in the nation.
How will Rauner appeal to the Democratic-controlled General Assembly and, just as importantly, how will Democratic leaders respond?
We talked with Amanda Vinicky about reactions from lawmakers. Below, some highlights from our conversation.
On Rauner's effectiveness in promoting bipartisanship
"It's clear that he was trying for that at least. He did not chide Michael Madigan–that would have deepened divisions–but still: Response, particularly from Democrats, was tepid to say the least. They barely clapped, they were polite, but that is about all," Vinicky said. "Rauner, in trying to strike this tone, did say that sure, there are some controversial measures. Look at workers compensation, or his plans for local government consolidation. In some hope of maybe progress, Rauner said, 'Okay, instead of taking the whole kit and caboodle, let's do the easy stuff first.
"Trust really remains a big issue. He may have had this pleasant tone now, but how long is it going to stay, Democrats are asking."
On how tough it will be to work on issues like pension reform and education funding when there's no budget
"These are two tough issues. While unions had been on board with this concept that [Senate President John] Cullerton had proposed previously, they now are armed with this court decision from Illinois' high bench, and so they're not going to like this one bit," Vinicky said. "Of course, unions are under siege plenty elsewhere with Rauner's plans, so maybe they'll let up on this, but we'll have to wait and see.
"When it comes to education funding, again, Rauner says he's open to it, but that is tougher especially given the state's budget difficulties," she added.
Vinicky says Republicans are unhappy with a plan that would take money from wealthier suburban districts in order to funding poorer school districts.
"It's not as if Illinois has money to give extra dollars to every district."
On whether lawmakers saw the speech as a missed opportunity to discuss the budget impasse
"That was a very common sentiment from Democrats, and also from social services providers that say they need answers and they can't wait any longer. ... Republicans say, 'Hey everybody, cool your jets a little bit. In just a couple weeks, Gov. Bruce Rauner will be back there before a joint-session of the General Assembly to present a budget plan,'" Vinicky said.
"It is difficult, given that Illinois is in a historic situation here. We're about at the eight-month mark without a budget."
---
Reaction to Rauner's address:
Senate President John Cullerton said the governor and General Assembly need to work together:
"Clearly there are numerous issues over which we disagree. But I'm going to focus on the few areas where there might be some agreement. That's the only way we're going to work our way out of this situation.

Today, I heard the governor echo my call for making school funding reform a priority and his desire to come up with a system that better recognizes the needs of students living in poverty and those facing other challenges. I commend him on that stand. An equitable school funding system is the turnaround Illinois needs.

If the governor wants to work with Senate Democrats, committing to a better school funding system is a good way to start.

I also appreciate the time the governor has taken to better understand our model for what we hope would be constitutional pension reform. He's moved a long way from his initial proposal and I know that wasn't easy. I look forward to working with him.

However, while I appreciate the governor's support in these key areas, there are many areas of disagreement. On a daily basis our safety net is unravelling, leaving disabled seniors and homeless veterans nowhere to go.

We're not honoring our student aid commitments to college students. We're not providing any public support to our public universities and colleges. That's all because of the stance the governor has taken over the state's budget. He caused this. He can end it.

But I don't want to get hung up on disagreements. We've got to find ways to work together to solve problems, and we need to start now because Governor Rauner's first year in office didn't work for anyone."
---
AFSCME slammed the governor's speech in a statement by AFSCME Council 31 director Roberta Lynch:
"His claims about state employee compensation and our union's proposals at the bargaining table are simply false.

"AFSCME has consistently sought to find common ground, but the governor relentlessly seeks conflict. The people of Illinois need stability and solutions, but the governor has terminated contract negotiations and walked away from the table, trying to force confrontation and disruption.

"It's past time for Governor Rauner to stop making blatantly false claims, return to bargaining and work with us to reach an agreement that is fair to all."
Illinois Policy Institute CEO John Tillman placed the blame for the state's problems on the "status-quo political establishment," calling Rauner's speech "refreshing":
"Illinois is in a world of hurt. The resounding chorus from special interests and opponents of reform in Springfield is that all would be well in Illinois if only the governor would agree to more tax increases and just sign a budget. That thinking is completely wrong, and today's address by Rauner is a refreshing reminder that he doesn't buy that argument, either.

"Illinois' deep problems did not begin during the last 12 months with Rauner as governor, but during the last several decades of House Speaker Mike Madigan, Senate President John Cullerton and the rest of the status-quo political establishment. Now this same crowd is standing in the way of the very reforms needed to save Illinois. It's time to face reality and accept that doing things the way they have been done for years has not worked and will not save our state going forward. Illinois must embrace dramatic change and reform, such as the ideas offered in Rauner's Turnaround Agenda.

"Madigan and many Democrats insist that Rauner's union reforms would hurt the middle class and reduce Illinoisans' standard of living. But if things are so great without reform, then why do blue-collar workers in Right-to-Work Indiana make more than the same workers in Illinois? Why did Illinois have fewer jobs at the end of 2015 than it had at the start? Why hasn't the manufacturing sector recovered from the Great Recession?

"Proponents of more tax increases think that stealing $3 billion, $4 billion or more from hard-working families is the solution. But we've seen where that got us in the past: The money never went to classrooms or social services. Ninety cents out of every $1 generated by the 2011 tax hike went straight to a bloated, broken pension system that puts the interests of retired government workers ahead of taxpayers, the working class and the poor.

"Opponents of reform claim that Rauner is 'holding hostage' the state budget over nonbudget matters. But consider this: Illinois could save $300 million annually by reforming workers' compensation for employees of local and state government. Local governments could save hundreds of millions of dollars if only they were able to get around a restrictive prevailing-wage system in Illinois and instead engage in competitive bidding for public construction work. The rate at which people are moving out of Illinois has accelerated dramatically in recent years; on net, one taxpayer moves out of the state every 5 minutes. This massive out-migration from Illinois has cost more than $8 billion in annual state and local taxes since 1995. And consider what Illinois could be like if, instead of losing jobs over the course of a year, businesses viewed the state as a place where they could set up shop, expand and start hiring from our talented workforce.

"The governor signing his name at the bottom of another unbalanced budget won't do anything to save Illinois from its looming economic collapse. Even signing his name at the bottom of a balanced budget isn't enough to fix Illinois. The only way for Illinois to reclaim its place as a beacon of economic prosperity and bastion of opportunity is to enact significant, transformational reforms."
Illinois Federation of Teachers President Dan Montgomery called Rauner's speech a distraction from the state's budget crisis:
"Try as he might to distract from it today, Governor Rauner can't escape his failure to fulfill his primary responsibility — to negotiate and enact a state budget.

His calls for bipartisanship are difficult to take seriously, especially given his identical words last year and his unwillingness or inability to lead since. Colleges and social services are making drastic cuts and average citizens are suffering while the Governor refuses to negotiate or ask the wealthiest to pay a dime more, despite a majority of Illinois voters who support exactly that.

We also heard another list of so-called education reforms today, the vast majority of which do nothing to improve teaching, learning, or student success. We agree that we need to better fund our schools, but we reject the Governor's demand that change must be contingent on his political agenda to weaken the rights and voices of working people, whom he's been attacking relentlessly.

What we didn't hear today was a real plan to address revenue for public schools and services or the funding crisis in higher education.

Our teachers, faculty, and staff go to work each day trying to help others, trying to educate our children, trying to resolve – not create – conflict. If he truly wants to work together and address our state's problems, Governor Rauner could learn a thing or two from them."
The Illinois Manufacturers' Association said in a statement it was hopeful for progress: 
"The Illinois Manufacturers' Association strongly agrees that reinvigorating our economy must continue to be a top priority for leaders in the state.  Illinois cannot afford to wait and risk losing another 14,000 good-paying manufacturing jobs this year that serve as the backbone of our middle class.  Many items outlined by the Governor including workers' compensation reform, creation of a new economic development partnership, and investing in education from pre-K through college are critically important for improving the lives of Illinois families and businesses.  We are hopeful that leaders on both sides of the aisle can come together to achieve innovative solutions that will move Illinois forward."
In a statement, the Chicago Teachers Union slammed Rauner's speech:
Governor Bruce Rauner's so-called "Turnaround Agenda" is merely a harsher version of the present, as he reiterated his continued protection of the status quo in today's State of the State address—more austerity for the vast majority of Illinoisans, and more power and influence for the privileged few.

Gov. Rauner's vision is neither a turnaround nor a path forward to a more equitable economy. The platitudes about competitiveness, efficiency, and bureaucracy were all present in his address, but the real value drivers of substance were lacking. The real challenges facing Illinois, like those facing Chicago's public schools, are tied to revenue, finance and racial justice. We heard nothing from the governor about the progressive revenue measures that are needed to address Illinois' budget shortfalls—measures like a graduated income tax, a millionaires' tax for education and an end to corporate subsidies to companies that slash jobs. Nor did the governor do anything to fight sweetheart bank deals like toxic interest rate swaps that drain hundreds of millions from state, city and Chicago Public Schools coffers.

"If the governor really cared about property taxes for working people, he would ensure that his biggest backers—those select few in his tax bracket—paid what they really owe, but his proposals are instead more job cuts that drain our residents' ability to support their families," said CTU Vice President Jesse Sharkey. "If we really want to improve our state's competitiveness, we need to support our public universities and ensure that low-income students have access to MAP grants, rather than hold our higher education centers hostage."

Despite being unwilling to pass a state budget without extorting the General Assembly, and despite preaching the gospel of local control, the governor last week proposed a Flint, Michigan-style emergency management for Chicago Public Schools—a district that that overwhelmingly serves low-income African-American and Latino students and families. This and other attacks on working people are hardly examples of a turnaround, but evidence of another year of no state budget and little governing.

The governor's education proposals are the clearest evidence of his continued support for the status quo. His proposal to spread the Chicago mayoral control model across the state is the same model that enabled Mayor Rahm Emanuel and his hand-picked Chicago Board of Education to go broke on purpose. This is also the school governance model that led to a decade of pension holidays, 15 years of unchecked charter school proliferation and a massive expansion of the district's debt. As such, the governor's model for cost control actually explodes costs and prevents parents from having a real voice in class size, curriculum and school governance. His proposals to "streamline bureaucracy" really mean things like enacting deep cuts to special education positions, which were handed down in CPS last week.

Chicago's public schools need more counselors, psychologists, social workers and nurses, and not additional "school choice." Students need their existing schools to be well-resourced and supported, not forced to compete under the continued threat of greater budget cuts. Educators and school staff need real freedom to teach and guide through massive reductions in standardized testing and changes to the flawed teacher evaluation system. Chicago needs an elected representative school board now that empowers parents and communities.

If the governor wants to share a path forward, he should look north to the state of Minnesota, which has a $2 billion surplus—the result of much higher tax rates on the state's wealthiest residents. Minnesota funds its schools at a higher level and much more fairly than Illinois, with job growth that has outpaced Gov. Rauner's blueprint states such as Wisconsin, Indiana and Kansas. Minnesota's economy has also grown faster than other states in the Midwest. This is an example of a true turnaround and a real change to the status quo, and not just some fever dream vision that the General Assembly, and Illinois voters, have soundly rejected.
---
Related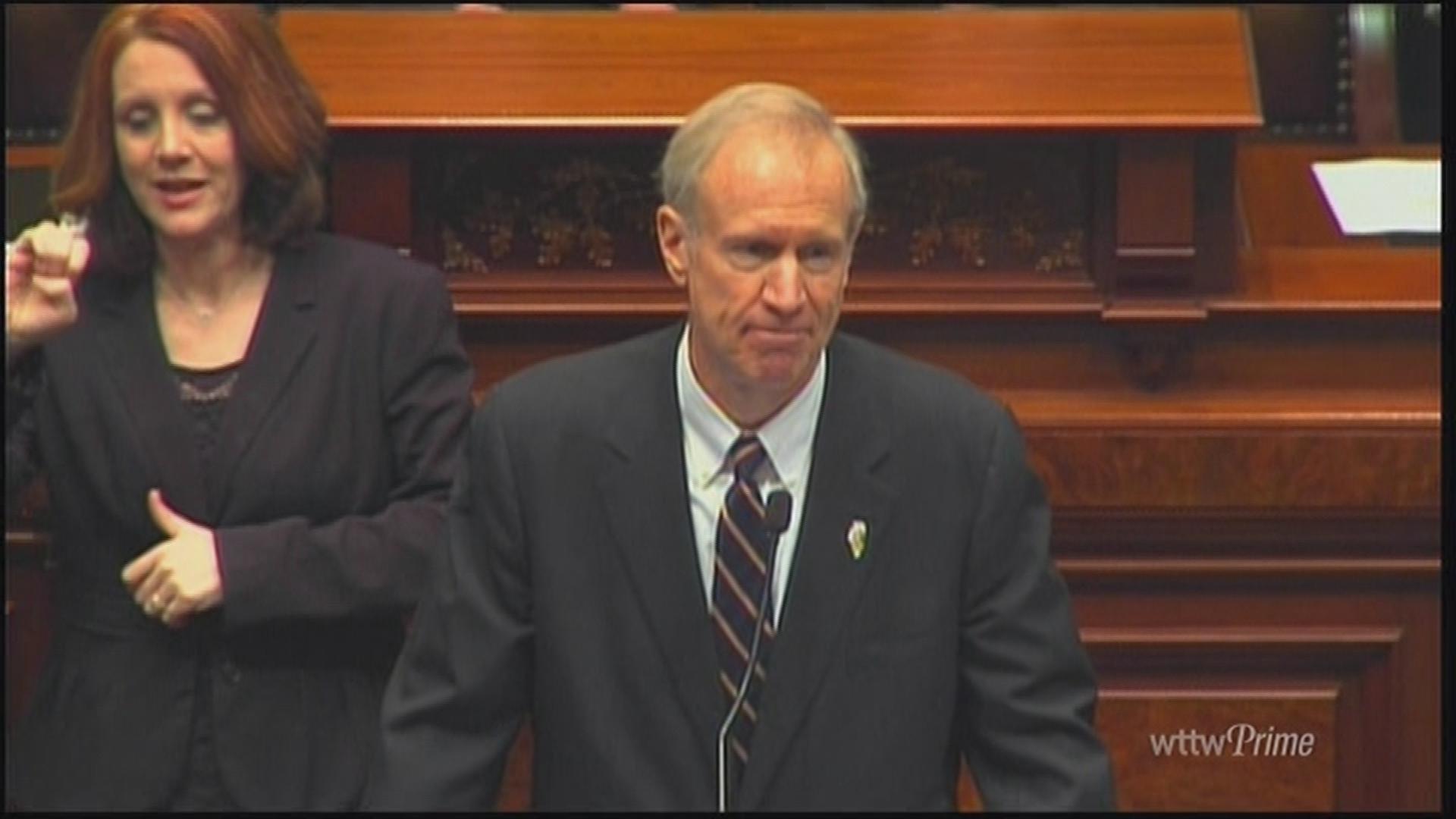 Gov. Rauner Strikes Conciliatory Tone in State of the State Speech
In a roughly 30-minute speech on Wednesday, Gov. Bruce Rauner lightly mentioned the now eight-month budget impasse and did not say the phrase "Turnaround agenda" once. Instead, the governor struck tones of reconciliation on issues such as pension reform and education funding.
---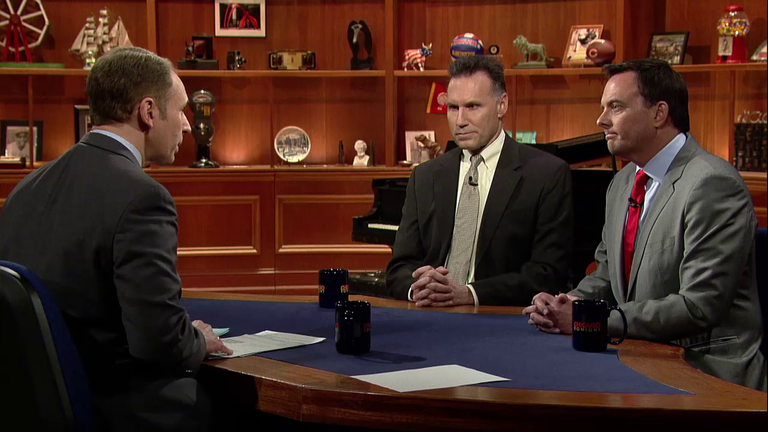 Cutting Programs an 'Agonizing Process,' Says Social Service Provider
The state's largest social service provider is cutting programs and employees because of the state's budget impasse. We discuss these cuts – and what it means for those who rely on them – with David Novak of  Lutheran Social Services of Illinois; and Dan Proft of the Illinois Policy Institute.
---
State Universities Under Strain as Budget Stalemate Enters 7th Month
With the state budget standoff in its seventh month and little apparent urgency from Springfield, we talk with the presidents of Governors State and Northeastern Illinois Universities as the funding crisis deepens.
---