The video cannot be displayed.
With scant mention of the nearly eight-monthlong budget impasse, Gov. Bruce Rauner today offered a conciliatory tone in his annual State of the State speech.
He says education funding and pension reform are areas where lawmakers can come together, but he once again hammered home his desire for changes to public employee unions and workers compensation. Will the address start to thaw the icy relations in Springfield?
The governor offered a few areas where he believes he can work with Democrats, specifically Senate President John Cullerton.
In the roughly 35-minute speech, he outlined a 10-point education plan that mirrored some of what Cullerton called for on Monday at the City Club – an increase in education funding, especially to poorer school districts like Chicago, and rural districts. Also part of that plan is giving school districts more control over what gets collectively bargained with teachers – something he's called for on many levels for the last year.
Rauner also wants to award more money to colleges that can cut administrative costs, and establish a measurement for student growth that is not necessarily based on the controversial PARCC exam. And he called for "proper" funding for early childcare education – an area his wife Diana works closely in – and said that these big reforms could begin to happen this session.
"This education agenda is bold and transformative," he said. "Change is difficult. But, working together we can make it a reality. The people of Illinois deserve the best education in America."
Missing is what this means for CPS and the imminent $500 million budget hole it faces. The governor has proposed a state takeover and the ability to declare bankruptcy. Meanwhile, Speaker Madigan said a working group in the House has been studying the education funding formula for several months.
Madigan mentions that bipartisan group in house has been studying reforms to IL school funding formula #ChicagoTonight

— Paris Schutz (@paschutz) January 27, 2016
On the subject of pensions, Rauner cemented the notion that he and Cullerton have worked out previous differences and now officially have an agreement on pension reform they say would save the state $1 billion per year.
He mentioned in his speech that lawyers are still working out the details but that, as a note of compromise, he will support Cullerton's pension plan that makes retirees choose between a higher pensionable salary or higher COLAs (cost of living adjustments) in retirement.
Cullerton in later remarks agreed but sounded skeptical that his members would go along.
Cullerton signals that his senate democrats may not be on board with pension agreement because they don't trust Gov. won't go farther

— Paris Schutz (@paschutz) January 27, 2016
Still, Rauner says this one should be fast-tracked.
"President Cullerton and I have agreed to support his pension proposal to four of the state pension plans," Rauner said. "I have worked with administration attorneys to work with his staff to finalize language as soon as possible. When they do, I urge both chambers to pass it without delay."
Rauner has aggressively promoted his pro-business, anti-union Turnaroud agenda. He failed to specifically mention it by name today, but stuck to many of its core principles.
He painted a dire picture of the state's business climate and said the only way out of it was to enact those initiatives that include further reforms to the state's compensation system for injured workers; collective bargaining changes; and a sincere push to enact redistricting reform and term limits.
"The people of Illinois deserve a chance to vote on term limits," Rauner said. "The state Supreme Court made it clear that it takes legislative action to put term limits on the ballot. This is the year to make that happen."
Despite a more reserved rhetorical style today compared to the aggressive tones in recent days, the governor still had harsh words for AFSCME, the state's largest public employee union, with whom he has not been able to agree on a contract with. He's asked the state labor board to declare those negotiations at an impasse.
"Undeterred and unashamed, AFSCME is demanding $3 billion in overall compensation," the governor said. "That $3 billion should go into schools and human services, not government bureaucracy."
AFSCME President Roberta Lynch responded with this statement:
               
"AFSCME has consistently sought to find common ground but the governor relentlessly seeks conflict. The people of Illinois need stability and solutions, but the governor has terminated contract negotiations and walked away from the table, trying to force confrontation and disruption."
Follow Paris Schutz on Twitter: @paschutz
---
Watch the governor's State of the State speech below :
---
Related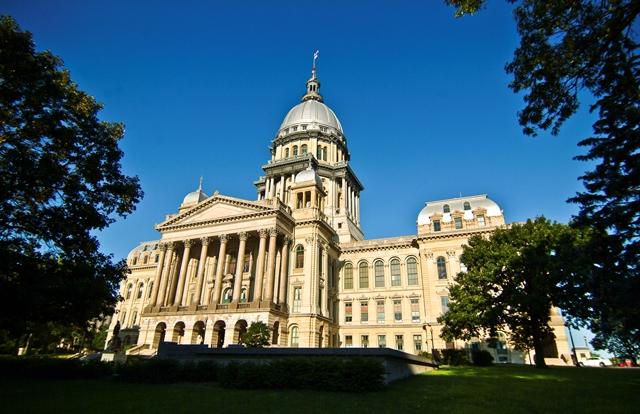 Lawmakers React to Rauner's State of the State Speech
Gov. Bruce Rauner delivers his second State of the State address. How will Rauner appeal to the Democratic-controlled General Assembly and, just as importantly, how will Democratic leaders respond? We'll talk with Chicago Tonight's Amanda Vinicky about reactions from lawmakers.  
---