Gov. Bruce Rauner marks his first full year in office, but a whole host of problems loom on the horizon for the state. We talk with "Chicago Tonight" Springfield reporter Amanda Vinicky, who spoke with Rauner earlier today.
Below, some highlights from our conversation with Vinicky.
"The governor said the key to change is persistence, and he's keeping at it," said Vinicky. "That of course is the Turnaround agenda that we've talked about many times on this program. He said, however, that he is still willing to compromise, nonetheless ... there was a whole lot of bashing of House Speaker Michael Madigan, the one constant, Rauner says, that's been around Illinois for 40 years, and he continued to blame him for Illinois' struggles in the past and for this year.
"It may be managing expectations – as we've seen, a year in, and not a whole lot has been accomplished – Rauner says that's not a hundred percent true. He says he's proud of what they've gotten done, more is to come, and he'll unveil even more of his reforms in his upcoming state of the state and budget addresses. Nonetheless, he said, 'Yes. Michael Madigan is the one that wants to wait until after the election.'
"He didn't specify if he meant the primary or the general election. I don't think that Madigan would be alone in keeping one eye on the budget and the other on the upcoming elections."
On Mayor Rahm Emanuel
"He said that he didn't want to talk too much about the failures of Mayor Rahm Emanuel, and yet he did blame Emanuel," said Vinicky. "For example, he said that he's offered to bail out Chicago schools and help them in many ways. ... He said he offered to give a whole bunch of money for Chicago Public Schools for that big pension payment. He blamed Emanuel for not taking him up on those offers.
"Of course those offers do come with a big poison pill: Emanuel – of course – a Democrat, and Democrats say that they're not buying into all that Rauner wants Rahm to sign on to, that being the diminishment of public unions first and foremost."
On talks with the American Federation of State, County and Municipal Employees (AFSCME)
"They've met 67 times, and that 67th – that didn't go so well," said Vinicky. "AFSCME says that they came forward with new offers. For example, they agreed to a wage freeze the first year of the contract, and they say that they were stunned when then, the Rauner administration came forward and said, 'We believe we've reached an impasse.'
"The Rauner administration is not that exacting, they say, 'No, we don't believe there's an impasse, we're weighing our options." Right now though, no further meetings are scheduled, and it is clear that they are very far apart, if they are ever to meet again."
On Rauner's tone today
"His overall tone was, frankly, a lot of what we have heard before," said Vinicky. "I'm not sure a ton of news was broken despite the many reporters that he talked to. He's really fixated on the Turnaround agenda in every way, shape and form. He says that that is the answer, to Chicago violence, to helping the downstate economy, to helping jobs in Chicago. That really is his answer and he's going to continue to push it."
---
Below, tweets from the governor's account marking his first year in office.
— Bruce Rauner (@GovRauner) January 12, 2016
---
— Bruce Rauner (@GovRauner) January 12, 2016
---
Related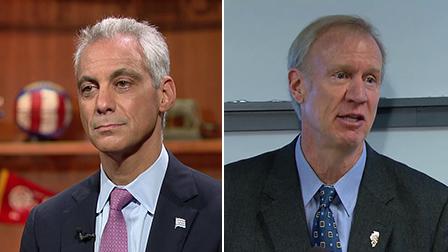 Rahm, Rauner in War of Words
Mayor Rahm Emanuel had some harsh words for Gov. Bruce Rauner over a plan to have the state relieve $500 million in pension costs for CPS, one day after Rauner said he was "very disappointed," in the mayor.
---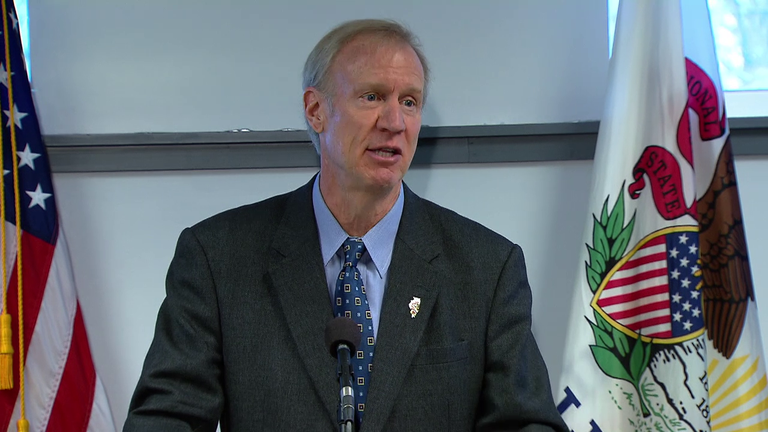 Gov. Rauner: Reduce Number of Local Governments
The governor unveils a plan he says will save taxpayers billions every year and has some strong words for Mayor Rahm Emanuel.
---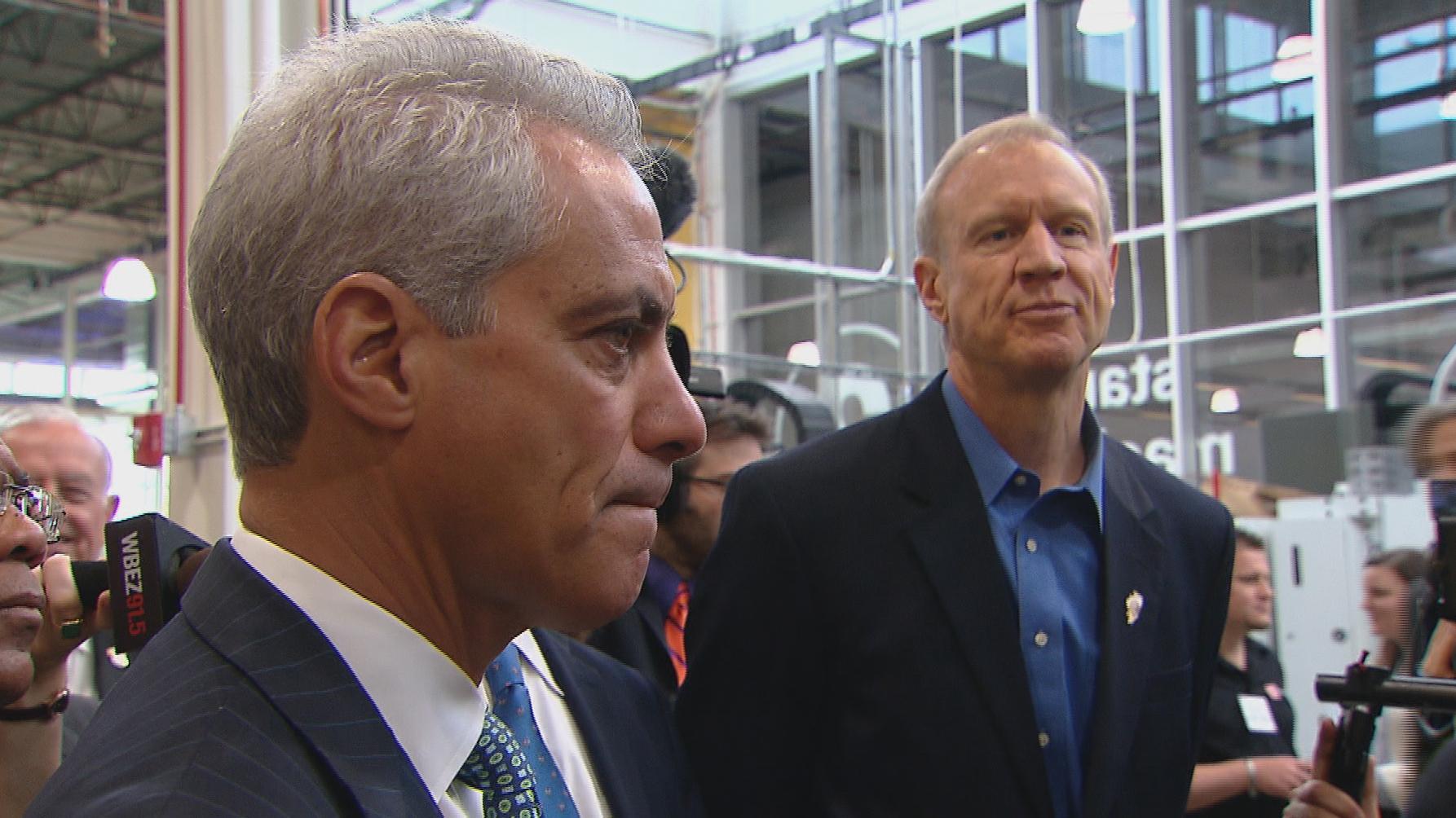 Bruce Rauner, Rahm Emanuel at Odds as State Budget Impasse Trudges On
Nov. 3: Illinois is in its fifth month without a state budget and Mayor Rahm Emanuel and Gov. Bruce Rauner have traded barbs over how to resolve the impasse in Springfield.
---
More Springfield News with Amanda Vinicky: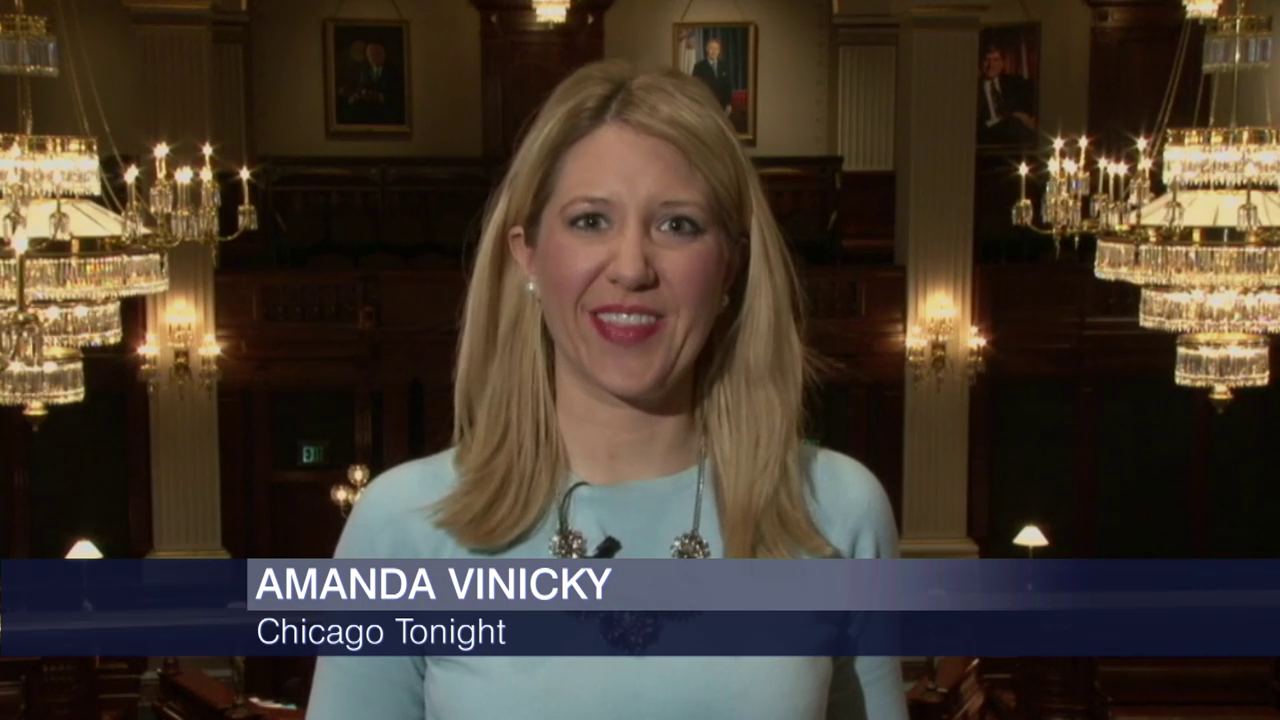 Revisit our conversations with Amanda about the latest news from the state capital. Find them here.
---