The famously irascible Frank Lloyd Wright estranged two artists on a single short-lived project. Learn the fate of Wright's lost Midway Gardens and play a tennis at the Kenwood Country Club as local history expert Geoffrey Baer heads to the South Side.
On Nov. 30, WTTW will debut a new documentary about Chicago's South Side neighborhoods, highlighting the events that shaped them and the people who live there.
---
I am curious to know about a project undertaken by Frank Lloyd Wright called Midway Gardens, an apartment complex. A Chicago artist I am researching, William Henderson, was hired to do some murals for the project.
–Stacia Lewandowski, Edison Park
William Henderson was in fact hired to paint murals for the Frank Lloyd Wright-designed Midway Gardens, but there's a little mix-up in the question. The Midway Gardens that Wright designed was a short-lived open-air restaurant and entertainment space at 60th and Cottage Grove. The Midway Gardens Apartments is a Chicago Housing Authority complex built in the same area in 1958. Neither Wright nor Henderson had anything to do with that project.
Wright's Midway Gardens was built in 1914 with indoor and outdoor spaces surrounded by paintings and sculpture. The outdoor "summer garden" featured landscaped and paved terraces leading toward a bandstand, where musical, theater and dance performances were staged. There was also a smaller indoor "winter garden."

Wright had a hand in designing every aspect of the site, right down to the dishware. He worked with several artists to bring his vision into being, including the painter and architect our viewer mentioned, William Penhallow Henderson. Wright commissioned Henderson to create murals in the entrance promenade. But according to Chicago art historian Mary Gray, when Wright saw the design on the walls, he disliked it and ordered Henderson to change it. Henderson balked and left the project, and Wright prepared his own design for the walls.
Another artist named Alfonso Iannelli had a hand in creating perhaps the most famous design element from Midway Gardens: the sculptures known as sprites. But Wright took credit for them and Iannelli never worked with Wright again.
Midway Gardens opened to great fanfare and saw performances by the National Symphony and Russian ballerina Anna Pavlova in its first season. But just two years after it opened, Midway Gardens ran into money problems. It was purchased by Edelweiss Brewing Company, which made some design changes that reportedly infuriated Wright, who complained that his work was "cheapened to suit a hearty bourgeois taste."
---
In 1920, Prohibition made the beer palace run dry. The gardens changed hands a few times, even serving as a garage and car wash at one point. The building was finally demolished in 1929. In true Wright form, it was so sturdily built that it put a wrecking company out of business trying to take down its solid concrete form.
A few of Ianelli's sprites were rescued from the demolition. Two of them now stand in front of the Arizona Biltmore Resort. The head of a sprite alights atop the Art Institute's grand staircase. Another head of an original sprite, plus a first casting from an original sprite, can be seen at the Iannelli Studios Heritage Center in Park Ridge.
A postscript: The artist behind the Midway Gardens sprites, Alfonso Iannelli, and his wife Margaret settled in a Park Ridge studio where they produced design work for more than 40 years. That studio is now the Iannelli Studios Heritage Center. Some of the Iannellis' best-known work around Chicago includes the interior of the Pickwick Theater and the Rock of Gibraltar relief on the side of One Prudential Center on Michigan Avenue. They also did industrial design, including the Streamline Moderne-inspired C-20 "Coffeemaster" vacuum coffeemaker and T-9 electric toaster for Sunbeam Products. The company introduced these products as its flagship modern appliances in honor of the 1939 New York World's Fair. Watch a recent "Chicago Tonight" segment for more about Iannelli and to see some of his designs.
---
I saw an old poster that was promoting the Western Lawn Tennis Tournament in 1896 at the Kenwood Country Club at 47th and Ellis. Currently there's a church at that corner which I believe dates back over 100 years. When did this club exist and what happened to it?  Was this a major tennis tournament of that era?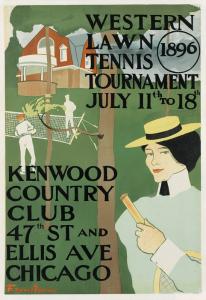 –Charles Schutz, Lakeview
The Kenwood Country Club's clubhouse did indeed stand at the corner of 47th and Ellis, and the club did in fact host a prominent national tennis tournament.
The club and its grounds occupied the land between 47th and 48th streets and Drexel and Ellis, so the church our viewer Charles mentions, St. Ambrose, is actually diagonally across the street from where the country club was. Today, the block the club stood on is occupied by a mix of old and new residential housing.
The club got its start in the mid-1890s, when a group of Kenwood residents got together to create a sport and social club in what was then a tiny suburb of Chicago. None other than Marshall Field leased a plot of land to the group to build the Kenwood Country Club until, he stipulated, he had a desire to sell the land. 
---
In 1895, work began on the new clubhouse and grounds. Twelve tennis courts were built, in addition to croquet courts and an archery range. The club's manager even devised a court with a solid wall in the middle for solo practices and warm-ups.
The Club was chosen to host the Western Lawn Tennis Tournament, an eight-day championship tournament that drew players from all over the country and was the largest ever held in the west, according to the Chicago Tribune.
But what Marshall Field giveth, Marshall Field taketh away. In 1914, eight years after his death, Field's estate decided to sell the Kenwood Country Club land to a developer of "high class" apartment buildings. A new branch of the "L" had been built through Kenwood a few years earlier and the neighborhood began attracting Loop commuters, making apartment buildings a lucrative business. The club tried to find another home with no success, and the Kenwood Country Club saw its last match in 1914.
One last thing: the poster that inspired our viewer's question had quite a pedigree. The artist was an accomplished illustrator named Edward Penfield, who designed numerous posters and magazine covers. He eventually became known as the "father of the American poster movement."
---
More Ask Geoffrey: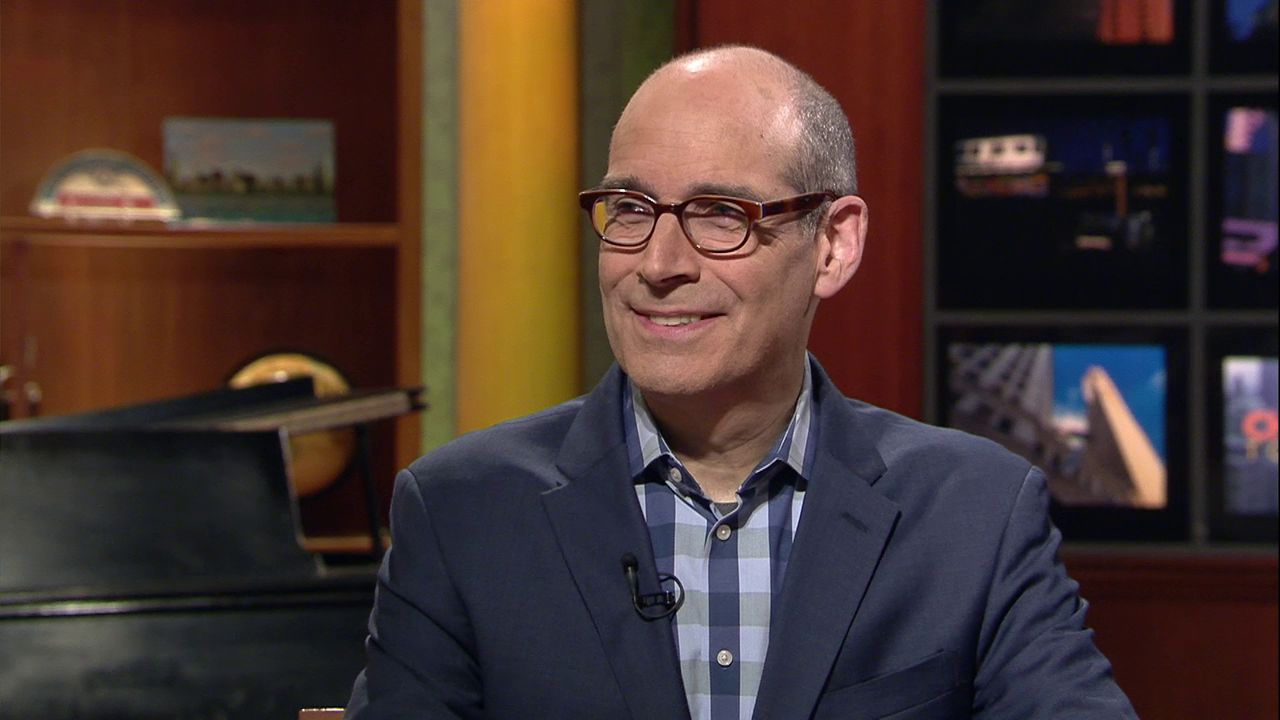 Did you know that you can dig through our Ask Geoffrey archives? Revisit your favorite episodes, discover new secrets about the city's past, and ask Geoffrey your own questions for possible exploration in upcoming episodes. Find it all right here.
---