The tragic, fatal shooting of a 9-year-old boy this week on the South Side has further ignited concerns about Chicago's gun violence that has already topped last year's numbers.  The city has seen 391 murders so far this year, according to the latest police statistics from Oct. 25. That's up 18 percent from 2014.
These facts are not lost on Shari Runner, the interim president and CEO of the Chicago Urban League, which is preparing to celebrate its centennial next year. Formed in 1916 during the Great Migration of African-Americans to the urban North from the rural South, the Urban League is hoping to inspire a new generation of young leaders at a time when the city's crime is up and issues like police brutality have grappled the nation. 
Tonight, Runner joins us to discuss the Urban League's future, Mayor Rahm Emanuel's efforts to boost the number of minority police applicants and how the city's ongoing battle with gun violence is affecting the African-American community.
"This is a really pervasive and profound problem in our communities," Runner said when asked how gun violence affects communities. "As you know, Chicago is known for being one of the most segregated cities in the world, so I think that it's important that we know what that segregation means to our youth and to our community.
"There are deserts in our city: we have a lack of good housing, quality education, economic opportunities in the form of jobs or businesses that recirculate money into the community. So it's a problem for children and adults living in those communities. The most thriving industry or underground economy is drugs and guns. As we get more and more illegal guns in the city of Chicago, it becomes a bigger and bigger problem–people shooting each other as a way of solving problems–and that trauma to the community has a more profound impact than just people dying. It has an impact to their psychology, their psyche and what they do day to day; how they live."
Watch the video above to hear our full discussion.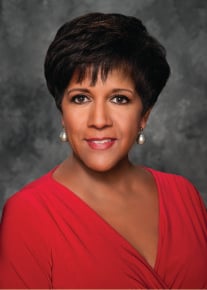 Shari Runner
Runner took over as interim president June 1, following the departure of former Chicago Urban League President and CEO Andrea L. Zopp—who resigned from her post on May 31 in order to launch a campaign for the U.S. Senate.
Since joining the Urban League in 2010, Runner has operated as senior vice president for strategy and community development, where she worked with executive leadership and development teams to increase financial support to the organization, and assisted with the development of short and long term strategic objectives, according to the organization's website. As interim CEO and president, Runner will oversee all organizational operations and serve as the lead representative of the Urban League to the board of directors, funding partners, media outlets and collaborating organizations.
The Chicago Urban League is one of the largest of the 95 affiliates of the National Urban League. Through community, corporate and civil relationships, the organization aims to help African-Americans find educational opportunities, employment, affordable housing and grow their businesses.
This Saturday, the Chicago Urban League holds its 54th Annual Golden Fellowship Dinner at 6 p.m. at the Hilton Chicago. The theme of this year's black tie event is "Inspiration for the Next Generation."