Could we really reverse the Chicago River … again? Or build a wall of skyscrapers right along the lakefront? Or replace Harold Washington Library with an aircraft carrier? Those are some of the bold proposals on display at the Chicago Architecture Biennial. When it opened two weeks ago Geoffrey Baer gave us an overview. Now he's back to focus on the Chicago-centric parts of this international exhibition that drew more than 25,000 visitors in its first week.
Chicago serves as a laboratory for some pretty radical ideas in this exhibition. An entire room called "Bold" was curated by Chicago architect Iker Gil and dedicated to proposals that would remake Chicago to address issues like our budget deficit, environmental threats and urban decay.
One of the exhibits seemingly violates the most sacred commandment in our city: thou shalt not build buildings on the lakefront. More than a hundred years ago the Supreme Court held that the lakefront is to remain public ground, free of buildings–but that didn't stop a Chicago-based design consultancy called Port Urbanism from proposing a huge wall of skyscrapers east of Grant Park. They call it "The Big Shift" and it would essentially make Grant Park look like Central Park in New York, surrounded by buildings. Their proposal doesn't do away with the public park along the lakefront, it just shoves it farther east as part of 225-plus new acres of lakefill. The idea is to add millions or maybe billions of dollars in much needed municipal tax revenue.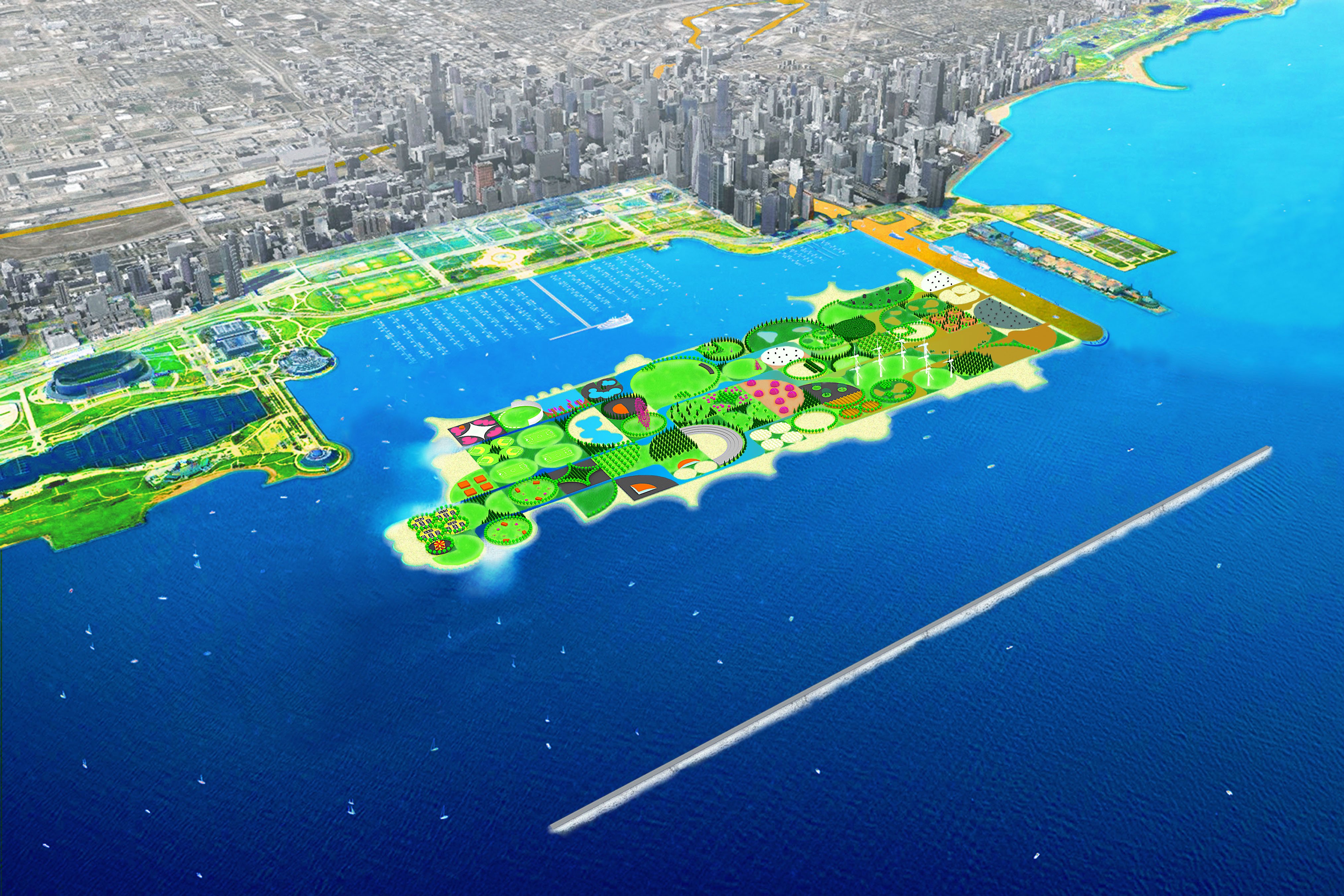 UrbanLab, "Filter Island" (Courtesy Chicago Architecture Biennial)
There's a very different lakefront proposal from Chicago architects UrbanLab: a huge island. It's part of their plan to reverse the flow of the Chicago River and return it to the state that nature intended. By building a dam near the Merchandise Mart, the north branch and main branch once again flow into Lake Michigan. Unfortunately, the river would carry wastewater into Lake Michigan–as it did before it was reversed in 1900–but in this scheme, the big lakefront island park serves as a natural filter, cleaning the polluted water through wetlands and bio-pools before it's discharged into the lake.
Some of the exhibits are decidedly tongue-in-cheek, like the "Late Entry to the Chicago Public Library Competition" exhibit. The present Harold Washington Library was the result of a competition in 1987. Some have criticized the design for being backward-looking and less than functional. A Chicago-based architecture collaborative called Design with Company proposed 12 alternative entries and mashed them all together. They include reassembling the soon-to-be dismantled Navy Pier Ferris Wheel as a library-in-motion; turning the existing Harold Washington Library upside down so that the beautiful winter garden now hidden away on the roof becomes accessible to all at street level; putting the whole library on an aircraft carrier because downtown real estate is too valuable for book storage; and using the ghost of demolished Prentice Hospital as a library.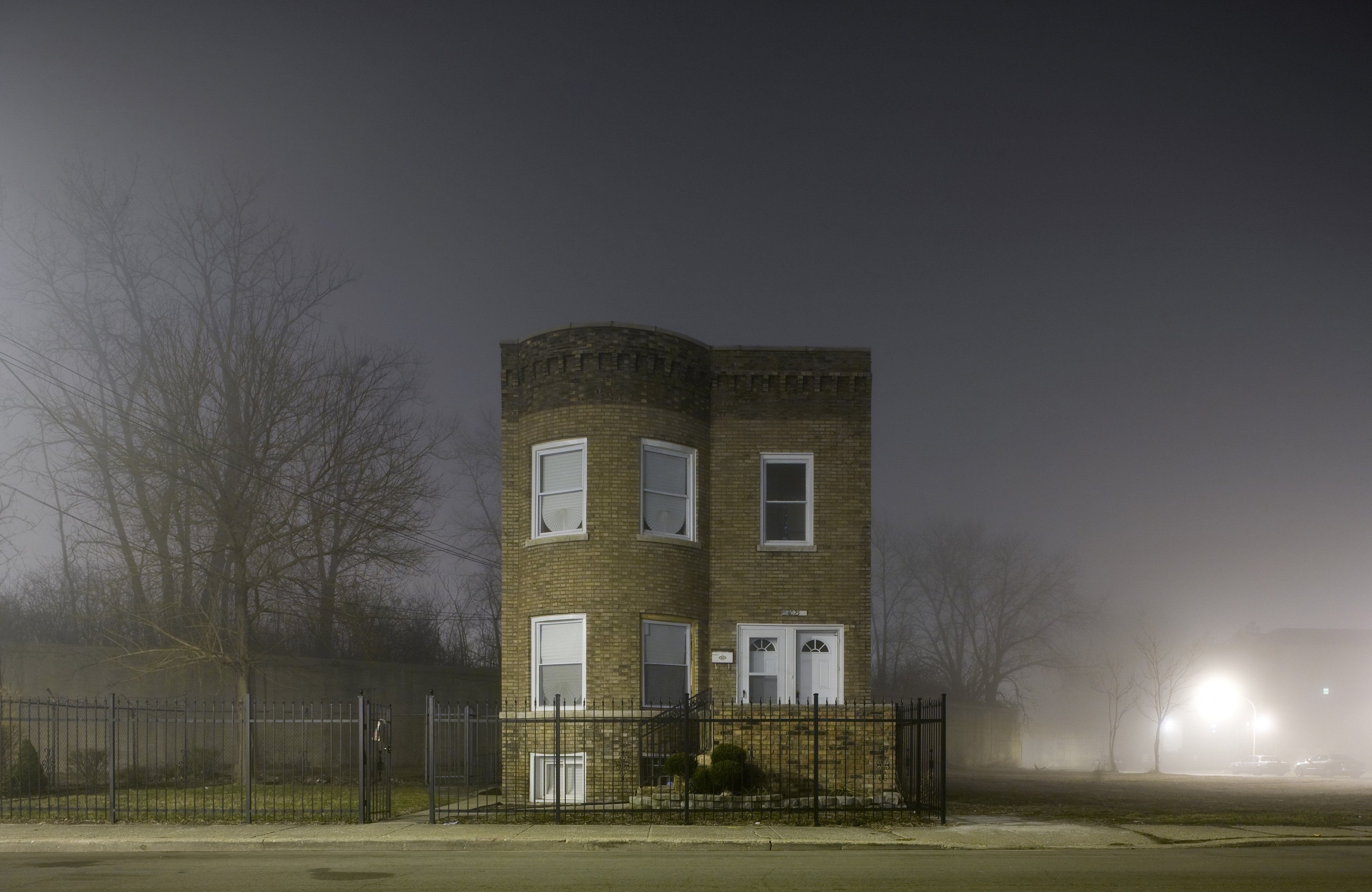 David Schalliol, "Reckoning with Vacancy" (Courtesy Chicago Architecture Biennial)
The "Bold" exhibition takes on some serious urban problems too. The issue of vacant land on the West and South Sides is the focus of a series of beautiful and sobering images by photographer David Schalliol called "Reckoning with Vacancy." UIC professor David Brown envisions an opportunity for some 15,000 vacant lots owned by the city: His proposal "Available City" sees these scattered lots as sites for new public spaces all over Chicago. He created guidelines and solicited ideas from dozens of architects, including some famous names like Helmut Jahn and Stanley Tigerman.
Below, a video overview of "Available City":
---
But the Chicago focus is not limited to one room at the Cultural Center. Among the many international exhibits on display is "Color(ed) Theory," a photo series that highlights the problem of abandoned homes in Englewood. The photos document the work of Amanda Williams, a Chicago artist, architect and photographer who has been painting abandoned houses. She and about a dozen artist friends go out early on Sunday mornings and completely cover a house in a solid color in about three hours.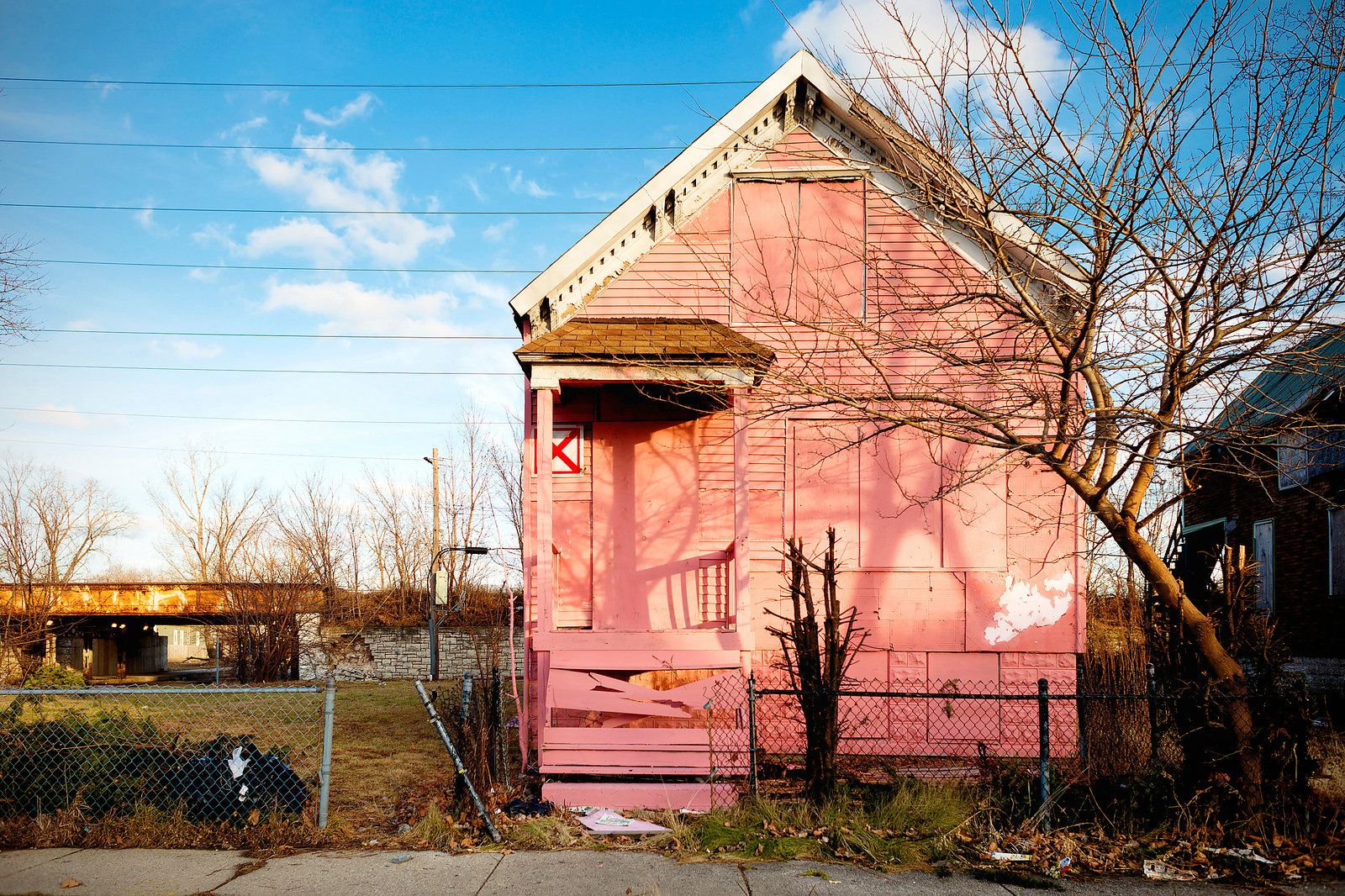 Pink Oil Moisturizer, 2014 (Courtesy Amanda Williams)

The colors are chosen as a wry commentary on the life in poor African American communities: yellow for currency exchanges, purple for Crown Royal Whiskey, the fluorescent green of Safe Passage signs, blue for Ultra Sheen, and red-orange for Flamin' Hot Cheetos.
---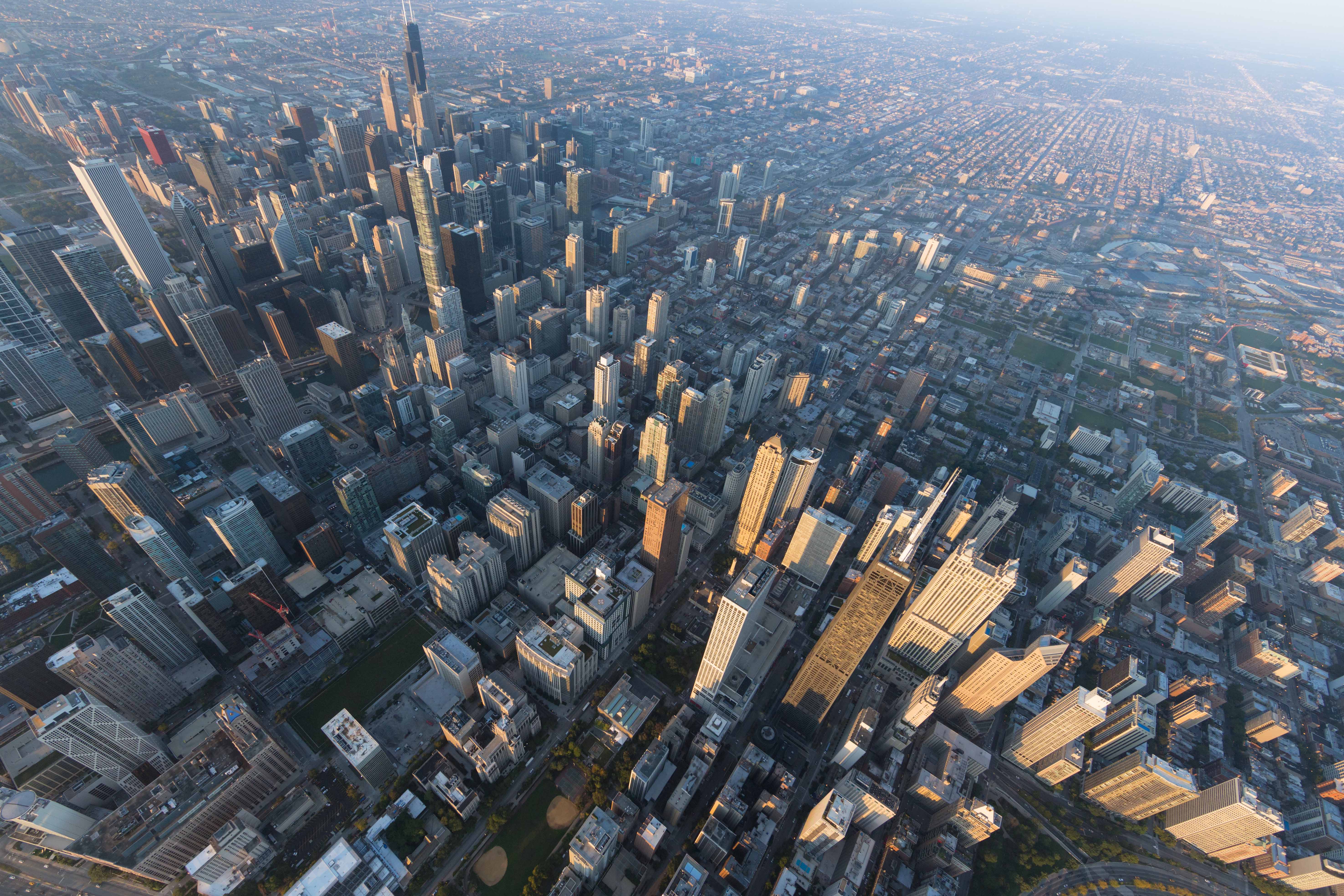 Iwan Baan 2015 (Courtesy Chicago Architecture Biennial)
Elsewhere in the Cultural Center, you can see some really stunning new aerial photographs of Chicago from Dutch photographer Iwan Baan. They show the iconic downtown skyline but are set in the context of wider surrounding areas.
Acclaimed Chicago architect Jeanne Gang has a proposal to address the problem of gun violence by expanding the function of typically isolated police stations to become community centers with basketball courts, markets, community gardens, public internet workstations and even housing.
Below, visit the Leaf Lounge:
---
The biennial even continues outside the walls of the Cultural Center. Stepping outside onto Washington Street you can hang out in the Leaf Lounge by Chicago architect John Ronan. It consists of wire-basket walls filled with fallen leaves from Chicago trees. The "floor" is also covered with leaves that crunch underfoot, adding a sensory component. Seats are tree stumps. Considering that the Biennial continues through Jan. 3, this lounge could provide some shelter from cold winter winds in the canyons of downtown.
Down by the Field Museum is the winner of a competition to design kiosks for the Chicago lakefront. It's called "Chicago Horizon" and it will eventually be used for something like concessions or bicycle rentals. The wood and chain-link design with a flat roof that seems to levitate came from a Rhode Island collective called Ultramoderne.  
Three other kiosks were designed by architects collaborating with Chicago's three major architecture schools. Two are displayed in Millennium Park and will later be moved to the lakefront. One, called "Summer Vault" from UIC's architecture school, is a tall vault cut at an angle to create diagonal interior spaces.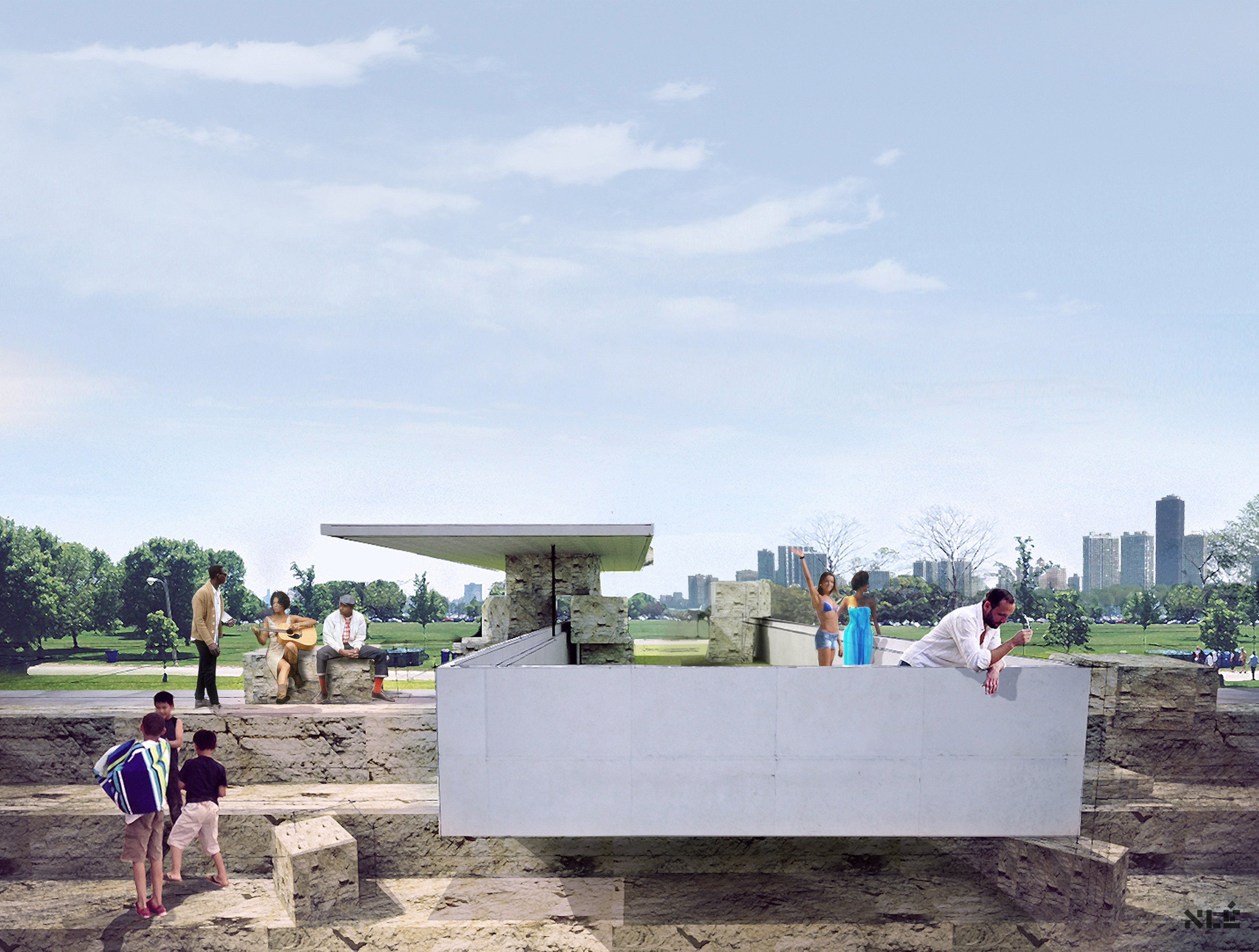 Kunle Adeyemi, "Rock" (Courtesy Chicago Architecture Biennial)
Big limestone blocks currently displayed in Millennium Park near the Bean will be reassembled at Montrose Beach as part of a dramatic concrete-and-stone kiosk called "Rock" that will project out over the lakefront. It's from the School of the Art Institute and Nigerian-born architect, who is based in Lagos and Amsterdam.
A model of the fourth kiosk is displayed in the Cultural Center. It's from IIT Architecture School with a Chilean architecture studio called Pezo von Ellrichshausen. In the off-season it will seem to blend into the tall buildings of the skyline behind it.
There are even installations beyond downtown. One is at Stony Island Arts Bank, which artist Theaster Gates has restored as an arts center. The installation, called "Under the Skin" by Carlos Bunga of Barcelona, is made of cardboard and packing tape and fills the entire main hall. It picks up on the barrel vaulted former banking hall to create a sort of cardboard cathedral.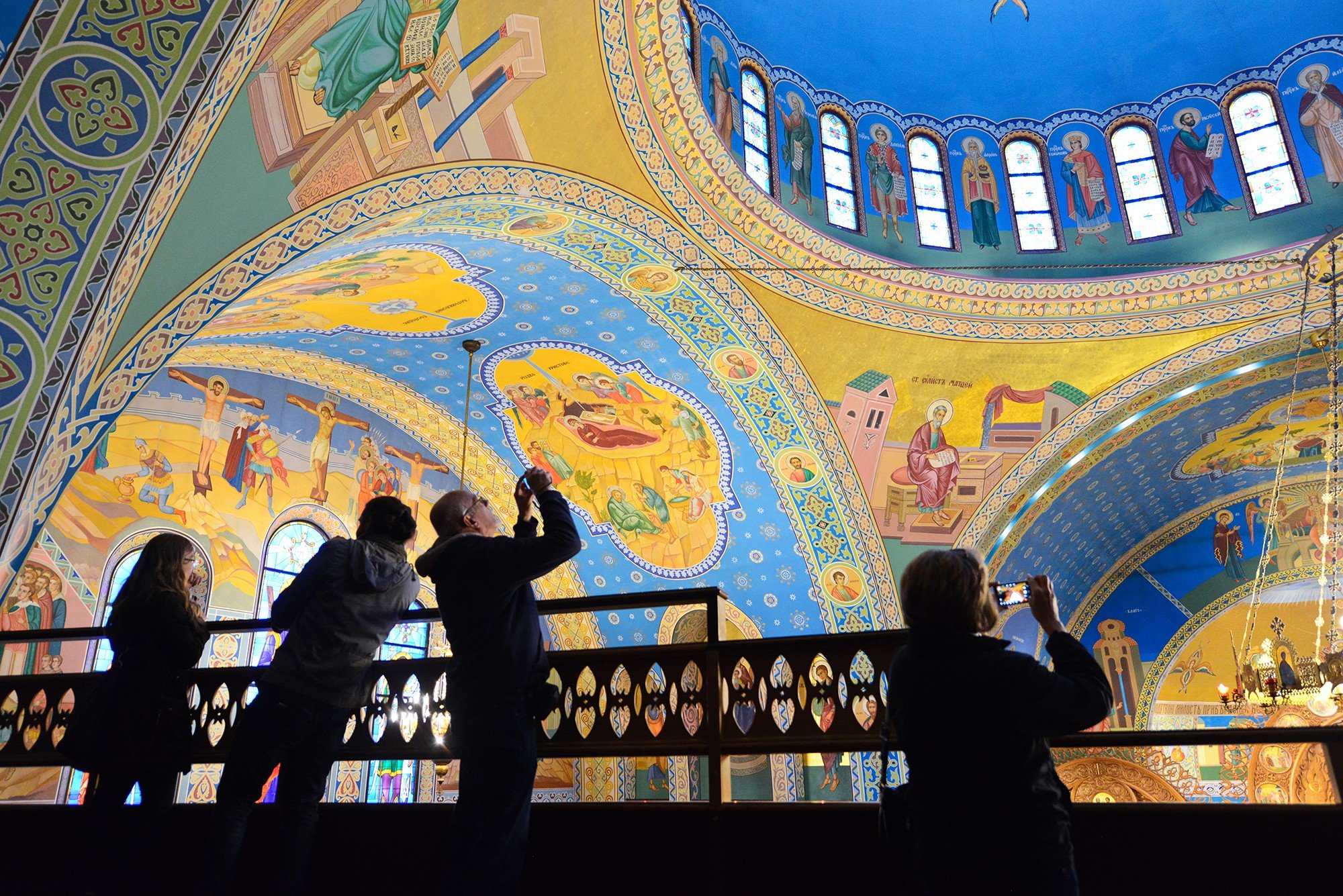 Sts. Volodymyr and Olha Ukrainian Catholic Church (Courtesy Eric Allix Rogers)
You can visit Stony Island Arts Bank this weekend during the Chicago Architecture Foundation's annual Open House Chicago. This year it coincides with the Chicago Architecture Biennial and allows visitors entry to more than 200 usually off-limits architectural treasures all over the city and some suburbs. Tour a jazz age ballroom in Woodlawn, a dazzling Ukrainian Orthodox Church in Ukrainian Village, and a vintage Airstream trailer used as a conference room on the roof of a Ravenswood loft office building. It's an architecture-palooza this weekend in Chicago! 
The Chicago Architecture Biennial presents dozens of lectures, films and panel discussions through January. We have more information below, including some of Geoffrey's picks.
ONGOING EVENTS
• Tours of Frank Lloyd Wright's S.C. Johnson headquarters in Racine. Every Thursday a free shuttle bus leaves from the Cultural Center at 3 p.m., returning at 11 p.m.
• Guided tours of Charnley Persky house every Wednesday. Designed by Louis Sullivan with help from his junior draftsman Frank Lloyd Wright, it is now the headquarters of the Society of Architectural Historians.
• Tours of Stony Island Arts Bank every Saturday.
ONE-TIME ONLY EVENTS
• Saturday, Oct. 17: Artist's workshop with Amanda Williams
• Friday, Oct. 30: Up All Night with Architecture. Includes a PechaKucha and a Halloween late night flashlight tour exploring secrets of the Chicago Cultural Center with city historian Tim Samuelson.
• Sunday, Nov. 1: City of Design lecture from Rick Valicenti at the Art Institute. Valicenti is sometimes called "the dean of Chicago designers."
• Monday, Nov. 2: Visit to Studio Gang and discussion with principals Jeanne Gang and Mark Schendel.
• Friday, Nov. 6: The Future of Public Housing roundtable at Jane Addams Hull House Museum.
• Saturday, Nov. 7: Help create a fictional episode of the vintage sitcom "Good Times" set in Cabrini Green with Columbia College students.
• Monday, Nov. 9: Farnsworth House flood mitigation plans discussion.
• Thursday, Nov. 12: Council on Tall Buildings and Urban Habitat all day awards symposium at IIT. (This is highly recommended.)
• Friday, Nov. 20 and Saturday, Nov. 21: Family sleepover at the Chicago Cultural Center.
---