Cutting-edge architecture built by a robot, spiders and even you! That's just a small part of what you can experience when the Chicago Architecture Biennial opens Saturday at the Chicago Cultural Center and sites around the city. 
Geoffrey Baer has spent the last two days watching 75 top architects from around the world frantically put the finishing touches on it all, and he's here to give us a sneak preview.
About the event
From Oct. 3 through Jan. 3, 2016 the Chicago Architecture Biennial will assess architectural projects and experiments from around the world. 
Below, renderings of kiosk designs, including the winner by Team Ultramoderne, plus competition finalists and the commissions.

Billing itself as the "largest international survey of contemporary architecture taking place in North America," the free, inaugural event – part of the cultural plan developed by Chicago's Department of Cultural Affairs and Special Events – will feature dozens of architects and artists from around the world.
Highlights will include large-scale exhibitions in addition to film screenings, performances, tours, talks, and other public programs at various locations throughout the city, including the Chicago Cultural Center, which will be dedicated solely to the Biennial during its three-month run.
A lasting physical legacy of the Biennial will be four new small-scale works of architecture, or kiosks. The structures will be on display in Millennium Park during the Biennial, and in January, they will be disassembled and later installed in permanent spots along the lakefront.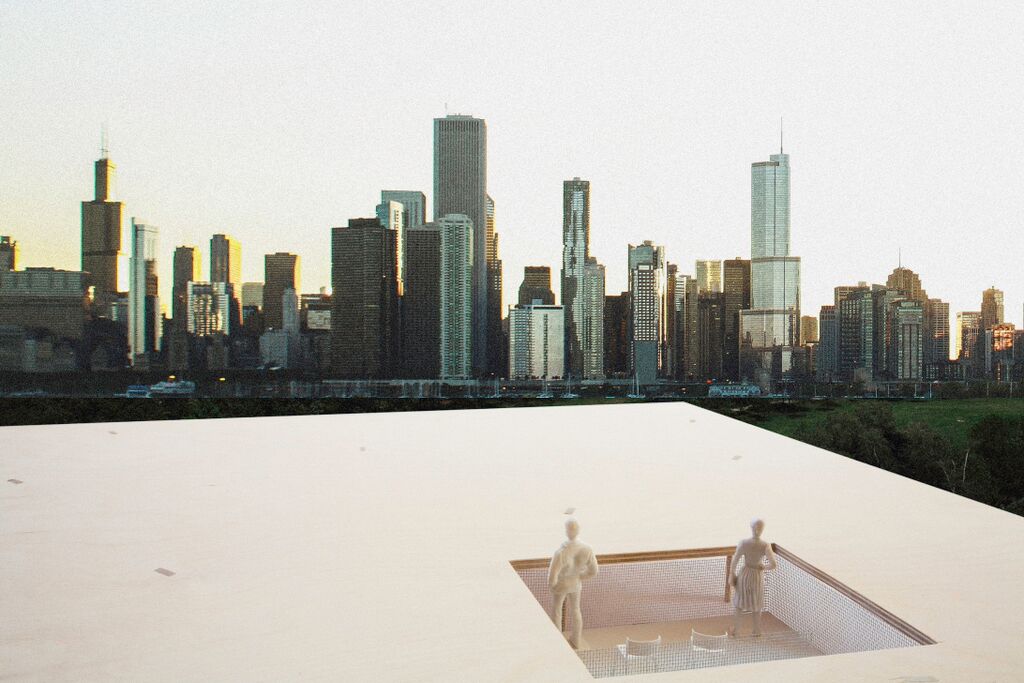 Winning kiosk design 'Chicago Horizon' by Team Ultramoderne.
One kiosk was selected by a jury after an international competition drew 421 entries from 40 countries. The winning design, by Providence, Rhode Island-based firm Ultramoderne, will be installed in Grant Park, across from Buckingham Fountain at a spot known as Queen's Landing. The firm received an honorarium of $10,000 and has a budget of $75,000.
Three additional kiosks were commissioned by the Biennial, and pair international architects with a local school. The School of the Art Institute, Illinois Institute of Technology, and University of Illinois at Chicago participated.
Exact locations for the additional three kiosks will be determined in conjunction with the Chicago Park District, but you can expect to see them in Hyde Park, Lincoln Park (likely between North and Fullerton avenues), and Montrose Beach. Installation will take place in spring of 2016.
See a map of locations for the four kiosks.
---
Related content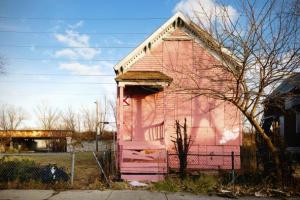 Putting 'Chicago' into the Chicago Architecture Biennial
Geoffrey Baer returns with more dispatches from the Chicago Architecture Biennial, including bold proposals for the future of its host city.
---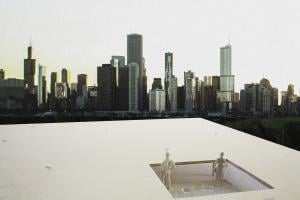 The State of the Art of Architecture in Chicago
This fall, the Chicago Architecture Biennial will assess architectural projects and experiments from around the world. We'll get a preview of what to expect and find out the results of a competition to add kiosks to the city's lakefront.
---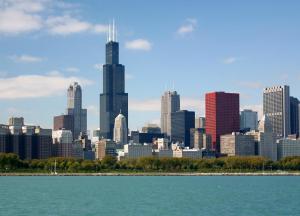 City to Highlight Architecture with Global Expo
The city renowned for its architecture will host a global exhibit of architecture. Chicago officials announce a bold plan to hold a biennial international design and architecture exhibit in Chicago beginning next year. We'll tell you what and who's involved and what it might look like.
---