Friday marks the launch of the fourth Chicago Architecture Biennial. 
Past editions have been based largely at the Chicago Cultural Center, but this edition is shifting its focus to neighborhoods across Chicago – and to finding creative opportunities to meet those communities' needs. 
The biennial's theme, The Available City, stems from a project artistic director David Brown has been working on for a decade, looking at city-owned vacant lots. 
"The magnitude of the vacant land in the city is actually quite large. Currently, there are about 13,000 vacant lots owned by the city. That's about the size of the downtown area, and it's primarily in neighborhoods on the West and South Sides," said Brown, who's also a professor of architecture at UIC. "It has a tremendous impact on the feel and character of those neighborhoods ... a lot of blocks are almost defined by vacancy." 
The Available City project, Brown says, is meant to create ways "that land could actually be a positive within each of those neighborhoods." 
The biennial's 15 sites around the city all have community partners – in Englewood, it's the community organization Grow Greater Englewood, which works on access to locally grown food and ensuring the community has a say in how the neighborhood's land is used. As part of the biennial, a new Englewood Village Plaza is under construction at 58th St. and Halsted.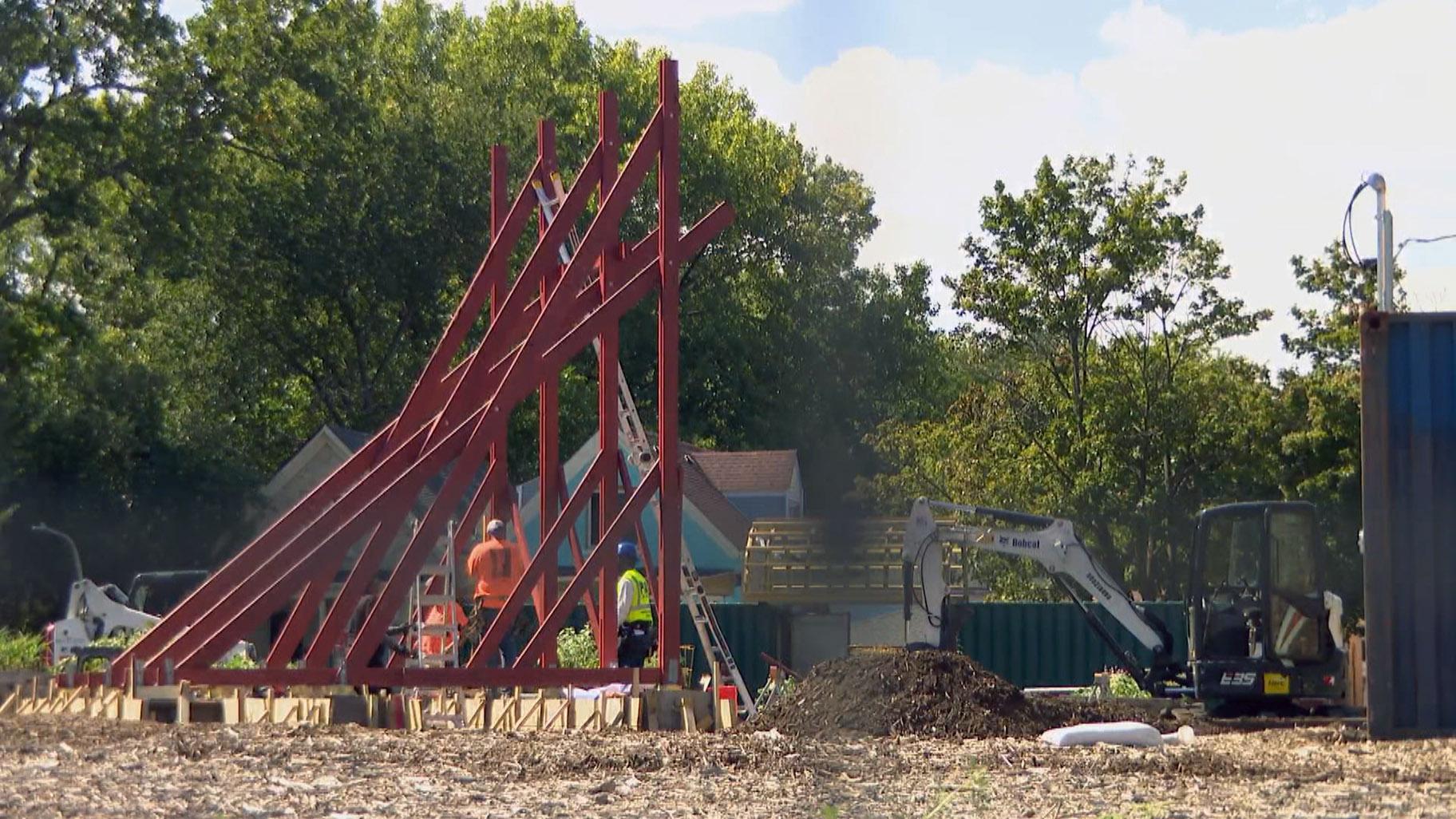 In Englewood, one of the biennial's 15 sites, the community partner is Grow Greater Englewood and they are constructing a new Englewood Village Plaza at 58th St. and Halsted. (WTTW News)
"The first (phase) is building a community table for about 60 people, where we can share and break bread," said Anton Seals, lead steward of Grow Greater Englewood. The plaza will also host marketplaces and farmer's markets. "It's something that's going to be of significance, another space that becomes accessible for the community that once was just littered with glass. We're also growing on the other side of that a community farm. ... It's an exciting time. We've been working toward this for many years." 
The Tokyo-based architecture firm Atelier Bow-Wow designed the Englewood Village Plaza as part of the biennial. The firm's co-founder, Yoshi Tsukamoto, says the goal of the plaza was to create "better accessibility to local resources for the community."
"I think it's very important to reconstruct the 'commons' today. A commons is a bit difficult nowadays, especially in the city area and in a very consumer-oriented society. But people have (the) ability to grow things and to share things and to enjoy together through these experiences and activities," Tsukamoto said. "It will … help people to know each other, to collaborate (with) each other, and I think architecture projects can really help people to achieve this goal."  
---