A new energy initiative is encouraging northern Illinois residents to get smart—by purchasing so-called smart thermostats—under a rebate program that aims to help cut heating costs. Will homeowners warm up to what is planned to be the country's largest smart energy initiative?
Joining us to discuss the plan are Val Jensen, senior vice president for customer operations at Commonwealth Edison; Howard Learner, executive director of the Environmental Law and Policy Center; and Jim Chilsen, communications director for the Citizens Utility Board (CUB), a consumer advocacy watchdog group.
How it works
Smart thermostats are Wi-Fi enabled devices that enable a user to control home heat and air conditioning settings through their smartphone, tablet and computer while inside or outside of the home.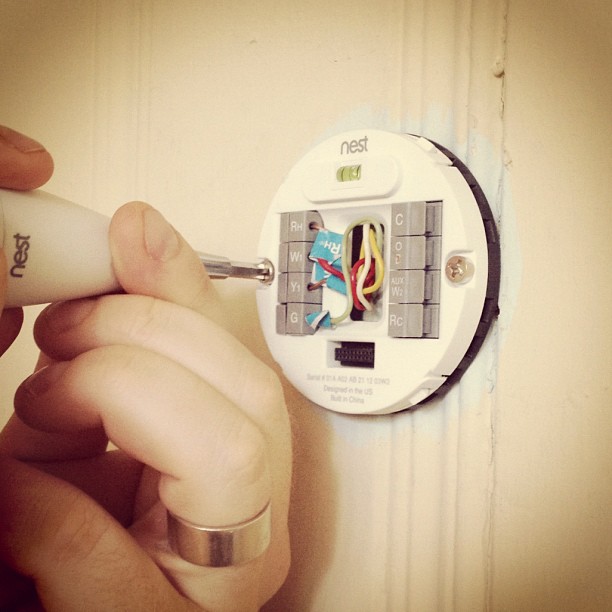 With the support of the Illinois Commerce Commission and the Environmental Protection Agency, the smart thermostat initiative is a public-private partnership between ComEd, the Environmental Law and Policy Center, Nicor Gas, Peoples Gas, North Shore Gas and CUB.
The program is designed to help cover a portion of the cost for residential utility customers in Chicago and northern Illinois on the purchase and installation of smart thermostats.
"Smart thermostats bring control of home energy bills literally into a customer's hands, as energy use can be easily managed from the touchscreen of a mobile device," said CUB executive director David Kolata in a press release.
By automatically adjusting heating and air-conditioning levels, smart thermostats are programmed to allow greater control of energy use and help residents avoid wasting energy, which, in turn, can assist in reducing energy bills and air pollution. The initiative is targeted to install one million smart thermostats over the next five years across ComEd, Nicor Gas, North Shore Gas and Peoples Gas territories, making it the largest smart thermostat program in the United States.
There are three ways that customers can earn rebates and discounts on a new smart thermostat:
Self-installation: Residents can apply for rebates after purchasing and self-installing a qualifying thermostat, including the ecobee3 and Nest Learning thermostat models, which retail for about $250. ComEd will issue a $100 rebate, while Nicor Gas, Peoples Gas and North Shore Gas will issue a $20 rebate separately.
Contractor-installation: A heating and cooling contractor is hired to install a qualifying smart thermostat. ComEd will issue a $125 rebate, while Nicor Gas, Peoples Gas and North Shore Gas will issue a $20 rebate separately. The contractor-installed rebate is limited to the ecobee3, Nest Learning and Honeywell Lyric models.
Utility-installation: An ecobee3 model thermostat is purchased and installed at a discounted price of $150 directly from a utility energy advisor during an appointment. Only the ecobee3 model is offered through the utility-installed option.
More information on smart thermostat installation, discounts and rebates can be found at ComEd, Nicor Gas, Peoples Gas or North Shore Gas websites in the section titled "rebates."