A small, windowless building on Block 37 is dwarfed by glassy new high-rises. A viewer wonders how it managed to escape the wrecking ball. Local history expert Geoffrey Baer shares the story behind this unusual building.
But first in this week's edition of Ask Geoffrey: the history of Marshall Field's holiday windows and Kermit the Frog's commercials for milk.
---
---
I seem to recall Kermit the Frog doing commercials for Kraml Milk. Was this real, or am I remembering something else?
–Michael McKeigue, Oak Lawn
It wasn't quite Kermit the Frog, but some very primitive Muppets did star in commercials for Kraml Milk, a dairy in Chicago's Little Village neighborhood. Young Jim Henson and his fledgling company, Muppets Inc., produced 18 10-second spots for Kraml Milk between 1958 and 1962. 
One of the Muppets appearing in the commercials does resemble Kermit, though. He was voiced by Jim Henson, who of course created Kermit and served as his voice for so many years, but his name isn't Kermit – it's Wilkins.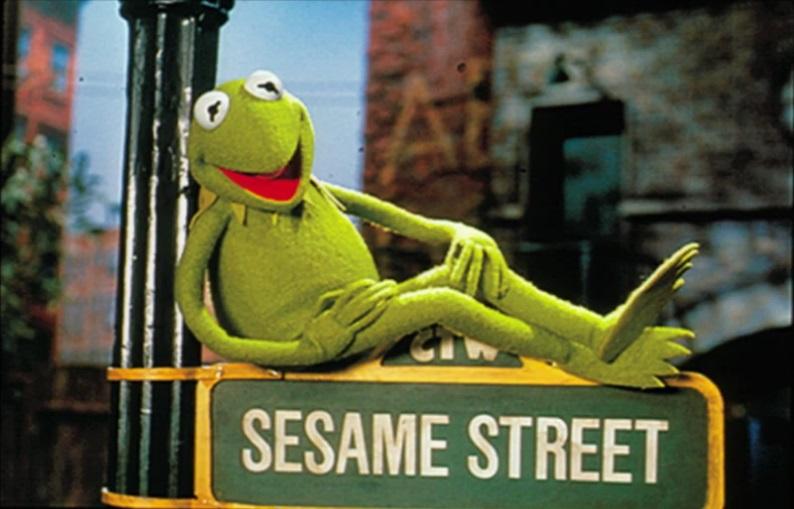 When Kermit was "born" a few years before the Kraml ads in 1955 for Henson's Washington, D.C. TV show "Sam and Friends," he wasn't yet a frog. All of the early Muppets were more abstract characters than familiar creatures. Kermit was, in Henson's words, a glorified sock puppet, a sort of lizard-like character who gradually became more froglike over the years.
He officially became a frog in 1968 for a special called "Hey Cinderella!," and closer to home, he was definitely a frog by the time he appeared on the first season of "Sesame Street" in 1969. That's also when he got his signature multi-pointed collar and, more importantly, flipper-like feet.
The vaguely Kermit-y character of Wilkins also predates the Kraml ads. Henson created him to star in commercials alongside his partner Wontkins (get it? Will-kins and Won't-kins!) for the Wilkins Coffee Company in Washington, D.C. For Kraml, Henson just swapped the product and repurposed the same cartoonishly violent scripts and characters. Unsurprisingly, Henson's approach of using absurd humor instead of a straightforward pitch proved remarkably successful. According to a biography of Jim Henson, Kraml Dairy went from 23rd in sales among Chicago dairies to fifth, thanks to the Muppet ads.
Our viewer also asked if Kermit did commercials from WTTW, but we couldn't find any promos featuring Kermit. However, we did turn up this charming interview with Jim Henson and Kermit for the 1988 Ollie Awards, which recognized outstanding children's programming. Jim was recording a tribute to Burr Tillstrom, creator of the pioneering children's show "Kukla, Fran, and Ollie."
---
I was reminiscing about the great Marshall Field windows of yesteryear and got to wondering, what ever happened to all those displays? I would love to see them again.
–Beth Peters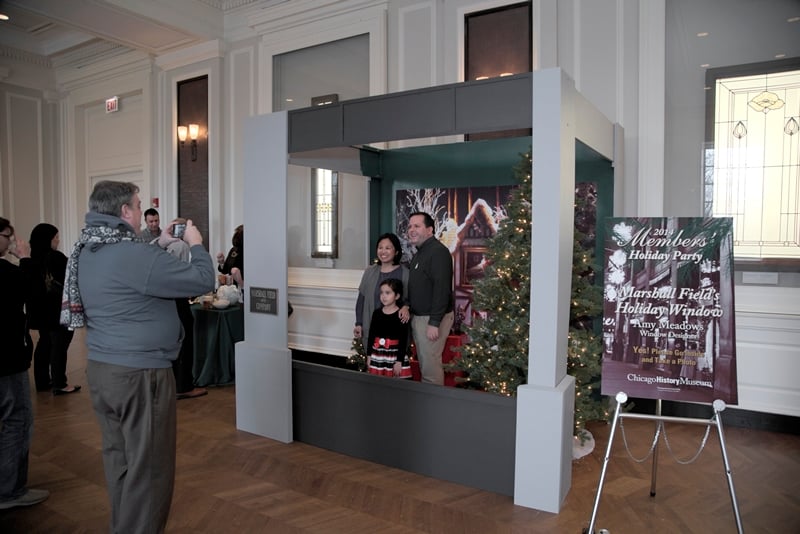 As Chicagoans know, our beloved Marshall Field's State Street store has been Macy's since 2006. Macy's does still decorate the building's display windows with holiday scenes for the season, but for many Chicagoans, today's window displays just aren't as magical as the Marshall Field's holiday windows of their youth.
The renowned department store's display staff worked year-round handcrafting the fanciful ornaments and props in time for the holiday season. According to Marshall Field's history enthusiasts Annette and Robert Ledermann and former Marshall Field's archivist Tony Jahn, most set pieces and props weren't built to last. (And there was no room to store them anyway.) The sturdier items were sold off each year in a prop sale.
About 20 of the character figures are now at the Chicago History Museum and are sometimes pulled out for member holiday parties, like in the photo below of Joy Bivins, Director of Curatorial Affairs at the Chicago History Museum. Other relics are now in private collections.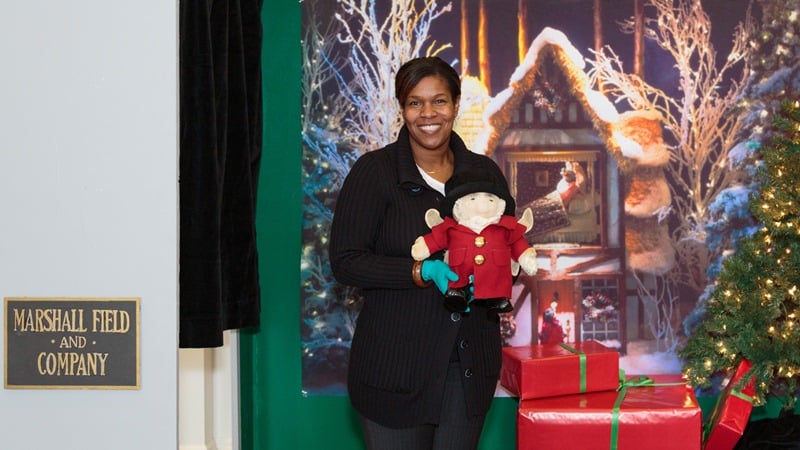 Joy Bivins, Chicago History Museum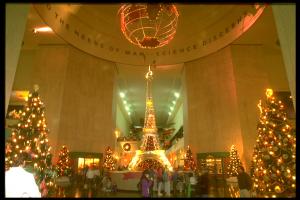 And, Marshall Field's donated four mock-ups of Christmas window displays throughout the years to the Museum of Science and Industry, which were displayed in the Great Hall in the 1989 exhibit pictured at right.  MSI still has some of the items from the mock-ups, including one of the Great Clock that today has a home in their "Eye Spy" exhibit.
The Field's Christmas window tradition began in 1897, when an employee named Arthur Frasier assembled elaborate displays of toys in the store's windows. Every hour employees would wind up the toys to make them move, luring passers-by to come in and shop. As the years went by Christmas decorations throughout the store grew more extravagant, including the famous tree in the Walnut Room, which was first put up in 1907.
The tradition of creating themed windows that told a story, often with animatronic characters, began in 1944 with "The Night Before Christmas." Later on, the window displays starred characters created for Marshall Field's named Uncle Mistletoe and his wife Aunt Holly, who were Santa's helpers. Soon they were joined by Freddie Fieldmouse, his wife Marsha and their growing family. Each year the display staff created a new story for their cast to act out in the windows.
When Dayton Hudson Corporation, later Target, bought Marshall Field's in 1991, the State Street displays shifted to classic stories like Cinderella as well as new stories like Harry Potter. Macy's took over in 2006 and the holiday display concepts now come from their New York headquarters.
This year, the Chicago windows made news when one window seemed to depict Manhattan, but with very recognizable Chicago buildings, like the Willis Tower and the Crain Communications Building (that diamond-topped building overlooking Millennium Park). A Macy's rep said this display was conceived in New York last year, and the Chicago visual team tweaked the buildings to tip their hats to Chicago architecture.
A special note: Before you get righteously indignant about New York stealing Chicago's ideas, it should be noted that the Macy's store in NYC has been decorating their windows for the holidays since the 1870s, well before Field's began the custom.
One more thing: In 2001, WTTW produced an episode of "Chicago Stories" about the evolution of the Marshall Field's windows. You can view it in its entirety below. And if that's still not enough holiday cheer from yesteryear for you, our research intern Beth Cantafio dug up this short movie from  1962 in which a boy gets lost in the wonder of downtown Chicago at Christmastime.
---
My wife and I came across a very unusual building east of Daley Plaza. It has no windows and no apparent door, but has a carving of a man over a center black space.  Do you have any insight into the history of this building?
–David France, Lombard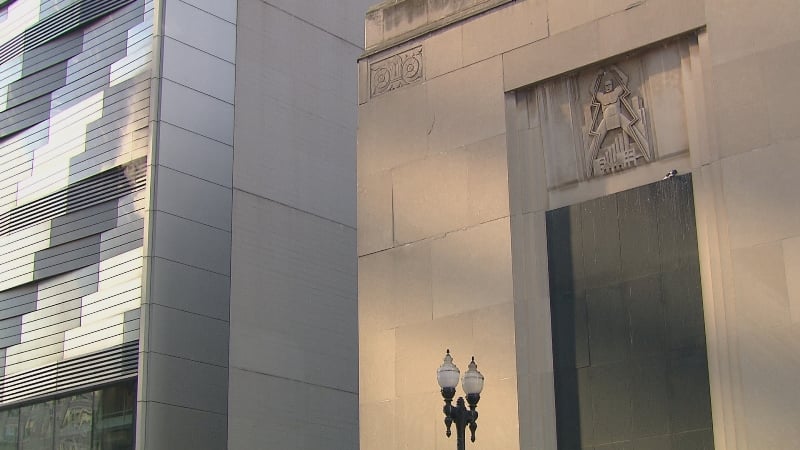 Our viewer is referring to a little building right across the street from the Picasso sculpture in Daley Plaza. The biggest clue to the building's purpose is this Art Deco carving of a man clasping thunderbolts in front of a city skyline. It was built in 1931 as a Commonwealth Edison substation.
Substations convert electrical current to levels that are usable by customers. So what starts out as 100,000 volts coming from the power plant gets stepped down to the 110 volts that power your coffee maker or higher voltage to run electric rail lines.
The Dearborn substation was designed by the legendary Chicago architects Holabird and Root and the carving, titled "Spirit of Electricity," was made by artist Sylvia Shaw Judson. Judson was the daughter of architect Howard Van Doren Shaw and is most famous for her sculpture "Bird Girl" which stands in front of Shaw's summer home Ragdale in Lake Forest and appeared on the cover of the novel "Midnight in the Garden of Good and Evil."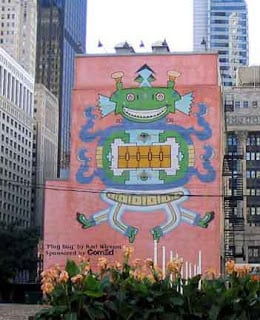 (Terence Faircloth, Atelier Teee, Inc.) The Dearborn substation stands on Block 37 and is so crucial to powering this part of the Loop that it couldn't be demolished when the rest of the block was bulldozed in 1989.
Many Chicagoans will remember a gigantic mural on the back of the substation that overlooked the otherwise vacant block. The mashup of electrical circuits and insect was created by the Chicago Imagist Karl Wirsum, who titled it "Plug Bug." Sadly (or happily, depending on your taste in art) the mural is now hidden by the 2005 construction of the Block 37 mall.
There are substations all over town. Some fully expose their inner workings, but in most cases today ComEd blends the substations into their surroundings. The 1987 one by another famous Chicago architect, Stanley Tigerman, looks like a classic Georgian mansion that's right at home in old Chicago – but a closer look reveals the windows aren't windows at all, but ventilation louvers.
On south Prairie Avenue, a Hermann Von Holst-designed substation supplies power to a nearby train line and features train-themed ornament. And another Von Holst-designed substation from 1916 on North Clark Street was remodeled into a mansion in 2009 by architect Michael Hershenson. It's currently on the market for $15 million.

More Ask Geoffrey: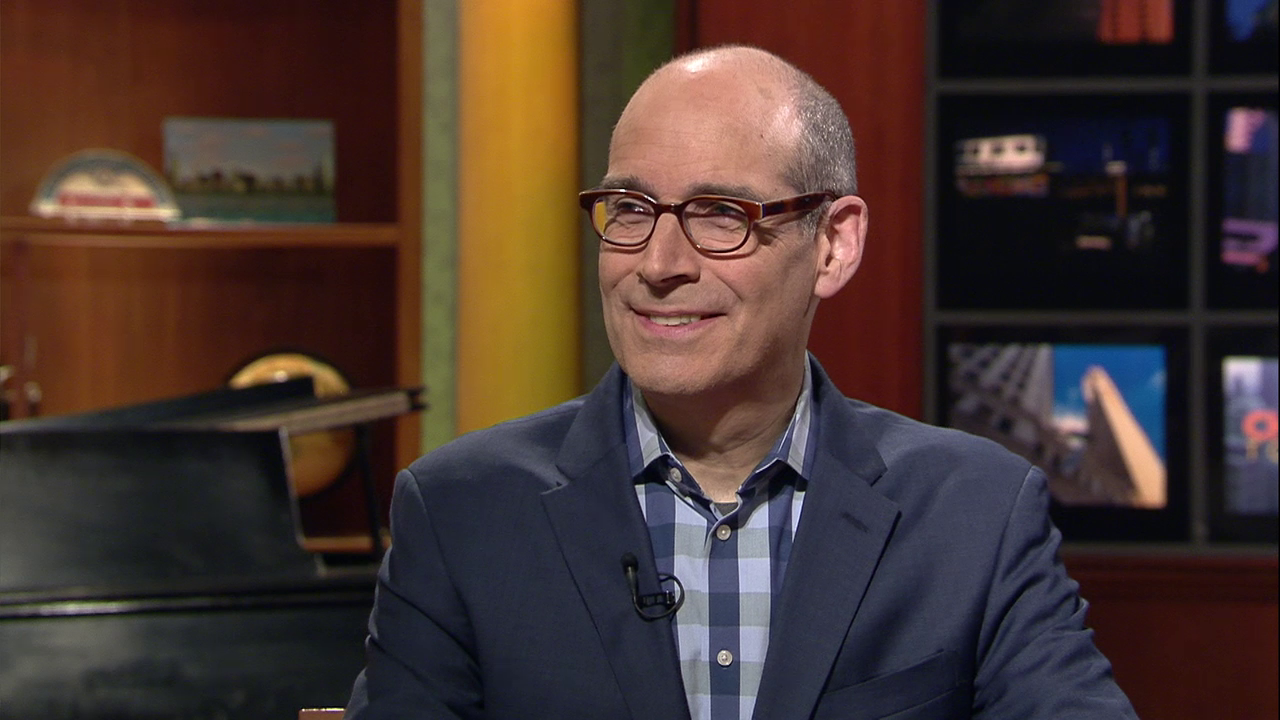 Did you know that you can dig through our Ask Geoffrey archives? Revisit your favorite episodes, discover new secrets about the city's past, and ask Geoffrey your own questions for possible exploration in upcoming episodes. Find it all right here.
Do you have a question for Geoffrey? Ask him.
---