Parents and teachers in Illinois are finally getting a look at test results from the controversial standardized test – known by its acronym, PARCC, which stands for Partnership for the Assessment of Readiness for College and Careers – that students took last spring. But these results aren't all that they'd been hoping for.
The Illinois State Superintendent of Education, Tony Smith, said the state is the first to release a complete set of state-level data. Eleven other states are members of the consortia. Ohio released data earlier this week, but third-grade students did not test in English/language arts.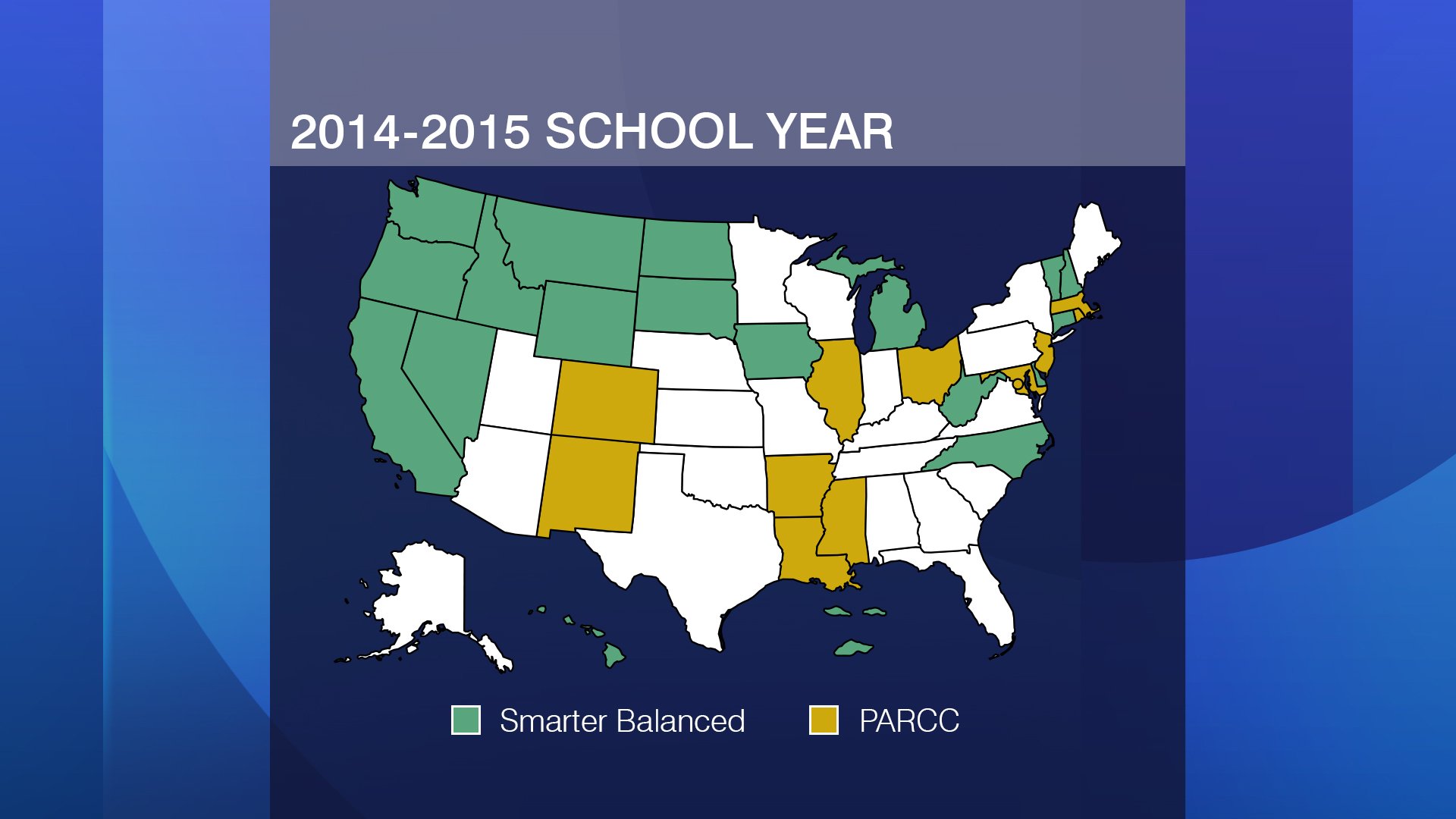 The preliminary, statewide results released today show how students in third through eighth grade, and some high-schoolers, performed in English and math. Smith told reporters these results only include students who took the online version of the PARCC test, not the paper-and-pencil version. He estimates about 75 percent of Illinois students took the online test.
According to the state, parents and schools may not find out how individual students, districts and schools preformed on the test until late October or November.
"We are going to learn a lot from this assessment: where we need to provide additional support for kids, where we do a great job teaching new content. We've got a lot to build on," Smith said during a call Tuesday with reporters. "I think we'll have evidence to take action on as result of getting this information."
When teachers and parents do receive individual students' scores, it's going to look a bit different than previous years' scores. Parents will see a scale of one to five. Within that scale are what are called "cut" scores, the thresholds at which a student falls into one category or another. A five being the highest score means a student exceeded expectations – a one means the student did not, and several levels of achievement in between.
Levels four and five are considered college and career ready, since PARCC stands for Partnership for the Assessment of College and Career Readiness.
Click here to see the PARCC performance level descriptions.
Today, the state says the PARCC sets new goals, so lower proficiency scores don't necessarily mean that schools are performing worse, it's just a reflection of how assessments are asking kids to meet higher standards.
For example, looking at fifth-grade math results, statewide, reveals that only 3 percent of students exceeded expectations, 24 percent met expectations, and 31 percent approached. Twenty-nine percent partially met expectations, and 13 percent did not meet them at all.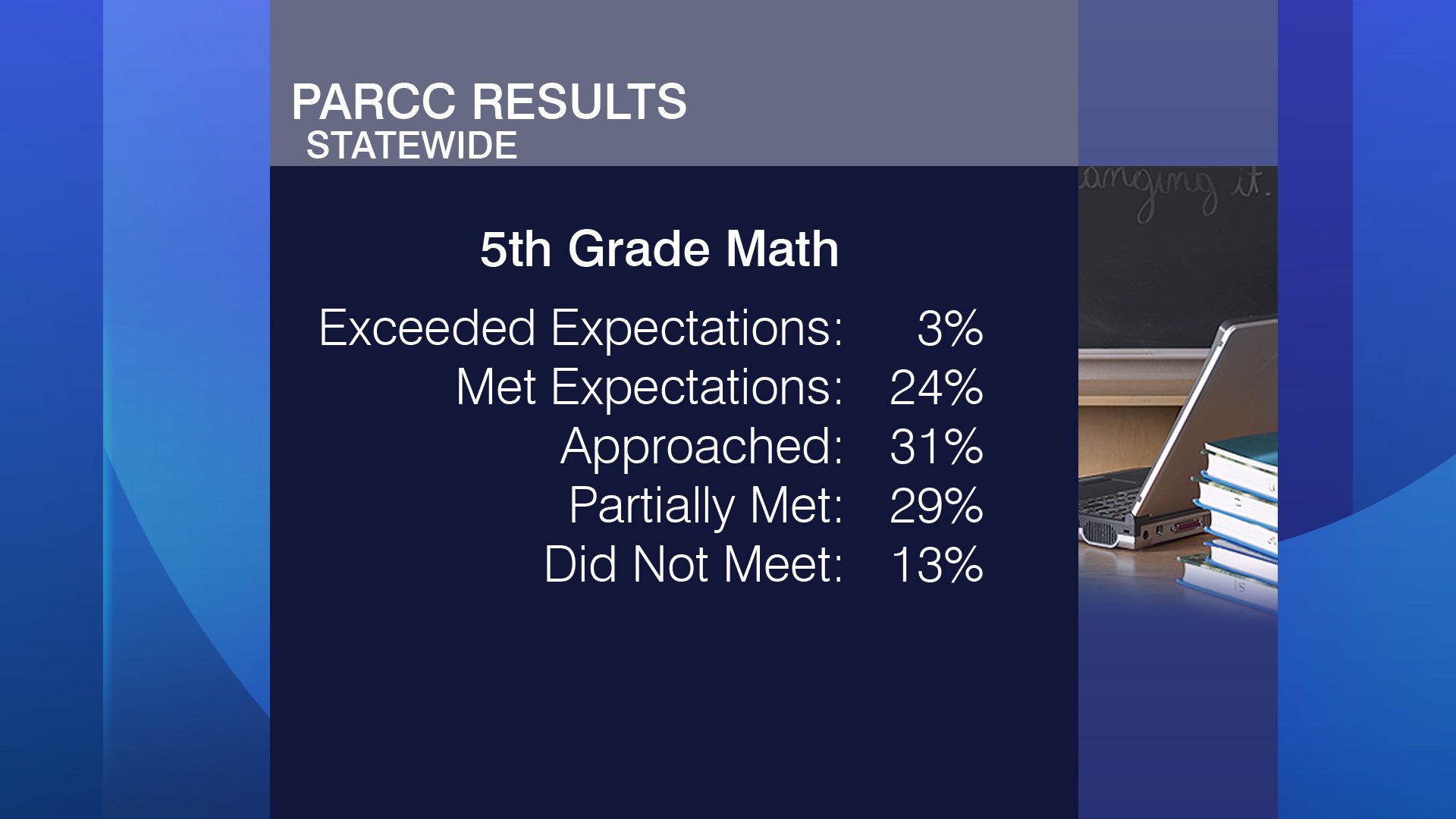 The state says these scores are intended to be a baseline for future test scores.
Chris Minnich, executive director of the Council of Chief State School Officers, warns against comparing this test to previous standardized exams.
"This year is a new baseline for students. And the test is different. We are asking more out of our kids, and I think that's a good thing," he said on a webinar with reporters. "At the same time, that represents a new baseline and we should use caution when making comparisons to previous years assessments."
Smith agreed that these results shouldn't be compared to previous years' ISAT results.
"The difficulty is that it's a different test," he said. "I think we should use this new assessment as a new starting point for conversations about progress and what kids need to be ready for the next level and what's coming in the future. Comparison to past or other tests—I don't think is a wise use of time."
Smith added that he's been extremely frustrated with the delay in receiving results from the test's maker, Pearson Education.
"We've been pushing as hard as we possibly can…I feel like it's pretty unacceptable that we don't have more data now and that it's not already a unified data set. And we don't have samples for teachers to understand exactly what the performance levels are. So, we have a long way to go. All I can say is, I want it to be as fast as possible."
Chicago Tonight received this statement from Pearson Education spokeswoman Laura Howe:
Pearson and the states are committed to executing a thorough scoring process that will ensure the integrity and validity of the PARCC results and provide valuable feedback for students, parents and educators.

It is important to understand that the PARCC consortium agreed to the reporting schedule for all results. Pearson has met all timelines and deliverables regarding the scoring and reporting of PARCC results, as agreed to by the consortium.

Currently, states have received early, partial data from students who took the tests online. Pearson is on track to meet the agreed upon deadlines for delivering the entirety of the data.
Paul Zavitkovsky, an assessment specialist at UIC's College of Education, says the PARCC results are valuable because they'll provide a much deeper understanding of how kids are learning.
But the exam has been controversial because of the criticism it's received from teachers and parents.
The technology gap was one of the concerns then-Chicago Public Schools CEO Barbara Byrd-Bennett expressed when resisting administering the test to CPS students. The district eventually relented, under the threat of the state and federal governments withholding funding if a certain percentage of students did not take the test. A movement of parents and advocates critical of the PARCC test encouraged parents to opt their students out. Teachers also expressed that the length of time needed to administer the tests undercut teaching and learning time.
We spoke with one of the PARCC's most well-known critics: the president of the Chicago Teachers Union, Karen Lewis.
And on one point, she agrees with state superintendent Tony Lewis – it is far too late for these results to be rolling in.
By now, students who took the test have moved onto a new grade or a new course, so the results are useless, in her opinion, because it's too late to help students work on the subjects where they had problems. Overall, she thinks the PARCC scores tell us nothing that teachers don't already know about how students are learning – and that they're a waste of time and especially money.
Also of note: This year is a no accountability year for PARCC, meaning there'll be no consequences for schools or students. 
---
Parents' advocacy organization Raise Your Hand (RYH) on Wednesday issued this statement about the just-released scores:
Today the Illinois State Board of Education (ISBE) released preliminary PARCC results that purport that less than 30% of students in Illinois are meeting expectations in English and math. While ISBE has been attempting to manage public response by saying no one should be shamed by this, many will still claim that this shows that the majority of our schools, teachers and students are failing.

RYH firmly rejects this assertion and maintains that PARCC is an illegitimate measure of student achievement and, worse yet, a blatant waste of scarce resources in a state that ranks at the bottom of the nation for state funding of public education and near the top for inequity across rich vs poor school districts.
The Illinois Education Association President Cinda Klickna issued the following statement Wednesday on the PARCC results:
The results of the Partnership for Assessment of Readiness for College and Careers (PARCC) tests are neither a surprise nor a cause for alarm. PARCC is a new test, based on new standards. These results cannot be compared with the tests PARCC replaced, as they are quite different from each other. These results provide a kind of baseline. However, since the test is being revamped, it's unclear how useful this year's test and results will be.

We agree with Superintendent Tony Smith that "the results shouldn't be used to shame teachers or schools." The new standards remain in place and we expect to see improvement in the years to come as the new test is refined and teachers become more familiar with the new standards.
---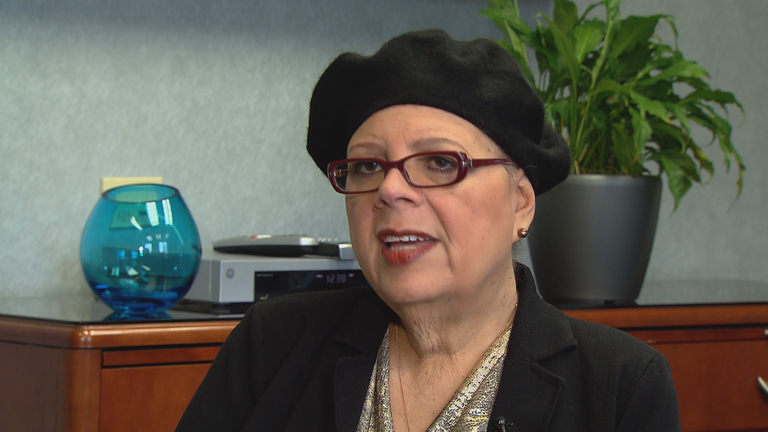 In March, CTU President Karen Lewis told Chicago Tonight's Brandis Friedman that PARCC is just a bad test. "I think that the problem is that the PARCC test is a really bad test," she said. "I mean, if anybody's gone online and taken any of the practice sample tests, they'll see, one: it's confusing. I mean, you're asking kids to do a lot of dragging and dropping, and scrolling this way and scrolling that way. I mean, they're all things that affect 'results,' which PARCC hasn't, you know, been honest about, been straightforward about."
---
More PARCC coverage from Chicago Tonight
• Jan. 21: Teachers, parents, and administrators have been debating whether schools should start implementing the PARCC standardized test, designed to align with the new Common Core standards.
• Feb. 2: The federal government is warning CPS against sanctions for its decision to administer the controversial PARCC test to 10 percent of students.
• March 2: CPS CEO Barbara Byrd-Bennett announces that the district will, in fact, administer the PARCC test to all required grades, rather than 10 percent of schools as previously planned.
• March 10: As schools across the state begin to administer the PARCC test to students, parents and legislators are pushing a movement and legislation to allow parents to let their children opt out of the test.