The Iran Nuclear Deal: To its proponents it's a comprehensive agreement that will keep Iran from acquiring nuclear weapons, to its detractors it's a naive and flawed deal that undermines the United States' closest ally in the region.
The Israeli Prime Minister has called the Iran deal "an existential threat to Israel." Yesterday, a poll that was published in an Israeli newspaper had 73 percent of Israeli Jews agreeing with that statement. What makes this deal so troubling?
"We have been promised for a long time that no deal is better than a bad deal," said Israeli Consul General Roey Gilad. "We feel a bit betrayed. We believe that this is a bad deal. It is bad mainly because we believe that the administration – most of the way – were adamant about completely preventing Iran [from] acquiring a nuclear military ability. At a certain point, they switched and they moved into containment. We believe that containment is not good – that is to say, pushing the ball 15 years down the road – this is in case Iran will not cheat. If Iran will cheat, it might happen before. In 10-15 years, we are going to have the same problem, maybe even bigger.
"If indeed there will be significant political change in Iran and the mullahs will be gone, that will be great, but we do not base our strategy on wishful thinking."
"I understand the Consul General's position," said John Allen Williams, Loyola University professor of political science and national security specialist. "I think this is the best deal that we're going to get. It is not perfect. I wondered oftentimes whether the president was unwilling to leave the negotiations and maybe his position was weakened, because he wanted a deal very badly. I don't know. But it is not a bad deal, in many ways, and it's certainly the only thing on the table at the time.
"What we have is a situation where the only way to stop Iran would be a military front breaking out. This is not an insignificant consideration. The alternative would be some military operation either by Israel or the United States – or some combination – but none of the military people I know regard this as really a viable option, and I'm not sure the American people are ready for that, either. We've had quite enough war in the Middle East."
Watch the video to hear our full conversation with Gilad and Williams.
---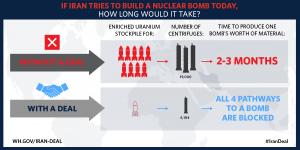 Click for a larger image. In July, a landmark deal was reached between world powers and Iran after 20 months of negotiations. The deal curbs Iran's nuclear program in exchange for the easing of economic sanctions.
The deal reduces Iran's stockpiles of enriched uranium. Currently, Iran has two uranium enrichment facilities: Natanz and Fordow. According to the U.S. government, Iran has a uranium stockpile that could create eight to 10 nuclear bombs. Under the nuclear deal, Iran must reduce its stockpile by 98 percent and will keep its level of uranium enrichment at 3.67 percent– a level significantly below what is needed to create a nuclear bomb.
Under the agreement, Iran will also have to reduce its number of centrifuges by two-thirds for the next 10 years. Of the nearly 20,000 operating centrifuges, only 6,104 will be allowed to remain active. In addition, no uranium enrichment will be allowed at the Fordow facility.
The landmark deal also prevents Iran from producing weapons-grade plutonium, which is another chemical element that could be used to build a nuclear bomb. Click here for more about the deal.
On Aug. 4, U.S. Rep. Luis Gutiérrez (D-IL 4th district) and U.S. Rep. Randy Hultgren (R-IL 14th district) discussed the Iran Nuclear Deal on Chicago Tonight. Listen to their positions in the video below.
---
On Sept. 4, U.S. Congressman Bill Foster (D-IL 11th district) and U.S. Congressman Peter Roskam (R-IL 6th district) voiced their opinions on the Iran Nuclear Deal. Watch the video below.
---
Since their appearances on Chicago Tonight both Foster and Roskam have issued statements about the deal.
On Sept. 8, Foster announced his support for the deal, stating in part: 
"I am here today to add my name to that list of 29 scientists and engineers who have endorsed the deal and the growing number of members of Congress who will be voting in favor of it.

I would like to begin by echoing the sentiments of Sam Nunn and Richard Lugar in stating that no arms control deal is ever perfect, and that our overriding objective must be to prevent Iran from obtaining a nuclear weapon.

But after carefully weighing all the options and possible outcomes, I do believe that voting for this deal will make it less likely that Iran will develop nuclear weapons.

And voting against this deal, with no better options in sight, makes the potential for Iran to develop a nuclear weapon more likely.

My support for this agreement is determined not by trust, but by science."
Roskam denounced the deal again on Sept. 9 in a statement claiming not all of the information regarding the deal has been delivered to Congress:
"President Obama broke the law when he refused to turn over the Iran-IAEA side agreements as explicitly required by the law he himself signed. Even the White House has agreed that Congress deserves the chance to fully review this hugely consequential nuclear accord with a very dangerous foreign power. Access to crucial details about how and where international inspectors can review Iran's nuclear program are at the heart of ensuring their compliance. Without a chance to read the secret deals, I will vote no, and I urge any thoughtful Member to do the same."