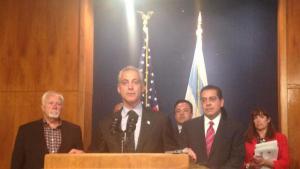 A total of 1,400 layoff notices are going out today as Chicago Public Schools announces it will cut $200 million from its beleaguered budget. Mayor Rahm Emanuel calls the situation "intolerable, unacceptable and unconscionable." Still, the mayor says he and School Board President Jesse Ruiz were forced into the move because of Tuesday's mandatory $634 million pension payment. That payment was paid in full to the Chicago Teachers' Pension Fund on Tuesday and was financed through borrowing. The school district is also asking to be allowed to pay next year's pension costs over an 18-month period to lower costs and buy time for a more permanent solution.
On Wednesday, the mayor outlined two possible "comprehensive" funding solutions. The first involved convincing state lawmakers to have the state assume the entirety of the Chicago teacher pension funds and consolidate it into one statewide fund for all school districts. Recognizing the politically implausibility of such a move, the mayor also offered another solution that would require sacrifice from all parties involved. The proposal asks the state to pick up the "normal" Chicago teacher pension costs, which amount to roughly $200 million per year. A bill sponsored by Senate President John Cullerton that was approved by a Senate committee today does just that, in exchange for a statewide freeze in property taxes, a redo of the state's education funding formula, and an understanding that CPS would eventually lose out on other funding grants.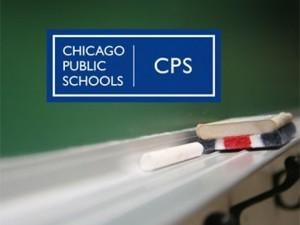 The mayor said he was "all in" on this bill, if it is indeed the best vehicle to provide more funding equity. The mayor's proposal would also call for a possible new property tax levy that could be worth $175 million that would solely pay teacher pensions. In exchange, teachers would be asked to forgo the "pension pickup" they currently enjoy, where 7 percent of their 9 percent teacher pension contribution is covered by taxpayers.
CPS Chief Operating Officer Ginger Ostro said teachers would be minimally impacted by today's cuts and layoffs. Instead, the plan would reduce $17 million from network offices, $11.6 million for professional development for turnaround schools, $16 million from startup funding for new charter schools, and $9.2 million by delaying the start of the school day for all schools by 45 minutes.
---
The Chicago Teachers' Pension Fund sent the following communication about a proposed pension payment plan by CPS to its members:
This morning the Chicago Teachers' Pension Fund (CTPF) Board of Trustees met in a special meeting where representatives of the Chicago Public Schools (CPS) presented a proposal to create a short-term employer payment plan. At the meeting, CPS Interim Chief Executive Officer Jesse Ruiz, Chief Administrative Officer Tim Cawley, and the City of Chicago's Chief Financial Officer Carole Brown outlined a proposal which would not reduce pension funding, but would help CPS close a $500 million budget gap for 2016.

Under the terms of the proposal, CPS would discontinue its practice of making a single annual pension payment on the last business day of the year and would instead make monthly payments to CTPF, beginning in January 2016 and continuing for the next 10 years.

This new funding schedule would defer approximately $500 million of the FY 2016 payment into the FY 2017 fiscal year. The proposal requires CPS to pay interest at 7.75% on the deferred amount and requires $750 million in collateral to secure the agreement.

Following a period of discussion and debate, the board voted to communicate its general support for the proposal, and authorized a subcommittee of the Board of Trustees to continue negotiations and discussions with CPS. The subcommittee is expected to meet in July and will make a recommendation to the full board later this month.

"We were encouraged to see representatives of CPS at our meeting this morning and appreciate the opportunity to openly discuss payment security for the Fund," said CTPF Board of Trustees President Jay C. Rehak. "While we still have concerns about this proposal, we look forward to working through these issues so that our members' interests are protected and our Fund receives all the revenue necessary to meet the pension commitments made by CPS."

"Under the current statute, CTPF receives revenue once a year, on the last business day," said CTPF Executive Director Charles A. Burbridge. "This proposal revises the payment schedule, but ensures that we have a monthly revenue stream and provides security and interest on a deferred amount, which is reassuring for our members."

The subcommittee is expected to make a recommendation in advance of the full board meeting on July 16, 2015.
Wednesday afternoon, the mayor's office released the following statement about Emanuel's plan to address the CPS budget crisis.
Mayor Rahm Emanuel today laid out a comprehensive plan to address the budget crisis at Chicago Public Schools as they are facing a $1.1 billion budget deficit in the next fiscal year.

The mayor asked Springfield to partner with the city to solve the problem. Without intervention from lawmakers or the Chicago Teachers' Pension Fund Board, hundreds of millions of dollars in additional cuts will need to be made at CPS.

"It is my hope then when Springfield sees the implication of these cuts, it will be a wake-up call to them to get off their duffs, right decades worth of political wrongs and finally fix education funding once and for all," Mayor Rahm Emanuel said. "These cuts would not be necessary if Springfield was doing its job." 

Mayor Emanuel's Plan

Option A: Uniform Approach

Create one uniform pension system for all teachers and all taxpayers in the state that treats all teachers and taxpayers in the state exactly the same. 

Option B: "All In" Approach 

The State picking up normal pension costs for CPS.
Restoring the CPS pension levy to pre-1995 rate of .26. 
CPS employees, including teachers, contribute the full 9 percent to cover pension costs.
The State increasing education funding by 25 percent. 
Pension contributions by other school districts throughout the state.

Read the full text of the mayor's remarks as prepared for delivery.