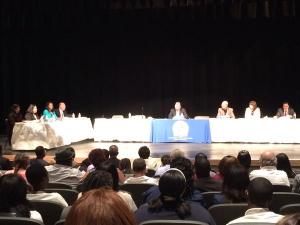 In light of a recent report by Ernst and Young regarding the school district's dire finances, the hotly debated issue is expected to be front and center at the last board meeting of the fiscal year. This meeting, to be held at Gwendolyn Brooks College Prep High School in Pullman, will serve as the last for four board members who are being replaced by new appointments. New members will be introduced.
Prior to Wednesday's meeting, CPS released a fact sheet outlining its budget and long-term solution. 
The grassroots coalition of Raise Your Hand for Illinois Public Education released its own proposed solutions to the CPS budget crisi.
This meeting falls the day after state legislators in Springfield failed to pass a measure allowing the district to delay a substantial payment to the teacher pension fund.
On Wednesday, Gov. Bruce Rauner signed House Bill 3763 to make appropriations for General State Aid, Early Childhood Education, Bilingual Education, and the Teacher's Retirement System. The bill takes effect on July 1.
Read a statement by the governor's office:
Governor Rauner has always made clear that improving education is his highest priority. While the legislature's bill does not increase education spending by as much as the governor's proposal, it does increase K-12 education spending by $244 million and early childhood education funding by $25 million.

"Education is the most important thing we do as a community. I would have done more for our schoolchildren, but I am taking action today to ensure our teachers are paid and our schools are open and funded," Governor Rauner said. "I refuse to allow Speaker Madigan and the legislators he controls to hold our schools hostage as part of their plan to protect the political class and force a tax hike on the middle class without real reform."

As part of his budget plan, the governor proposed increasing K-12 education by $312 million and early childhood by $32 million.