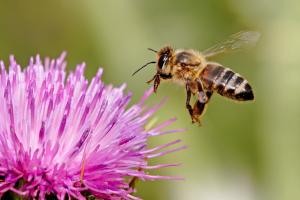 It was a vague curiosity that led the executive chef at the Marriot on the Magnificent Mile to ask his boss to allow bees on the hotel's roof. That was four years ago.
Today, Myk Banas is in charge of three busy hives totaling 350,000 Italian five-striped honey bees. And with that comes an abundant supply of honey.
"As a chef, you learn to cook with honey. You spend a lot of time with honey," Banas said, as he gave me a tour of the hives, the backdrop of Michigan Avenue behind him. "[But] you probably don't give much thought to how the honey gets in the little jar at the hotel or restaurant."
For Banas, the project is low-stress. Honeybees, he says, are much more peaceful and gentle than their reputation suggests. There are rare exceptions – for instance, if you walk directly into their path, confusing their sense of direction, or encounter them in bad weather. But for the most part, Banas says the bees give to the hotel more than they take.
He uses their honey in more than 100 menu items at the hotel: granola, lemonade, shortbread cookies, and – this season – a buttermilk fried chicken and strawberry salad topped with honey vinaigrette. The honey also goes in the hotel's own wildly popular in-house draft of wheat ale, which sells over 100 kegs a year.
One notch up from the Marriot's operation is the Peggy Notebaert Nature Museum in Lincoln Park, which has a dozen hives on its 15,000 square-foot green roof.
Karen Wilson is the museum's invertebrate specialist or, in her own words, "bug lady." Beekeeping, she says, makes perfect sense for a museum that considers itself Chicago's gateway to nature. It's also something small the museum can do to support honeybee populations, which has seen a huge decline in the last decade. That decline has been particularly hard for those in the bee business.
"With the decline in commercial beekeepers – who are able to make their living by doing this – the neighborhood beekeepers are really having to fill some of that gap." Wilson said. "This is part of that."
The museum collects surplus honey from the hives to sell in the gift shop. Each harvest has a unique taste, depending on where the bees have gone to pollinate. Last year's honey, for instance, tasted a lot like the mint planted nearby.
But Wilson says this summer's drought has made it hard for the bees to find nectar, fueling further concerns about population drop.
"There's been a lot of speculation about why and what's going on," she said. "We don't actually have the full answer yet."
Research suggests several possibilities. For one, bees these days are less genetically diverse and thus more vulnerable to disease. There are fewer flowers to pollinate because of land development. And extreme weather may also play a role.
Homeowners who use pesticide in their yards may also pose a threat. This year, a study in the journal Science found that even low pesticide levels can significantly affect bee colonies. French researchers found the chemicals fog honeybee brains, making it hard for them to find their way home.
The nature museum's bees travel up to five miles to pollinate – meaning their survival is intimately linked to the decisions gardeners make across Lincoln Park.
"We really do have a role to play," Wilson said. "It's not just the agricultural crop producers. It's also us and what we put in our yards."
Helen Cameron co-owns the Edgewater restaurant Uncommon Ground, recently ranked the greenest restaurant in America by the Green Restaurant Association. It's had rooftop bees for five years now, though the hives have not been immune to the extreme weather of the past few years. For instance, the freezing winter of 2010 cost the restaurant all its bees.
"They basically froze to death," Cameron said. "They're creatures that we love and care for. To have that kind of a loss was a big deal."
This winter, the pendulum swung the opposite direction, with unseasonable warmth that led to an early harvest. Uncommon Ground is now using this honey in desserts, cheese plates and breakfast dishes.
Dave Snyder is the restaurant's farm director, a job that gets him stung about four, five times a year. Snyder says Chicago's rooftop bee scene is thriving, in part, because beekeeping requires little effort. Hives need a little more care than a cat, a little less care than a dog, he says. Snyder also credits the city for imposing only a few rules. To manage their own bee hives, residents and business owners just have to register with the Illinois Department of Agriculture.
"Because it's legal in Chicago, because there's not a whole lot of red tape, there are very few barriers to entry," Snyder said.
For Snyder, urban beekeeping is also a matter of taste.
"Urban honey is, more often than not, better than rural honey because of the diversity of plants bees are pulling from," he said.
Cameron hopes her roof sends a message: that bees are a vital part of any sustainable food system, and need to be protected. (Ironically, Cameron recently discovered a bee allergy that makes her arm swell up to Popeye proportions, forcing her to stay away from her own rooftop bees.)
"We need to cherish them and care for them, and help them succeed," the owner said. "They're really going through a tough time. The more awareness we raise about that, the better for good food."
For Wilson, rooftop hives seem like the best way to teach the urban public that bees do much more than produce honey; that through pollination, they sustain an entire ecosystem of plants, trees, fruits and vegetables. She notes that one-third of the food humans consume is only possible because of the pollination services that insects provide.
"It will forever change the way we eat were we to lose the pollinators," she said.