For some students, getting a hands-on lesson happens rarely in science class and even less in math class.
But teachers at one Chicago public elementary school have combined their math and science classes, to teach students to build not only solar-powered cars, but also homeless shelters.
"On your marks, get set, and go!" Vivian Suen said.
In the first race, the SPARK car takes the lead.
"It's called the SPARK. It's an acronym, like the S-P-A-R-K for the Solar Powered Auto Rover Kinetic," said Haines Elementary School student Ada Zhao.
These eighth-graders at Haines Elementary in Chinatown designed and built these solar-powered cars themselves.
Today is race day to see which team's car is the fastest.
"I hope it goes well because sometimes when the car gets bumped too much, the wheel alignment gets off and starts swerving off the road. And then when it unhooks, we get disqualified," Zhao said.
Ada Zhao is one of three students on Team SPARK.
"We used the thicker wheels in the back because I feel like it would be better to push the skinnier wheels forward since the motor is in the back, too. So it's not dragging that weight," she said.
Math teacher Vivian Suen and science teacher Christine Mason combined their classes for the solar panel car project to teach students the Next Generation Science Standards—the scientific equivalent of the Common Core Standards.
"They've researched different aspects of what could affect the performance of the car: such as mass, aerodynamics, wheel alignment, and kind of perfected all of those aspects to come up with their design for today," said Christine Mason.
Not only are they learning standards, like how to ask questions and define problems or develop models and put them to use, but educators also say they're picking up 21st century skills, like collaborating with others and defending ideas.
"Opposed to the kind of reading and writing about these ideas and then having a test at the end, they're really coming up with the ideas themselves and having a product that they complete at the end. And so, I think, it's more memorable, so the long-term effect of their learning [is] they're going to know these concepts better over time," Mason said.
Even the students agree they learn more by doing than just reading.
"So the way we set it up is because when we did our group work with our miniature solar panel cars, the car that was faced this way went faster instead of it being like this car going this way. So we built it like that, but we have adjustable straws so that way we can adjust the solar panels [based] on the way the sun is positioned," said Haines student Kayla Shannon.
"And I learned how to use different materials and how to be more prepared for what's gonna happen," said Joshua Yon. "You need to be prepared for if your car all of a sudden breaks down you need to know how to fix it."
Teachers say they've gotten a lot of help from technology.
Each student in this class has a Chromebook computer, allowing them to share documents and collaborate even when they're not at school.
"It's been really amazing to see how the kids have truly blossomed through this. We see the quiet ones really taking initiative, and we see how they've kind of taken this project forward and made it their own," said math teacher Vivian Suen. "And the engagement level is just really amazing to see. I think the technology really helped them do that. It gave them a voice in a way, even if they were shy."
And this project-based learning comes with a lesson in social studies as well.
"Pretty soon I feel like we might run out of oil and fossil fuels if we keep going at this rate, and a lot of our technology already runs on burning those fossil fuels," Zhao said. "So the sooner we try to harness the solar power, the better."
And last semester, students were charged with building portable homeless shelters for less than $10.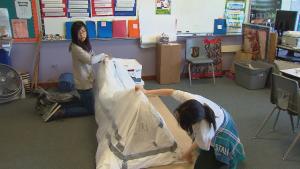 Kelly Jiang's shelter won the class award for best design.
"Before this project we didn't really think about the problem. We're kids, we're teens. We're not really concerned about other people," she said. "And we learned a lot more, like don't judge."
Haines Principal Ginger Lumpkin explains much of this process has been made possible by two education grants from the Chicago Public Education Fund.
Haines and its teachers have been able to identify learning problems and turn them into learning opportunities.
"Many of our students come from communities where rote learning was the standard. So, what a lift it was to be able to see our students go from just receiving information to really truly being participants in their learning," Lumpkin said.
In Ada Zhao's case, she's learned that she and Team SPARK built the fastest car in the class.
"I prefer this rather than just sitting in class and reading out of a book," Zhao said. "Because this way, I'll probably remember more information."
The three fastest solar panel cars at Haines raced against cars from other schools in a competition held at the Nature Museum this month.
The SPARK came in second out of 36 cars total. Another team from Haines, racing the Low Rider, came in fourth.