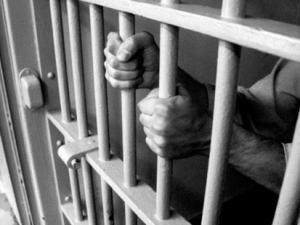 Good and bad news for Cook County's troubled jail system. On the good side, the inmate population in the chronically over-crowded jail is purported to be at its lowest level in more than 20 years. The bad, inmates are still overwhelmingly black and Latino and many suffer from mental illness. The changing landscape of the criminal justice system comes amid some political hardball at the county level.
County officials announced that the jail population is down to 7,800 inmates today. At its peak of nearly 11,000 a few years ago, beds were set up in gyms and cafeterias.
It could rise some as crime tends to go up when warmer weather comes in. The vast majority of inmates in the county jail are there awaiting trial. Four top county officials spoke before the City Club today, and all have varying reasons for the drop. County Board President Toni Preckwinkle cites the use of electronic home monitoring for non-violent offenders. It's soared to 2,300. Cook County State's Attorney Anita Alvarez credits her office for diverting more people from jail into various treatment programs.
"I have to believe that our diversion programs, what we've been working on these past years, are truly contributing to that," Alvarez said.
The county's chief Judge Tim Evans said new scientific tools have helped judges issue bail amounts that people can afford – unlike the past, where bond was set way out of reach.
"No one should be in jail just because they can't afford a bail. They should only be in jail in case they are a danger to society and themselves, or if they have a history of not showing up in court," Evans said about a new system he's in the process of implementing. "That's the new approach. It's an assessment approach that is based upon science, not the ability to pay."
But nobody is declaring that the ills of the county's criminal justice system have been fixed. In fact, Preckwinkle and Cook County Sheriff Tom Dart still call it a "crisis." A few reasons are cited: Dart says most inmates are mentally ill and need treatment – not jail. Dart and Preckwinkle also agree that the vast majority of inmates are there for penny ante crimes and don't pose a threat to society – and an even larger majority are African-American and Hispanic.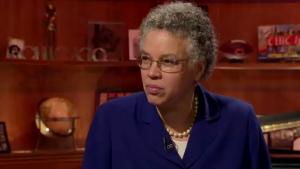 "This system disproportionately impacts people of color," Preckwinkle said. "They end up in our criminal justice system for things young white people do not get arrested for."
"I have 250 people whose most serious offense is retail theft. The average length of stay for those people is 112 days. That's insane," Dart said. "This is not a system that's working properly."
And despite this progress, a political fight is brewing. Alvarez has received criticism for a failed prosecution of Chicago cop Dante Servin – who shot and killed a young bystander. She says today that she will run for re-election next year, but Preckwinkle acknowledged she is preparing to put her own chief of staff, Kimberly Foxx, up for the job to take Alvarez down.  Preckwinkle said Alvarez wasn't the reason that the jail population had gone down, and instead credited Judge Evans for the improved bond court process.
Alvarez said she won't back down from a fight.
"If anyone wants to take me on, I'll be ready," Alvarez said. "We've done some tremendous things. We've made some great strides in the state's attorney's office."
When asked about Preckwinkle's involvement, Alvarez responded swiftly.
"Unless she plans to run Hillary Clinton against me, I think I'll be OK."