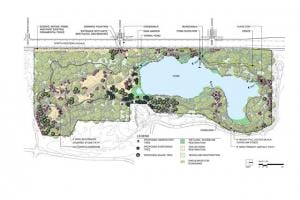 In 2011, the Chicago Park District bought 20 acres of land from Rosehill Cemetery on the city's north side for nearly $8 million. It was the district's biggest land purchase in decades. The plot of land near one of Chicago's busiest traffic intersections had sat unused and untended for many years. The result was a parcel chock full of invasive tree species, a stagnant pond, and poor drainage that often led to flooding of adjacent Western Avenue. But what some saw as a dead zone that was prime for development, the Park District saw as an opportunity to create a new nature preserve to allow visitors to commune with many plants and animals that call the area home. Nearly four years later, work on the nature preserve is moving quickly with a scheduled unveiling set for this summer. We get a look at what's become of the 20 acres after the removal of hundreds of dead and invasive trees, and as hundreds more are being planted while nature trails take shape and the pond has been given new life where turtles, ducks, herons, and other wildlife can thrive.
View a slideshow of the 20-acre West Ridge Nature Preserve.
---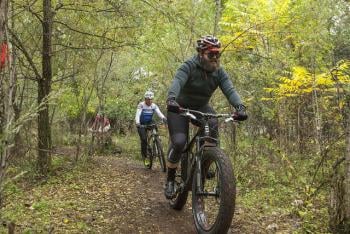 When the last steel factories closed their doors in South Deering three decades ago, they took 10,000 jobs and left a trashed landscape eight feet deep in molten residue known as slag.
At the heart of the once bustling industrial neighborhood on the southeast side, a slag field known as Big Marsh will soon be transform into a 278-acre park at 110th Street and Stony Island Avenue.  The first phase of development—roughly 45 acres of trails, facilities, habitat restoration, and a bike park that's the centerpiece of Big Marsh—is slated to be completed in the fall of 2016, said Park District spokesperson Jessica Maxey-Faulkner via e-mail.
 "The eco-recreation elements will be located primarily on existing slag fields where plants have a hard time growing and good habitat creation is unlikely," said Maxey-Faulkner. "The other park acreage will be reserved for more passive recreation including bird-watching and nature walking. All acreage will be developed to protect or further enhance the overall natural habitat of the park property including sensitivity to flora, fauna, and wetlands."
The $5.5 million bike park, the first of its kind in the Midwest, will feature trails and courses for cyclists of all sizes, skills, and disciplines, according to a 2014 press release.
"This bike park is really going to start the whole process of using the site as a catalyst to encourage people to be in nature," said Park District manager Zhanna Yermakov.
Big Marsh, projected to cost $30 million total, is part of the district's Calumet vision: 3,900 acres of wetlands, forests, and prairies on the southeast side of Chicago.
It's "an area of the city with a long history of environmental abuse and neglect [that] holds the last of the city's last wide open spaces," the Friends of Big Marsh said in a video.
"We call the Calumet area Chicago's last frontier.  In these park sites, we have amazing new opportunities, and also a lot of work to do," said Maxey-Faulkner.
At Big Marsh, work has already begun on-site with the removal invasive species like buckhorn and phragmites. Grant-funded restoration like cleaning up trash, fixing drainage issues, and reintroducing native plants will begin this fall. To preserve the rehabilitated landscape, carefully placed trails and signs will keep feet and bike tires away from sensitive areas.
 "We want to make sure people and nature have a place in Chicago," said Maxey-Faulkner.