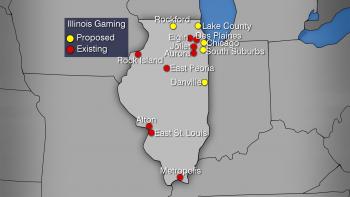 New hearings on a possible Chicago casino are underway today. Is the mayor's wish for a casino to fund pensions finally close to coming true? Paris Schutz has the latest.
Today's hearing is the first of two scheduled hearings on expanding casino gaming in Illinois. Plans before lawmakers include calling for one state-owned casino in Chicago, and another would add four casinos in Chicago's south suburbs and Vermillion, Winnebago and Lake counties, according to The State Journal-Register.  
Gov. Bruce Rauner said he's open to considering a casino in Chicago, as well as in other communities if they wanted them. Those comments from the governor came during a speech today he's given many times, calling for lawmakers to pass his "turnaround agenda" that includes local right-to-work zones. We started by asking the governor when legislation containing his turnaround wishes might be filed with the general assembly.
Watch the video.