After Sandi Jackson resigned her aldermanic office after pleading guilty to tax fraud, Mayor Rahm Emanuel appointed Natashia Holmes to the 7th Ward seat in February 2013. In her first election, Holmes faced seven opponents and came in first with 2,642 votes, forcing a runnoff. Gregory Mitchell followed in second place with 2,085 votes. He is a life-long resident of the 7th Ward and the IT manager at the Chicago Mercantile Exchange. Prior to her appointment, Ald. Holmes was a project manager in transportation planning. She is also a lawyer. We hear from both candidates.
---
Click the dots in the image below to read candidate bios.
---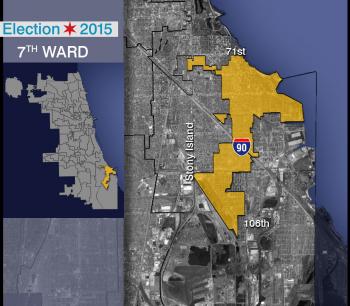 7th Ward
Rousing a Dormant Economy
One of the rallying points of the aldermanic election for the 7th Ward has been economic development. This south side ward once embodied industry, with the presence of several steel factories that brought numerous jobs. The last of these factories was closed in 1994 and the community has been striving ever since to return to its thriving former economic self.
The 7th Ward, along with the 10th, comprises what's considered the last undeveloped stretch of Chicago lakefront property, a swath of land from 79th to 92nd Streets. Four billion dollars is being poured into the Chicago Lakeside Development, an initiative by developer Dan McCaffery to turn the former site of the U.S. Steel Southworks Plant into a bustling "micro-city." The project is slated to bring nearly 14,000 units of housing and 20 million square feet of retail over the next three decades. Last year, Crain's reported that McCaffery was leasing 70,000-75,000 square feet of land to Mariano's. The grocery chain is the first big name to sign on to the venture.
The 7th Ward would benefit greatly from increased consumer and tourist activity in this area. At the moment, the economy is largely driven by mom and pop stores. The ward remap barely altered the 7th Ward. Its boundary extended just slightly more to the south.
Demographics
The 7th Ward is predominantly black. In the spring of 2011, the Dave Matthews Band headed a festival on the Lakeside land that brought 40,000 mostly white attendees to the area. This effort and others, like the economic development plans, are aimed at limiting the racial separation and isolation found in Chicago's differing neighborhoods and communities.
---
Both candidates were sent questionnaires to fill out and send back to us. Read their unedited responses below.
Gregory Mitchell

Age: 45

Place of Birth: Chicago, IL

Current neighborhood: Jeffery Manor located in South Deering

Family:

Father: Claude Mitchell, Marine, retired postal worker (35yrs), deceased 2011

Mother: Cleo Mitchell, Retired retail, works part-time (lives in 7th ward.

Siblings: 3 sisters

Occupation: IT and financial professional

Previous political experience: 2011 Candidate for 7th  Ward Alderman. - Finished 3rd (13%)

What is your vision for the 7th Ward?

My vision for the 7th ward includes:

1. A structured systematic approach to providing service to constituents and a proactive strategic approach to addressing the needs and concerns of the community.

2. Responsible economic development that starts with the identification of current assets and desired businesses and services. Then seek to enter into both public and private partnerships to bring institutions and services to the community on par with those of other areas within the city and to encourage and support entrepreneurship and small businesses.

3. A strategic, collaborative, 21st century approach to community policing that will result in sustainable solutions to minimize illegal activity including: drug sales, drug usage, gun violence, loitering, juvenile truancy

4. An educational system that provides local (neighborhood) options for our youth to obtain a high quality education from pre-k through 12th grade that is inclusive of parent, teacher and community participation, collaboration and communication.

What is the most pressing issue in your ward?

Crime/illegal activity in the neighborhoods including drug sales/neighborhood drug houses
Blighted, vacant and abandon property in the neighborhoods which has attracted vandalism, arson and other crimes.
Service gaps and inequities that interfere with residents' access to city services, including timely
Effective repairs/maintenance/improvements of streets, sidewalks, lighting, faulty/inadequate storm drainage and tree pruning.
Economic development that adds value to the community (e.g., grocery store, sit down restaurants, big box stores and community centers).
Natashia Holmes

Age: 39

Place of birth: Melbourne, Florida

Current Neighborhood: South Shore

Occupation: Alderman of the 7th Ward

Previous political experience: Elected as the Community Representative to the Local School Council at Adam Clayton Powell, Jr. Padeia Academy

What is your vision for the 7th Ward?

My vision for the 7th Ward is to revitalize my neighborhoods and business corridors, block by block. I plan on doing this through community unification, economic development, crime abatement and education activism. As I have in the past, I will continue to partner with the administrators of all my neighborhood schools, members of my established Block Club Presidents' Council and CAPS officers to ensure that residents are armed with information and tools to keep their blocks crime-free, attractive and resilient.  Additionally, I will continue to work with my Ward Superintendent on cleaning up the area through community clean-and-green programs and maintaining vacant lots and properties. My working relationships with my two district commanders and various officers are important in the fight on crime. Through strategic partnerships and tactical campaigns, crime has reduced in the 7th Ward since I have been Alderman. We will continue to do what is permissibly necessary in minimizing the violence that costs the lives and wellbeing of my residents.

What is the most pressing issue in your ward?

The most pressing issue in the ward is attracting and retaining viable development options and residential sustainability. The housing stock in the 7th Ward is remarkable; it is why I chose this area when I purchased my home. I want to make sure that the residential market is strong and that my constituents have valuable resources they need to be proud of their community and maintain their properties. At the same, the focus must be on developing the commercial corridors. I am vigorously working toward making this happen as I meet with potential developers and retailers that have a sound interest in bringing retail options that will revamp the 7th Ward. The community's buy-in is just as important as the developer's interest.  I am tackling this by hosting public forums that include my constituent's preferences on what type of development they wish to see in our community.

What is your plan for fixing Chicago's financial situation?

My plan for fixing the Chicago's financial situation is to explore more creative and effective ways to generate revenue.  I want to increase the government's efficiencies; thereby, making good use of technology to reduce overall costs. For example, having the City's vendors receive electronic payments rather than using the paper voucher systems that waste resources. Additionally, I would rather increase taxes in vice goods, such as cigarettes and alcohol, versus raising property taxes or relying heavily on the revenue from red light cameras.

How do you think the city has handled the severe weather this winter?

I think the City did well with the severe winter plan. Chicago is known for being the city that works and during the week of our major snowstorm in February, various city departments, not solely Streets and Sanitation, worked together to clear and salt major thoroughfares and side streets. The Department of Family & Support Services was on hand with winter tips, resources and warming centers. There is always room for improvement. I think it is worth it for my colleagues and I to look further at best practices in snow management and consider implementing systems that would improve the efficiency of snow removal on our neighborhood streets.

Do you support Mayor Emanuel or County Commissioner Garcia in the mayoral race?

I support Mayor Emanuel. I believe Mayor Emanuel had some hardline decisions to make as soon as he was elected.  As someone who also had to make immediate changes upon assignment, I can empathize.

What is your favorite restaurant in Chicago?

Chef Sara's, located at 7201 S. Exchange, is my favorite restaurant in Chicago. 
Click on the map below for vote percentages in all 50 wards.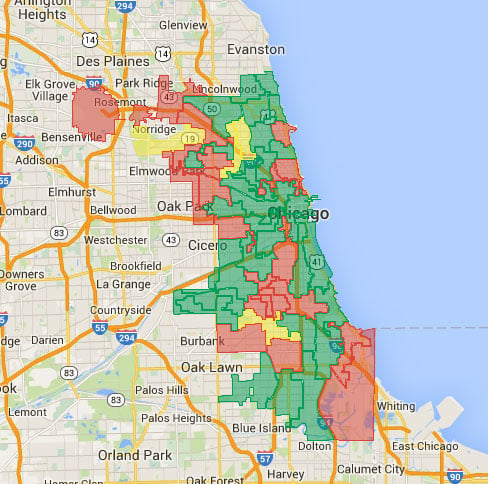 Click the dots in the image below to learn the percentage of votes each candidate received in the Feb. 24 election.
-- Graphics by Kristen Thometz and Linda Qiu; Yasmin Rammohan contributed