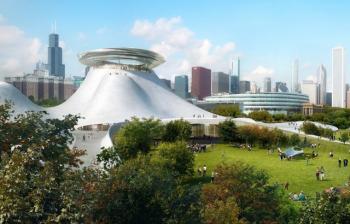 The Force is not with George Lucas' Museum of Narrative Arts. A federal judge ruled today that a lawsuit intended to block construction of the museum on Chicago's lakefront can move forward.
U.S. District Judge John Darrah rejected a motion to dismiss the lawsuit. He ruled instead that Friends of the Parks had legal standing to sue. Read the full ruling here.
Filed in November, the lawsuit claimed that the Chicago Park District and the City of Chicago could not build the museum on its proposed site—17 acres of protected waterway, currently parking lots between McCormick Place and Soldier Field—without the approval of the state legislature.
Darrah upheld that argument, ruling that "case law suggests action by the Illinois General Assembly is required to initiate the transfer of public land held in trust for all the citizens of Illinois."
George Lucas chose Chicago over San Francisco for his museum in June 2015. Mayor Rahm Emanuel, who appointed a task force to lure the museum to the city, celebrated the decision.
Read a statement from Friends of the Parks.
"While we are very supportive of the Lucas Museum coming to Chicago, we oppose its siting on lakefront public open space. We believe the siting of the Lucas Museum in this lakefront location contradicts the public trust doctrine and its central principle that the general public is the beneficiary of this public lakefront parkland. The Lucas Museum is not a public use.

"Although the proposed site is now well-used and produces significant revenue as a Chicago Park District and Bears parking lot, its future reversion to parkland is possible. Once a building is in place, it is forever precluded from being public open space. We hope that Mr. Lucas will consider siting his museum just a ½ mile south on the west side of Lake Shore Drive on the former Michael Reese Hospital site. The Reese site would allow the Museum Campus to be expanded to the south and bring needed economic development benefits to the Bronzeville Community."

--Cassandra Francis, President of Friends of the Parks
"We are very pleased that the District Court is allowing the case to proceed. We look forward to working collaboratively with our open space partners, the community, the Mayor's Office and the Chicago Park District to identify the strengths of alternative sites that will secure broad community support and will entice Mr. Lucas to bring his museum to Chicago."

--Lauren Moltz, Chairman of the Board of Friends of the Parks
The Lucas Museum of Narrative Art's statement:
"We remain committed to and focused on building the Lucas Museum in Chicago."

--Kate LeFurgy, spokesperson for the Lucas Museum of Narrative Art