The initial renderings for the Lucas Museum of Narrative Art have been released and reviews are mixed. Some say this design has the potential to be something great, but others caution this may be a recipe for disaster without public discussion and debates on the project. We discuss the building project with our panel.
View renderings of the museum.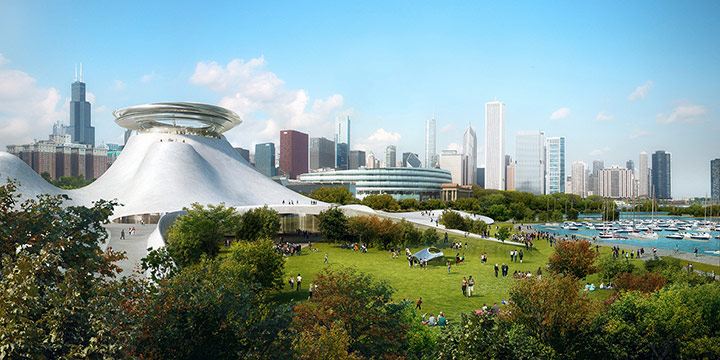 South View
Rising up from the land and crescendoing to a "floating" disc, the tallest points of the Lucas Museum will feature an observation deck, providing visitors with stunning views of both Chicago and Lake Michigan.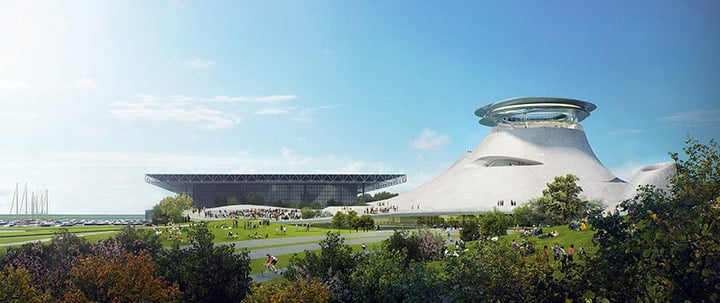 North View
Earth, stone and sky merge seamlessly in the innovative design of the Lucas Museum.

Wide-Angle View
Situated between McCormick Place and Soldier Field, the Lucas Museum of Narrative Art will expand public access to green space on Burnham Harbor.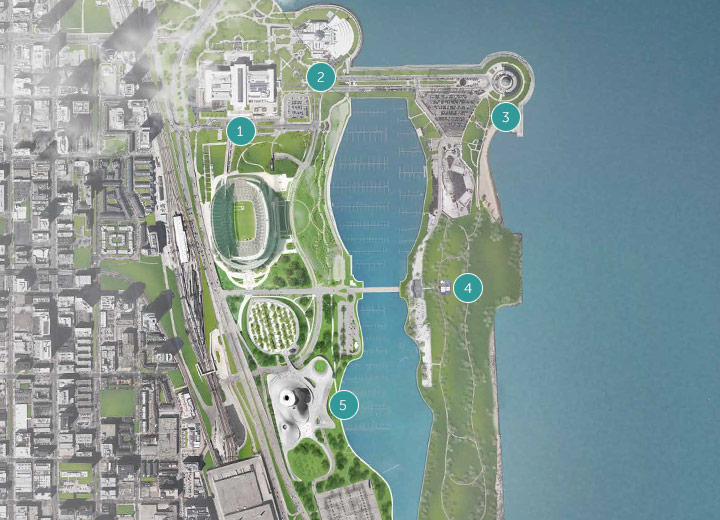 1 - Field Museum
2 - Shedd Aquarium
3 - Adler Planetarium
4 - Northerly Island
5 - Lucas Museum of Narrative Art
-- Conceptual Renderings © MAD Architects
View a map of the proposed location.
-- Map created by Kristen Thometz
Read a statement from Friends of the Parks. 
Friends of the Parks heartily supports a Chicago location for the Lucas Museum, the proposed lakefront site is just the wrong site.  It is clear that the proposed design nets much less open green space than originally promised - and much less functional open space at that.  In fact, it appears that the footprint of the structure is virtually the same as the existing south surface parking lot in total, netting negligible additional open green space (see attached diagram).

This building grew from what was proposed initially as a 100,000 square foot building to a 7-level, 400,000 square foot amorphous, land-eating giant.  The building covers roughly the same footprint as the existing south surface parking lot and leaves the structured parking lot to the north untouched, even though it was formerly described as "ugly" to support this site for the museum.  The renderings also demonstrate the building is much taller than originally indicated, exceeding McCormick Place East in height and reaching almost as high as the addition to Soldier Field. 

Further, given the size of the building has grown four-fold, and that Mr. Lucas has since agreed to pay for the underground relocation of all the existing parking as well as the signature bridge connecting to Northerly Island, it is curious that the original budget (estimated in Lucas' Memorandum of Understanding with the Chicago Park District at $300-400 million) has not grown in correlation.  This raises significant concerns about the reliability of their estimated budget for the museum and the planned supporting infrastructure, much of which is to be paid for with public dollars.  The addition of four movie theaters, a restaurant and the observation deck will also drive even more visitors to the building, significantly further increasing traffic congestion at and around the site. 

We believe that this unusual design has further galvanized community opposition to the project, as well as raised concerns and overall distrust by Chicago citizens still fuming from the Soldier Field addition fallout.  With all the talented architects working on this project, we hope they will see the advantages of locating the museum on an alternate site, as we believe the design would make more of a statement on a deck above the 31st Street truck marshaling yard or the Michael Reese Hospital site, and with much less public controversy and more economic benefit to a community.  Ultimately, Chicago does not want to look back on this design and regret an injudicious decision to sacrifice our lakefront, Chicago's greatest natural asset.

Cassandra Francis, President, Friends of the Parks