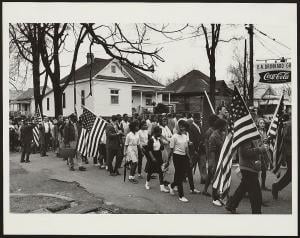 This weekend, thousands gathered in Selma, Ala. to mark the 50th anniversary of what became known in history as Bloody Sunday. Demonstrators attempting to march to Montgomery were thwarted that day by a mob of segregationists. They tried again two days later, in what would be known as Turnaround Tuesday.
It wasn't until several weeks later they were allowed to complete the Selma to Montgomery march to demand the right to vote.
It was the unwarranted assault on otherwise peaceful marchers that made the Edmund Pettus Bridge in Selma, Ala. notorious, and made that Sunday morning, March 7, 1965, a day that would forever be etched in history as Bloody Sunday.
"When I saw it on the TV, I just started crying and screaming," said 79-year-old Erin Goseer Mitchell. "My bridge, and all of this mayhem going on."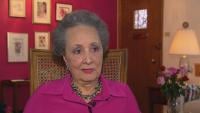 Mitchell was a young mother living in Chicago at the time, but having spent much of her childhood in Selma, she shared the pain of those protesters.
She recalls racial tensions in Selma always running high in the years before that day. It's part of the story she tells in her memoir, Born Colored: Life Before Bloody Sunday.
"We faced things like that often. We didn't ever know what to expect," she said. "We never knew when we were going to be intimidated. We lived that way. But we thrived anyway."
Mitchell wasn't in Selma that day, but a 14-year-old Lynda Blackmon Lowery was.
"It was just something we had to do, and I didn't think at the time about history," said Lowery.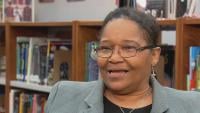 In fact, Lowery was the 19th person from the front of the line where John Lewis and Hosea Williams were leading marchers.
By then, she'd already been arrested and jailed nine times for joining other young protesters to demand voting rights for their parents.
"The Selma movement was a children's movement," she said. "We had to do something that our parents couldn't do, for fear of losing their jobs."
She documents her experiences in the children's book, Turning 15 on the Road to Freedom: My Story of the 1965 Selma Voting Rights March. [Read an excerpt below.]
"When he said kneel, that's when I heard the pop-pops of the guns. I didn't know it then, but it was a gas. I didn't know it was tear gas. You couldn't breathe, you couldn't see," said Lowery. "I felt someone pulling me backwards from this kneeling position. This person grabbed the front of my jacket and was pulling. And I bit the hand that was in front of my jacket. I forgot to be non-violent. I don't apologize for it now though. This person cursed me, called me the N-word, and hit me in the forehead. Then, he pushed me forward. I was trying to roll and get up. He hit me again. I managed to get up and run into this cloud of tear gas, and he was running behind me, hitting me."
What happened that day is now history.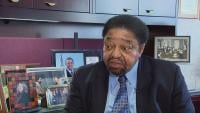 It's also what made Chicago educator Paul Adams III return to Selma just a few weeks after Bloody Sunday for another history-making march; this time, led by Dr. Martin Luther King, Jr.
"I had to go," he said. "I remember my friend at the time said, 'when are you coming back?' I said, 'I don't know whether I'll even get back.'"
That Sunday, March 21, Adams recalls a moment when he feared the worst.
"I'm on the other side of the apex of the bridge and everything stopped. I did not know what was going on. I thought that it was some kind of serious confrontation and I thought that this might be my last day on earth," he said. "I was very fearful about what might happen. I was extremely surprised that we got from Selma to Montgomery without any incident."
The 300 marchers made it safely to Montgomery three days later.
Lowery turned 15 years old two days into the march, and was the youngest demonstrator on the trail.
Today, she and other members of the Civil Rights Movement share these messages with the younger generation:
"I want them to take determination. I want them to know that in order to change something, you can do it with steady, loving confrontation and a determination to do so," said Lowery.
"I want them to know -- don't take books for granted, that you have in your school. Don't take the pencil and paper for granted. Don't take the computers for granted. Don't take the ability to vote for granted," said Mitchell. "People died, worked hard."
Part of their message is that the work of Dr. King lives on.
"That was part of his dream, that education can lead the way to a very positive life," said Adams.
Read an excerpt from Lowery's book.
It was my grandmother who first took me to hear Dr. King—that's Dr. Martin Luther King Jr. That was back in 1963, when I was just thir­teen years old. The church was packed. When Dr. King began to speak, everyone got real quiet. The way he sounded just made you want to do what he was talking about. He was talking about voting—the right to vote and what it would take for our parents to get it. He was talking about nonviolence and how you could persuade people to do things your way with steady, loving confrontation. I'll never forget those words—"steady, loving confrontation"—and the way he said them. We children didn't really understand what he was talking about, but we wanted to do what he was saying.

"Who is with me?" Dr. King asked, and all of us stood up, clapping. By the time we left that meeting, Dr. King had a commitment from me and everyone else in that church to do whatever it would take, nonviolently, to get the right to vote.

At that time I was already in the move­ment—the civil rights movement. I was mostly following the high school kids around—especially Bettie Fikes. She had this beautiful voice and I wanted to sing like her. Bettie and her friends were trying to integrate Selma by going to whites-only places. They sat at the whites-only Dairy Queen and the lunch counter at Woolworth's department store. They tried to sit downstairs at the movie theater. (Blacks could only sit in the balcony then.)

They said I couldn't take part in these sit-ins because I was too young, but I had a job to do. My job was to go for help. I was called the "gopher," because I always had to "go for" someone's mama when Bettie and her friends were put in jail.

That all changed on January 2, 1965. That's when Dr. King came back to Selma for a big mass meeting at Brown Chapel. We called it Emancipation Day because it was all about freedom. There were about seven hundred people there, and I was one of them. It was an awesome thing, a fearsome thing to see so many people. They had come from all around. And they had to travel some dangerous roads to get to Selma—little country roads where the Ku Klux Klan was riding around.

The music was fantastic. By then we had formed a freedom choir, and I was part of it. I got to sing in the choir with Bettie Fikes, and you know how I felt about that.

When Dr. King walked in, everyone stood and cheered. He talked about the vote and how we would get it. He told us we must be ready to march. His voice grew louder as he continued. "We must be ready to go to jail by the thou­sands." By the end he shouted, "Our cry . . . is a simple one. Give us the ballot!"